JUMP TO RECIPE
Yes, this is recipe calls for angel hair pasta – not just a pasta alternative made from veggies. It's meaty, tasty, and most of all, delicious.
While the keto diet has a lot to offer in terms of food options, there are those that are simply hard to find and put together. Angel hair noodles and spaghetti that taste like the real thing, for example! Here's good news though: I've got your back with this spaghetti recipe that has ground beef. You may already have all the ingredients in your kitchen, except for Kiss My Keto's angel hair noodles. For this recipe, you'll need two packs.
You can eat this keto spaghetti at any time and day of the week. On a targeted keto diet? Have a serving or two as a pre-workout meal. Feeling hungry and lazy? Reheat your leftover spaghetti in the oven and enjoy it as an afternoon snack. Better yet, share it with the whole family for lunch or dinner.
What Makes This Spaghetti Keto-Friendly?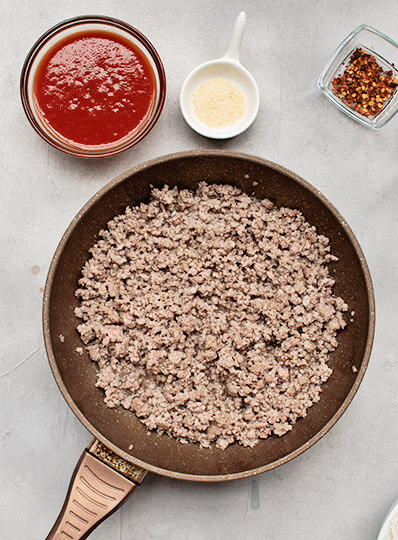 The secret is in the use of low-carb ingredients that make the entire dish taste nearly like classic tomato spaghetti. As you can see below, you don't need to go crazy over ingredients. We're using only 7 for the sauce, plus salt and pepper and Kiss My Keto's angel hair noodles.
You'll need the following:
Olive oil – It's best to use extra virgin olive oil (EVOO) since it's unprocessed, tastier, and healthier. For this recipe, we use it for sauteing the ground beef.
Ground beef – A nutritional powerhouse, ground beef provides protein, fat, sodium, and iron.
Mushrooms – Mushrooms are naturally low in carbohydrates. Here's something you can do to add more flavor: Sauté the mushrooms in garlic!
Red pepper flakes – We use red pepper flakes to add some kick and sharpness to the spaghetti sauce. You won't go wrong with them as long as you stick with the recommended amount.
Onion powder – This is a good option. But if you can, use fresh onions since they're tastier.
Dried celery leaf – Celery leaf is a great substitute for parsley. It also occupies spot on the list of low-carb veggies.
Tomato sauce – Be careful with choosing tomato sauce. You need to make sure that it's sugar-free or low in carbs. If you have more time, feel free to make your own keto spaghetti sauce.
Angel hair noodles – These noodles are free of starch. You can eat them without fearing you'll get kicked out of ketosis.
Cooking Equipment Required
Follow the instructions section below to create this spaghetti recipe. But if you're curious about modifications, here are some ideas to try:
Instead of ground beef, you can use keto-friendly meatballs. Combine ground beef, sausage, parmesan cheese, mozzarella, onion powder, and Italian seasonings.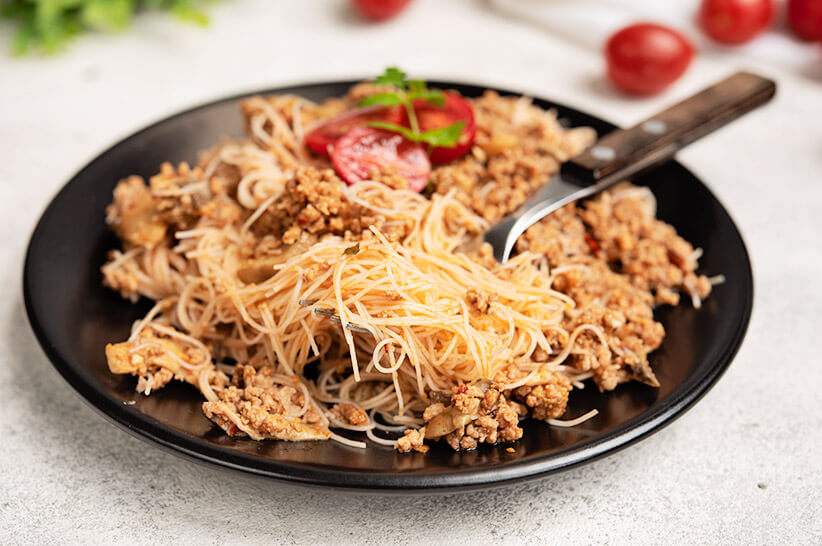 While this recipe originally calls for ground beef, sometimes you just want seafood. Shrimps, for example. Season shrimps with salt and pepper and fry.
One often thinks of parmesan cheese when it comes to spaghetti. But you won't go wrong with mozzarella and ricotta cheeses.
Frequently Asked Questions
How do I store leftover cooked spaghetti?
Cooked spaghetti should be kept in an airtight container and refrigerated. You can also store it in a Ziploc bag. Before reheating it in the microwave for 1 ½ minutes, add a bit of water or tomato sauce to moisten the pasta.
How long will cooked spaghetti last in the fridge?
Your keto spaghetti should last 3-5 days. Before placing it in the fridge, allow it to cool.
How do I choose ground beef?
Go for 80/20 ground beef – 80% lean beef and 20% fat. We want that 20% fat for the keto diet.
Keto Spaghetti with Beef and Mushroom Sauce
Preparation Time: 10 minutes
Cook Time: 25 minutes
Serves: 4
1 tbsp olive oil
1lb. ground beef
Salt and pepper, to taste
2 cups sliced canned mushrooms, drained
1 tsp red pepper flakes
1 tsp onion powder
2 tsp dried celery leaf
14oz. can tomato sauce, sugar-free
2 packs KMK angel hair pasta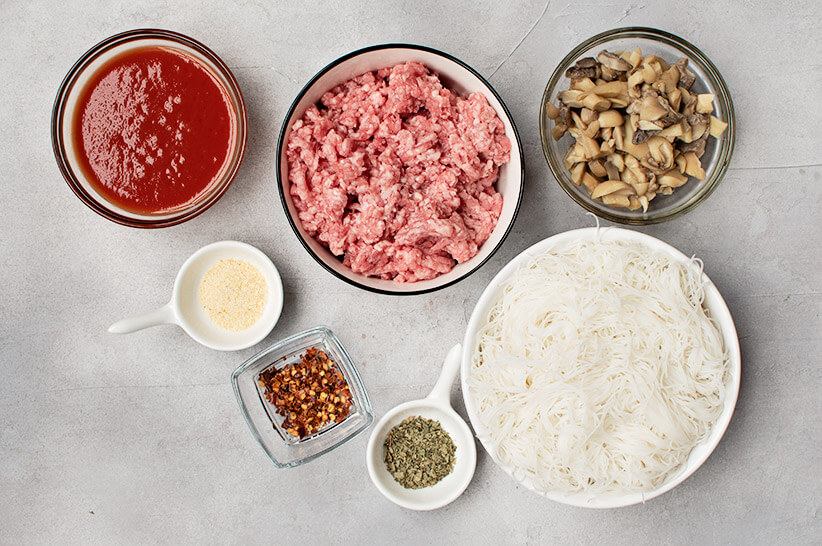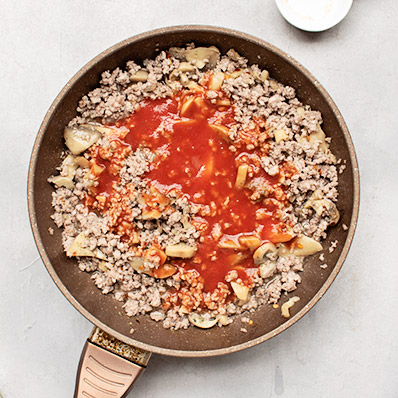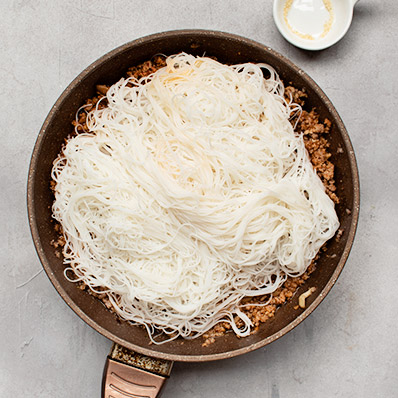 Heat oil in a skillet over medium-high heat.
Cook the beef in olive oil until browned.
Add mushrooms and spices and cook for 5 minutes.
Add tomato sauce and simmer for 15 minutes.
Cook the pasta according to package directions.
Add the pasta into the skillet and stir to combine.
Serve warm, garnished with basil, cherry tomatoes, or even shaved parmesan.
Tips & Tricks
Don't know what to serve with spaghetti? Good side dishes include salad, keto pizza, and roasted garlic lemon broccoli.
You can use dried herbs, fresh herbs, or a combination of both. If you want both, here's a tip: Add the dried ones early in the cooking process and the fresh ones at the end.