JUMP TO RECIPE
Want to make your next weekend breakfast indulgent? These sweet and scrumptious kabobs are crispy on the outside, juicy on the inside, and taste fantastic! Made with sugar-free strawberry jelly and Kiss My Keto Bread in Cinnamon Raisin flavor, they're also low in carbs and keto-friendly.
About These Breakfast Skewers
This mash-up recipe is a cross between a PB & jelly sandwich and French toast that's assembled like a kabob for fun and practicality. It combines two (or three) of your favorite meals into one for when you're in the mood for something decadent.
If you're worried about them being too decadent though — know that there's no reason for that. At just 377 calories per skewer and only 6.5 g of net carbs in a serving, your blood glucose definitelywon't spike. They also have a decent serving of protein at over 20g in a serving to keep everyone feeling full till lunchtime. 
How to Make PB & Jelly French Toast Kabobs
Step 1. Slather PB and jelly
Slather strawberry jelly on two bread slices and the peanut butter on the remaining slice. Slather of the filling around the middle since heat from the toasting will cause oozing on the sides, which is a good thing but in moderation!
Step 2. Add strawberries and top
Arrange the fruit over the jelly and top with the peanut butter portions to make sandwiches. Press well so that your sandwiches stick together and don't separate during toasting.
Place the sandwiches in a shallow bowl filled with the egg mixture. Ideally, you want the sandwiches to soak for at least 15 seconds and up to a minute. Make sure that both sides have absorbed enough liquid before proceeding.
Add avocado oil (or desired keto-friendly cooking oil) to a non-stick skillet or even griddle and make sure it's well-heated. Add the sandwiches and toast for about 3-4 minutes on each side or until golden brown and crispy.
Place the sandwiches on a cutting board, cut each into four triangles, and stab them with the skewers so you get something kabob-like. Serve immediately.
Peanut Butter & Jelly French Toast Kabobs
Preparation Time: 10 minutes
Cook Time: 10 minutes
Serves: 2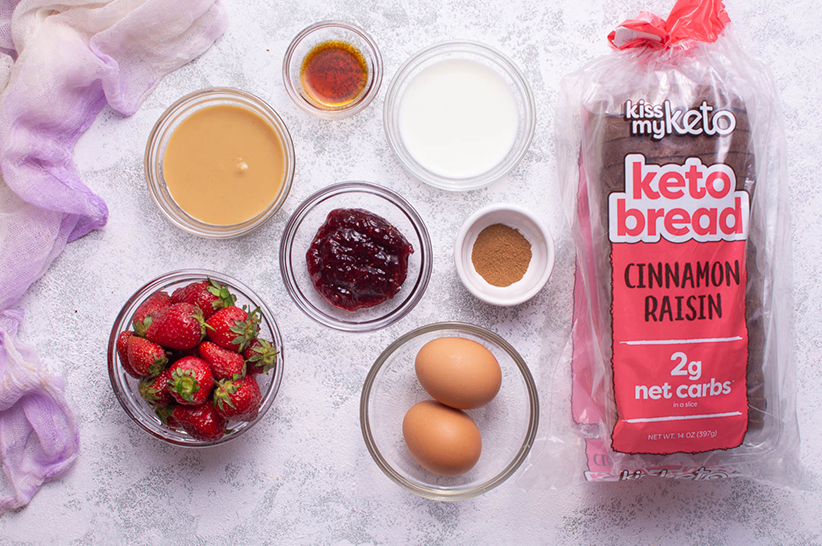 2 tbsp sugar-free strawberry jam

4 slices

Kiss My Keto Bread – Cinnamon Raisin

½ cup strawberries, sliced

2 tbsp creamy peanut butter

2 eggs

1/3 cup unsweetened almond milk

½ tsp cinnamon

½ tsp vanilla extract, optional

Fresh strawberries, for garnish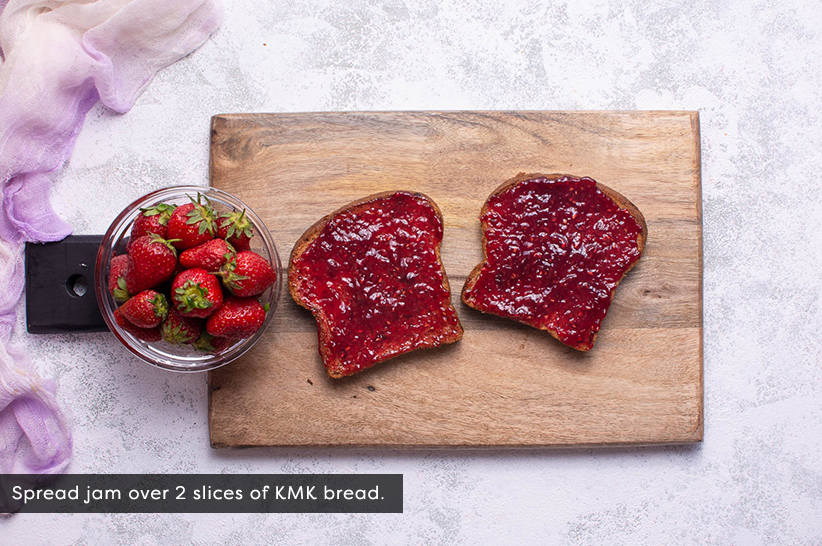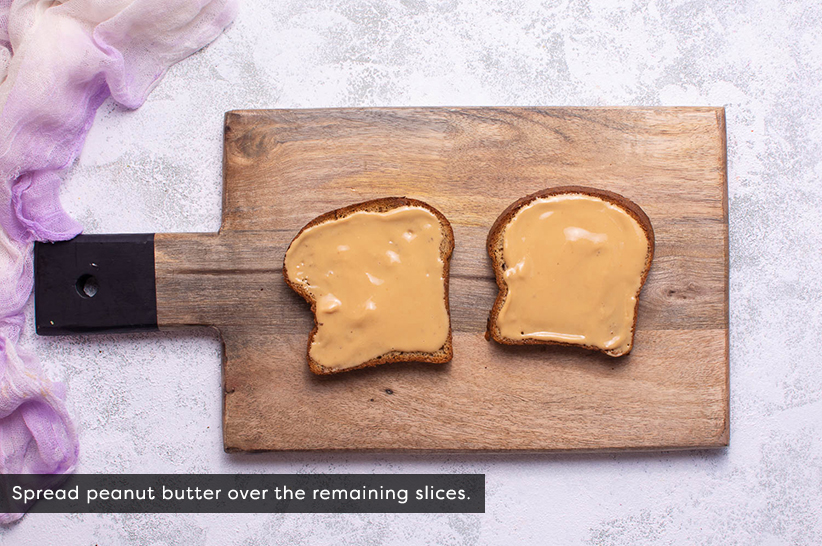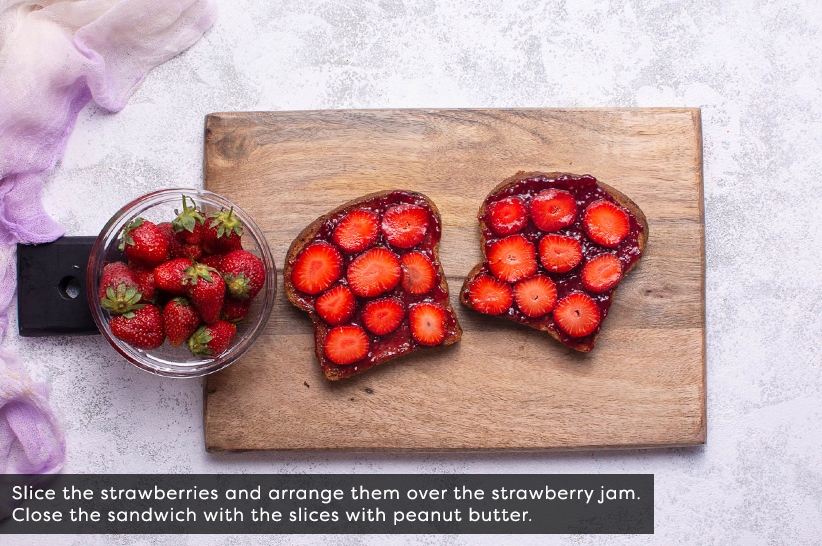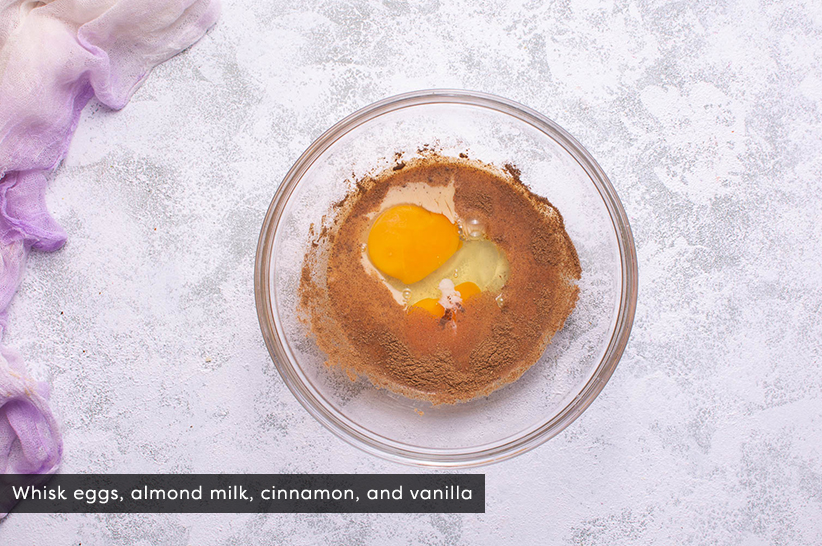 Spread strawberry jam over two slices of Kiss My Keto Bread and arrange the sliced strawberries on top. Spread the peanut butter over the remaining bread slices and place it over the strawberry portion to make two PB & jelly sandwiches. 

In a medium bowl, whisk eggs, almond milk, cinnamon, and vanilla extract. Dip the PB & jelly sandwiches into the egg mixture and let soak for a couple of seconds.

Add cooking oil to a medium or large skillet placed over medium heat. Toast the sandwiches for about  3-4 minutes per side or until golden brown.

Place the toasted sandwiches on a cutting board and cut each into four pieces. Arrange the pieces on skewers, alternating with strawberries.

Serve warm.
Tips & Tricks
Ingredients You Will Need
You will need about a dozen simple ingredients for this recipe, all being low in carbs and easy to find in health food stores or supermarkets.
Sugar-free strawberry jam
Not all sugar-free jams are keto-friendly since many contain maltodextrin or polydextrose, which can increase blood glucose levels. Read the label before purchasing.

Kiss My Keto Bread – Cinnamon Raisin
Kiss My Keto's line of low-carb bread are great for keto-friendly French toast. They're light, fluffy, very absorbent (due to being high in fiber), and give reliably good results.

Strawberries
Strawberries hold their shape well when cooked and they also happen to be a low-carb fruit. Their relatively mild flavor is also perfect for PB & jelly combos.

Creamy peanut butter
Or use crunchy if that's what you have. Also, make sure to choose natural or sugar-free brands to keep carbs low.

Eggs
You need eggs for the rich and smooth batter to dunk your toast in. To make this recipe healthier, use free-range or omega-3 rich eggs, which are nutritious and balanced in healthy fats.

Unsweetened almond milk
Some French toast recipes call for heavy cream batter. But this one is rich enough on its own, so we recommend lightening the batter up a bit with almond milk.

Vanilla extract and cinnamon
For added flavor, vanilla and cinnamon will do. Both are additions to classic French toast and work beautifully here as well.

Fresh strawberries
Use frozen strawberries if fresh ones aren't available. Frozen strawberries and other frozen fruit tends to become mushy once thawed, so keep that in mind.
You will also need some oil for toasting, a skillet, wooden skewers, and about 20 minutes of your time. 
Keto French Toast Kabobs FAQs
Can I use different berries?
You can use raspberries or red currants since these complement the strawberry jelly and peanut flavors well. However, blueberries, blackberries, and other low-carb berries can work just as well, but keep in mind that the color will be darker and flavor less balanced.
Can I use a different jelly on toast?
Sure! Just make sure you're using berry jelly that's sugar-free or keto-approved. Most fruit is too high in carbs to be good for you on this diet, but berries get a pass. 
Can I store these French toast kabobs for later?
These are best served while still warm. If you need to store them for later, place them in an airtight container in the fridge for up to a day or freezer for up to a month. You can reheat them in the microwave and they'll be just as soft and delicious.
How long should I soak the bread?
Soak the Kiss My Keto Bread for at least 15 seconds in the egg mixture or a couple of minutes. Watch the batter and check if the sandwiches have soaked most of it well then remove for frying. Don't over soak them, though, or you'll end up with mushy French toast kabobs.
How can I serve these keto French toast Kabobs?
These are best eaten warm and on their own. But they also go well with fsGreek yogurt or drizzled with low-carb syrup.