JUMP TO RECIPE
This creamy avocado tuna salad shows avocados can bring any dish to a whole new level. Instead of mayo, which is often made with unhealthy, refined vegetable oil, this recipe calls for mashed avocado. The result is not only a better-for-you but a tastier and creamier bowl of tuna salad.
Other than avocado and tuna, you'll need 4 additional ingredients, 10 minutes of spare time, and two simple kitchen tools. You'll also be using avocado shells in this recipe for easy cleanup. Tuna salad can't get any simpler than this! Or more versatile for that matter.
You can enjoy this as is, switch it up to make a healthy dip, use it to make avocado tuna salad sandwich, or as a wrap filling. It's also great for breakfast, lunch, and family outings. Plus, this simple and quick recipe is keto-friendly, paleo-friendly, and whole-30 compliant.
But before you head to the recipe, there are a couple of things you want to know about this recipe.
What Kind of Tuna is Best for This Avocado Tuna Salad?
Mild-tasting varieties of canned tuna like albacore or yellowfin are best. You don't want strong-tasting varieties like bluefin to overpower the other ingredients – especially not the avocado, which has its own subtle flavor worthy of appreciation.
Also, make sure to buy chunks (or solid) rather than flaked tuna packed in water or olive oil. Flaked tuna is soupy and overtly flaky for this recipe. Chunks, on the other hand, give it substance and body. They taste better too!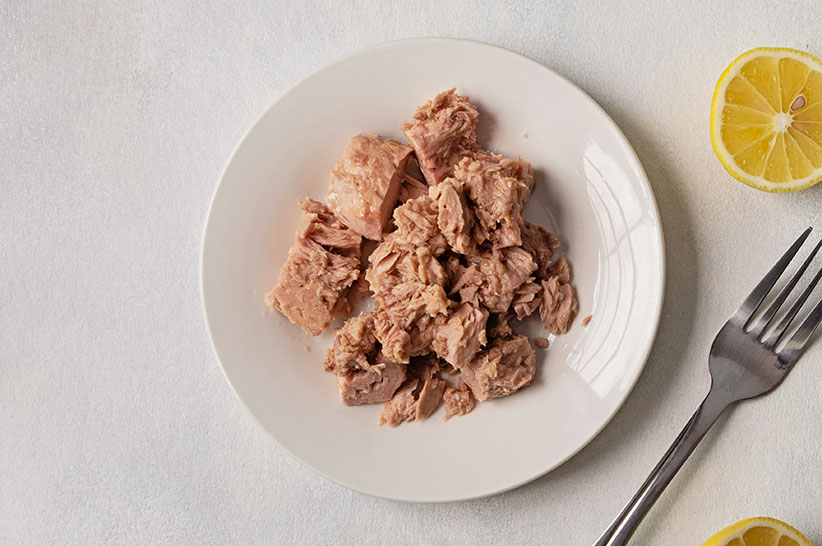 In case you're worried about mercury in canned tuna, skipjack and light tuna are safer compared to other varieties. If you don't mind their strong tuna flavor, definitely go for it! But whichever tuna you choose, make sure to drain it well first. Otherwise, you'll end up with a runny filling.
Another option is to sub tuna with tinned pink salmon. Most brands use wild-caught fish and the flavor is mild enough to make it perfect for this recipe.
Picking the Best Avocado for This Salad
The texture of this salad depends a lot on the quality and state of your avocado. If you're new to the art of avocado picking, here's what to look out for:
You'll know an avocado is ripe if it slightly yields to gentle pressure. It should feel soft and not mushy. Usually, but not always, ripe avocados are also of an olive-green color.
So-called "breaking" avocados are almost ripe. These will feel soft to the touch but won't quite yield to pressure. They're great served in Buddha bowls, but they don't mash easily, which is why you should wait a day or two before using them in avocado tuna salad.
Spoiled avocados are overly soft (very mushy) with dents in their skin. Some varieties will turn very dark, almost black when bad.
As far as avocado varieties go, you'll probably only be able to find Hass or Fuerte at your local store – and both are good enough. Large varieties like the Choquette or Lula will yield more avocado flesh, but they're not as creamy as Hass.
Avocado Tuna Salad Variations
While this recipe is good as is, you can also look at it as a template for other avocado tuna salad variations. By adding other ingredients like eggs, bacon, or tomatoes – as well as making other adjustments – you can turn this salad into something that better suits your tastes or the occasions. With that in mind, here are a couple of great ideas to consider:
Like it spicy? No problem! Just add a dash of chili flakes to this recipe for extra bite and oomph. You could also use a bit of chili paste or cayenne pepper powder.
Avocado tuna salad with mayo
Mayo is what normally gives tuna salad a tangy aroma, a touch of sweetness, and a hint of eggy flavor. If you like this in your tuna salad, then feel free to add a teaspoon of two of mayo to the avocado flesh before mashing. To make it healthier, use mayo made with avocado oil.
Tuna salad with avocado and egg
Add one or two hard-boiled eggs to this avocado tuna salad if you want to make it heartier, more filling, and versatile. Take note that this version is perfect in sandwiches.
Tuna avocado tomato salad
Deseed one small or a handful of cherry tomatoes, chopped them up, and add to your filling. This version is very reminiscent of guacamole and can be served with low-carb tortilla chips as well.
Other popular additions include feta cheese, bacon, peppers, cucumbers, celery, green onions, and cilantro. Some folks also like their avocado tuna salad with avocado chunks and not creamy. Play around with the ingredients until you find your perfect mix.
Take note that you should probably prepare these variations in a bowl rather than the avocado cups. The additional ingredients will probably yield more filling which may not fit into the cups. And if you're planning to serve these as a dip, spread, or filling, a bowl is a better option.
How to Serve Avocado Tuna Salad
This avocado tuna salad is best served immediately.
The longer you wait, the more time you're giving the avocado to oxidize into an unpleasantly brown and bitter goop. But if you'd like to enjoy this a little while later, you can probably wait up to around 6 hours. You could also delay the browning by sprinkling a bit more lemon juice over it.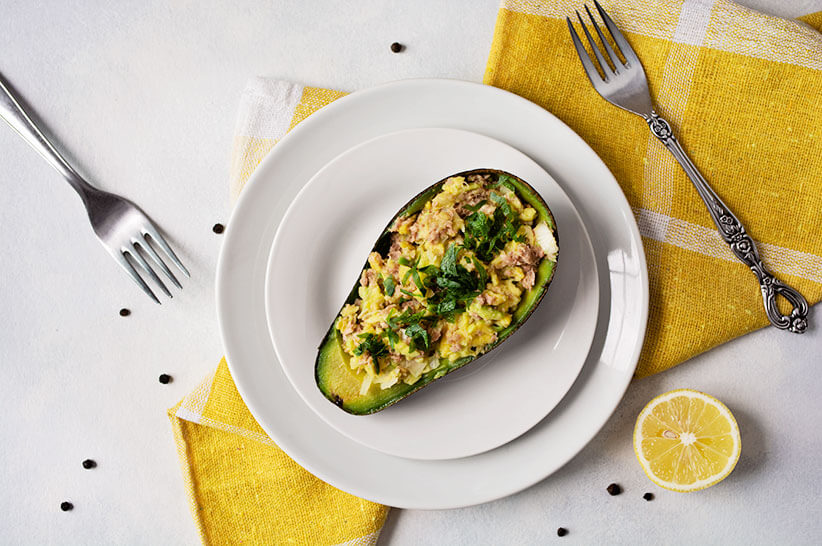 Other than that, enjoy these avocado tuna salad cups as is. Another option is to make this dish in a bowl and add it to keto sandwiches, in lettuce cups, or over a bed of baby spinach. Enjoy this at any meal.
Don't worry if you don't have access to fancy kitchen equipment or even electricity (we hear you campers!) All you really need are two "primitive" tools:
A fork
A spoon
A small bowl
That's it!
If you have all of the above along with the ingredients, there's no reason not to make this delicious meal asap.
Frequently Asked Questions
I want to make this ahead, is there really nothing I could do?
You could prepare all the other ingredients a day ahead, like dicing the onion, chopping the parsley, and mixing the spices. You could also store this in an air-tight container in the fridge for up to 2 days, but there's no guarantee that the avocado won't brown before that time.
My avocado is unripe/overripe, can I still make this?
Yes, but you'll get the best results with ripe avocado. An unripe one will not make a creamy avocado tuna salad — add a bit of mayo to compensate. An overripe one will not have enough body and the texture will be mushy.
Can I freeze this?
Avocados are not very freezer-friendly, unfortunately. That's why we don't recommend freezing this salad.
Can I use ahi tuna instead of canned?
Yes! Ahi has a mild taste when prepared correctly. Cook it fully and chop into small pieces before adding to the mashed avocado.
Avocado Tuna Salad
Preparation Time: 10 minutes
Serves: 2
1 ripe avocado, halved and pitted
1 tbsp lemon juice
Salt and pepper, to taste
5oz. can tuna in oil, drained and flaked
1 tbsp onion, diced
Parsley, for garnish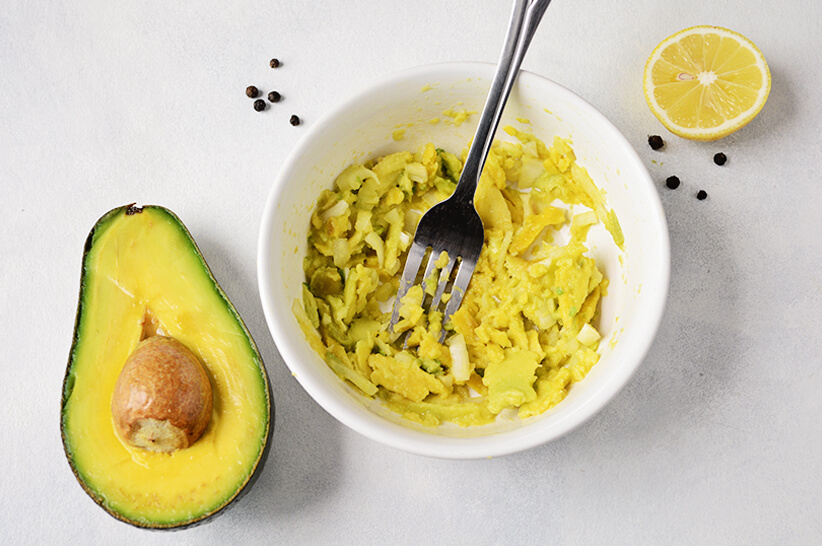 Cut the avocado lengthwise and remove the pit.
Scoop out most of the flesh from the avocado halves with a spoon, leaving ¼-inch around the shell.
Transfer the scooped-out flesh into a bowl.
Drizzle with lemon juice, sprinkle with salt and pepper, and mash to desired consistency.
Add the chopped and tuna and give it a stir.
Stuff the avocado shells with mashed avocado mixture.
Sprinkle with parsley and serve.
Tips & Tricks
Serving tips
This recipe yields only two servings, but you can double or triple the ingredients if you plan to make it for a whole crowd. But whatever you do, make sure to serve this salad fresh since avocados tend to brown soon after opening. Lemon juice helps slow down oxidation in avocados, but it definitely doesn't stop it.
Health benefits
Avocados are rich in monounsaturated fatty acids (MUFAs), which are protective against cardiovascular disease. Tuna is rich in a type of omega-3 fatty acid called DHA, which also keeps your blood vessels healthy but also your brain. Together these ingredients make for a powerful combo. Another plus is the 6g of fiber in a serving along with vitamin E, folate, and potassium.