JUMP TO RECIPE
You may not believe this, but a keto spaghetti sauce does exist! We're going to reveal the 4 simple steps to making your own low carb sauce at home.
There's a limiting belief among new ketoers and it's that they won't be able to enjoy luscious, mouthwatering spaghetti tomato sauce. Ain't true! As a matter of fact, any traditional recipe can be modified into a low-carb version if you know the best ingredients to mix.
The best part is, they'll taste like the original stuff — maybe even better.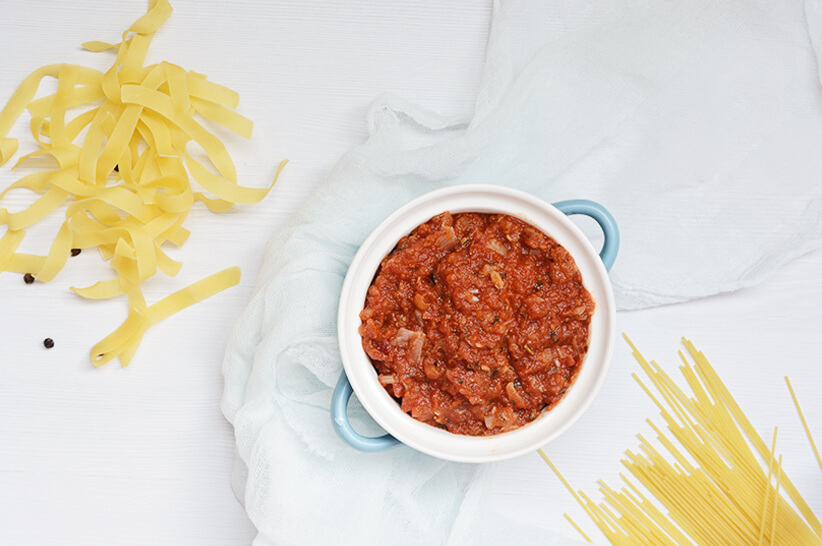 Why Go for Homemade Keto Spaghetti Sauce?
Sugar free spaghetti sauce is hard to find at the local grocery. If you can find one that you can order online, you're lucky. Most store-bought options contain lots of carbs and sugar. Not to mention artificial and processed ingredients like high-fructose corn syrup (HFCS), nitrites, and vegetable oils that increase inflammation.
The best low carb pasta sauce is homemade. Not only will you be able to easily access these ingredients, but they're also beneficial for your health. For example, olive oil which provides monounsaturated fats, and basil which is a good source of minerals.
Our recipe contains only 6.4 grams of net carbs per serving. Head over to the next section to learn how it's done.
How To Make This Keto Spaghetti Sauce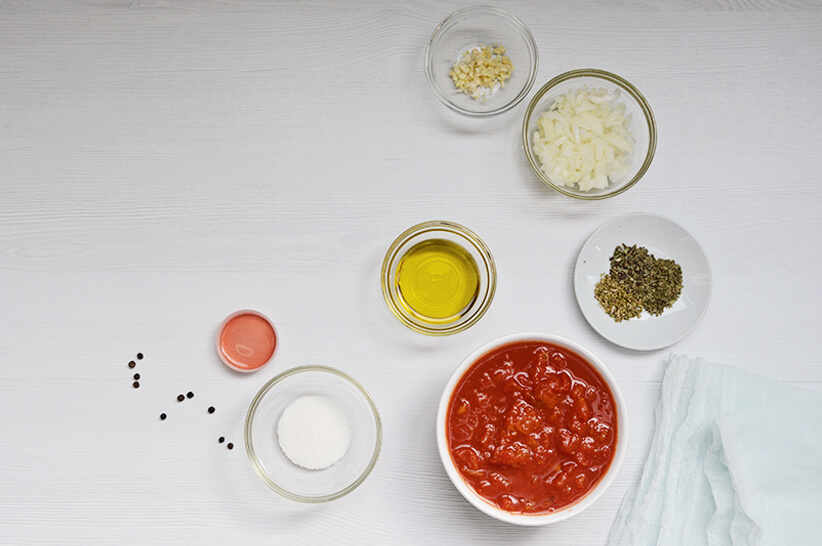 You will need a total of 15 minutes to get this ready.
For our low carb spaghetti sauce recipe, prepare the following ingredients: Olive oil, onion, garlic, crushed tomatoes, salt, black pepper, dried basil, dried oregano, dried celery, red wine vinegar, and swerve. See the specific amounts per ingredient in the recipe section.
Keep in mind that using the fresh version of those herbs mentioned above will add a more distinct flavor to your sauce. In addition, going for fresh means increasing the amount per herb. (Ratio: 1 tablespoon of fresh herbs = 1 teaspoon of dried herbs.)
Now let's dive into the process.
First, heat the olive oil in a saucepan. Then saute the diced onions for 5 minutes. Add the minced garlic for one minute. Finally, add the rest of the ingredients — crushed tomatoes, herbs, etc. — into the pan. Simmer for 5 minutes more and serve!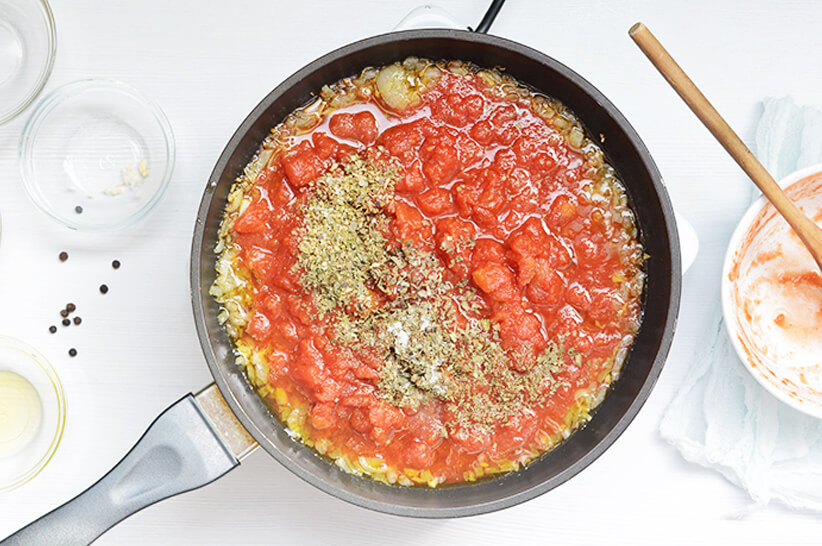 Keto Spaghetti Sauce Tweaks
There are various ways to modify tomato sauce on keto depending on your personal preferences.
For a slightly creamy and buttery marinara sauce with a spicy kick, add ¼ cup of unsalted butter and ½ teaspoon of crushed red pepper flakes.
For a meatier taste, you may add grass-fed ground beef or your favorite ground meat. It doesn't matter whether you're using the sauce for spaghetti or mainly for dipping (for keto garlic breadsticks). Adding meat will also satisfy your carnivore cravings!
For a richer taste, add parmesan cheese while simmering the sauce.
Now you're ready to prep your very own spaghetti sauce without sugar. Feel free to adjust the taste if desired. We hope that this recipe helps control your carb count and stay healthy. Enjoy!
Easy Keto Spaghetti Sauce Recipe
Preparation Time: 5 minutes
Cook Time: 10 minutes
Serves: 8
4 tbsp olive oil
1 onion, diced
3 cloves garlic, minced
2 14oz. can crushed tomatoes, no sugar added
1 tsp salt
Black pepper, to taste
1 tsp dried basil
1 tsp dried oregano
1 tsp dried celery
1 tbsp red wine vinegar
1 ½ tbsp Swerve
Heat olive oil in a skillet over medium-high heat.
Add the onion and cook for up to 5 minutes, stirring constantly.
Add garlic and cook for around a minute.
Add the remaining ingredients and simmer for 5 minutes.
Serve sauce with your favorite keto pasta or zoodles.
Tips & Tricks
Be careful when heating extra virgin olive oil. It has a lower smoke point than many other plant oils, so overheating it can easily lead to burning and a bad-tasting sauce that's also bad for your health. Simply, heat the oil over medium-high heat for half a minute before adding in the onions. Adjust the heat as necessary and sauté the onions until translucent. If you want a more flavorful sauce, cook this sauce for up to an hour uncovered.