JUMP TO RECIPE
Whenever pizza cravings strike, make this keto-friendly tomato sauce. It pairs perfectly with almond flour and cauliflower crusts and any pizza topping. You can also freeze any extras for up to 4 months or keep it in the fridge for up to 2 weeks. You want to know what makes this pizza sauce so special? It's the vinegar – it adds just barely-there tanginess and helps brighten up the flavors.
Keto Pizza Sauce
Preparation Time: 10 minutes
Serves: 8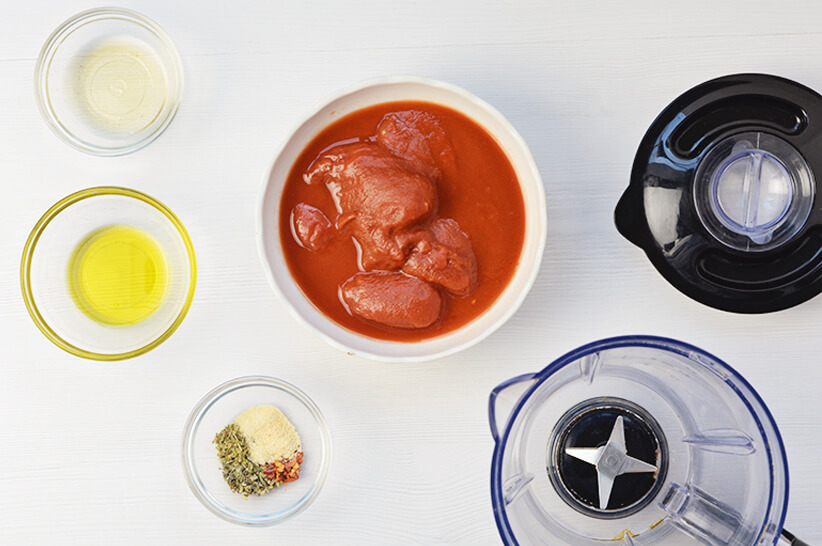 2 14oz. can peeled tomatoes, no sugar added
3 tbsp olive oil
2 tbsp raw cider vinegar
2 tsp dried oregano
2 tsp dried basil
1 tsp onion powder
1 tsp garlic powder
1 tsp salt
¼ tsp black pepper
Add all ingredients to a food blender.
Blend until smooth.
Use immediately or store in the fridge up to a week.
Tips & Tricks
About the ingredients
As per usual, read the label when purchasing canned tomatoes. Sugar-free is a must. But also consider the quality of the tomatoes – organic products with no additives and thickeners make for the tastiest sauce. Traditionally, plum tomatoes are used for making pizza sauces because they tend to be meatier and contain less water. Also check if your herbs have expired since they make a huge difference in the aroma.