Is Quest MCT oil powder better than Kiss My Keto MCT oil powder? Before you decide, check out this detailed guide.
Medium-chain triglycerides, or MCTs for short, are fats that come from coconut oil or palm kernel oil. In the keto community, MCTs are a popular supplement – thanks to their notable benefits which include increased energy, weight loss, and mental clarity. They're an efficient way to supplement with essential fats and are easy to digest.
Starting a low-carb keto diet this year? You'll find that there are a ton of MCT oil options to choose from. If you can tolerate liquid MCTs and prefer a more concentrated MCT oil product, go for it. Meanwhile, if you want something portable, go for medium-chain triglycerides MCT powder. MCT powder blends perfectly into any beverage.
This guide focuses on two brands that sell MCT oil powder: Kiss My Keto and Quest Nutrition. Kiss My Keto specializes in creating ketogenic products. Quest, on the other hand, does not claim to be a keto company but specializes in protein products and minimizing carbs and sugar.
Get more details about their ingredients, macros, flavors, taste, and real user reviews by reading until the end.
What Is Quest MCT Powder?
This is a product of Quest Nutrition, a company that's on a mission of "making the foods you crave work for you," as stated on their page. Quest sells a lot of products, including Quest protein shakes and protein bars that are quite popular in the fitness community.
Using Quest Nutrition MCT oil powder is one way to add more fat to your low-carb keto diet. According to them, you can use this powder not just for your beverages (coffee, for example) but also for your favorite meals. We believe this won't alter the taste of your food/drink since it doesn't have any flavor.
Do take note that this is not a protein powder since it has no protein content at all.
Is Quest MCT Powder Keto-Friendly?
The main concern with any product that's marketed as "keto" is whether the product truly supports nutritional ketosis. If you like Quest, you'll be happy to know that their MCT oil powder is keto-friendly. It has zero net carbs and no added sugars.
Quest MCT Oil Powder vs Kiss My Keto
Let's take a closer look at the MCT oil powders from Quest and Kiss My Keto. How do they compare in terms of ingredients, flavors, taste, etc? Find out below.
Kiss My Keto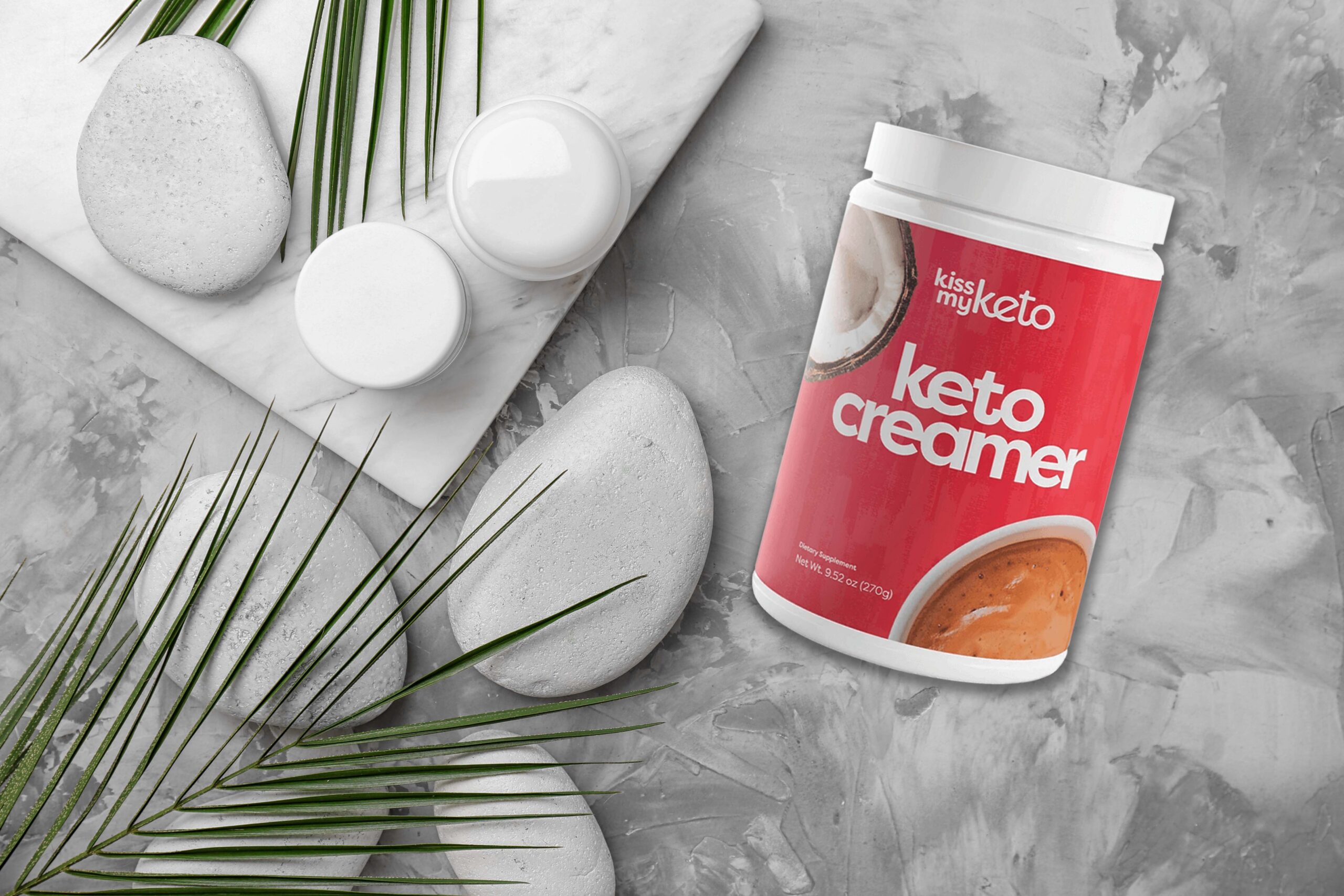 Unflavored: Medium-Chain Triglycerides, Gum Acacia.
Chocolate: Medium-Chain Triglycerides, Gum Acacia, Cocoa Powder, Natural Flavor, Sea Salt, Reb A (Stevia Leaf Extract), Himalayan Pink Salt.
Vanilla: Medium-Chain Triglycerides, Natural Vanilla Flavor, Inulin, Sodium Caseinate, Silicon Dioxide, Sunflower Lecithin, Reb A (Stevia Leaf Extract), Himalayan Pink Salt.
Quest Nutrition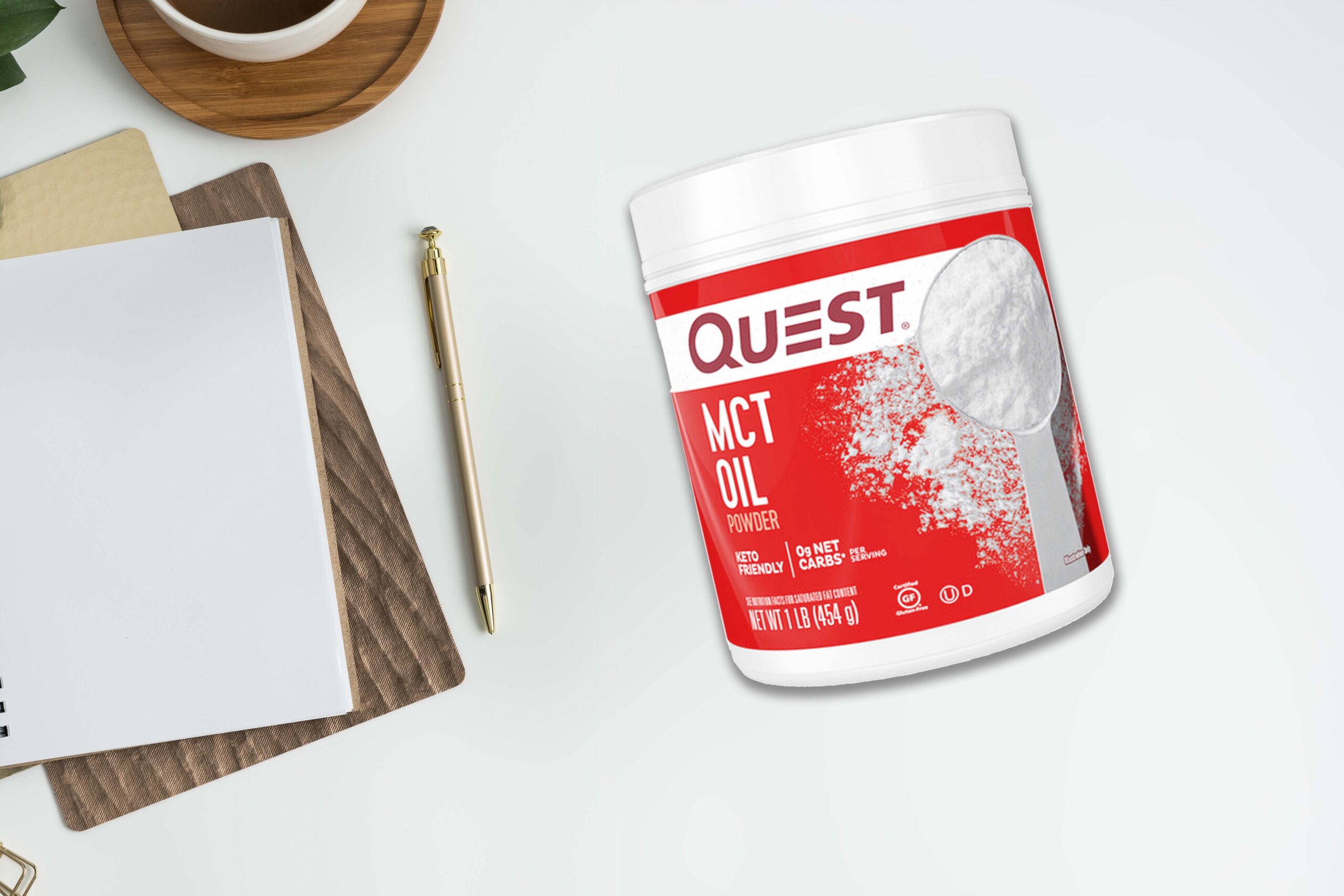 MCT Oil: Medium-Chain Triglycerides, Soluble Corn Fiber, Sodium Caseinate, Sunflower Lecithin, Silicon Dioxide.
A note on the ingredients:
Aside from the MCTs fat source, Kiss My Keto features ingredients that are known to support health and ketosis such as sea salt, stevia, and Himalayan pink salt. It's free of sugar alcohol that may cause stomach issues.
Notice that Quest does not list any sweetener or salt since their MCT powder is flavorless.
Kiss My Keto MCT oil powder has an ideal macronutrient ratio with zero to 1 to 0g net carbs per serving, with a bigger serving size than Quest's. One scoop (9-11.6g) has:
Calories: 60-70
Net carbs: 0-1g
Total fat: 6-7.5g
Protein: 0-less than 1g
Dietary Fiber: 2-3g
Quest Nutrition MCT oil powder has 0g net carbs per serving. One scoop (9g) has:
Calories: 70
Net carbs: 0g
Total Fat: 7g
Protein: 0g
Dietary Fiber: 1g
A note on sodium:
Sodium is an important electrolyte on the low-carb keto diet. If you're still in the process of adapting to this new lifestyle, your kidneys will excrete more sodium. (We recommend reading more about sodium and the keto flu for a deeper dive on this topic.)
While not mentioned on the macros list above, Kiss My Keto MCT oil powder has more sodium, with 40-110mg per serving for the Chocolate and Vanilla flavors. Meanwhile, Quest Nutrition MCT oil powder has only 10mg of sodium per serving.
Kiss My Keto offers 3 options: Unflavored, Chocolate, and Vanilla.
The Chocolate and Vanilla flavors are great as standalone rich creamy drinks. They're perfect for satisfying your sweet cravings or if you want to replace your usual morning coffee. The Unflavored option can be used on any smoothie, recipe, or added to your coffee. Just keep in mind that while it doesn't change the flavor, it makes your drink creamier.
Quest offers only 1 MCT oil powder that doesn't have any flavor.
Both MCT oil powders should be added to your drinks (hot or cold) to start your day or serve as a pre- or post-workout quick energy boosters. The flavored ones from Kiss My Keto can be enjoyed on their own, like traditional hot chocolate or vanilla milk shake.
In case you're wondering, yes, these powders can be used as additional ingredients to create a rich creamy baked treat. For example, Kiss My Keto's Chocolate MCT oil powder is a delicious recipe ingredient for chocolate peanut butter fat bombs. Some add MCT oil powders to their keto mug cakes. These are just some ideas. Feel free to explore more!
Here are some reviews from real customers:
Kiss My Keto
"I have a sweet tooth so I blend this in my coffee with some heavy whipping cream and then add ice and it's the perfect start to my day EVERYDAY."
"I bought this product to use as a coffee creamer and it works great! The taste is very similar to hot cocoa."
"I don't like the almond milk/coconut creamers; they do not give me that creamy texture that I like in my coffee. This blends super well with cold coffee and I use a little frother to mix it all up."
"The flavor is perfect! Exactly what I need when I have a sweet craving."
Quest
"My coffee was smooth as it should be."
"This tastes so good and it's such an easy form of fat to add to your diet intake."
"The product itself is good; it mixes very well and makes coffee creamy and delicious. There really is no need to add anything to the coffee."
"It blends well and there is no chalky texture or taste."
If you're after an affordable product, then go for Quest's MCT oil powder. Quest sells their 454g container (with 50 servings) for $29.99.
Kiss My Keto has smaller containers, with each one weighing 270-335g (with 30 servings). Our Unflavored version costs $25.99 while Chocolate and Vanilla cost $37.99 each. However, you can still save 12.5% by subscribing.
Users have different opinions of Kiss My Keto and Quest MCT oil powder. See what they love about these keto supplements and what they think should be improved:
Kiss My Keto
The good:
Busts sugar cravings: "I was a sugar addict but not anymore. This product does help me with any sugar cravings. Definitely recommend!"
Brain health: "My mom started using it and putting it in her tea once a day. she's noticed a difference in inflammation and less brain fog. She says she will continue to use it."
Makes your morning coffee better: "This creamer is a game changer! I am not much of a coffee person but I actually look forward to drinking my cup of coffee in the morning because this added along with my other ingredients makes my coffee taste like hot chocolate heaven!"
The bad:
Some find it very sweet: "This is the first chocolate KETO mix I've tried, so I don't have anything to compare it to yet. I like the chocolate flavor, but it's very sweet, too sweet. I'm going to try an unsweetened one next time and add sweetener myself."
Quest
The good:
Dissolves easily: "I used as much as I usually do (which is a whole bunch) and just stirred with a spoon. It dissolved very nicely and did not leave any gritty junk at the bottom of my mug…"
Quick energy boost: "I have been following the ketogenic lifestyle since 12/05/18 and although my energy has been better since the beginning I noticed even more since this product."
The bad:
Concern about the ingredients: "Of course I had tried it before seeing this under the ingredients and I am quite allergic to dairy. Also not a fan of the corn fiber."
The good news is that both Kiss My Keto and Quest MCT oil powders are keto-friendly. They contain medium-chain triglycerides, a ketogenic supplement. All products have zero to 1g net carbs which means they won't raise your blood sugar and kick you out of ketosis.
Choose Kiss My Keto if you prefer having more flavors to choose from. Also, it's clear on the Supplement Facts label that our MCT oil powder provides you with 9,000-10,000mg of MCTs. We're not sure about the amount with Quest since that's not indicated on their Nutrition Facts label.
On days when you feel like having a sweet drink or baked treat, Kiss My Keto MCT oil powder will satisfy you while supporting your lifestyle.
We hope this guide helped and that you can try one of our MCT oil powders today. Click here to shop. You can enjoy fast free shipping for orders above $60 (in the US only).