JUMP TO RECIPE
Do you love chicken cordon bleu but don't love the mess left over after preparing it? Well, this recipe turns this tasty but complicated classic into an easy casserole dish. Try this cordon bleu casserole recipe to save yourself the trouble without compromising on the flavor front. Oh, and it's keto-friendly to boot!
What's Special About This Recipe
First, a short primer: cordon bleu is a popular dish of Swiss origin made by filling meat cutlets with slices of ham and cheese, breading it, and frying it. It's somewhat of a comfort food enjoyed by many worldwide. 
But making cordon bleu can be tough, especially if you're a beginner cook or when you can't muster the energy at the end of a hard day's work. That's where simplified versions like these come in handy. Unlike traditional chicken cordon bleu — which can be messy to prepare — this chicken cordon bleu recipe for two is quick and straightforward like most casseroles. Making it in ramekins instead of a casserole makes post-clean-up easy. 
This keto chicken cordon bleu casserole is low-carb and keto-friendly. That's because we used Kiss My Keto's Keto Bread in Seeded Wheat flavor cut into cubes in place of breadcrumbs used in traditional recips.
How to Make Keto Chicken Cordon Bleu Casserole
Because we're talking about a casserole here, you can expect the process to be easy. Making this low-carb cordon bleu casserole is as easy as one-two-three:
1. Pre-soak the bread cubes
Cut your sliced bread into half-inch cubes and soak in a mixture of egg, almond milk, and onion powder for about 10 minutes. 
2. Arrange everything in ramekins
We used two large ramekins for this two-person recipe for easy serving and clean-up. Of course, feel free to use a medium-sized casserole dish if that's what you have. The ingredients should be arranged as follows: bread crumbs, ham and chicken cubes, and Swiss cheese on top.
3. Make the sauce and cook
Make the casserole sauce using heavy cream thickened with xanthan gum or a different low-carb thickener. Pour sauce over the ramekins and bake until golden brown.
Keto Chicken Cordon Bleu Casserole (Quick & Easy)
Preparation Time: 15 minutes
Cook Time: 40 minutes
Serves: 2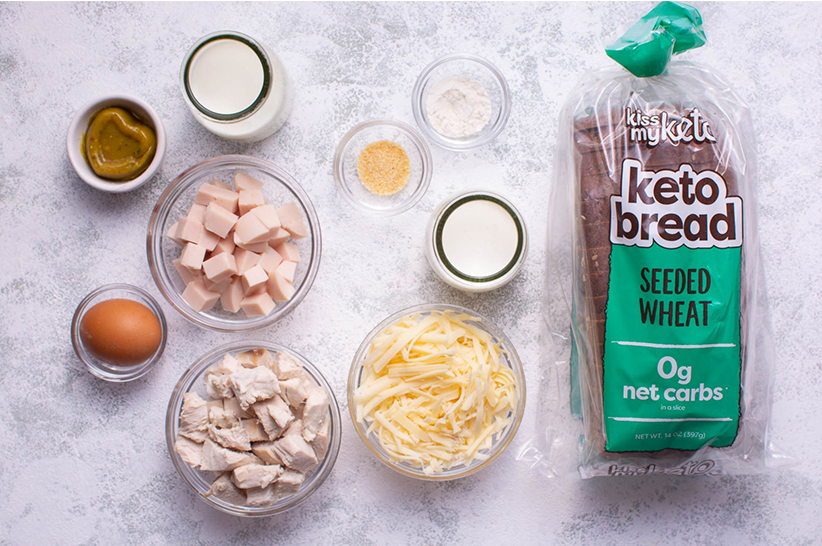 5 slices cubed

Kiss My Keto Bread – Seeded Wheat

1 large egg

1 cup unsweetened almond milk

1 tsp onion powder

6 slices of ham, cubed

1 cup chicken, cooked and cubed

1 cup Swiss cheese, shredded 

¾ cup heavy cream

½ tsp xanthan gum

1 chicken bouillon cube
Cut bread into half-inch cubes.

In a medium bowl, whisk the egg, unsweetened almond milk, and onion powder. Add the cubed bread and stir until it absorbs the egg mixture.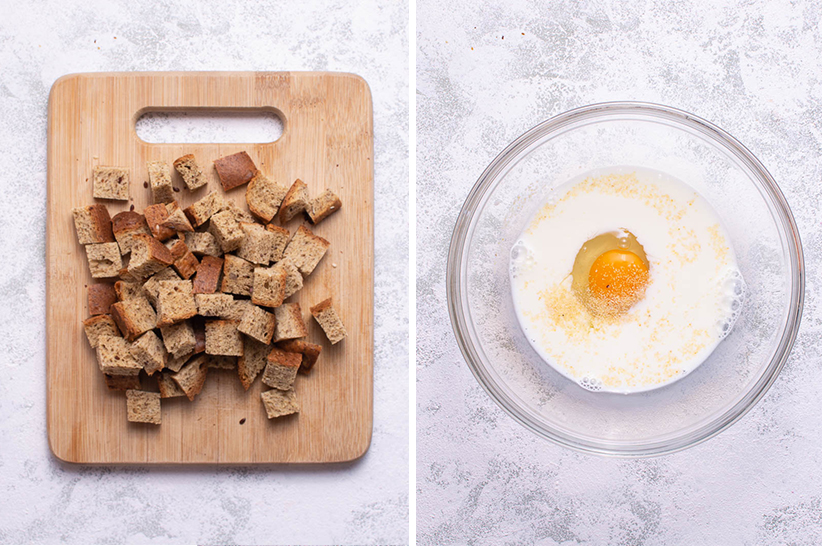 Preheat the oven to 350°F (176°C).

Place a third of the bread into two large ramekins (or a baking dish). Top with some of the cubed ham and chicken followed by Swiss cheese. Repeat with the remaining ingredients, making sure there's plenty of cheese in the final layer.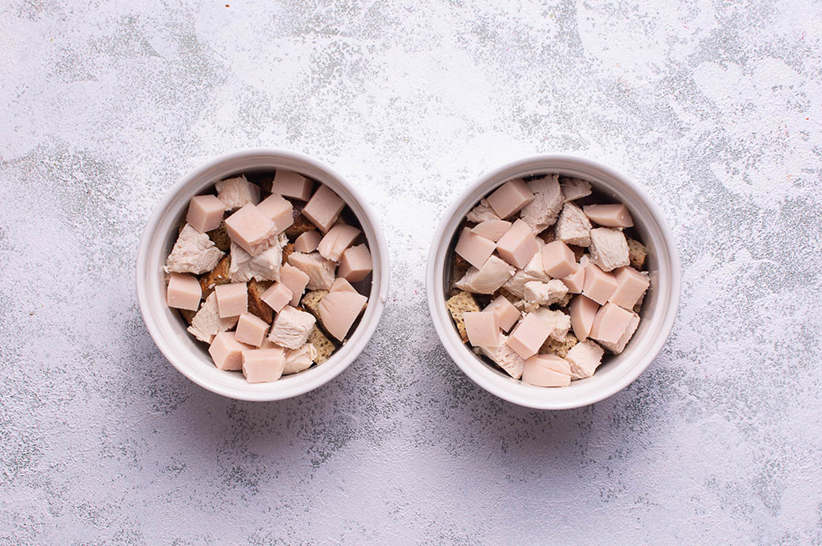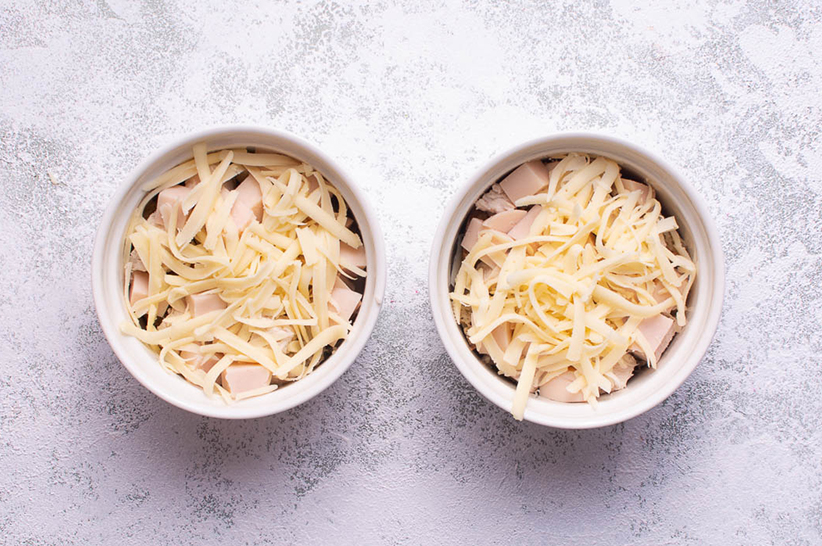 To make the casserole cream sauce, whisk the heavy cream with the xanthan gum. Add the bouillon cube and set over medium heat. Cook until the bouillon cube dissolves. If you see any lumps, strain the mixture through a fine-mesh sieve to help break them up.

Pour the sauce over the ramekin filling and bake for 40 minutes or until golden brown on top. Leave on the counter for 10 minutes to cool before serving.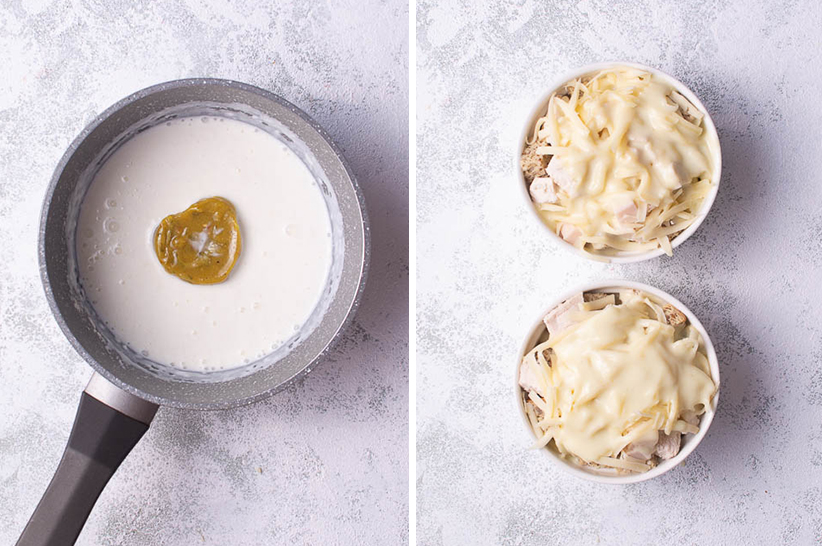 Tips & Tricks
Tips, Tricks, and Substitutions
Make sure all your ingredients are uniformly cut so that everything bakes evenly. Avoid cutting the meat larger or smaller than recommended since this can lead to overcooked or undercooked pieces. And when filling your casserole or ramekins, leave a couple of inches of free space on top so it doesn't overflow during baking. 
This recipe keeps things simple but you can add low-carb vegetables, spices, herbs, and other add-ins of your choice. A little bit of Parmesan cheese goes well with this as does parsley, Dijon mustard used in traditional recipes, and a drizzle of lemon juice on top.
If you can't find or don't want to use xanthan gum, use glucomannan powder instead. You can also use any part of the chicken you prefer instead of cooked chicken breast.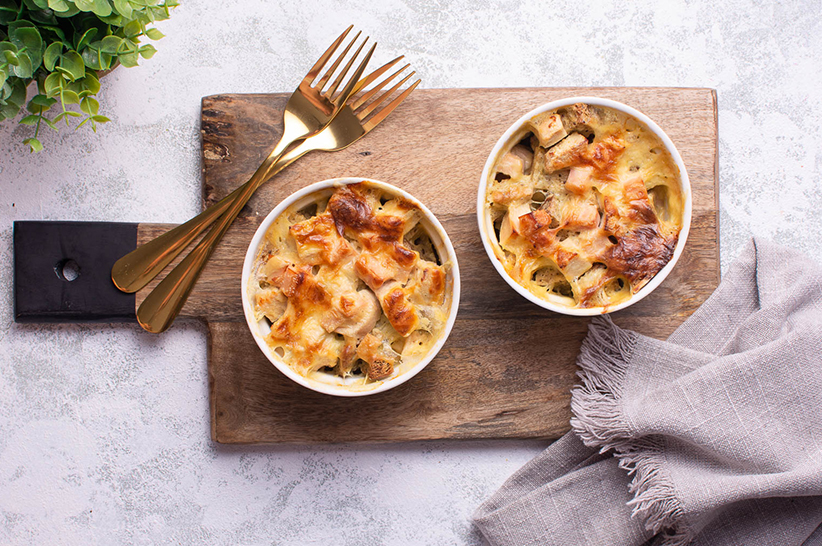 Keto Chicken Cordon Bleu Casserole Ingredients
For this recipe, you will need 10 ingredients total, which include:
Egg and almond milk
To soften the bread cubes, you will need to soak them in a mixture made by beating one large egg with a bit of unsweetened almond milk. 
Chicken and ham
We used cooked chicken breast for this recipe and cooked ham. If you have leftover rotisserie chicken, feel free to use that. 
Swiss cheese
Also known as Emmentaler, Swiss cheese has a sweet but nutty flavor that goes perfectly both in cordon bleu and in casseroles. Not to mention the ooey-gooey factor that makes it hard to resist this dish. 
Heavy cream and xanthan gum
For the casserole sauce, you'll be using heavy cream thickened with a bit of xanthan gum. Xanthan gum is a popular substitute for cornstarch in keto cooking, in case you were wondering.
Chicken bouillon cube and onion powder
Use a good quality bouillon cube and onion powder for a deep flavor and improved texture with little effort. Avoid chicken broth since it will dilute the sauce too much.
Keto Chicken Cordon Bleu Casserole FAQs:
How do I know when this chicken cordon bleu casserole is done?
After about 30- 40 minutes, it should develop a golden brown hue. But the exact timing depends on your oven, so check it periodically.
How do I serve this chicken cordon bleu casserole?
This dish goes well with steamed broccoli, Brussels sprouts, asparagus, and other low-carb veggies. 
Can I make this meal in a different dish?
Yes, you can make it in a baking dish, ceramic, or glass, as long as it's heatproof.
Can I use breadcrumbs instead of keto bread?
Sure! You can make your own low-carb breadcrumbs or maybe even try Kiss My Keto Bread Crumbs available in convenient packaging. Use about the same amount of crumbs as bread to help them absorb excess liquid.
How many calories are in this chicken cordon bleu casserole?
This low-carb casserole has almost 750 calories per serving. This is a normal amount of calories for a lunch or dinner meal on a 2,000-calorie diet.
How do you store this meal?
This meal is even better the next day! So store it in the fridge wrapped in plastic foil or in the freezer for up to two months.