JUMP TO RECIPE
Here's a quick and convenient recipe that serves as a tasty family dinner or a pre-workout meal. Check out this pasta carbonara made with shirataki konjac spaghetti.
A common challenge on a ketogenic diet is not being able to enjoy traditional carb-rich foods like you used to. But the good news is, there are alternatives out there that are as good. You just have to find them. Pasta carbonara, for example.
You would think that this pasta dish is complicated, but it requires only six ingredients. That's right. Go ahead and check it out.
How to Make Keto-Friendly Pasta Carbonara
With a total prep time of 20 minutes, this low-carb pasta carbonara is a perfect choice for busy days. Just because you're on a time crunch, doesn't mean you can't make healthy food. There's no need for you to resort to a meal delivery service when you can have a satisfying dish in less than half an hour.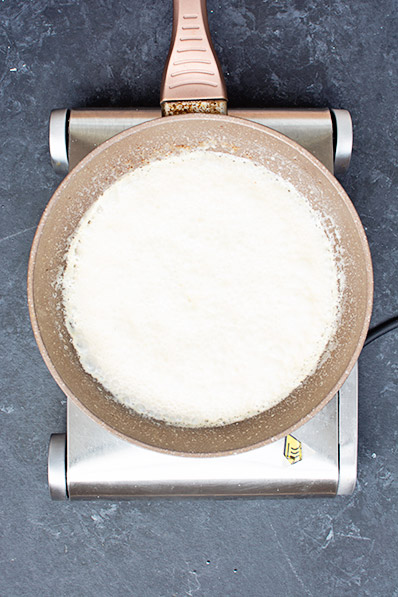 So, prepare the following ingredients:
Heavy cream – This is a wonderful option for pasta sauces. Unlike whipping cream, heavy cream will hold its shape longer. It's also a source of fat for your keto diet.
Butter – For this recipe, you're going to use butter to fry the bacon or pancetta. Butter also gives a richer flavor to your carbonara.
Bacon – You can use pork or beef bacon depending on your choice. If not, use pancetta. Between bacon and pancetta, it's pancetta that's famous for Italian cooking.
Egg yolks – Yolks act as emulsifiers and create a smooth texture for your recipe. Not to mention, egg yolks are rich in nutrients such as vitamin A, vitamin D, iron, calcium, and magnesium.
Parmesan – Freshly grated parmesan cheese completes your keto carbonara. It imparts a tangy and umami taste to your dish, and is high in protein and fat.
Shirataki konjac spaghetti – You'll need only one packet of spaghetti. It's amazingly low in carbohydrates, you won't have to worry about insulin and blood sugar spikes.
Skillet
Colander
Spatula
Knife
Whisk
Keto Carbonara Recipe Tweaks to Try
Spaghetti carbonara is one of those dishes that can be modified according to your personal style or eating preferences. Here are some ideas:
If you're on a vegetarian diet, feel free to skip the bacon. You can use mushrooms instead!
Olive oil is okay for frying bacon or pancetta. Make sure to use extra virgin olive oil.
Fresh, minced garlic is a wonderful way of adding fragrance to spaghetti carbonara! Not to mention, garlic is a beneficial ingredient as it contains potent medicinal properties.
Feel free to add some freshly ground black pepper to your bowl of egg yolks and parmesan cheese.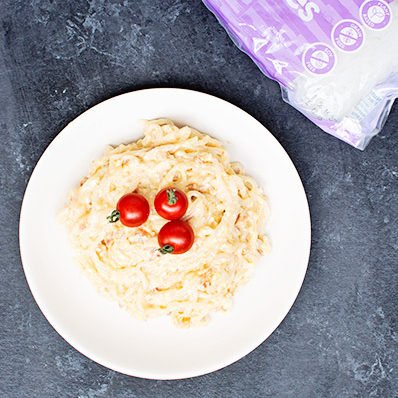 Frequently Asked Questions
How do I store cooked keto carbonara?
Allow the carbonara spaghetti to cool first before storing it in an airtight container and placing it in the refrigerator.
What is the shelf life of keto carbonara?
If properly stored, it will last in the fridge for up to 4 days.
What goes well with carbonara?
Potential side dishes include salads (broccoli or chicken salad), brussels sprouts with parmesan, and keto-friendly bread. Keto wines such as Pinot Grigio and champagne are also good.
Keto Carbonara
Preparation Time: 5 minutes
Cook Time: 15 minutes
Serves: 2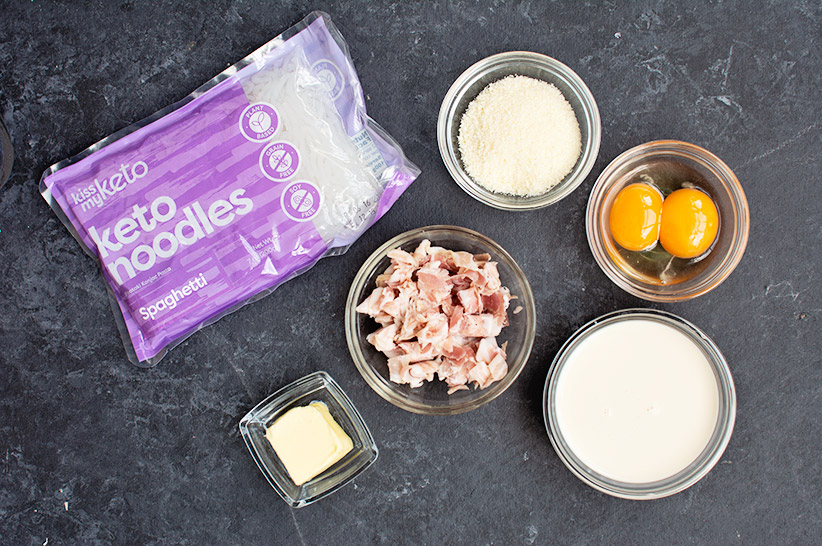 ¾ cup heavy cream
½ tbsp butter
4oz. pancetta or bacon
2 egg yolks
1 packet shirataki konjac spaghetti
1oz. freshly grated parmesan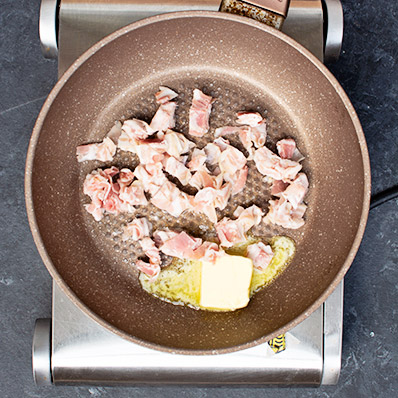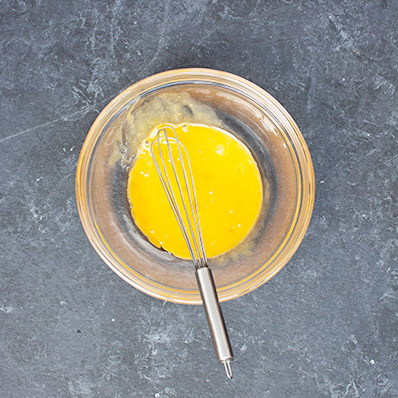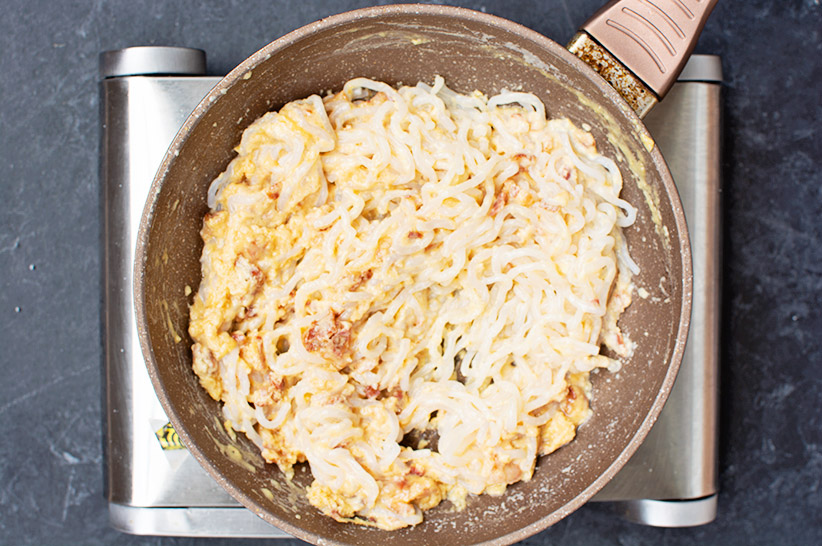 Prepare the spaghetti according to package directions.
Melt butter in a skillet over medium-high heat.
Add chopped pancetta or bacon, and cook until crispy.
Remove pancetta or bacon along with fat.
Pour the heavy cream into the skillet.
Bring to a boil and reduce heat. Simmer until reduced by half.
In a bowl, beat egg yolks with pancetta and parmesan. Pour the mixture into the heavy cream and whisk to combine.
Remove from the heat and stir in the spaghettis.
Serve warm.
Tips & Tricks
Avoid a "clumpy" carbonara sauce by making sure that your egg yolks are warm enough (room temperature) before adding them to the mixture.
Distribute the sauce evenly so that the spaghetti is completely covered with sauce.
Some prefer topping their carbonara with egg yolk. If you do this, be sure that the pasta is still very hot. Keep in mind that the extra yolk will make the sauce thicker.