There are so many ketone meters to buy it's hard to know which ones are best. We selected 8 of the best ketone meters market to make your search easier.
Being in ketosis is important on the keto diet. In fact, everyone on keto desperately wants to raise their ketones to reach this metabolic state. Many even hope to remain in it until they've reached their goals and ideally longer.
But how do you know if you're in ketosis? One surefire way is by using ketone meters. There are two types of ketone meters to buy on the market: blood ketone meters and ketone breath analyzers. The devices measure blood ketone levels or ketones on your breath. Both are highly accurate (especially the blood meters), and some brands can measure additional metrics: blood glucose, hemoglobin, and more.
Ketone meters have an edge over ketone test strips. The latter can accurately measure ketone levels while you're in the initial stages of ketosis. But when you've become keto-adapted after following keto for weeks, their accuracy diminishes. That's why if your goal is to stay in ketosis for a really long time — ketone meters are better for gauging ketosis.
So, which ketone meters to buy in 2021? Here is a quick rundown of the best ketone meters on the market.
1. Ketone Blood Test Kit - Kiss My Keto
A simple and reasonably priced ketone testing kit for basic ketone measuring. Its main tool is a blood ketone meter with high accuracy that will read you your results within seconds! The kit also comes with a pouch, instructions, one month's worth of test strips, a lancet holder and lancet devices, and a battery. In other words, you get everything you need to start measuring blood ketone levels. Plus, you'll find instructional videos on Kiss My Keto's website along with customer support.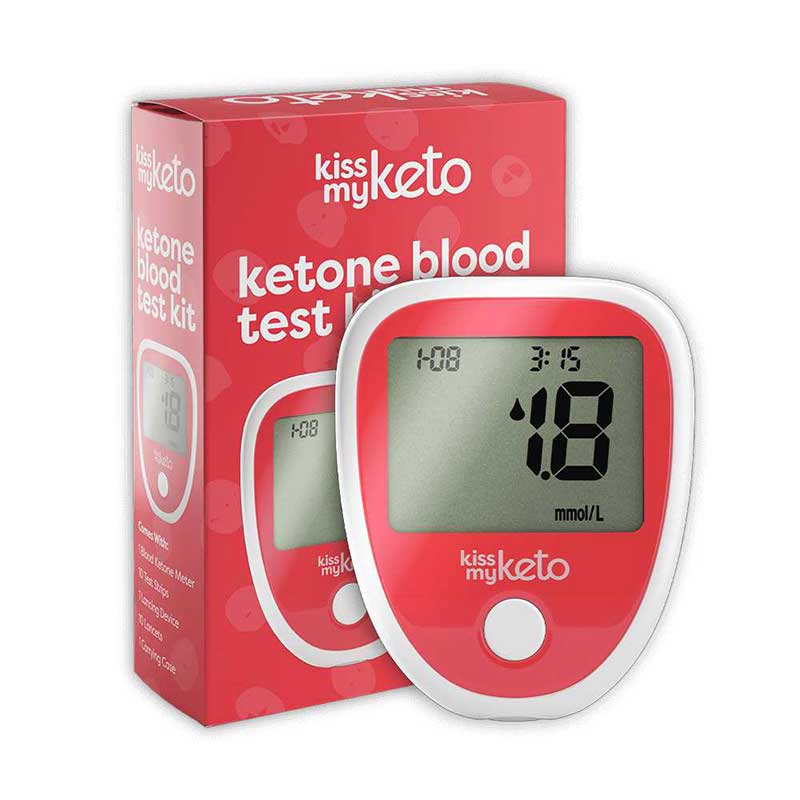 Pros
FDA-certified
Pre-calibrated, no coding needed
Quick results in just 10 seconds
Requires a tiny bit of blood (0.5µL) for an accurate reading
Stores over 400 readings for long-term progress tracking
Comes with a 2-year warranty and a 60-day satisfaction guarantee
Cons
No app connection
Not covered by FSA/HSA
Price: $39.99
---
2. Precision Xtra - Blood Glucose & Ketone Monitoring System
Made by Abbott Laboratories, the Precision Xtra blood ketone meter is an oldie-but-goldie kit that monitors ketones as well as blood glucose levels. This is definitely the perfect glucose monitoring product if you're diabetic plus on the keto diet because it kills two birds with one stone. With the kit, you'll get a meter, a carrying case, a lancing device, and 10 lancets.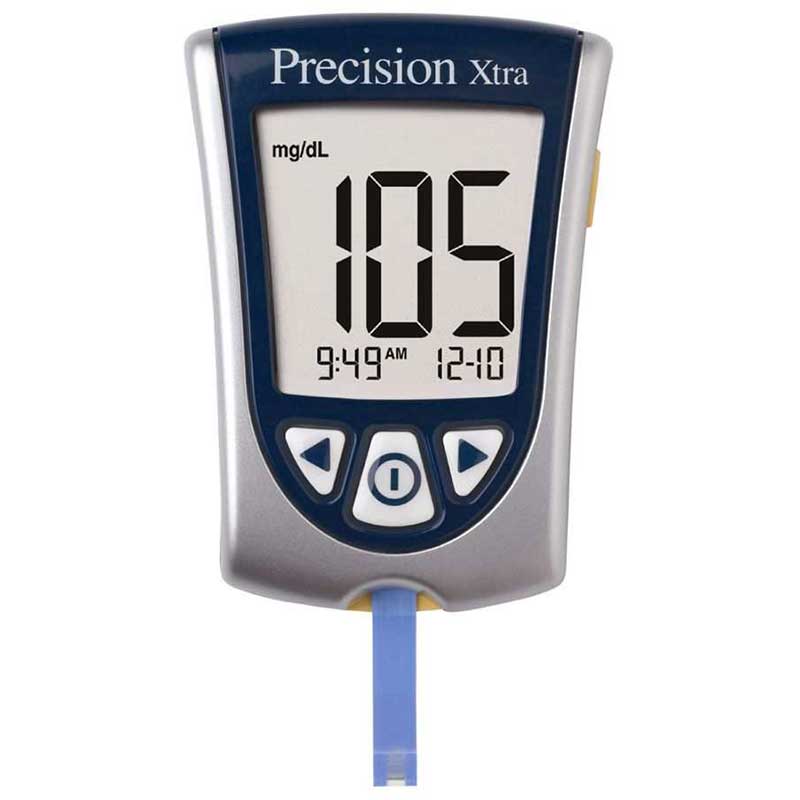 Pros
Accurate readings in 5-10 seconds
Pre-calibrated – no coding required
Has a large display with backlight
Stores 450 test results, complete with date and time
Can upload results to your computer with a data cable
Cons
No app connection
Test strips not covered by insurance providers
The website has very little info
Price: $27.50
---
3. KetoCoach Blood Ketone Meter Starter Kit
Keto Coach sells two products: urine test strips and this ketone meter starter kit. You can also purchase additional strips and accessories through their website. The company claims its meter is 98% accurate when compared to lab testing. It's also affordable in the long run since the strips are sold starting from $0.59 per piece. The kit includes a case, a user guide, 10 lancets and test strips, and a lancing device.
Pros
Comes with a 5-year warranty
The website that has plenty of useful info
Comes with free shipping
The strips are individually wrapped in foil
Can be connected to the company's app
Approved by the FDA and covered by FSA/HSA
Includes an Owen Mumford lancing device, for painless sampling
Cons
Offers refunds only for defective or unopened items/li>
Requires more blood than most meters
Price: $49.95
---
4. Nova Max Plus Blood Glucose/Ketone Meter
Another two-in-one product that can measure blood sugar as well as ketones, the Nova Max Plus meter is initially affordable and easy to use. It requires only 0.3 μm of blood and comes with a 33 Sureflex lancing device for pain-free testing. To test for ketones, you'll have to use a different set of test strips, which are pricier than with other products. If you don't like the transparent blue design, there's also one available in clear black.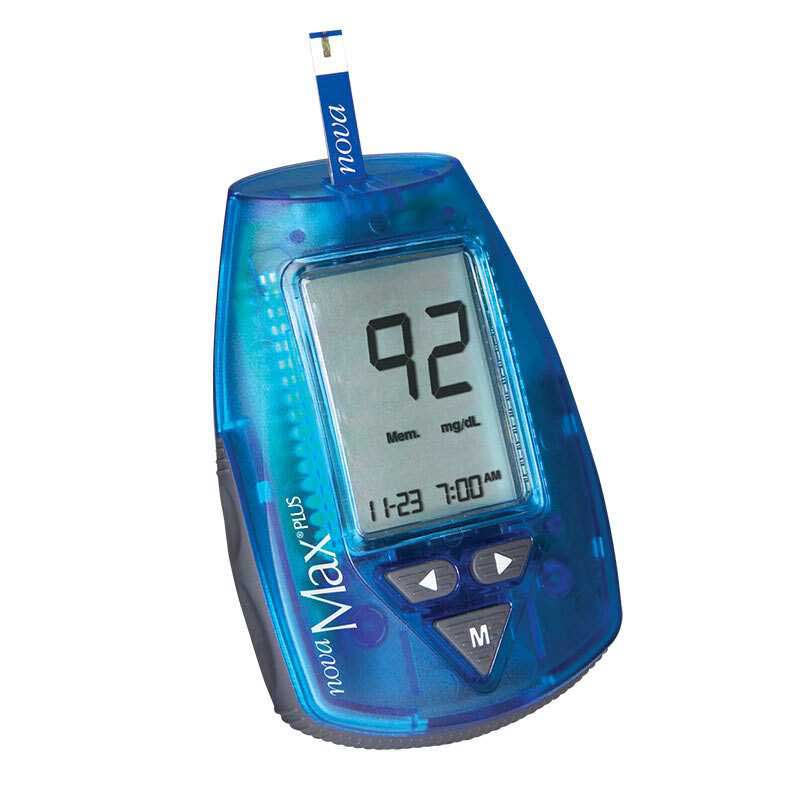 Pros
Requires the smallest amount of blood of any device
No coding required
Includes a high-quality lancet
Comes with a 3-year warranty
Covered by FSA/HSA
Cons
All purchases are final and non-refundable
No app connection
Not covered by FSA/HSA
The ketone strips are expensive
Price: $24.99
---
5. GlucoRX HCT & Ketone Blood Glucose Monitoring System
This glucose monitor was designed specifically for people with type 1 diabetes. The company behind it is a large UK supplier of medical devices for diabetics, but US shipping is also available. This multi-purpose device provides a complete health check by measuring blood ketone levels, glucose, and hematocrit. It can also correct blood glucose levels according to the hematocrit value to enhance accuracy. The kit includes 10 glucose test strips and 1 ketone strip as well as 10 lancets.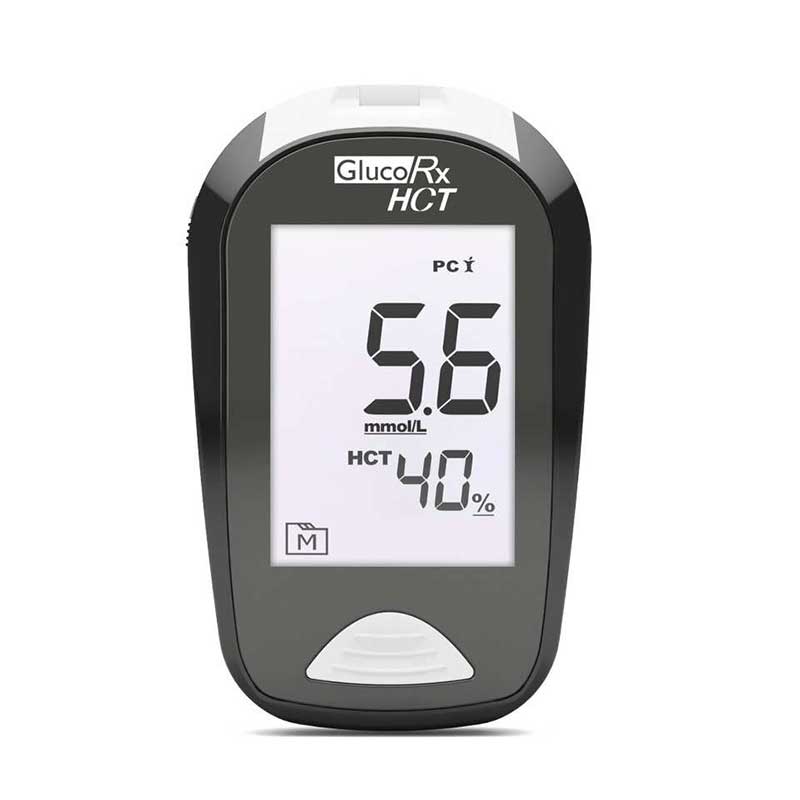 Pros
Tests hematocrit and accurately measures glucose
Provides averages from 7 days to up to 3 months
Features alarm reminders and strip ejection
Readings can be downloaded to GlucoRx's software with a free USB cable
The company is easy to contact through customer careline
Affordable shipping outside the UK
Cons
Info on memory capacity is not available
The ketone strips are expensive
Price: $16.39
Buy here
---
6. Keto-Mojo GK+ Blood Glucose & Ketone Kit
Another FDA-approved monitor, you can definitely rely on Keto-Mojo GK for easy and accurate testing. It's easy to use straight out of the box, and the company's website has plenty of how-to content to help you out. The Keto-Mojo GK devices syncs smoothly with the company's free app. With this kit, you'll get a meter, a lancet device, 2 batteries, 20 lancets, 10 glucose test strips, 10 ketone strips, and an accessory case.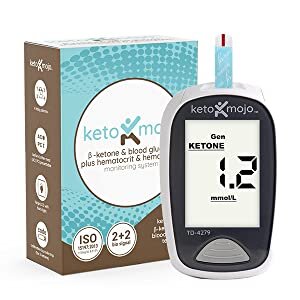 Pros
Free app and bluetooth integration
Measures both glucose and ketones
Lifetime warranty
FDA approved
Memory stores up to 1,000 readings
Requires only 0.5µL of blood for accurate readings
Covered by FSA/HSA
Cons
Test strips can be expensive
You cannot purchase ketone strips separately
Price: $44.99
---
7. Ketonix Breath Ketone Meter
If you'd rather avoid drawing blood, then a keto breathalyzer may be a better option. This ketone breath meter is made by a Swedish company that's registered in the US and other countries. It measures breath acetone and can be connected to a smartphone app to help you gauge your readings. You can also upload your results to your computer or their website. While the product is initially pricey, you won't have to purchase add-ons as you do with blood ketone meters.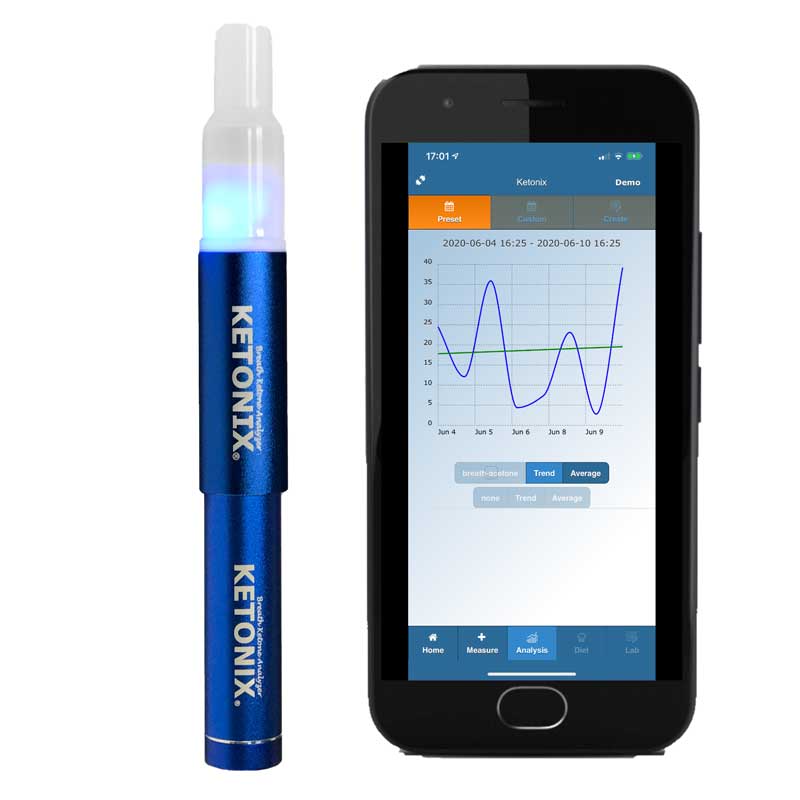 Pros
Designed to be used with an app
Automated calibration
Lightweight and portable
Option to choose between basic and professional kits
Affordable for long-term use
Cons
Provides result ranges rather than exact readings
Ketone breath meters are generally less accurate
Price: $79
---
8. Biosense Breath Analyzer
While this breath ketone meter is pricey, it's also worth it. It is the only clinically-backed breath ketone meter to buy. The device relies on patent-pending technology to accurately measure ketones in your breath. The device is easy to connect to a Bluetooth-enabled app, which logs all your data and generates a personalized summary.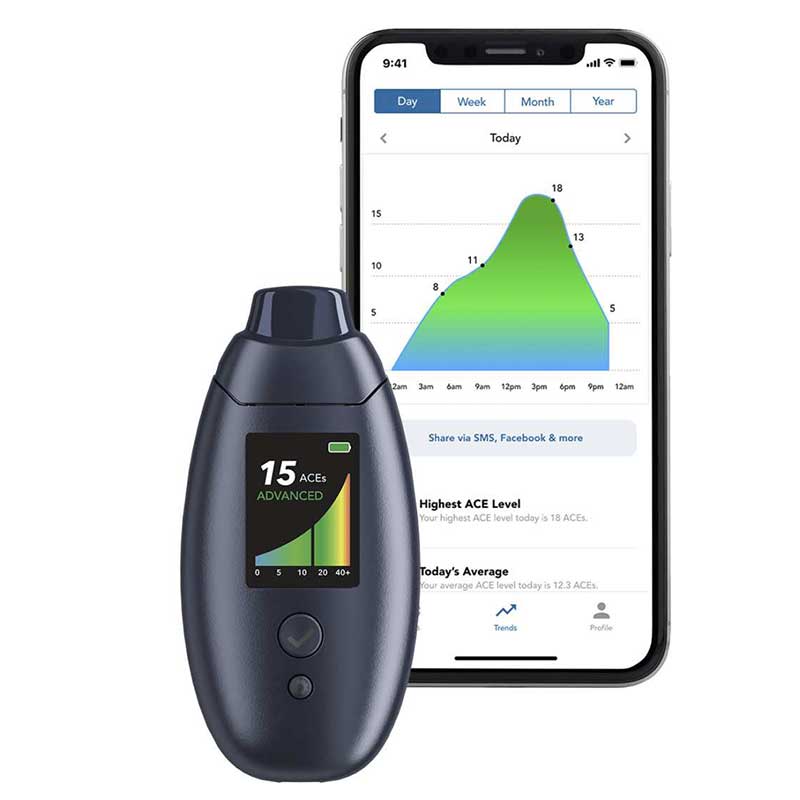 Pros
Unlimited testing and a free app
Comes with a micro USB-charging
Kit includes replacement mouthpieces and a neoprene sleeve
Eligible for FSA reimbursement
FDA-registered
Highly accurate thanks to unique technology
Cons
Expensive compared to other brands
The battery doesn't last long
Price: $299
Buy here
Which Ketone Meter Are You Using?
Choosing ketone meters can be tough considering the sheer number of choices out there. Some dieters like to rely on urine test strips since these are affordable and fairly easy to use. Others want greater accuracy from blood ketone meters, and then some dieters prefer keto breathalyzers.
Which camp of ketone testers do you belong to and why? Feel free to share your experiences in the comments below. We look forward to hearing about your favorite products.