Not sure whether you should pick Nature's Way MCT oil or Kiss My Keto MCT oil? While both are excellent choices, they differ in some aspects.
One way to supercharge your low-carb ketogenic lifestyle is by taking MCT oil. Medium-chain triglycerides (MCTs) are healthy fats to supplement with. They're extracted from coconut oil, which is used by most brands, and palm oil.
Before we dive into today's guide where we compare Nature's Way and Kiss My Keto MCT oils, let's do a quick recap of the benefits of MCTS. Some of its science-based benefits include increased satiety, fat loss, and improved brain memory and function.
These oils can also be taken in different ways. For example, if you workout regularly, consuming them prior to your session may boost your performance. If you plan to do intermittent fasting, MCT oil kickstarts your body's ketone production.
What Is Nature's Way MCT Oil?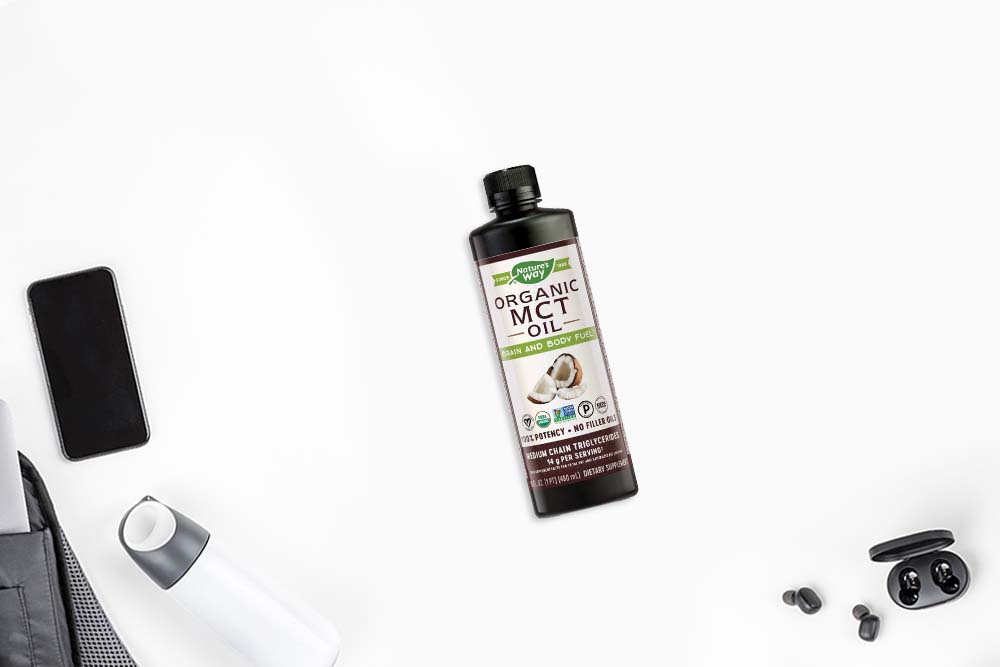 This MCT oil was created by Nature's Way, a company that specializes in an abundance of health supplements from vitamins and minerals to herbs. It's a flavorless oil that's sourced purely from coconuts, with a combination of caprylic and capric acid per serving. According to Nature's Way, you can incorporate their MCT oil into your coffee, smoothie, salads, or yogurt.
Is Nature's Way MCT Oil Keto-Friendly?
Yes, this MCT oil is pure and has no ingredients that will kick you out of ketosis. One tablespoon provides you with 14 grams of fat and 130 calories. If you're following a paleolithic type of keto diet, plant-based keto diet, or just want a supplement to boost your keto lifestyle, then this MCT oil helps support your goals.
Nature's Way MCT Oil vs Kiss My Keto MCT Oil
Kiss My Keto and Nature's Way MCT oil products are similar in many ways. For a start, they're both pure MCTs that come from organic coconuts. They're both keto-friendly! So, what makes these products different? Consider the following aspects below.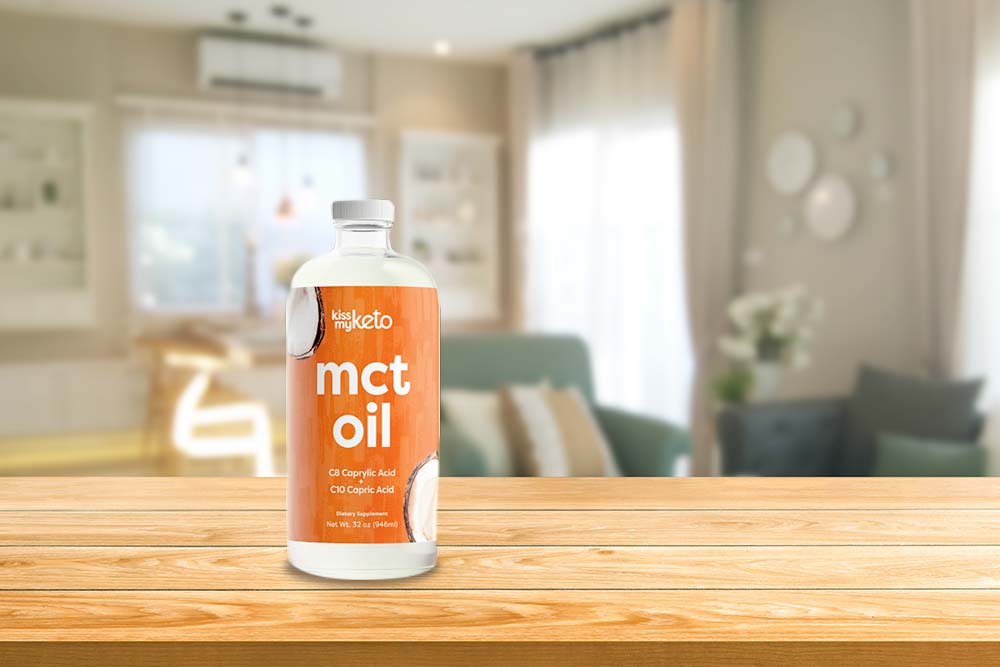 Like I mentioned earlier, both brands get their MCTs from premium coconut oil – not palm oil. According to some sources, MCT oils derived from coconuts are easier to digest.
As a consumer, it's also important to read the labels and check for the presence of fillers and additives. Nature's Way and Kiss My Keto MCT oils are superior in quality in that they don't contain filler oils or other ingredients.
When it comes to the macros, the amount of fat per serving matters. Since MCT oil is pure fat, you should expect to see just the number of calories, total fat, and the types of MCTs in the oil (which we'll dive into in the next section).
1 tablespoon (15 ml) of Kiss My Keto's MCT oil has:
Calories: 130
Total fat: 15g
1 tablespoon (15 ml) of Nature's Way MCT oil has:
Calories: 130
Total fat: 14g
Kiss My Keto has more fat per serving than Nature's Way.
This is what makes an MCT oil product different from others. For those who don't know, there are various types of MCTs. They vary on their fatty acid chain length. You'll notice that most brands use any of the following:
Caprylic acid – C8 (with 8 carbon atoms)
Capric acid – C10 (with 10 carbon atoms)
These are often combined. You'll also see MCT oils that are pure C8. Here's an interesting fact: C8 is considered to be the most "ketogenic" MCT because it boosts your ketone levels faster than other MCTs. If you're looking to kickstart ketosis quicker, you might want to buy a pure C8 product.
Kiss My Keto offers the following MCT oils:
C8 + C10 (in a 32 oz glass bottle)
Pure C8 (in a 32 oz glass bottle)
Nature's Way offers only one MCT oil:
C8 + C10 (in 16 oz and 30 oz plastic bottles)
If you prefer a blend of C8 and C10, both brands have it. Also, the amount of C8 is higher than C10 for both – which is a good thing. The difference is that Kiss My Keto only has a 32 oz bottle while Nature's Way offers two sizes.
As another option, if you want pure C8, Kiss My Keto would be the best choice.
Kiss My Keto MCT oils may come in bigger bottles, but they're cheaper. A 32 oz bottle of C8 + C10 costs $28.99 while pure C8 costs $36.99.
Nature's Way MCT oil costs $21.99 for their 16 oz bottle of C8 + C10 while their 30 oz bottle costs $32.25.
Packaging and Convenience
Kiss My Keto uses glass bottles to preserve the quality of their MCT oils. In addition, this prevents contamination from chemicals in plastic bottles. Just remember to store your MCT oil container in a cool, dark place – away from direct sunlight.
Most customers liked that Kiss My Keto includes a dispensing pump. With this pump, you can conveniently add MCT oil to your cup or bowl and not use a spoon.
Nature's way uses dark plastic bottles for their MCT oils. Don't worry – these are BPA-free. Also, it has a small opening that should make it easy to dispense the MCT oil to a spoon. (I've tried various MCT oil products myself and some brands have large openings on the bottles which can be messy!)
Pure MCT oil is tasteless and should not change the flavor of your food or beverage. The only thing you'll notice is the greasiness which is expected since it's oil. Here's some feedback from customers on the taste:
Kiss My Keto
"Plus, there's no funky, bitter taste that occasionally bites me in the throat with other brands; instead, it goes down smooth with zero after taste."
"I avoid plastic because I can reuse the glass bottles and glass doesn't impart taste or potential BPA."
"It has no taste, no odor, and is very versatile."
Nature's Way
"Add it to your coffee, it doesn't change the taste."
"This is my morning go to with my boost drink… no taste at all which makes this perfect… better than trying to down coconut oil…"
"Not only am I getting in necessary fat, but this oil really is tasteless and odorless."
What do customers think of Nature's Way and Kiss My Keto's MCT oil products after trying them? Check out some of the reviews below.
Kiss My Keto
The good:
Controls hunger: "Tried bulletproof coffee with just butter until buying this, coffee + butter + MCT oil helped with a boost of morning energy, didn't feel hungry until 6-8 hours later (good for intermittent fasting)."
Also works for skin care: "I slather this on my face nightly then double cleanse with a gentle facial wash. So far so good! I've been using it for a month and as far as I can tell it doesn't irritate or break my face out in any way."
Convenient pump: "I also really like the pump that came with it as well. It makes it very easy to use and keeps track of the amount used."
The bad:
Tendency to leak: "Loved the product, I would give it 5 stars, if its not for the faulty pump. This is my second bottle. The oil would leak about 1/3 way down from the top. Not sure why?"
Nature's Way
The good:
Energy boost: "The boost of energy and clarity I get from this is amazing! Also curbs any cravings I have while intermittent fasting."
Mess-free: "love that it has a protective sprout and that the outside of the bottle doesn't get messy with oil leak."
The bad:
Some find it expensive: "They also increased the price because they changed the packaging and we are ones paying for that."
That's it about Nature's Way and Kiss My Keto MCT oil products. Every keto dieter has different preferences when it comes to supplementation. I hope that through this guide, you're able to choose the type and brand of MCT that works for your goals and budget. If you need affordable MCT oil, whether that's C8 or a combination of C8 and C10, go for Kiss My Keto.
Want to try one of Kiss My Keto's MCT oils? Shop here