JUMP TO RECIPE
What can you make out of Kiss My Keto's Peanut Butter and Chocolate Chips granola? Cookies, for sure!
Did you get a chance to try our new granola flavors? If you have their Peanut Butter and Chocolate Chips flavor, one of the ways you'll be able to enjoy them is by using them as an ingredient in your cookie recipe. That's what I did as soon as I got a hold of their granola.
You see, I'm such a big fan of baking, especially cookies. There's an endless number of cookie flavors to try. It can be made with oatmeal, coconut flour, and even granola! The best thing about my granola cookies is that they're specially made for those on a keto diet.
What Are Keto Granola Cookies Made Of?
There are two ingredients that you need from Kiss My Keto. The first one is their granola (Peanut Butter and Chocolate Chips flavor) and the second one is their dark chocolate (Original flavor).
Here are the rest of the ingredients:
Butter – I would recommend using unsalted butter. You may soften the butter by leaving it on the kitchen counter for half an hour or heating it in the microwave.
Swerve – This is a popular keto-friendly sweetener and contains zero calories.
Egg – A large egg will add moisture to your cookie dough, as well as protein.
Vanilla extract – It adds a bit of flavor and sweetness to your cookies. For this recipe, you'll need just one teaspoon.
Almond flour – Made from ground almonds, almond flour is rich in vitamin E and healthy fats.
Baking powder – If you don't have baking powder, other substitutes include cream of tartar or plain yogurt.
Unsweetened coconut – Shredded coconut can be used in a wide variety of desserts, including cookies! It imparts a fresh and pleasant smell to your recipe.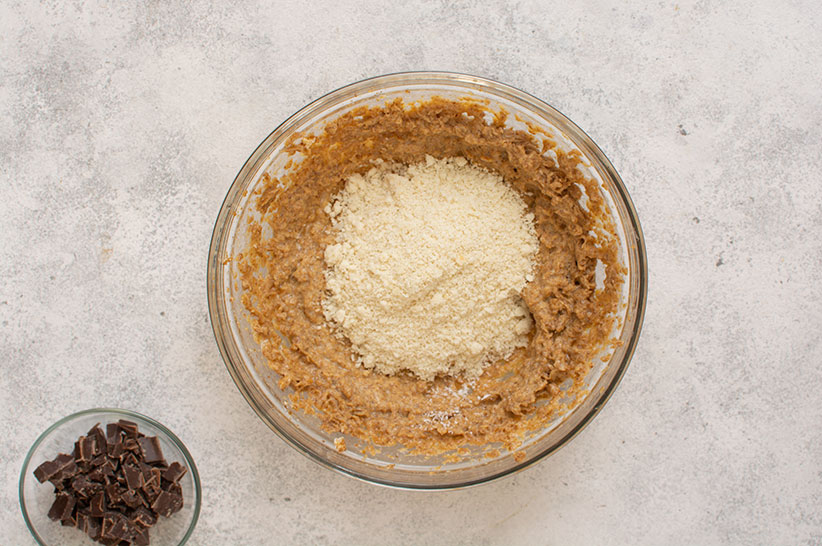 One serving of keto granola cookies only contains only 1.3 grams of net carbs. You can have it as a regular snack or something to energize you before your workouts.
Baking sheet/cookie sheet
Whisk
Spatula
Tips for Making Keto Granola Cookies
If you want your cookies to be more filling, you can add chopped nuts such as almonds or pecan nuts.
Use grass-fed butter if you can. Grass-fed butter contains more nutrients than regular butter, which makes it great for your keto diet.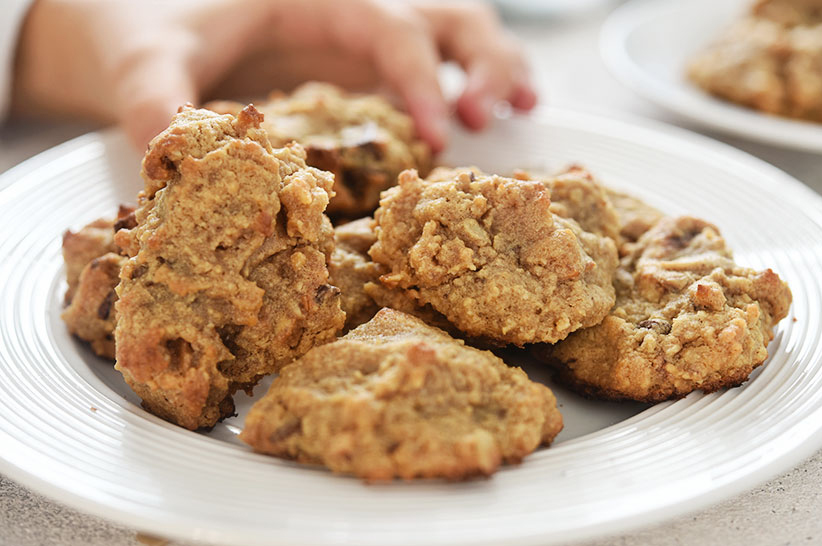 Placing the cookie dough in the refrigerator makes your cookies thicker and tougher.
Adding salt to your cookie recipe will also give it more flavor. Try Kosher salt or Pink Himalayan salt.
Frequently Asked Questions
What can I use instead of almond flour?
In my opinion, coconut flour is a great alternative. It's low-carb, delicious, and fragrant. Just keep in mind that coconut flour is very absorbent and tends to soak up liquid. It also has a gritty texture! To counter its drying effect, I recommend using an extra egg or two.
How long will my cookie dough be good for?
Homemade cookie dough will usually last about 3-5 days in the fridge. Store the dough in a Ziploc bag or an airtight container.
What does ripening a cookie dough mean?
Ripening is basically chilling your cookie dough in the fridge before baking it. The longer you chill the dough, the more likely it absorbs the moisture from your eggs. It will also give your cookies a deeper brown color and improved flavor.
What toppings can I use?
There are plenty of options. You can use sea salt, sugar-free rainbow sprinkles, sugar-free white chocolate, or chopped nuts!
Keto Granola Cookies
Preparation Time: 15 minutes
Cook Time: 10 minutes
Serves: 12
½ cup butter, softened
2oz. brown Swerve
1 large egg
1 tsp vanilla extract
1 cup almond flour
½ tsp baking powder
¼ cup chopped Kiss My Keto dark chocolate
⅓ shredded unsweetened coconut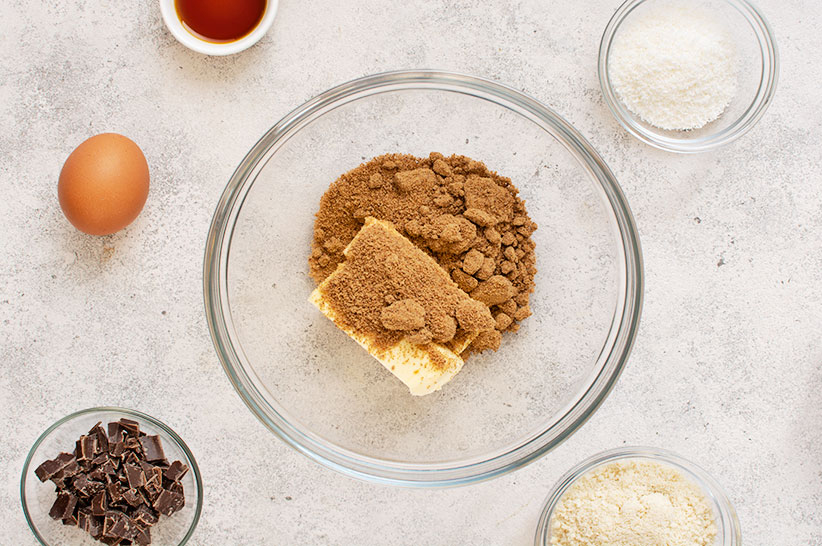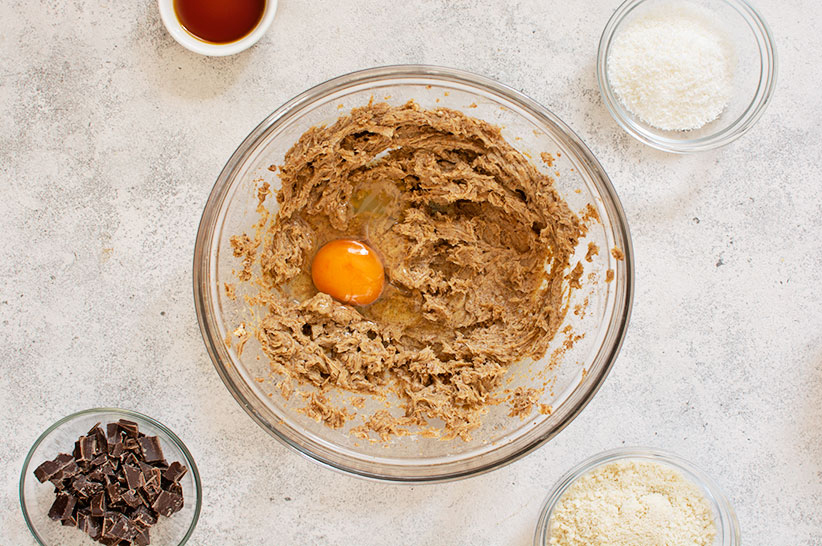 Preheat the oven to 350F. Line a cookie sheet with parchment paper.
In a bowl, beat butter and Swerve until creamy and fluffy.
Add egg and vanilla.
Fold in almond flour, and baking powder.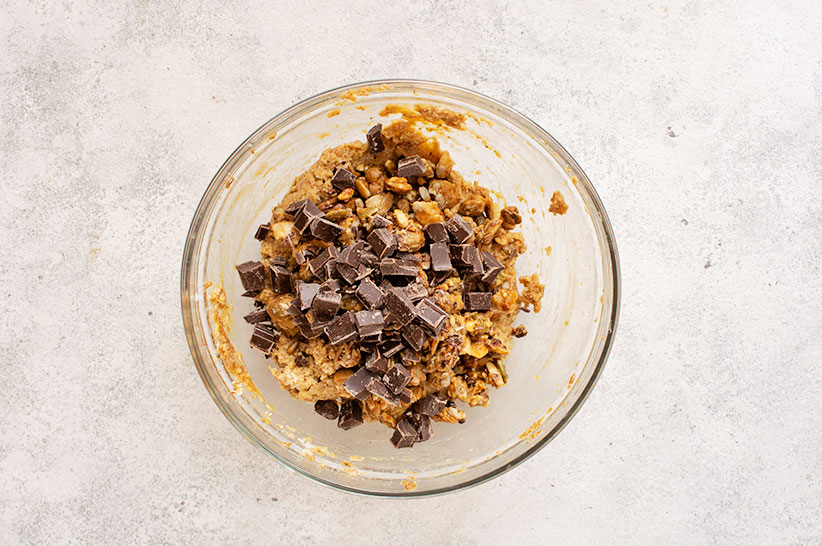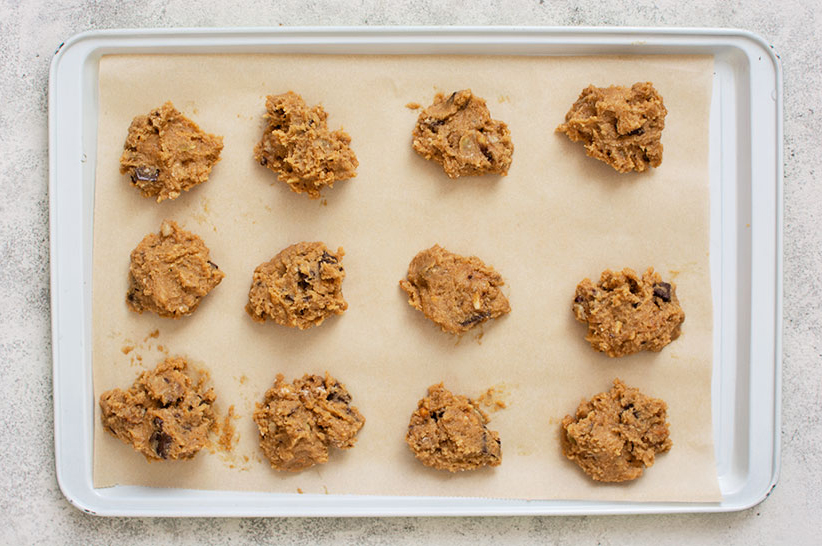 Add the granola, chocolate and coconut.
Drop the cookie batter on a baking sheet by a rounded tablespoon.
Bake the cookies for 10 minutes.
Cool the cookies on a wire rack before serving.
Tips & Tricks
Try to use the "pan-banging technique" to give it a unique, ripple effect. All you need to do is take the baking pan sheet and bang it against the kitchen counter to let air out of the cookies. Put the pan back in the oven and take it out after a few minutes to repeat the process.
These keto granola cookies go well with milk, hot chocolate, or a smoothie. Just make sure that your drinks are keto-friendly!