JUMP TO RECIPE
Grilled cheese and tomato soups is one of those old-school recipes with staying power. If you too are a fan of this classic, then you'll definitely love this keto-friendly grilled cheese and tomato soup bake with a Mediterranean twist. It turns your favorite dish into a quick and simple tomato soup casserole. And it keeps the carbs low!
Why You'll Love This Recipe
Casseroles make life so much easier. Just throw veggies and protein into a baking dish, drizzle with sauce, add toppings, and bake until nice and brown. What's also great about them is that the possibilities are endless! 
Case in point: this grilled cheese tomato soup bake.
Featuring crispy and cheese sandwiches drenched in tangy tomato soup and baked to perfection, this is comfort food at its finest. Plus, making it is a breeze. 
We've also made a couple of tweaks for a Mediterranean twist — appropriate for the Summer season.
And to lower the carb count found, we're using Kiss My Keto's Keto Bread in Golden Wheat Flavor. This premade keto bread has zero net carbs and is absorbent enough to be used in a casserole thanks to its high fiber content.
How to Make Grilled Cheese and Tomato Soup Bake
As promised, this grilled cheese tomato soup bake is simple, as casseroles should be. First, assemble the grilled cheese and then make a creamy tomato soup/sauce. Here's how you'll do that:
Step 1: Making the grilled cheese
Start with four bread slices that you slather with the cream cheese, other cheeses, and seasoning. Top with the remaining bread, spread butter on top, and place in a greased baking dish. And that's it! Your oven will do the rest, so no need for messy pan-frying. 
Step 2: Making the tomato soup
Technically more of a creamy tomato sauce than soup, this will be your casserole sauce. For the tomato soup, you will use tomato puree, seasoning, and almond milk, all thickened with just one egg to keep carbs low but the creaminess factor high.
You will then pour the tomato soup over the sandwiches and sprinkle with the remaining Parmesan. Place in your pre-heated oven and bake until golden brown, which should take about half an hour.
Grilled Cheese & Tomato Soup Bake (Low-Carb)
Preparation Time: 10 minutes
Cook Time: 35 minutes
Serves: 4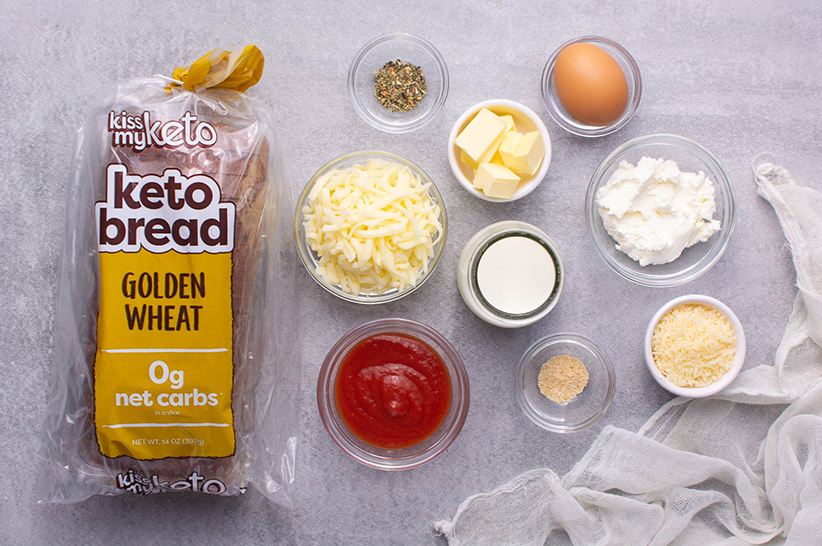 5 slices cubed

Kiss My Keto Bread – Seeded Wheat

1 large egg

1 cup unsweetened almond milk

1 tsp onion powder

6 slices of ham, cubed

1 cup chicken, cooked and cubed

1 cup Swiss cheese, shredded 

¾ cup heavy cream

½ tsp xanthan gum

1 chicken bouillon cube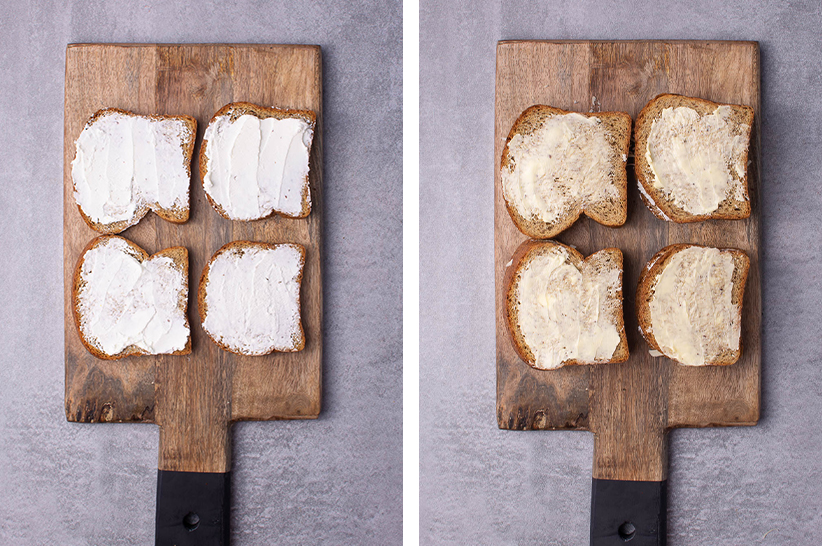 Preheat the oven to 350°F (176°C).

Spread the cream cheese on four of the bread slices. Top with the shredded cheese and half of the freshly grated Parmesan cheese. Sprinkle half of the Italian seasoning over the cheese and top with the remaining bread slices to make sandwiches. Spread the top of the sandwiches with butter and place in a lightly greased baking dish.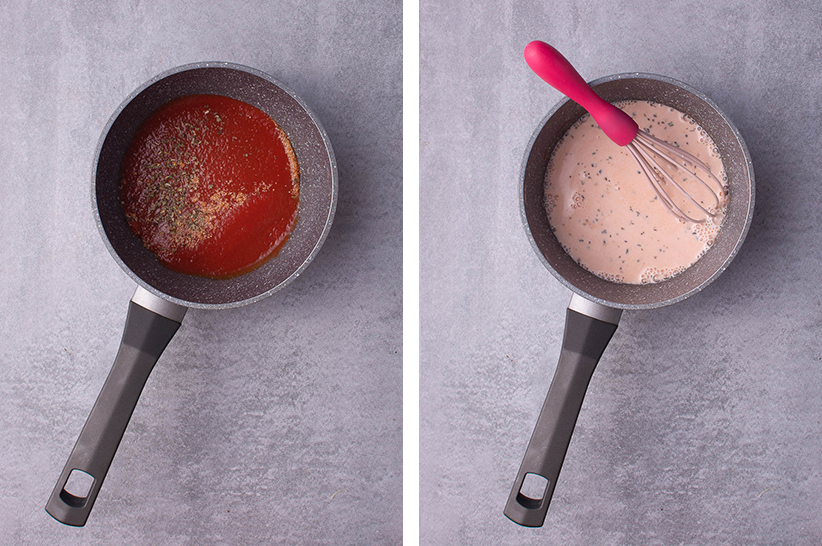 In a saucepot, whisk together the tomato puree, remaining Italian herbs, garlic powder, and salt and pepper. Set over medium heat and bring to a simmer. Whisk in the almond milk. Remove from heat and allow to cool for about two minutes.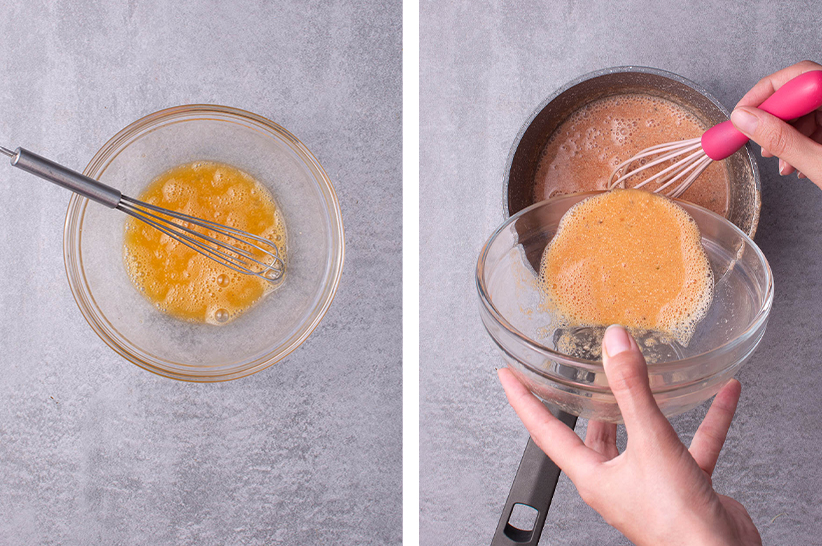 In a medium bowl, beat the egg and slowly pour a bit of the tomato mixture to temper the egg, whisking continuously. Pour the tempered egg mixture into the saucepot with the tomato mixture and stir. Pour the tomato mixture over the sandwiches and top with the remaining Parmesan cheese.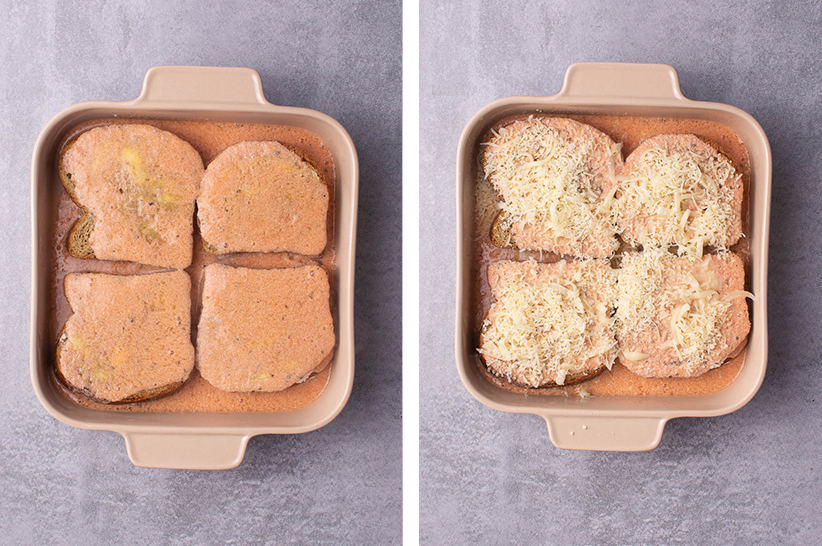 Bake for 30 minutes or until golden brown. Let cool for about 10 minutes and serve warm.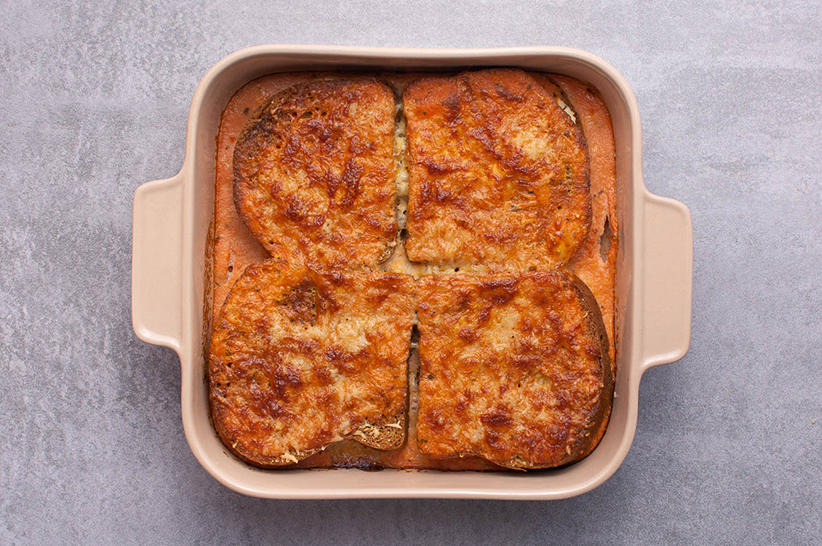 Tips & Tricks
Ingredients and Substitutions
This grilled cheese and tomato soup bake requires about a dozen ingredients. Most are available in your nearest grocery store (the bread included), and you can use alternatives if needed.
Cream cheese and butter
Adding cream cheese to the slices of bread yields a velvety filling that is perfect for this bake. And because no grilled cheese is complete without butter, slather that over the bread as well.
Keto bread
We're using Kiss My Keto Bread – Golden Wheat, but you can try experimenting with any other fiber-rich keto bread. Homemade keto bread may work, too.
Mozzarella and Parmesan
An Italian staple, Mozzarella cheese goes well with tomato everything (think pizza, Caprese salad, or eggplant Parmesan, and tomato soup!). The same holds true for Parmesan. But feel free to use a different cheese, like Cheddar, Gruyere, or Monterey Jack.
Tomato puree
Use good-quality tomato puree and read the Nutrition Facts label for added sugar and other unnecessary ingredients. Use diluted tomato paste (Mix equal amount of tomato paste with water to make tomato sauce)
Italian seasoning, garlic powder, salt and pepper
For a touch of Italian, we're using these simple herbs and spices in this grilled cheese tomato soup bake. If you don't have Italian seasoning, use dried basil and oregano instead.
Almond milk and egg
For thick and creamy tomato soup, add almond milk and temper one egg. An alternative is to use heavy cream instead for a richer and creamier soup.
FAQ
Why does tomato soup go with grilled cheese?
According to food writer Eric Akis, grilled cheese was considered a well-rounded meal that was served by U.S. navy cooks. But after World War II and with updated government nutrition standards, something vegetable-based needed to go with the sandwiches, and that's how this combo came to be.
How many carbs are in this recipe?
This grilled cheese tomato soup bake has just under 400 calories per serving. It also has less than 3 g of net carbs thanks to the keto bread. That means you can enjoy second servings guilt-free. Keep in mind that the calorie count may be different if you use substitutions.
Can I reheat this dish?
Casseroles are often better on the second day, and this one is no different despite having bread in it (no soggy results!). Reheat it in the microwave or oven and it'll taste just as good.
Can I make this with other cheeses?
Yes! While we went with Mediterranean flavors for this, you already know that grilled cheese tastes wonderful with Cheddar and other melty cheeses.