JUMP TO RECIPE
Hello there! Are you looking for a healthy low carb beef jerky recipe? Because let's face it — most store-bought options are loaded with sugar that kick you out of ketosis. Below, we reveal easy steps to making your own version.
Sugar free beef jerky packs are hard to find these days, because people normally go for the sweet taste that commercial brands offer. Unfortunately, they're not good for those who have or are at risk for diabetes, including you who's committed to ending your sugar cravings for good.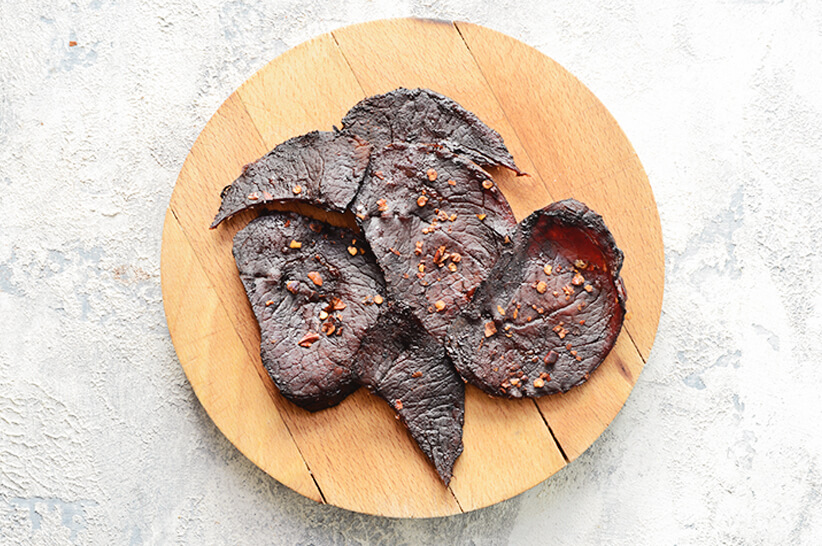 Let's get straightforward here. Beef jerky can be keto-friendly depending on the ingredients that are used to make it. If you look up the ingredients in a typical beef jerky, you'll probably find brown sugar, honey, MSG, and other preservatives. Definitely not a good choice for someone who's on a keto diet.
Fortunately, you can prepare a healthy beef jerky recipe made with simple and clean ingredients. And with that, you'll get less than 1 gram of net carbs per serving and a good amount of protein. Since fatty parts of beef aren't great for jerky, we need to stick with lean meat cuts.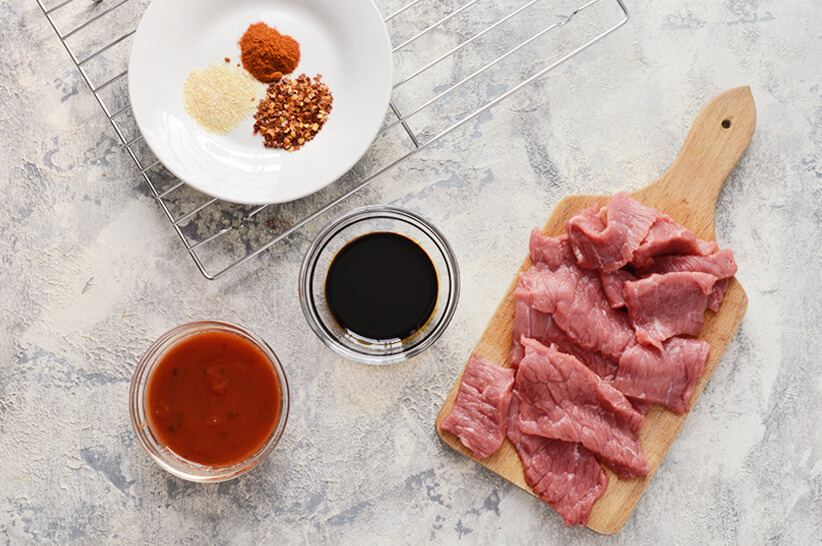 How to Prepare Keto Beef Jerky
Beef jerky is a delicious option for parties, camping, and family dinners! Whatever the occasion, all you need are 6 easy ingredients:
Top round beef or round steak
Coconut aminos
Chili garlic paste
Chili flakes
Salt and pepper (to taste)
This simple recipe takes about 5 hours of prep time. And yet it's worth the wait! If you're serving a huge family or want to save more for yourself to cover the entire week, we suggest that you double the amount of ingredients specified on the recipe section below.
For this keto jerky recipe, the first thing you need to do is slice the beef into thin strips. Doing this helps with the absorption of the marinade for a flavorful jerky. Also, thinner strips will mean a shorter cooking time!
Don't forget to remove any fatty portions on the meat because again, fat won't work well for jerky recipes.
Set aside the meat.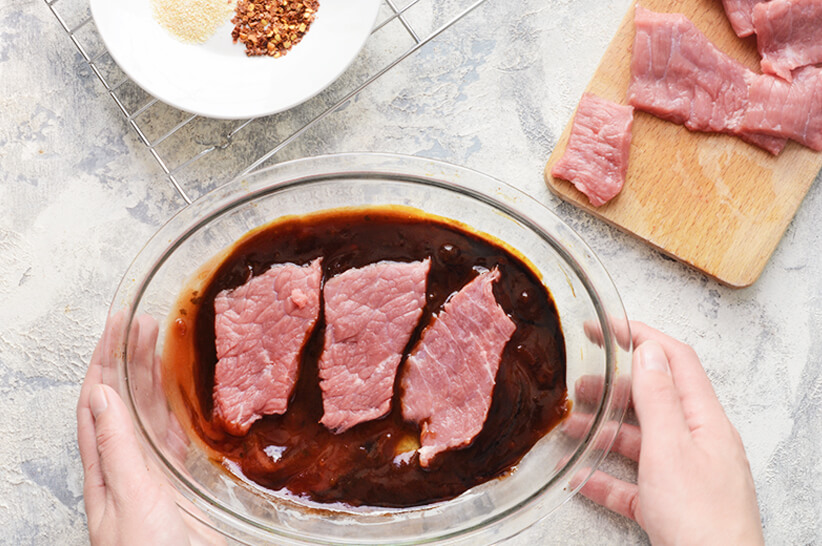 For the marinade, we're going to use coconut aminos and chili garlic paste, and combine them in a bowl. By the way, coconut aminos are an amazing alternative to soy sauce for those with soy allergy and gluten intolerance. If you don't have these health issues, soy sauce is fine.
Marinate the beef slices for about an hour. If you want more flavor or you've got thicker meat cuts, you can marinate for up to 4 hours.
After that, pat the marinated beef with a paper towel and flavor each slice with salt, pepper, and chili flakes.
Finally, dry the beef in a smoker grill for 4-5 hours. And they're good to go!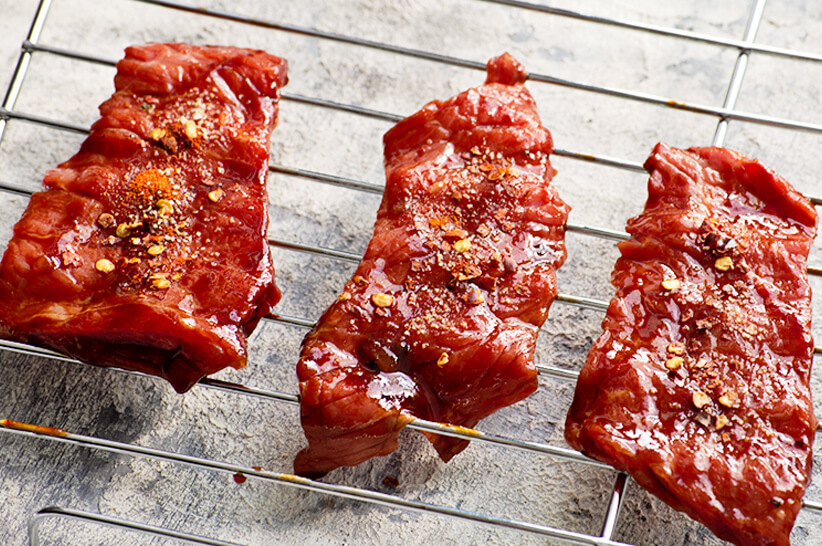 Homemade beef jerky for diabetics can be prepared in a variety of ways. Here are some options to try:
To achieve a sweet taste – Include a can of Zevia in the marinade (coconut aminos and chili garlic paste).
For more aroma and flavor – Add onion powder, paprika, and ground ginger to the marinade.
Other meat options – If you're not really a fan of beef, consider using lean pork (sirloin or tenderloin).
We hope you'll love this delicious keto beef jerky. Let us know your thoughts and opinions in the reviews section below!
Best Keto Beef Jerky Recipe (Sugar-Free)
Preparation Time: 10 minutes + inactive time
Cook Time: 5 hours
Serves: 8
1 lb. top round beef, thinly sliced
3 tbsp coconut aminos
1 tbsp chili garlic paste
Chili flakes, as desired
Salt and pepper, to taste
Remove any silverskin, fat, or other connective tissue from the beef.
Cut the beef along the grain into thin slices. For a less chewy and tender jerky, cut the meat across the grain.
Combine the coconut aminos, and chili garlic paste in a bowl.
Add in the beef slices and marinate for at least 1 hour.
Remove the beef from the marinade and pat dry with paper towels.
Season with salt, pepper, and chili flakes.  Arrange the beef jerky onto a wire rack.
Prepare your smoker and use desired wood chips.
Dry the beef for 4-5 hours.
Cool and store.
NOTE: the jerky can be dried in the oven as well.
Tips & Tricks
Beef jerky is best made in a smoker grill, but not everyone has those. Luckily, you can also make beef jerky in the oven and a dehydrator. When making jerky in the oven, cover the bottom of your oven with aluminum foil, place the jerky on the metal rack, bake jerky for 3-4 hours at 175 F. If using a dehydrator, dehydrate at 160 F for 3-5 hours or until jerky is dry and rubbery.