JUMP TO RECIPE
Enjoying tomatoes on a keto diet is possible as long as you keep your consumption under control and use other ingredients that are considered low carb.
Where keto veggies are concerned, tomatoes are definitely one of the best. One Italian heirloom tomato, for example, will give you only 1.7g net carbs, Not too bad if you leave it at that.
But what if you want to use not one but a ton of tomatoes to make tasty tomato soup? Won't the carbs add up and is tomato soup keto? you ask.
We're here to put your mind at ease and tell you that, with a good tomato soup recipe, you can make this popular meal low-carb. The trick is using a good balance of broth, tomatoes, and added fat in the form of oil and cream.
This low-carb tomato soup recipe is all that and more! It's rich, creamy, and loaded with tomato flavor and the carbs are kept to a minimum. No roux here involved, just really fleshy tomatoes roasted to remove as some of the water and to add beautiful flavor.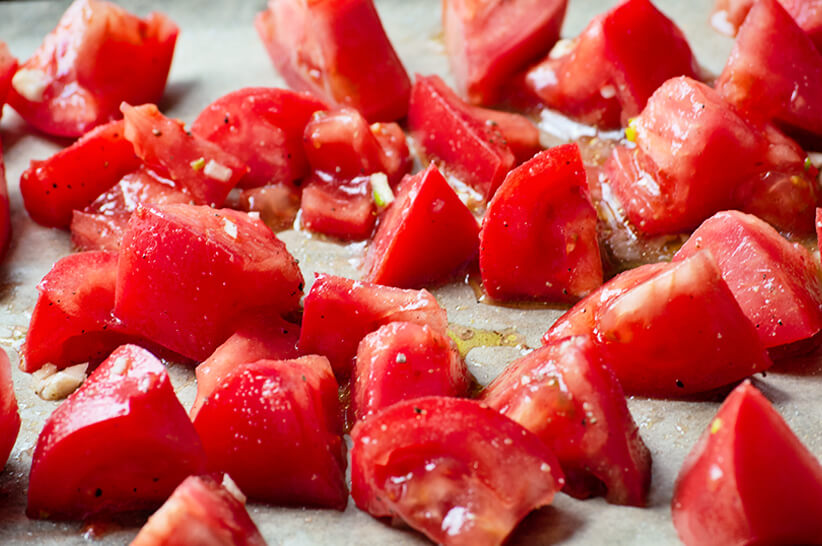 About Tomatoes on a Keto Diet
You already know vegetables are sources of essential nutrients like fiber and vitamin C, but also free-radical-scavenging antioxidants like flavonoids and quercetin. You also know that you cannot get these from animal foods. That's why you absolutely need to eat your veggies, like tomatoes, even on a keto diet.
So, which nutrients will you get from tomatoes?
One tomato will give you 13% DV of vitamin C and 3% DV of fiber — nutrients not found in animal foods. Tomatoes are also a decent source of vitamin K (for blood clotting), several B vitamins (for energy levels), and potassium (for a healthy blood pressure).
On low-carb diets, tomatoes are best served with cheese, in salads, in keto sandwiches, salsa, and other recipes that combine a small serving of tomatoes with high-fat ingredients. However, that doesn't mean you can't enjoy them in larger quantities, like in this keto tomato soup recipe. You just need to combine them with the right proportion of the right ingredients as you'll see below.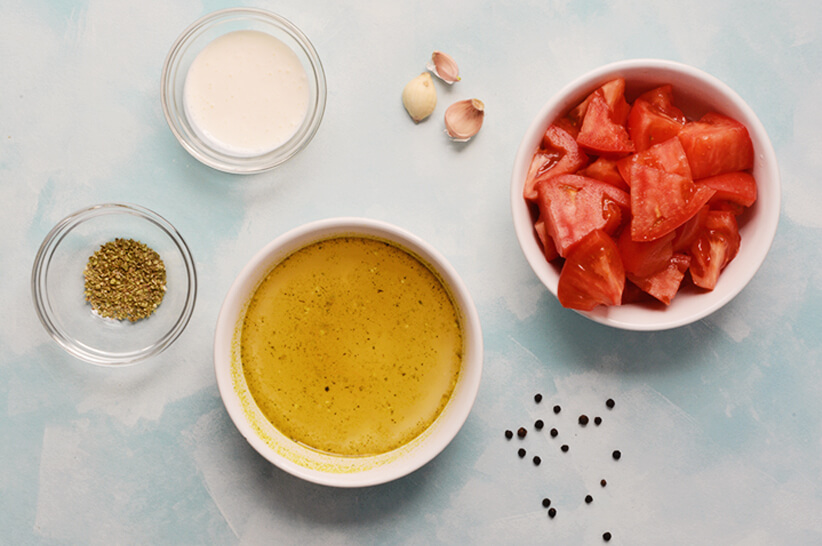 Our Keto Tomato Soup Ingredients
You'll see why the ingredients combo of this low-carb tomato soup makes it perfectly keto-friendly yet packed with flavor. Our low-carb tomato soup calls for only 8 simple ingredients:
Roma tomatoes: If you ever ate roma tomatoes, you would know that they're very fleshy. This is exactly why they're just perfect for this soup — you get the thickness of tomato soup without the need for roux. We like to roast them first to remove some of the water and for extra flavor and faster cooking.
Salt and pepper: You can never go wrong with old-fashioned salt and pepper. Just don't overdo it in this recipe to help other flavors stand out.
Garlic: We've skipped onions and just went with garlic in this recipe. Garlic elevates tomato flavors without adding all those unnecessary carbs.
Olive oil: This is an Italian-inspired dish after all, so olive oil it is! Other than adding Mediterranean flavor and being essential for sauteing, olive oil is rich in polyphenols, powerful antioxidants that help lower your risk of heart disease and cancer.
Herbs de Provence: Herbs de Provence is a dried herbs mix common to the Provence region in France such as marjoram, rosemary, thyme, savory, and oregano. The aroma it adds to this soup is invigorating.
Chicken stock: Chicken stock adds body and a wonderful mild flavor to this soup. Homemade chicken stock also has anti-inflammatory properties that you can benefit from when fighting a cold [3], so you could use this soup when down with a cold or flu.
Heavy cream: Add a dash of heavy cream to make it comforting and balance out the flavors.
Basil: Basil leaves almost always go well with tomatoes. Just think caprese, pizza sauce, spaghetti sauce, or eggplant Parmesan.

And with all these ingredients combined, you're now probably wondering how many carbs are in this tomato soup? Only around 5.7g net in a serving, which you have to agree is fairly good for a vegetable soup. Tomato soup carbs are sugar and not starch. Other carbs in tomato soup are fibers, which are indigestible and good for glycemic control and gut health.
Because this step slightly dehydrates them for a thicker soup. Plus, it adds a rich flavor. Pre-roasting ingredients makes all soups taste rich, which is true for meat-based soups as much as it is for vegetable soups such as this one.
After quickly roasting the tomatoes for 20 minutes, we mashed them in a blender and simmered for 10 minutes or so. Quickly cooking them this way is less likely to lead to a metallic taste you often get with overcooked or canned tomatoes. If you still end up with this unpleasant taste, just add a small pinch of soda. This will help neutralize it.
And here is how you should make this keto chicken tomato soup and keep carbs low.
Keto Roasted Tomato Soup Recipe
Preparation Time: 10 minutes
Cook Time: 30 minutes
Serves: 4
6 Roma tomatoes, cut into 1-inch cubes
Salt and pepper, to taste
2 cloves garlic, minced
1 ½ tablespoon olive oil
¾ teaspoon Herbs de Provence
1 ½ cups chicken stock
¼ cup heavy cream
Fresh basil leaves, for serving
Preheat oven to 400F.
Toss the tomatoes, with garlic, and olive oil on a baking sheet. Season to taste with salt and pepper.
Roast the tomatoes for 20 minutes.
Place the tomatoes into a food blender.
Blend until smooth.
Place the tomatoes in a saucepot. Add chicken stock and Herbs de Provence.
Simmer the soup for 10 minutes.
Stir in heavy cream and ladle into the bowls.
Top with basil and serve.
Serve warm.
Tips & Tricks
This low-carb tomato soup pairs well with keto mozzarella sticks (made of almond flour, whole egg, coconut oil, mozzarella, and parmesan cheese). If you'd like a regular meal, you can have baked chicken or beef stroganoff.