JUMP TO RECIPE
Ready for a tasty Italian recipe? A bowl of keto shrimp alfredo won't disappoint. The best part is that it's made using simple ingredients, with a total prep time of only 15 minutes.
There are times when you just want to switch things up. Lunches and dinners are often the same. When meals get repetitive, this creamy seafood pasta dish is worth a try. What I love about this keto recipe is that it's an excellent source of protein, potassium, and sodium, thanks to the shrimps.
Keto shrimp alfredo makes for a wonderful weeknight meal. But don't underestimate it – it can be one of the best foods to serve at family gatherings and special occasions.
One thing that makes this shrimp alfredo extra special (and keto-friendly) is that it uses angel hair noodles. I used two packs from Kiss My Keto since they recently launched their low-carb noodles and I had to give them a try. A lot of keto alfredo recipes out there use zucchini noodles "zoodles," which I'm not a fan of, by the way. I would rather use non-veggie noodle alternatives.
So, let's dive right into it.
How Do You Make Keto Shrimp Alfredo?
Just because you have a hectic schedule, doesn't mean you can't prepare a delicious meal! This Italian shrimp alfredo uses only a few ingredients which are all low-carb and high-fat. Assemble the following ingredients:
Kiss My Keto's angel hair noodles – These noodles are very low in carbs. Unlike traditional pasta, they contain no starch, which makes them perfect for a ketogenic diet. The texture of these noodles is quite different from the traditional stuff, but they're versatile for plenty of dishes.
Olive oil – Olive oil contains monounsaturated fats that may help lower your bad cholesterol levels. Not to mention, olive oil adds flavor to any recipe.
Shrimps – This seafood is low in calories and is rich in protein. For those who are trying to increase their protein intake on keto for building lean muscle, shrimp is a great option. For this recipe, make sure the shrimps are peeled and deveined.
Garlic – A popular ingredient in many pasta recipes, garlic is highly nutritious. It contains vitamin C, B vitamins, sodium, potassium, and phosphorus.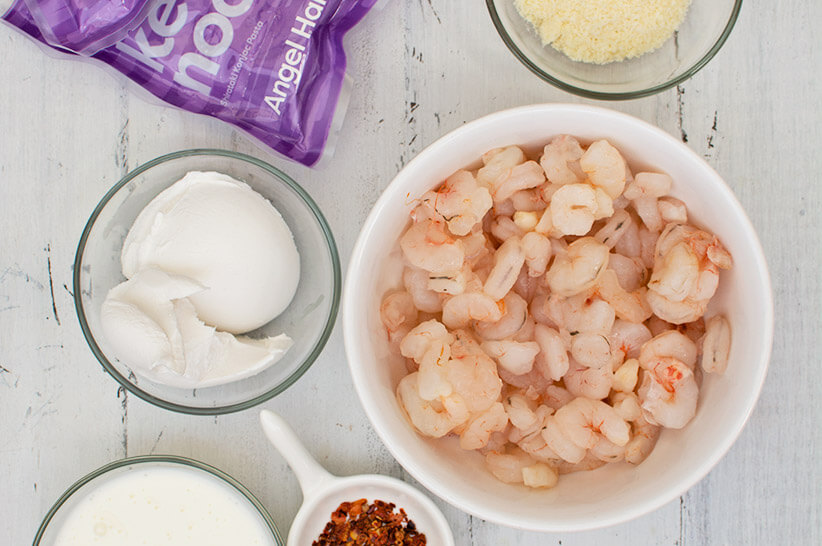 Butter – Personally, I prefer using salted butter for this recipe because it adds flavor. If you can get grass-fed butter, that would be amazing.
Heavy cream – Heavy cream is a great ingredient for pasta sauces. Some people who want a lighter alfredo sauce prefer milk instead of cream, but I love this original.
Cream cheese – Cream cheese helps thicken the alfredo sauce, plus it adds a mild sweet taste to it. It's also a good source of fats!
Parmesan cheese – Adding freshly grated parmesan cheese will also thicken alfredo sauce. Parmesan never fails to make any pasta recipe taste way better! It's super low in carbs.
Red pepper flakes – A small amount of red pepper flakes for keto shrimp alfredo will make it a bit spicy. If you want it to have a stronger kick, feel free to increase the amount of flakes.
Salt and pepper – Finally, sprinkle some salt and pepper to taste. Adjust accordingly.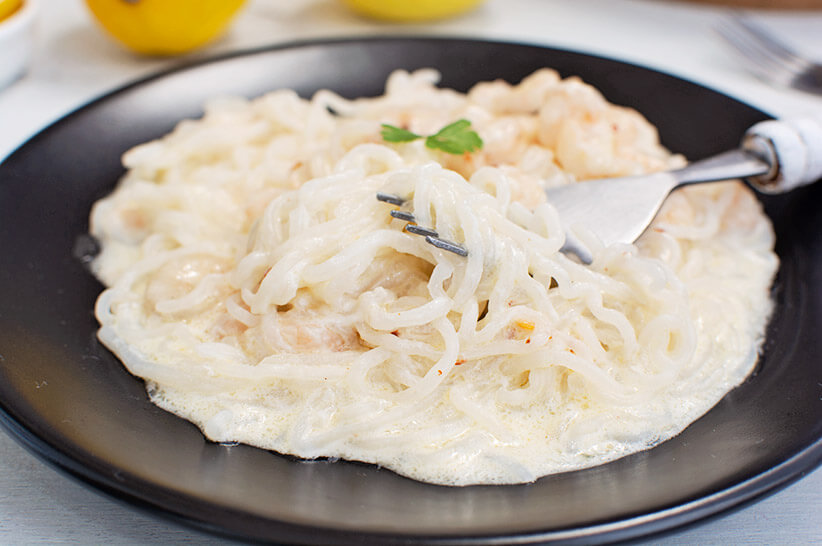 Keto shrimp alfredo is really simple to make. First, prepare the angel hair noodles according to the instructions on the package. Then sauté the garlic and shrimps in olive oil and set them aside. For the cream, combine in a skillet the following ingredients: Butter, cream cheese, heavy cream, and parmesan. Then add the shrimps, pepper flakes, and finally – angel hair noodles. Combine everything.
Some Helpful Reminders When Cooking Shrimp Alfredo
Don't be surprised if you notice an ocean-like smell as you open the angel hair noodle pack. That's the liquid used to keep the noodles fresh! Some say that it helps to sprinkle a bit of vinegar on the noodles after draining the liquid. Be sure to rinse the noodles again after allowing the vinegar to stand for 3 minutes.
Shrimps can cook really fast, so be careful to avoid overcooking them. Watch for pink-orange color and a rubbery texture.
Grating your own parmesan cheese can make a difference in the flavor of this shrimp alfredo. Also, I find that it melts easily.
Skillet
Colander
Pasta fork
Frequently Asked Questions
How long will this shrimp alfredo last in the fridge?
If you store it properly by placing it in an airtight container or wrapping it in aluminum foil, it will last for 3-4 days. Freezing it will help it last longer, up to a month.
How do I know that cooked shrimp has gone bad?
You should be able to notice a sour, unpleasant smell. You will also notice a change in its color and texture. Shrimp becomes slimy when spoiled. Be sure to discard it immediately.
How do I reheat keto shrimp alfredo?
For frozen alfredo, allow it to thaw in the fridge overnight before heating in a saucepan. Add a little milk or heavy cream to moisten the pasta.
Keto Shrimp Alfredo
Preparation Time: 5 minutes
Cook Time: 10 minutes
Serves: 4
2 packets KMK Angel Hair
Salt and pepper, to taste
1 tbsp olive oil
1lb. shrimps, peeled and deveined
2 cloves garlic, minced
2 tbsp butter
½ cup heavy cream
3oz. cream cheese
¼ cup freshly grated parmesan
¼ tsp red pepper flakes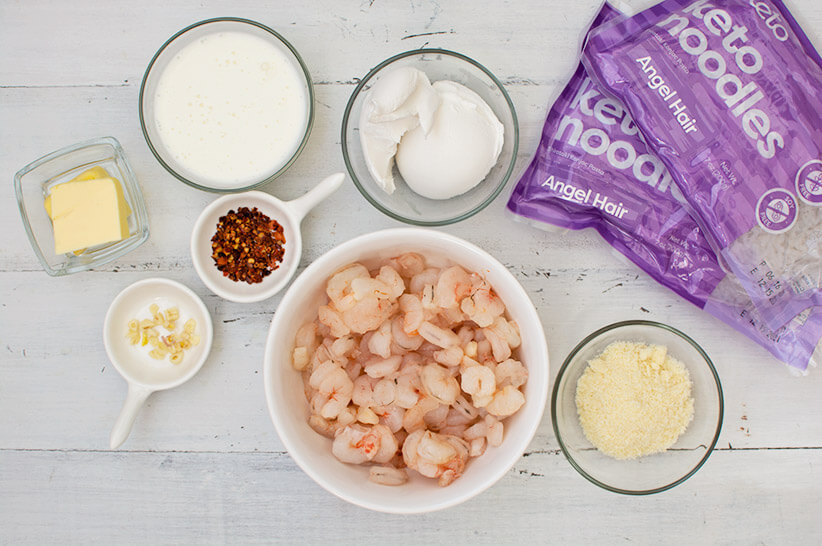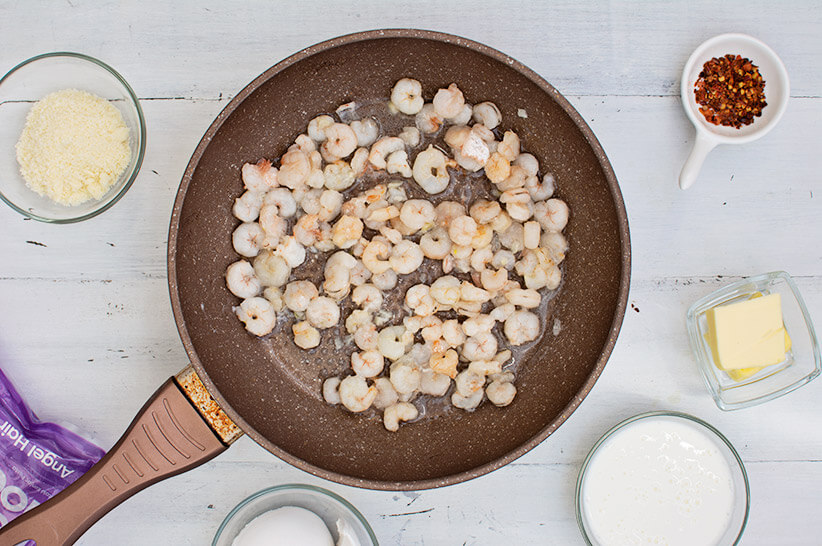 Prepare KMK noodles according to package instructions.
Heat oil in a skillet over medium-high heat.
Add garlic and shrimps. Cook until the shrimps change color. Remove the shrimps and place aside.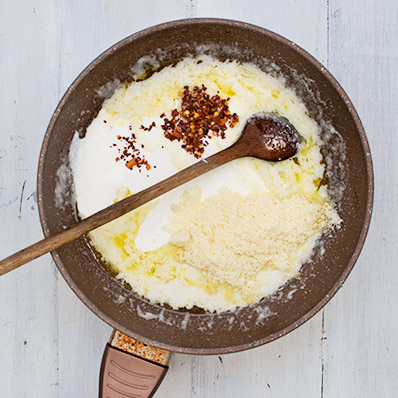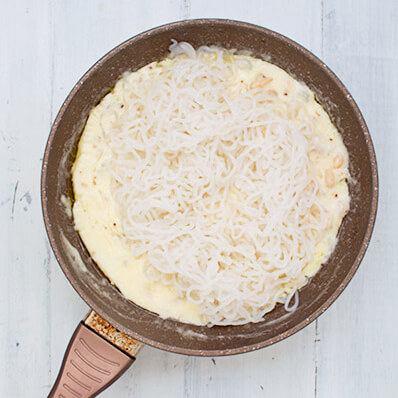 Melt butter in the same skillet.
Add cream cheese and heat until just melted. Add heavy cream and parmesan.
Simmer for 3 minutes.
Stir in red pepper flakes and add shrimps.
Add pasta and stir to combine.
Serve warm.
Tips & Tricks
White pepper is another option to add in your shrimp alfredo recipe, although it has a milder taste compared to black pepper.
Some like to add cooked, crispy bacon bits to their pasta. Bacon adds fat and saltiness to your dish. It's worth a try!
For the garnish, you can use fresh parsley or basil.