JUMP TO RECIPE
Craving for something light yet satisfying that's keto-friendly? If you like, try our mouthwatering keto egg salad. Find out more below.
Did you know that this keto egg salad was one of the top three things my clients asked me to prep? They were wondering if it was possible to make salad out of eggs along with common cupboard ingredients.
I told them yes — and enthusiastically shared this 22-minute salad recipe.
But why eggs? What makes them special?
Eggs are the most versatile food you can have on a ketogenic lifestyle. You can eat them by themselves or add them into any recipe imaginable. Not to mention, they easily fit into your daily macros.
By the way, did you know that eggs are great for helping you enter ketosis?
For all these reasons, I thought it would be helpful to turn this keto staple into something that's a little more exciting and filling. How does a low-carb egg salad recipe sound to you?
The best thing about it is that all the ingredients you'll need are probably already in your pantry.
Alright — we already know that eggs are good to have on a keto diet. But what about when they're used with other ingredients? The number of carbs in egg salad will vary depending on what you add in. Ideally, you should choose low-carb options to avoid going over your daily carb limit.
For my egg salad recipe, I've carefully picked the right ingredients such as chives, mustard, and fresh lemon.
Because of that, you get 1.4g of total carbs per serving or 1.1 g of net carbs per serving. It'll also give you a boost of healthy fats and quality protein.
Here's a piece of advice though:
If you're just starting out on a keto diet, I would recommend not serving it with bread. While it's tempting (I know, I know) it will kick you out of ketosis. One thing I do is I serve it with romaine lettuce as bread replacement. That will keep you fuller — although egg salad is fine on its own for seasoned ketoers.
Now that you know how many carbs in egg salad are there, let's proceed to the next part: How to prepare your own low-carb egg salad at home!
How to Make Keto Egg Salad
An easy favorite for ketoers (and even non-ketoers), this egg salad requires just 7 simple ingredients. Plus you won't even have to cook anything else except for the eggs. Be sure to have the following ingredients: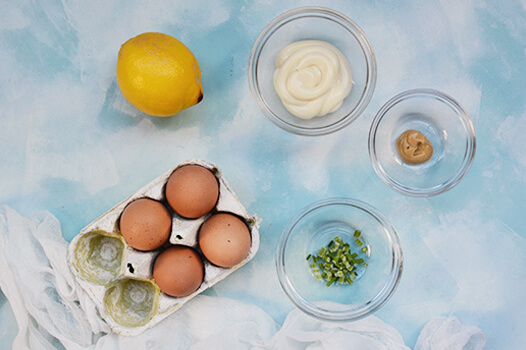 Eggs
Mayonnaise
Chives
Mustard
Lemon juice
Salt
Pepper
That's it! The first step in this whole process is take out the eggs and boil them for about 12 minutes. For easier peeling, I recommend soaking the boiled eggs in ice cold water for 10 minutes.
After peeling the eggs, place them in a clean mixing bowl. This is where we're going to start adding in the rest of the ingredients. Chop some chives and add them into the bowl. I love how chives perk up this low-carb egg salad by producing a fresh, oniony flavor.
Next, incorporate the mayo, mustard, lemon juice, and salt and pepper (to taste). If you want to make the dressing a tangier, you may add a bit more mustard or lemon juice. Just be careful to not overdo it.
3 Keto Egg Salad Variations
There you have it. For those who have extra ingredients in their pantry, I'm delighted to tell you that you can also throw those into an egg salad. This gives it more nutrients and will help you feel fuller for longer.
Check these out:
Keto Egg Salad With Avocado
For this version, simply dice or cube one avocado and combine them with the rest of the ingredients above. You may do away the mustard if you prefer not to have it. Also feel free to add romaine lettuce and bacon.
Keto Egg Salad With Cream Cheese
To make egg salad with cream cheese, you will need cream cheese, mayonnaise, eggs, unsalted butter, chopped onions, and salt and pepper to taste. Cream cheese is another great keto food and what it does is add more fat into your diet.
Keto Egg Salad With Pickles
If you're a pickle fanatic, you'll dig this. All you need to do is combine chopped dill pickles with egg, mayonnaise, and mustard. Add salt and pepper to taste.
Here's a final tip — When preparing your keto egg salad, you can either mash your eggs using a potato masher to create uniform bits or you can dice them to avoid that crumbly appearance. Mix all your ingredients carefully!
I hope you'll enjoy this healthy salad recipe!
Easy Keto Egg Salad Recipe
Preparation Time: 10 minutes
Cook Time: 12 minutes
Serves: 4
8 large eggs
½ cup mayonnaise
1 tbsp chopped chives
2 tsp mustard
1 tsp lemon juice
Salt and pepper, to taste
Fill a saucepan with hot water and place over medium heat.
Place the eggs in the water, making sure they're fully covered.
Just when the water starts to boil, set a timer for 12 minutes.
Once the 12 minutes are up, place the eggs into a bowl of cold water, preferably with a bit of ice cubes. Leave for 10 minutes to cool.
Peel the eggs and dice before adding to a mixing bowl.
Add the remaining ingredients and stir gently to prevent the eggs from crumbling. Check the taste and add additional salt and pepper if needed.
Chill before serving.
Tips & Tricks
Adding cold eggs to the water prevents the egg white proteins from clinging to the shell membrane, which helps with easier peeling. If you like hard-boiled eggs with a softer yolk, you can shorten boiling time to 9 minutes for medium-boiled eggs. However, this will impact salad texture and it won't store as well as with fully hard-boiled eggs.