JUMP TO RECIPE
There's nothing homelier than a warm plate of chicken pot pie. This keto-friendly take on everyone's favorite casserole dish is comforting, easy to make, and filling. Topped with a creamy and cheesy crust, this low-carb pot pie is nothing short of decadently delicious. You can even store any leftovers for up to 3 days in the fridge.
Keto Chicken Pot Pie
Preparation Time: 10 minutes
Cook Time: 50 minutes
Serves: 6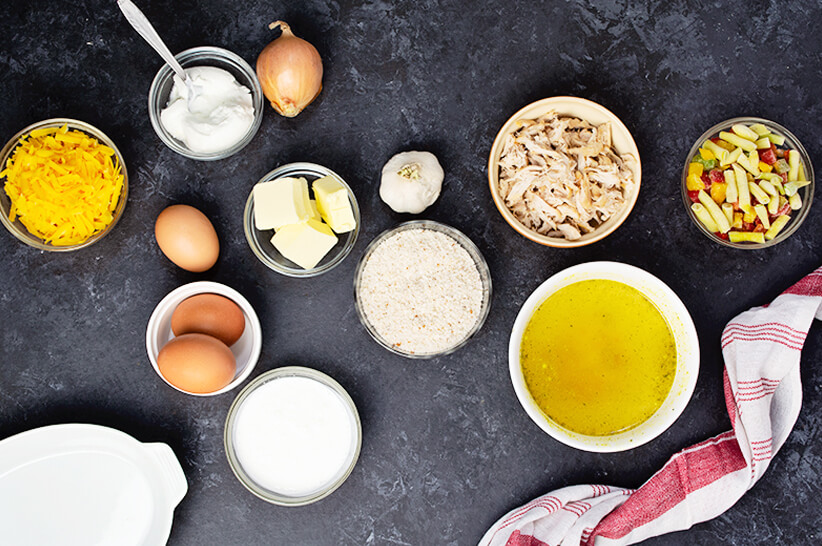 Filling:
1 ½ tbsp butter
2 tbsp chopped onion
½ red bell pepper, seeded, chopped
½ green bell pepper, seeded, chopped
½ yellow bell pepper, seeded, chopped
1 cup yellow beans, or green beans, frozen
1 clove garlic, minced
¾ cup chicken stock
½ cup heavy cream
Salt and pepper, to taste
2 cups chicken, cooked and shredded
2 spring onions, chopped, for serving
Crust:
3 tbsp butter, melted and cooled
¼ cup coconut flour
1 ½ tbsp sour cream
3 eggs
¼ tsp baking powder
Salt and pepper, to taste
1 cup shredded cheddar cheese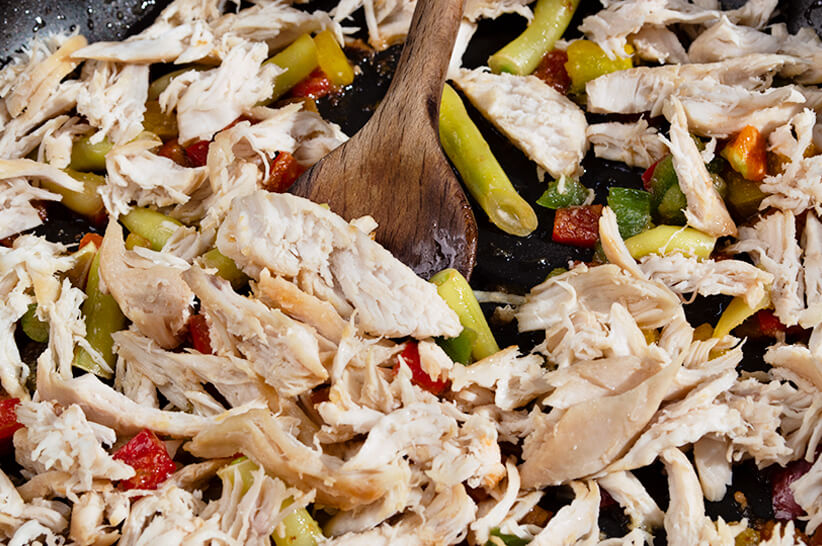 Start making the filling by heating butter in a skillet over medium-high heat.
Add onion and bell peppers. Sauté for 5 minutes.
Add garlic and green beans. Sauté for 2 minutes.
Add chicken and cook for 2 minutes.
Pour in the chicken stock and the heavy cream. Simmer gently until thickened.
Transfer the filling into a casserole dish. Place aside.
Preheat oven to 375F.
Start making the crust by combining the melted butter, coconut flour, sour cream, eggs, baking powder, and salt and pepper in a bowl.
Add cheddar cheese and stir to combine.
Drop dollops of the batter over the chicken filling.
Bake the pot pie for 30 minutes.
Serve it warm sprinkled with chopped spring onions.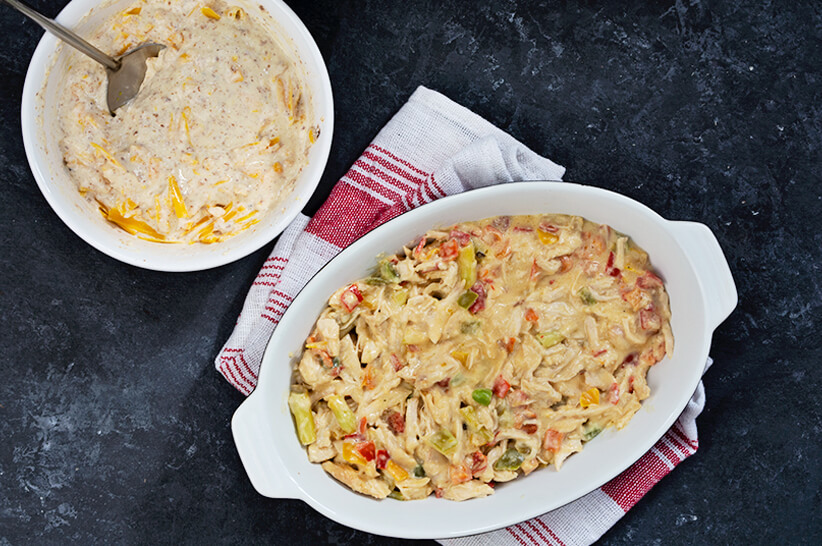 Tips & Tricks
Preparation tips
If you like a thicker pot pie filling, you can either add a quarter of a teaspoon of xanthan gum or two egg yolks to the filling. For a crispier crust, consider topping the pot pie with sprinkles of your favorite keto nuts or even shredded cauliflower combined with grated Parmesan. Another thing to consider is if you have a cast iron skillet, then feel free to use it throughout the whole preparation process. Otherwise, a casserole dish helps bake the pot pie evenly.
Nutrition benefits
There are only 291 calories in a single serving of this pot pie, so feel free to have two servings to get the calories of a full meal. Don't worry about the carbs since two servings will give you only 6g while also providing almost half of your daily protein needs (36g). Besides providing protein, this meal is a good source of B vitamins, vitamin D, vitamin E, selenium, and zinc coming from the chicken and eggs.