JUMP TO RECIPE
Give this fall dish a Halloween twist by shaping it into a skull instead of the usual loaf. Soft and tender on the inside with a juicy and tangy glaze, your Halloween guests will love this dish served with some cauliflower mash and steamed veggies on the side. The ground almonds (or almond flour) and cheddar help hold this loaf together once it's out of the oven.
Halloween Zombie Meatloaf
Preparation Time: 15 minutes
Cook Time: 55 minutes
Serves: 4
Meatloaf:
1lb. ground beef
⅓ cup ground almonds
¼ cup milk
⅓ cup shredded cheddar cheese
1 large egg
1 hardboiled egg
Salt and pepper, to taste
8 cloves garlic
Sauce:
⅓ cup tomato sauce
1 tbsp Sukrin Gold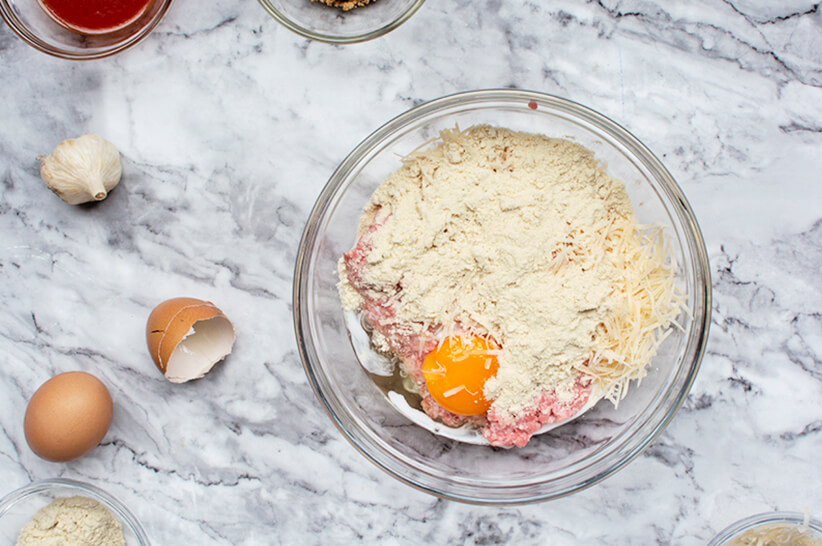 In a large mixing bowl, combine and stir the ground beef, almonds, milk, cheddar cheese, raw egg, and add salt and pepper to taste.
Line a baking sheet with parchment paper and grease with a thin layer of oil.
Transfer the ground beef mixture onto your baking sheet and form into a skull shape, leaving holes for "eye sockets" and a "mouth."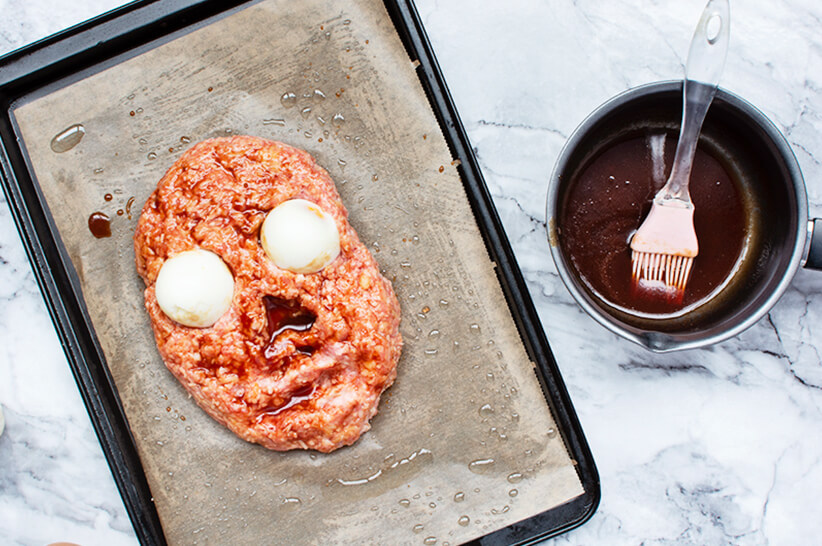 Peel the hardboiled egg and cut it in half. Place one egg half, cut side down, into the "eye socket" and shape the meat around it so it does not fall out.
Combine the tomato sauce and Sukrin Gold in a saucepot. Simmer until the sweetener has dissolved.
Brush the meatloaf with the sauce.
Preheat oven to 350F.
Bake the meatloaf for 50-55 minutes or until the inner temperature reads160F.
Once done, cool the meatloaf on a wire rack for at least 5 minutes.
Arrange garlic cloves in the mouth to create "teeth." If you want, add a pitted olive to the egg to complete the eyes.
Serve with any remaining sauce.
Tips & Tricks
Feel free to substitute the garlic cloves for sliced almonds. If you love roasted garlic, feel free to add that instead.
If you notice any juices collecting around the meatloaf and inside the holes, use a basking brush to coat the loaf with them while it's baking. This will prevent the loaf from drying out and give it a shiny, rotting meat appearance.
For added flavor, feel free to include a bit of Italian seasoning, ground paprika, crushed garlic, and some parsley to the loaf mixture.