JUMP TO RECIPE
This is a great meal for a Halloween party or get-together. It's spooky, funny, and delicious at the same time. Made with melty Monterey Jack Cheese and spicy enchilada sauce, it's definitely addictive. Use your favorite cheese cracker recipe to complete this dish.
Graveyard Chicken Enchilada Dip
Preparation Time: 10 minutes
Cook Time: 15 minutes
Serves: 4
1 cup Monterey Jack Cheese, shredded
½ cup red enchilada sauce, no sugar added
¾ cup rotisserie chicken, shredded
8oz. cream cheese, softened
¾ tbsp taco seasoning
Keto-friendly cheese crackers
2 small jalapeños, sliced, optional (for extra spiciness)
Shredded cabbage or lettuce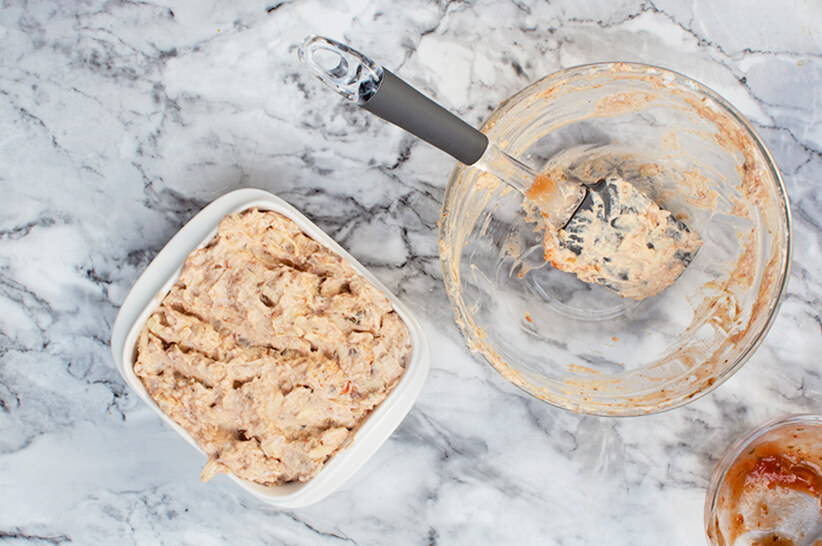 Preheat oven to 375F.
In a mixing bowl, combine the cheese, enchilada sauce, chicken, cream cheese, and taco seasoning. Add jalapeños if using.
Stir to combine.
Transfer the mixture into a baking dish or cast-iron skillet and bake for 15 minutes.
Top with shredded cabbage and insert Keto cheese crackers.
Serve.
Tips & Tricks
You can add many different substitutes here if necessary. Swap cheddar for the Monterey Jack Cheese and add mascarpone cheese if you want the enchilada sauce to really stand out.
We've used shredded cabbage for the topping, but you can use shredded lettuce and even add spring onions for extra flavor – the options are endless.