JUMP TO RECIPE
You only need a handful ingredients to make this keto-friendly chili con carne. Paired with creamy toppings, this popular Mexican stew definitely makes for one satisfying comfort food. Make it a day ahead to save yourself time. And if you end up with leftovers (highly doubtful), freeze the extras for up to 4 months.
Easy Keto Chili
Preparation Time: 10 minutes
Cook Time: 2 hours
Serves: 6
1 tbsp olive oil
1.5lb. ground beef
1 cup tomato paste
1 tomato, chopped
1 red bell pepper, seeded, chopped
1 large stalk celery, thinly sliced
½ onion, diced
¾ cup water
1 tsp cumin powder
1 ½ tsp chili powder
Salt, pepper, to taste
¼ tsp garlic powder, optional
Heat olive oil in a large skillet.
Add beef and cook until halfway done.
Season with salt, pepper, and garlic powder, if using.
Add bell pepper and continue to cook until the meat is browned.
Transfer the meat mixture into a saucepot.
Add tomato paste, chopped tomato, celery, water, and the remaining spices.
Stir gently and bring to a boil.
Reduce heat and simmer for 1 ½ hours, stirring occasionally.
Serve warm, topped with cheddar cheese or avocado and sour cream.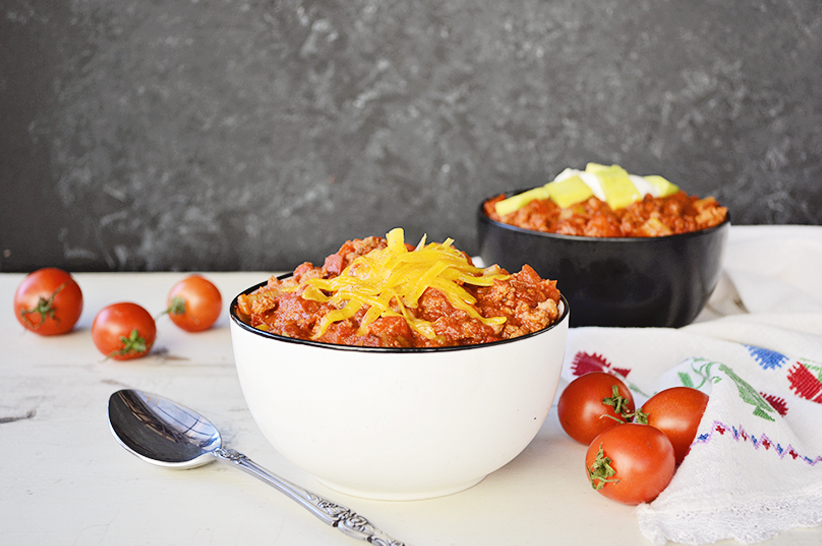 Tips & Tricks
Preparation tweaks
You can add a jalapeño to this chili to give it a little kick of flavor. It won't make this dish too spicy, but if you want to err on the side of caution, then half the amount of chili powder recommended in this recipe. Other ingredients to add for more flavor include 1 tsb ground cumin, ½ tsp ground marjoram, and a beef stock cube.
How to serve
Chili is best served hot and spicy, but you already knew that. Many like to eat chili with tortilla chips. On a keto diet, you can make low-carb tortilla chips with almond flour, psyllium husk, and mozzarella cheese. Also, make sure to top your chili with cheddar cheese, sour cream, avocados, or other low-carb toppings.