JUMP TO RECIPE
This cheesy fettuccini looks and tastes like traditional fettuccini which you've always loved. The difference? It's very keto-friendly, each serving has under 2 grams of total carbs.
I know what you're thinking. How can fettuccini be low-carb? You might ask. Well, that's a great question. In case you didn't know, Kiss My Keto released their newest fettucine for anyone who loves creamy pasta. That's going to be the star of this cheesy fettuccini recipe.
Any noodle fan who starts a keto diet can relate to the struggle of finding low-carb noodle packs at the grocery. That is why some end up making their own noodles from veggies – which may or may not be appealing depending on your personal taste preferences. Cucumber noodles, anyone?
Let's get down to business.
How to Make Keto Cheesy Fettuccini
This cheesy fettuccini will be one of your top favorites in no time. If you share them with your family, I'm sure they'll love it too! A total prep time of 15 minutes is all you need to put together this luxurious-looking meal. It's perfect for lunch or dinner. For the side dish, any kind of crunchy keto salad will do.
Make sure that you check the instructions on the fettucine pack for prepping and cooking the pasta.
Now all that's left to worry about is the sauce. Keep in mind: It's important to pick the right combination of ingredients that will help you stay within your daily carb limit. With that, we're going to use:
Butter – What butter does is that it helps thicken the fettuccini sauce. On the nutrition side, butter adds fat to this recipe – which you need on keto.
Xanthan gum – I would say that this ingredient is option. However, adding it can thicken and stabilize the sauce.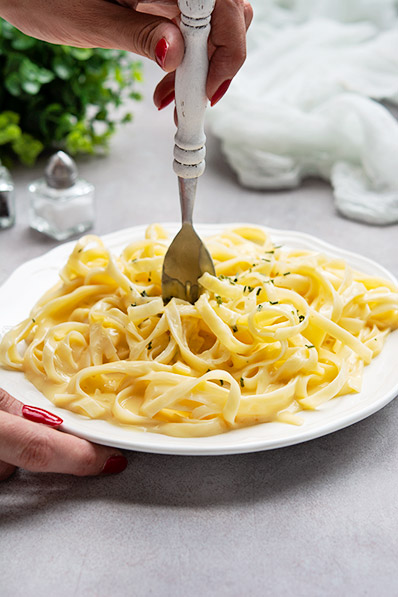 Almond milk – Surprised? Yes, almond milk can be used for making sauces. Almond milk is low in sugar and calories, and is a good source of vitamin E.
Dijon mustard – I recommend Dijon mustard because it has a bolder, more flavorful taste. Also, traditional Dijon mustard has zero carbs.
Mozzarella – Mozzarella cheese is one way you can enjoy dairy on keto. It's a good source of protein and fat-soluble vitamins.
Cheddar cheese – A popular ingredient in pasta recipes, cheddar cheese helps add that milky and buttery taste to your pasta sauce.
Salt and pepper – Use salt and pepper to enhance the flavor of the sauce. The amount will depend on your taste preference.
Saucepot
Whisk
Colander (for draining the pasta)
Tips for Making Low-Carb Cheesy Fettuccini
Top with minced fresh basil! Fresh basil adds aroma to your pasta dish as if it came from an Italian restaurant.
You have the option to add meat to this dish. For options, scroll down to the next section "Frequently Asked Questions."
Use unsweetened almond milk to keep the carb count of the sauce low.
If you notice that the sauce gets too thick, add a little almond milk. Add a small amount at a time and check the consistency.
Frequently Asked Questions
What can I use instead of almond milk?
Heavy cream is a popular ingredient in many fettucine recipes, so you can use it to replace almond milk. It's also an excellent source of fat.
What meat can I add to fettuccine?
You have plenty of options. Top keto fettuccine with steak, bacon, shrimps (peeled and deveined), chicken, or ground beef. Just keep in mind that adding meat will change the amount of carbs, protein, and fat in this recipe.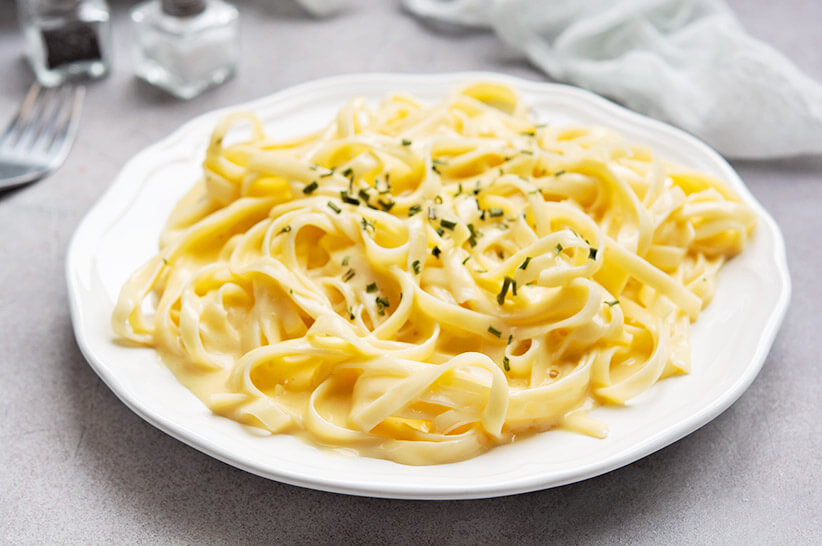 How do I store leftover cheesy fettuccine?
To keep leftover cooked pasta fresh, place it in an airtight container in the freezer. Here's a tip: Before closing the airtight container, make sure that the pasta has completely cooled. It's also best to store the pasta and sauce separately to prevent the pasta from getting mushy after a couple of days.
What can I serve with this cheesy fettuccine?
Serving this cheesy fettuccine to guests? Want a heavier meal for the whole family? For complimentary sides, good choices include salad, meatballs, asparagus, and broccoli.
Cheesy Fettuccini
Preparation Time: 5 minutes
Cook Time: 10 minutes
Serves: 2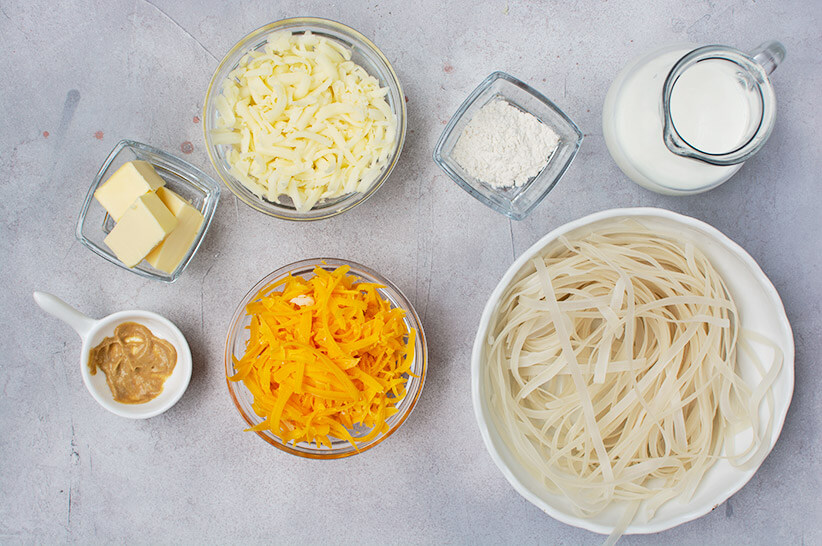 8oz. KMK Keto Fettucine
3 tbsp butter
⅛ tsp xanthan gum
1 cup almond milk
½ tsp Dijon mustard
1 cup shredded mozzarella
¼ cup shredded cheddar
Salt, and pepper, to taste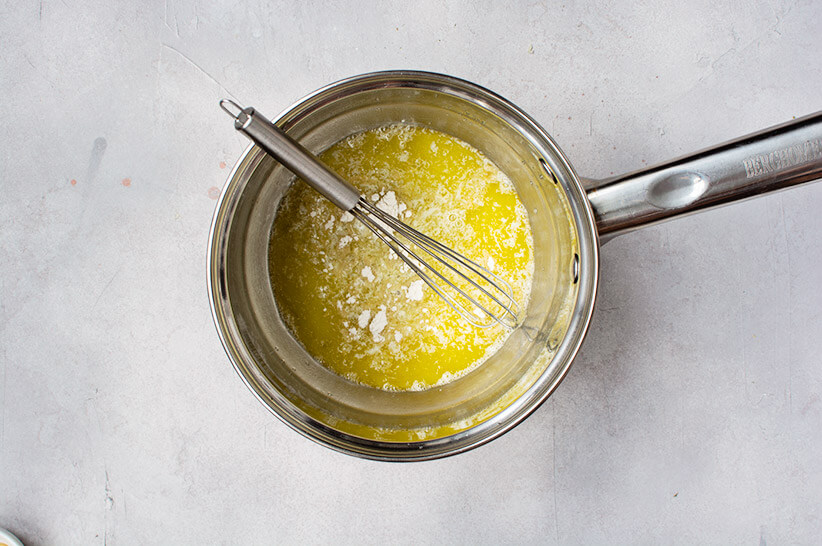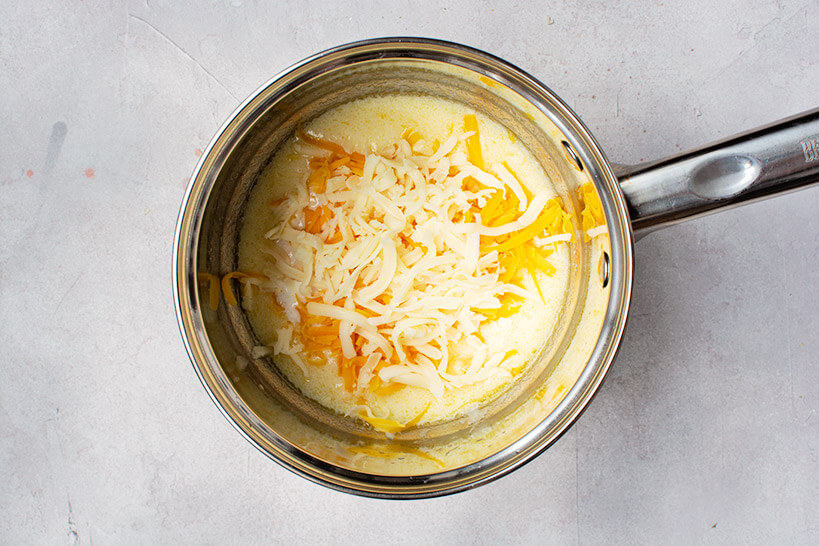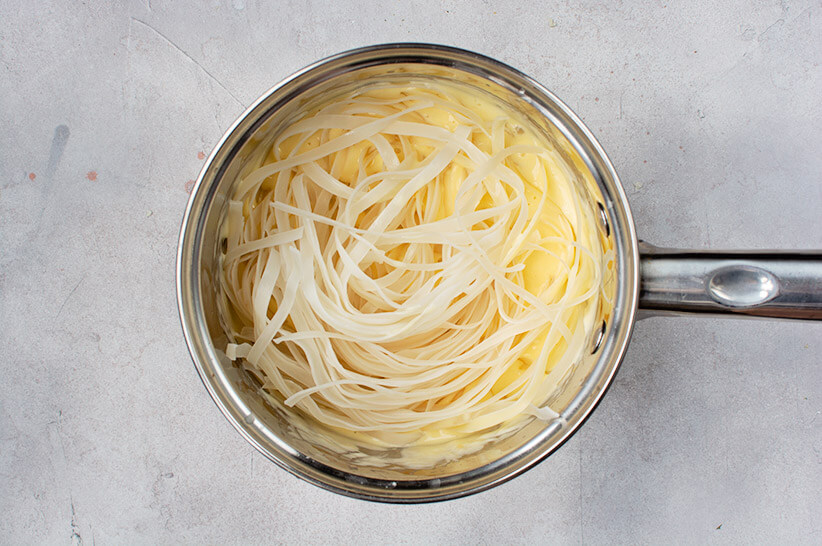 Cook the pasta according to package directions.
Make the sauce; melt butter in a saucepot.
Add xanthan gum and stir.
Whisk in milk.
Add mustard, mozzarella, and cheddar. Cook until sauce is smooth, and cheese is melted.
Pour the sauce over pasta.
Stir to combine.
Serve.
Tips & Tricks
To reheat leftover pasta, bake it in the oven for 20 minutes. Make sure that the pasta is placed in a baking dish covered with foil. If not, heat the pasta in a saucepan. Drizzle with olive oil.
If properly stored, this cheesy fettuccini should last up to 3 days.