JUMP TO RECIPE
This is an easy and quick recipe for creamy soup or a chowder if you prefer your soups to have a bit of a bite to it. Whichever way you make it, it provides enough calories and protein per serving to make for a filling meal. Feel free to top it with parmesan, cheddar, or any other melty cheese to make it really comforting.
Cauliflower Spinach Soup
Preparation Time: 10 minutes
Cook Time: 30 minutes
Serves: 4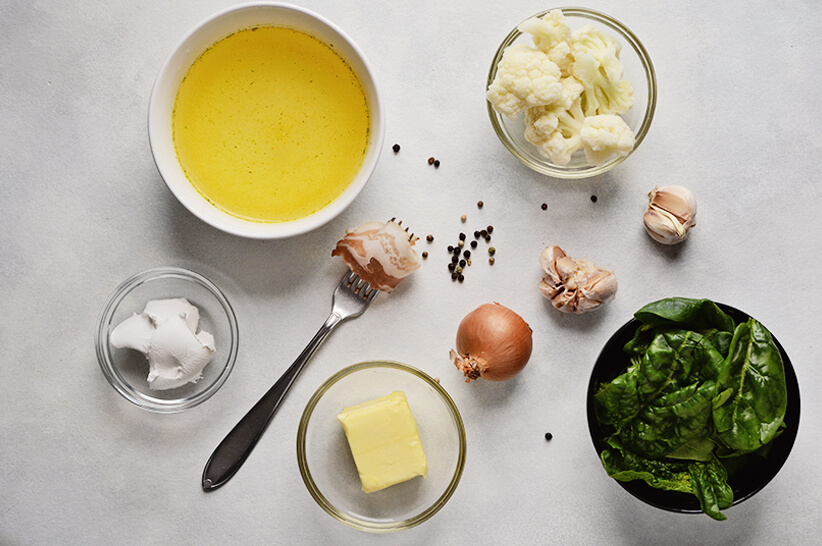 2 tbsp butter
1 ½ cups chicken stock
1 small head cauliflower, cut into florets
1 cup spinach
¼ cup cream cheese
1 onion, diced
2 cloves garlic, minced
0.5lb. bacon, cooked and crumbled
Salt and pepper, to taste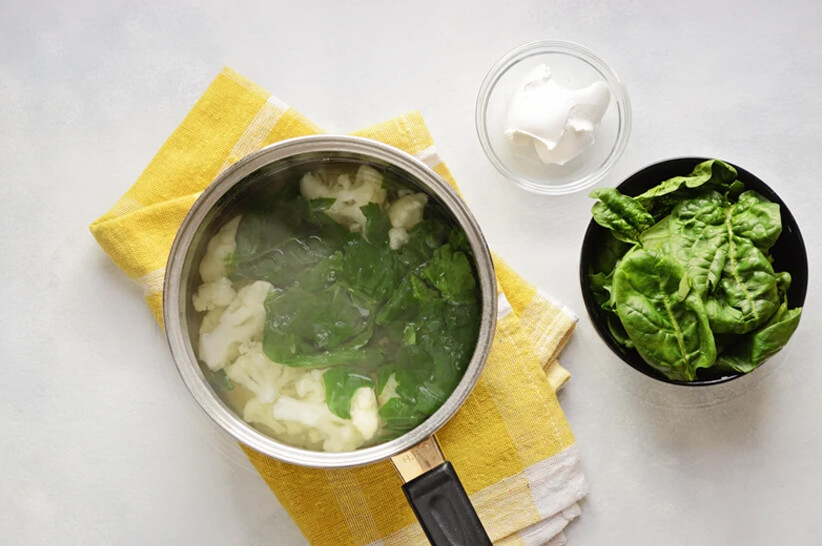 Melt the butter in a saucepot over medium-high heat.
Add the diced onion and sauté for 5 minutes.
Add garlic and sauté until fragrant.
Lastly, add the cauliflower, chicken stock, and partially cover. Simmer for 15 minutes.
When the cauliflower is tender, remove the saucepot from the heat. Puree the soup with an immersion blender.
Return to stovetop and add the cream cheese. Simmer the soup for around 10 minutes.
Ladle soup into bowls and top with the crumbled bacon.
If you prefer a chowder-like consistency, puree only half of the cauliflower mixture. Combine the pureed mixture with the cauliflower pieces and continue as described.
Enjoy!
Tips & Tricks
Vegetarian alternative
If you want to make this soup vegetarian, replace the chicken stock with vegetable stock and skip the bacon crumbles. It will still taste just as good.
Health benefits
Cauliflower is rich in cancer-fighting antioxidants. While cooking reduces the antioxidant value of cauliflower, and other vegetables, it can still contribute to your daily antioxidant count. If you want to preserve as much antioxidant value of this keto vegetable, try to reduce the cooking time  by a couple of minutes.