JUMP TO RECIPE
This is a great detox drink that's loaded with antioxidants and important nutrients while being low in calories and carbs. While it's tasty on its own, adding a couple of drops of liquid stevia gives this tangy and wholesome drink that extra bit of sweetness we all love in our juices.
Green Spinach Keto Lemonade
Preparation Time: 10 minutes
Serves: 1
1 cup spinach
2 stalks celery
4 leaves kale, stems removed
1 1-inch piece of ginger
1 lemon, peeled
¼ cup water
½ tbsp apple cider vinegar
10 drops liquid stevia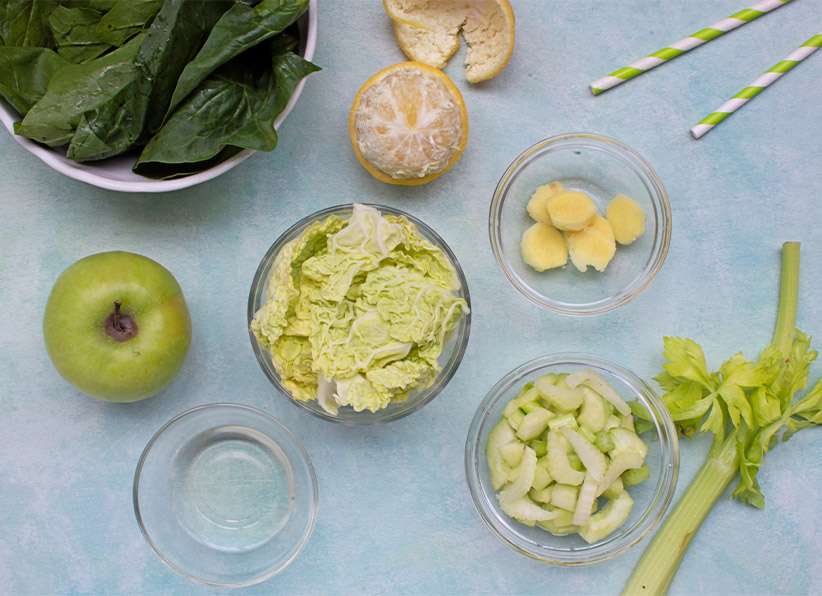 Place the spinach, celery, kale, ginger, and lemon in a juicer and process in accordance with manufacturer directions.
Combine the freshly processed juice with the water, vinegar, and stevia.
Serve.
Tips & Tricks
Health and nutrition benefits
This drink has only 43 calories and 6.9g net carbs. The spinach, kale, and celery in this elixir together contain around 30% of your recommended daily value for folate, a B vitamin that plays an important role in preventing anemia and birth defects. The added lemon juice provides a hefty dose of vitamin C, which is important antioxidant protection and the immune system. Ginger also contains antioxidant compounds such as gingerol, zingerone, and farnesene, which are known to have anti-bacterial, anti-inflammatory, and even analgesic properties.
Don't have a juicer?
Don't worry, you can make this drink using a blender. Just place all ingredients in a blender and process on high speed until smooth. Then, sieve the mixture through a fine mesh sieve to get the juice. Press contents with a spatula or spoon to squeeze out as much juice as possible.