JUMP TO RECIPE
A moist, grain-free sponge topped with cream cheese frosting makes these citrusy donuts a cross between donuts and cheesecake. The tangy lemon flavors also pair perfectly with the mild sweetness of erythritol. The donuts store well too, so feel free to make more batches to enjoy for a couple of days.
Keto Lemon Donuts
Preparation Time: 15 minutes
Cook Time: 15 minutes
Serves: 12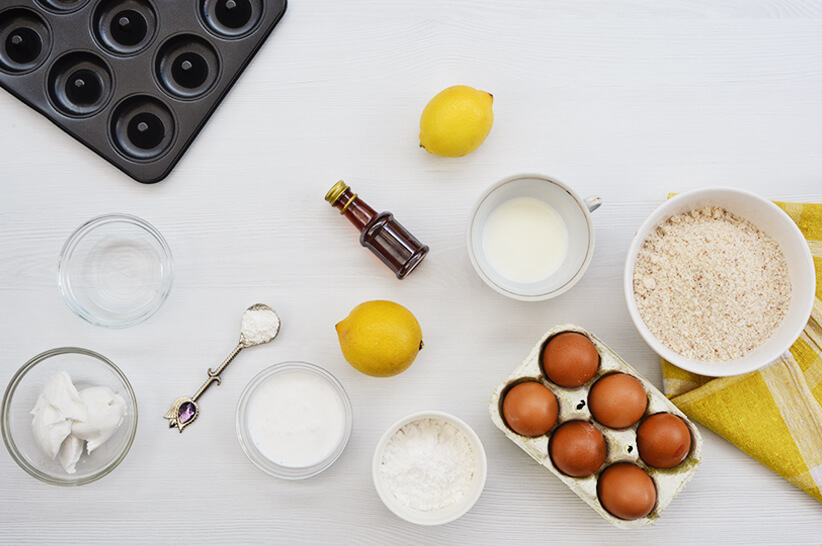 Dough:
2 ½ cups almond flour
½ tsp baking powder
½ cup powdered erythritol
2 tbsp melted coconut oil
3 medium eggs, room temperature
⅓ cup unsweetened almond milk
2 tsp vanilla extract
2 tsp finely grated lemon zest
Cream frosting:
3oz. cream cheese
½ cup heavy cream
2 tsp powdered eyrthritol
1 tsp vanilla extract
1 tbsp lemon juice
Optional:
fresh berries, for decoration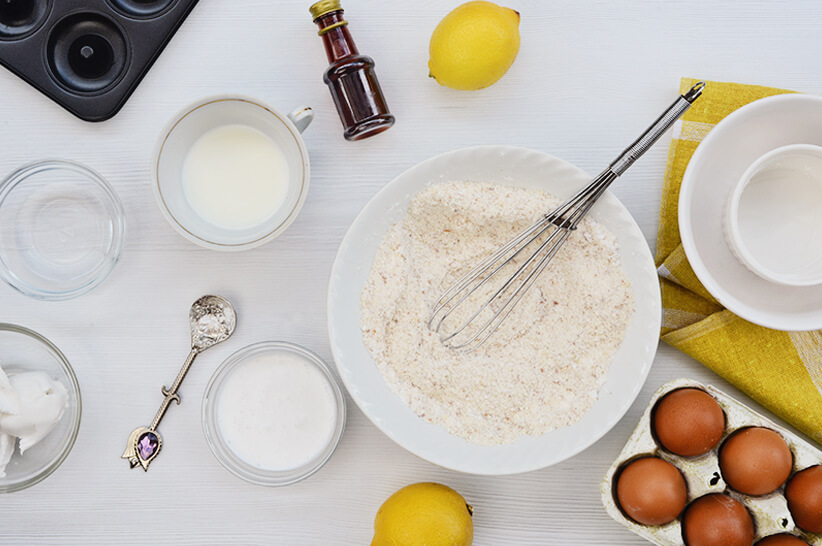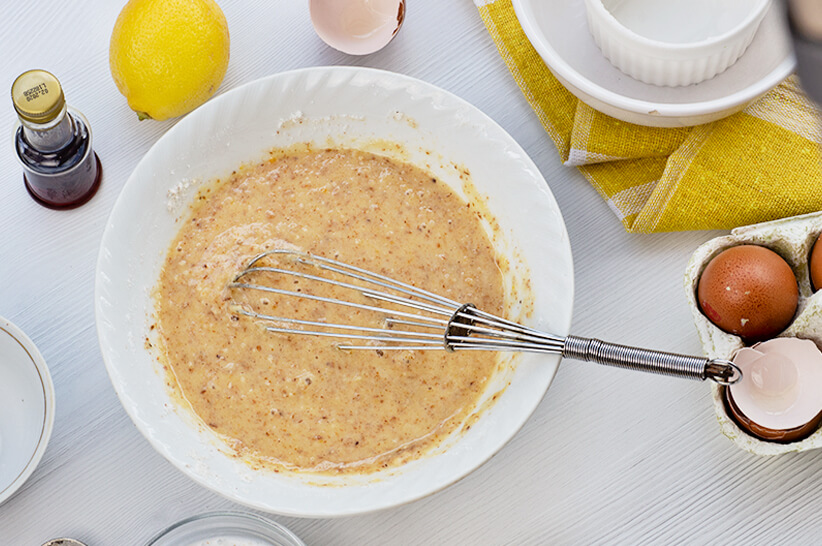 Preheat oven to 375F.
Start making the donuts by coating a 12-hole donut pan with cooking spray.
In a large bowl, combine the almond flour, baking powder, and erythritol.
Fold in coconut oil, eggs, milk, vanilla, and lemon zest.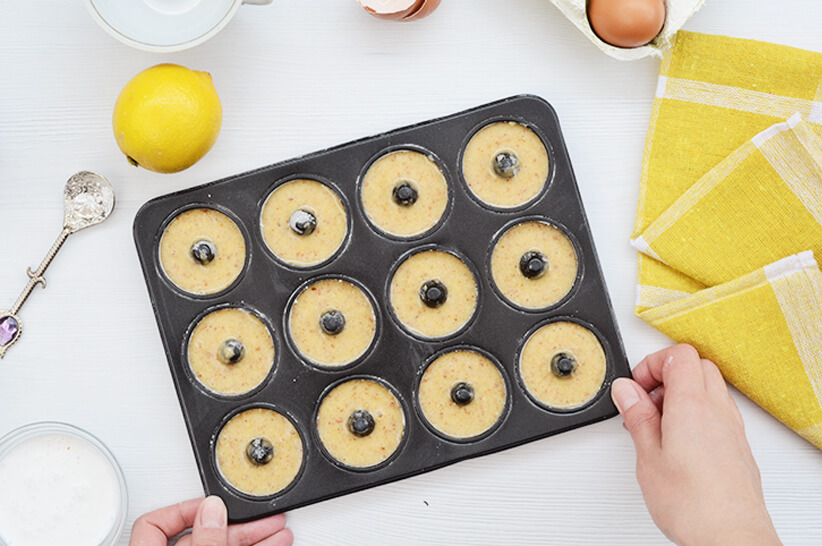 Stir until smooth and spoon the batter into the greased donut pan.
Put the pan in the oven and bake for 10-12 minutes.
Cool the donuts on a wire rack before removing from pan.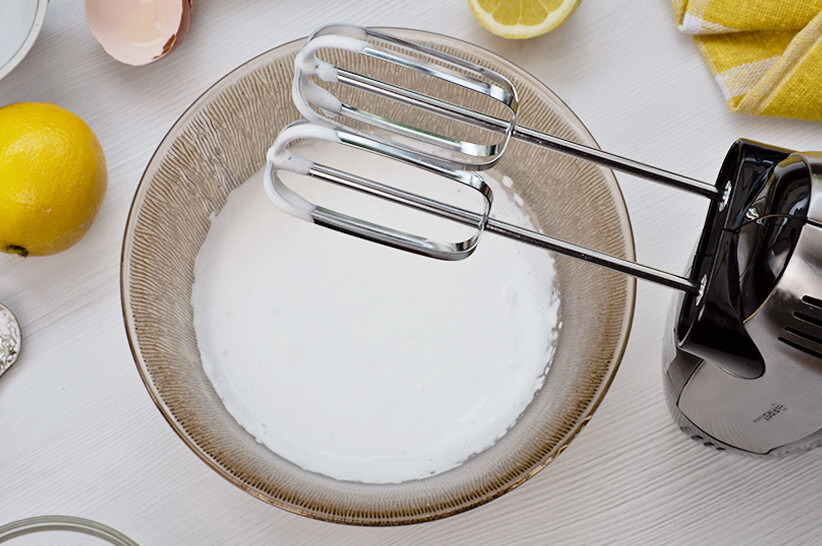 In the meantime, make the frosting by beating together the cream cheese, heavy cream, and erythritol in a large bowl.
Fold in vanilla and lemon juice.
Beat again until light and fluffy.
Spread the frosting over the cooled donuts.
Decorate with fresh berries before serving.
NOTE: you can make the donuts in a mini donut pan to get small, cute donuts.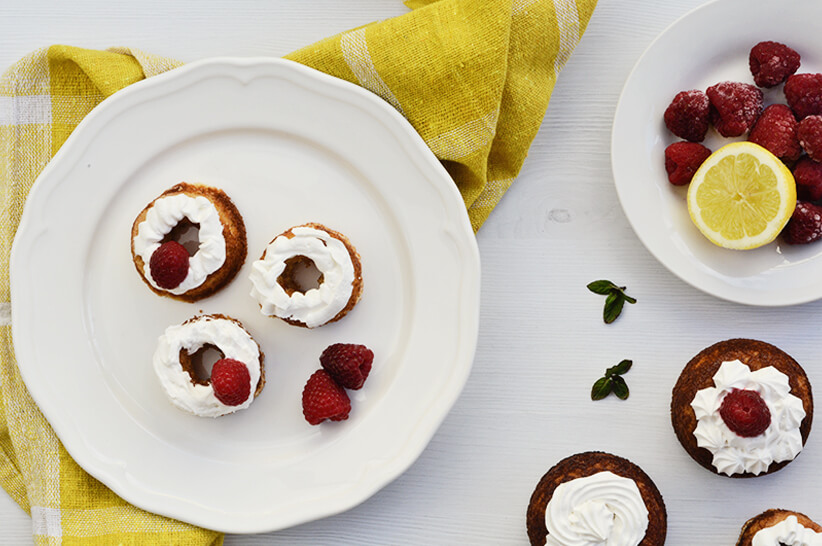 Tips & Tricks
Alternative flavorings
You can substitute the lemon zest in this recipe with other flavorings like cinnamon, pumpkin spice, orange zest, and even cacao powder. You can skip flavoring the sponge altogether and top it with chocolate lava after baking. The sponge recipe for these donuts pairs well with many other ingredients and toppings, so feel free to experiments if you want.
Nutrition benefits
One donut provides only 114 calories and 1.1g net carbs, so feel free to enjoy two or three in a single sitting. At 10g of fat and 3.3.g of protein, these donuts can definitely make for a satisfying and filling breakfast or snack. You will also get plenty of vitamin E, fiber, and magnesium from the almond flour as well as choline from eggs.