JUMP TO RECIPE
One of the tastiest desserts you can have on a low-carb diet is keto pudding. Here, we present this amazing chocolate recipe with a kick. Find out more below.
I decided to introduce this sugar free pudding for two reasons: First, it makes for a quick dessert, and second, it does not have any ingredient that will put you off ketosis — which is your main goal when following a keto diet, right?
Don't get me wrong.
I have loved puddings since I was a kid, and started with chocolate pudding (using granulated sugar and chocolate shavings). It was my aunt's best recipe. I could even vividly recall those Sundays when my cousins joined in the fun. Lisa liked banana pudding while Frank got crazy over mocha. As you can see, pudding is such a wonderful and versatile dessert!
When I tried doing the keto diet, my initial thought was, "I could not enjoy puddings anymore," which was a limiting belief. I felt for avid ketoers who also happened to have a sweet tooth.
Fortunately, I discovered a way to make pudding match my keto lifestyle! Keep reading below.
What Makes for a Keto Chocolate Pudding?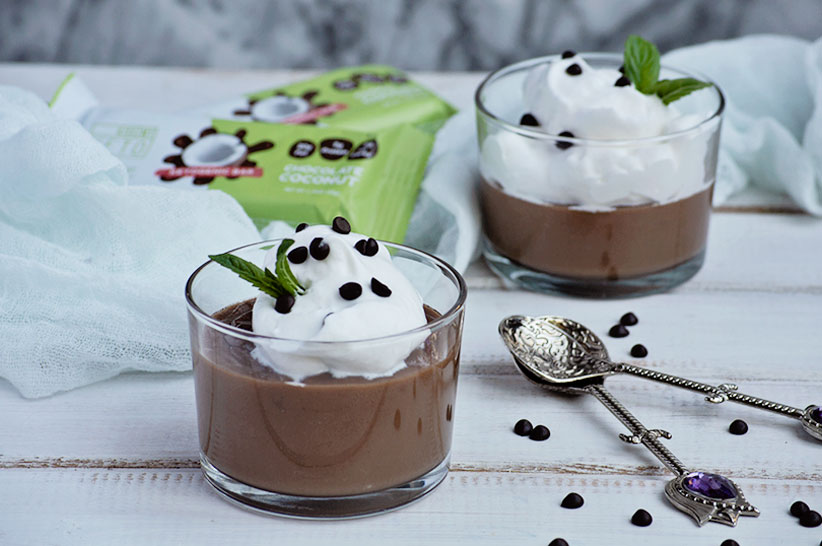 This coconut mint pudding uses the best keto-friendly ingredients out there. You can purchase them at your local grocery store except maybe for one special ingredient — Kiss My Keto's Chocolate Coconut keto bar.
If you already have this keto bar flavor, now you know that it's what makes this keto pudding recipe much more exciting!
Here's the list of ingredients and helpful facts about them:
Full-fat coconut milk – Coconut milk contains medium-chain triglycerides that produce ketones in your body and increase energy.
Egg yolk – Egg yolk doesn't just help thicken this pudding, but it's also a good source of omega-3 fats and vitamins A, D, E, and K.
Chocolate Coconut keto bar – This imparts the chocolate and coconut flavor in this pudding recipe. While it's ready-to-eat, there's no reason why it will not make for a main ingredient in a homemade keto dessert.
Erythritol – This non-nutritive sweetener is 70% as sweet as sugar, but it does not affect your blood sugar and insulin levels.
Vanilla coconut butter – Adding hints of vanilla in this pudding, vanilla coconut butter is a great baking ingredient. It may also serve as a topping or spread for other foods.
Mint and vanilla extract – Heighten the taste of your sugar free pudding with this extract. Without it, your pudding might get bland.
Unflavored gelatin powder – Using gelatin in baked goods will add form and texture to them.
Whipped cream – Whipped cream is a great topping not just for fresh fruits but also baked desserts. It is low in carbs and high in fats.
Tips and Tricks for Making Keto Chocolate Pudding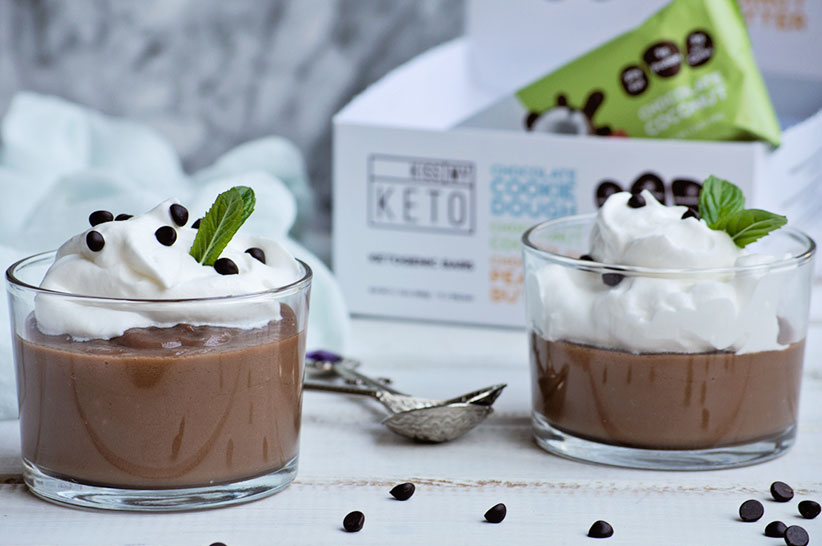 Yup, there are tweaks you can make in case you wish to try variations of this recipe! Check them out below:
If you don't have erythritol as the sweetener, feel free to use Swerve or xylitol. One cup of regular sugar is equivalent to one cup of Swerve. The same applies for xylitol.
Curious about other topping ideas? You might want to try any of the following: Chopped frozen strawberries, chopped walnuts, shredded coconut, or sugar-free marshmallows.
Use unsweetened cocoa powder instead of Kiss My Keto's Chocolate Coconut keto bar.
Ready to try this refreshingly delicious coconut mint keto pudding? Go ahead and check out the complete procedure below. We hope you'll love it.
Keto Chocolate Pudding Recipe
Preparation Time: 10 minutes + inactive time
Cook Time: 10 minutes
Serves: 4

Pudding:
1 ½ cups full-fat coconut milk
1 large egg yolk, beaten
1 Keto Bar – Chocolate Coconut, chopped
½ cup powdered erythritol
2 tablespoons vanilla coconut butter
¼ teaspoon of mint and vanilla extract
1 tablespoon unflavored gelatin powder
3 tablespoons water
Topping: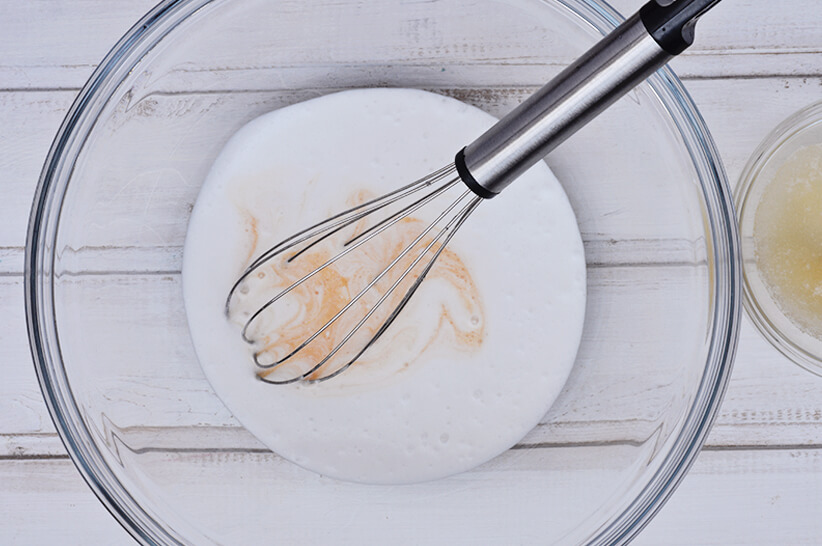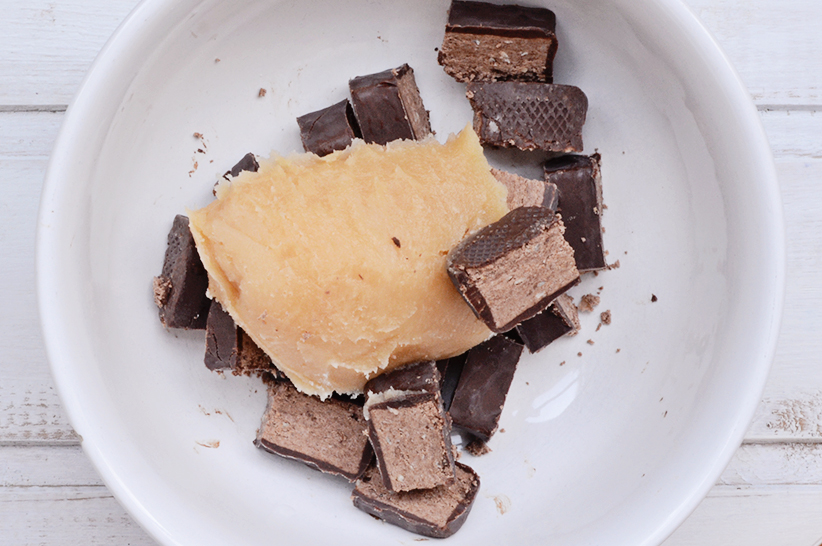 Place water in a small bowl.
Sprinkle over the gelatin and place aside to dissolve for 5 minutes.
In a saucepot, combine the coconut milk with the egg.
Place the Keto bar in a microwave-safe bowl and add the coconut butter.
Melt in the microwave for 40 seconds. Stir to combine. If mixture ends up grainy, add 1-2 tablespoons of the heavy cream mixture.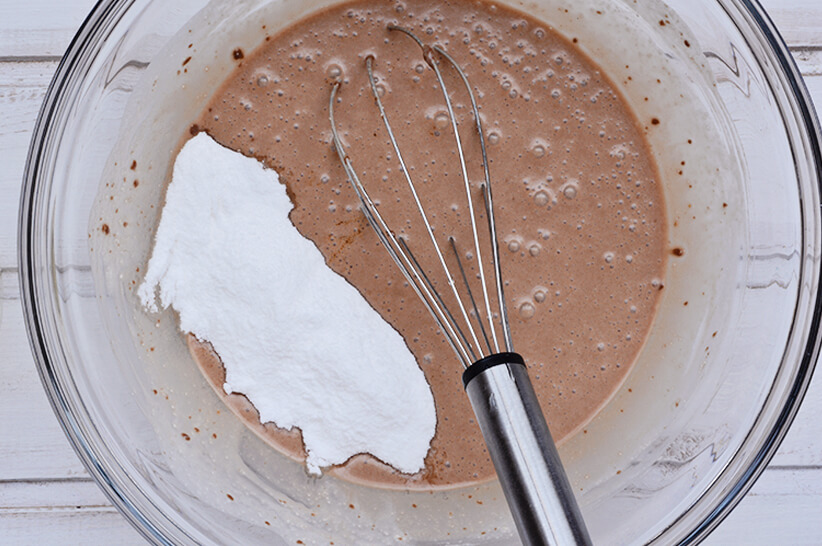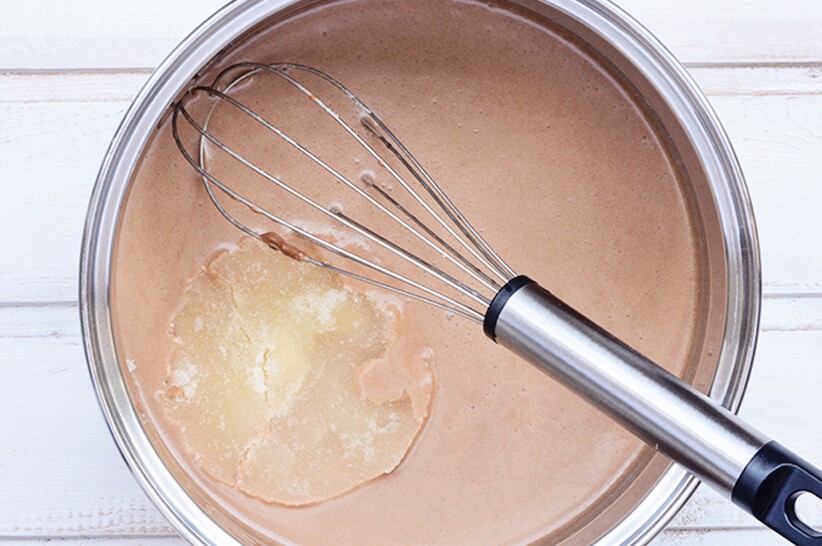 Whisk the Keto Bar into the coconut milk mixture along with the extracts and erythritol.
Set the mixture over medium-high heat.
Stir in the dissolved gelatin and cook until fully incorporated.
Continue to cook for 2 more minutes.
Remove from heat and pour into heatproof serving bowls.
Refrigerate for at least 4 hours.
Top the refrigerated pudding with whipped cream and mini chocolate chips or, alternatively, with the Chocolate Coconut Keto Bar.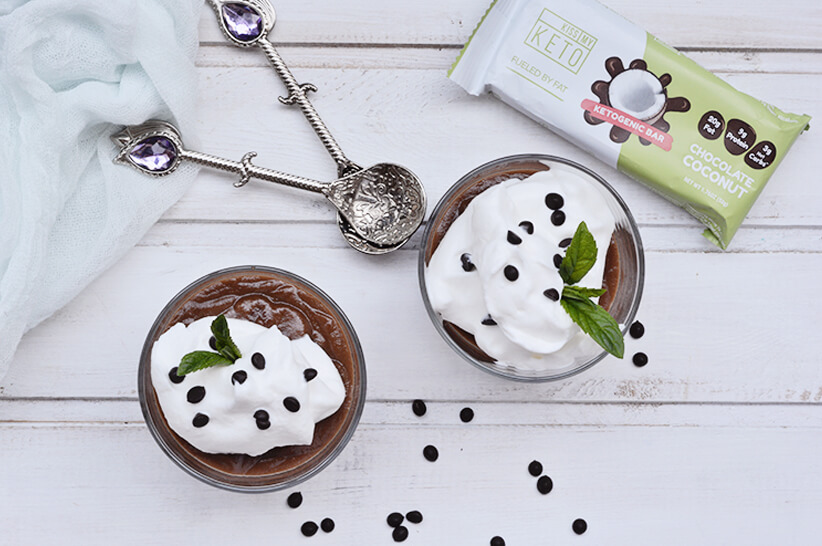 Tips & Tricks
Nutritional benefits
Conventionally, pudding contains ingredients that raise your blood glucose such as cornstarch and white sugar. For this pudding, we've selected keto-friendly ingredients that help promote a healthy weight and raise your good HDL cholesterol.