JUMP TO RECIPE
Craving for something chewy, rich, and chocolatey? I highly recommend that you give these easy keto brownies a shot. Yep, you've read it correctly. Easy. Plus they're super high in fat.
Brownies, in my opinion, are among the best treats that can be made keto-friendly. This is positive news for those who love brownies but feel limited because, to be honest, regular brownies are high in carbs. Hello, all-purpose flour.
Backstory of this recipe:
The first time I went keto, I tried to limit those brownie treats to weekends or cheat days. A friend of mine who happened to be a long-time ketoer randomly shared with me some dessert recipes and, lo and behold, she mentioned keto chocolate brownies.
I asked her what she did to make her brownies low-carb, and here are the two key ingredients that spelled the difference: Almond flour and erythritol.
I learned that almond flour is an excellent substitute for wheat flour. It's much lower in carbs and rich in healthy monounsaturated fats. Erythritol, on the other hand, is a sugar alcohol. As a keto-friendly sweetener, it doesn't raise blood sugar levels.
Over time, I've learned some useful tweaks to produce a tastier version of traditional low carb brownie treats — and that's by adding Kiss My Keto's Dark Chocolate – Roasted Almonds. This ingredient imparts a richer taste to the brownies, not to mention, the almonds that add a bit of crunch. Exciting, right? And oh, I've also chosen Kiss My Keto's Coconut keto bar as the toppings.
But I've also recently learned that Kiss My Keto offers their newest brownies. I gave them a try and to be honest, they're made to perfection.
Let's dive into the actual low carb brownie recipe.
How to Make Keto Brownies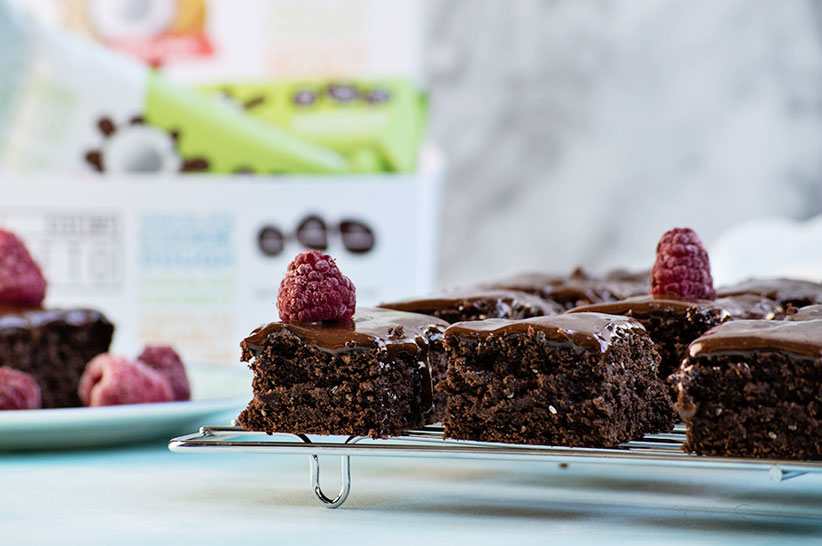 What you'll like about these brownies is that they can be ready in 30 minutes. If you've got guests coming over or you're having a relaxing weekend with the family, this recipe yields 16 servings. Each serving provides the following macros to help you remain in a nutritional ketosis state: Fat – 13.7g, Net carbs – 5g, Protein – 2.7g.
To get started, prepare the following ingredients:
Almonds
Butter
Eggs
Powdered erythritol
Almond flour
Unsweetened cocoa powder
Chia seeds
Baking soda
Cream of tartar
As for the toppings, we're using Kiss My Keto Coconut keto bar, coconut butter, heavy cream, and raspberries (optional).
For the exact amounts of these ingredients, please scroll down to the recipe card.
The first thing you need to do is preheat your oven at 350 F. In a microwave-safe bowl, place the keto chocolate and butter. Put the bowl in the microwave for 1 minute. In a separate bowl, beat the eggs and erythritol, and then fold in the chocolate and butter mixture, followed by the rest of the dry ingredients — almond flour, cocoa powder, chia seeds, baking soda, and cream of tartar.
Once the batter is properly mixed, spread it on the baking dish. Bake for about 15 minutes! As for the topping, it's really simple. All you need to do is this: In a microwave-safe bowl, add chopped keto bars, coconut butter, and heavy cream. Microwave. Then pour the mixture over the cooled brownies.
Keto Brownie Recipe Variations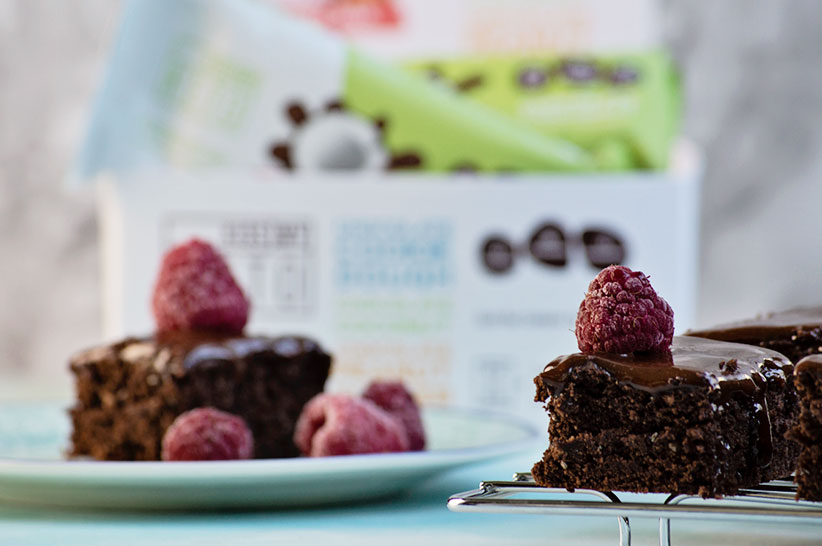 The best keto brownies don't need to strictly follow a specific set of ingredients. People have different taste preferences, and let's admit it — there will be times when some ingredients aren't available. These useful tweaks may help!
Sweetener – You've got other options besides erythritol. Keto-approved sweeteners include xylitol, powdered Swerve, and lakanto monk fruit.
Topping – Flaked sea salt is a wonderful topping to add to your keto brownie recipe. It requires no additional prep at all. Simply sprinkle sea salt on the brownies to add crunch and enhance the flavor of your dessert. Chopped walnuts are also great for increasing your fat and protein intake!
Flour – Surprised? Yes, coconut flour is another good substitute for all-purpose flour. Just use ¼ cup of coconut flour to replace 1 cup of all-purpose flour. Since coconut flour tends to absorb liquids, make sure that you increase the eggs and butter.
Below, you'll find the complete ingredients and procedure for your keto brownies. Dig in.
Easy Keto Brownies Recipe
Preparation Time: 15 minutes
Cook Time: 15 minutes
Serves: 16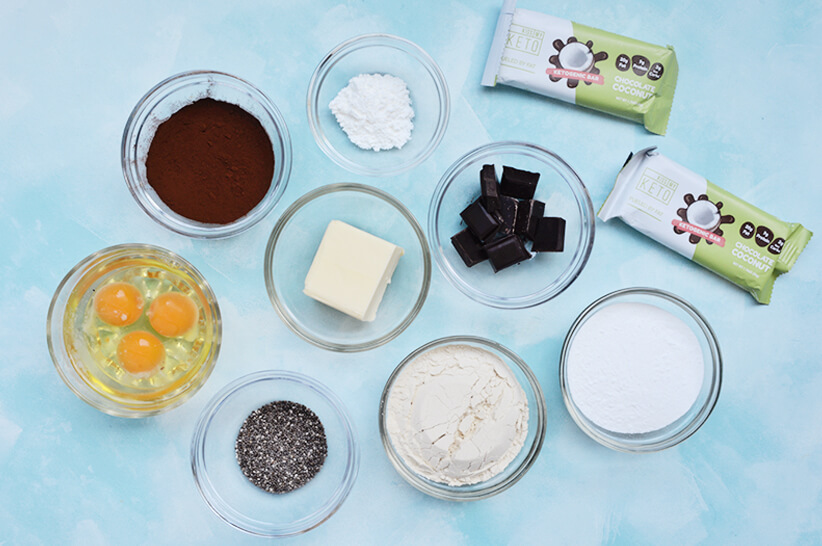 Brownies:
4oz. butter
3 large eggs
¾ cup powdered erythritol
1 cup almond flour
½ cup unsweetened cocoa powder
2 tablespoons chia seeds
½ teaspoon baking soda
1 teaspoon cream of tartar
Topping:
2 tablespoons coconut butter
¼ cup heavy cream
Raspberries, optional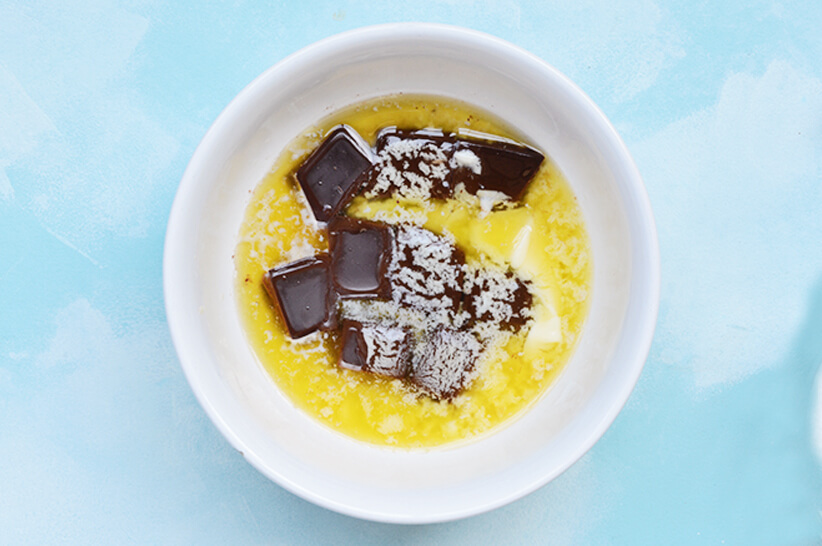 Preheat oven to 350 F and line an 8-inch baking dish with parchment paper. Let the sides stick out a bit for easy removal.
Chop the Keto Chocolate and place into a microwave-safe bowl.
Add butter and melt in a microwave for 1 minute in 30-second bursts. Stir until smooth.
Beat the eggs with erythritol in a bowl.
Fold in the chocolate.
Fold in all the dry ingredients and stir until smooth and turned into a rich batter.
Spread the batter over the baking dish.
Bake the brownies for 15 minutes.
Remove from oven and place aside to cool.
To make the topping, chop the Keto Bar and place into a microwave-safe bowl.
Add coconut butter and microwave for 30 seconds.
Remove and stir. Microwave for another 30 seconds if needed.
Fold in the heavy cream and stir until smooth.
Pour the topping over the brownies. Let the topping set.
Cut and serve topped with fresh raspberries.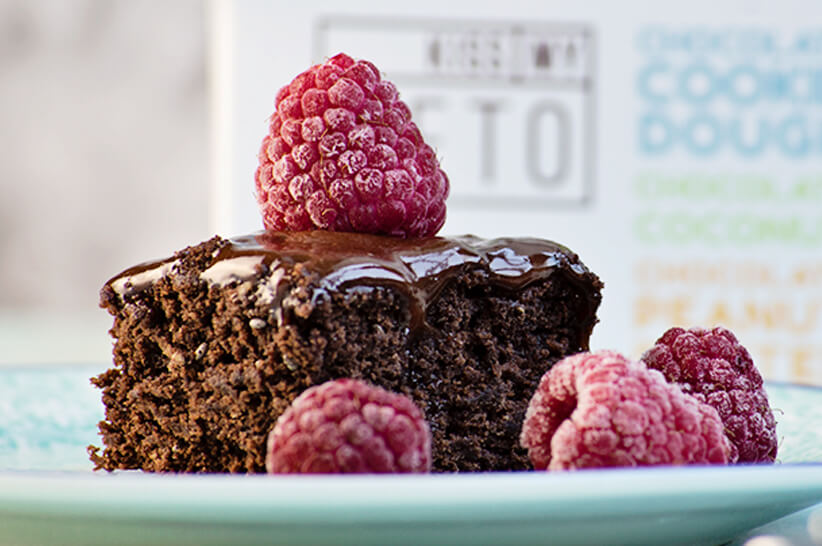 Tips & Tricks
Nutritional benefits
These are the healthiest brownies you'll ever find. Each serving has only 6.6 grams of total carbs. Adding chia seeds into your keto brownie mix means that you get a good dose of fiber, protein, and omega-3 fatty acids.