JUMP TO RECIPE
If you're looking for another way to enjoy Kiss My Keto's brownies, we highly recommend these no-bake keto brownie cake pops. They look and taste so delicious too, they're make worthwhile party desserts!
Cake pops are sweet, mini balls that come in various flavors. Personally, I love chocolate-flavored pops. They bring out the inner child in me. Back in the day, my friends and I used to make these pops. The only difference was, during that time, we used chocolate chips, sugar, and rainbow sprinkles. Sure, they tasted so good. But were they best for a low-carb diet? Not at all.
Thankfully, I've had a chance to recreate this delightful dessert to make them not just healthier but also simpler. All it took me to put these cake pops together was a total time of 15-20 minutes. I also have all the ingredients I needed which were already in my pantry – except for Kiss My Keto's brownies which were sent to me by the team.
Keto Cake Pops Ingredient Substitutions
If you wish to modify these cake pops or keep them for later, you may use these hacks:
Ghee is a good replacement for butter. Replace at a 1:1 ratio. This means you should use 2 tbsp ghee instead of 2 tbsp butter. Choose ghee to get a higher concentration of fat.
Cacao butter can be used instead of coconut oil. Similar to coconut oil, cacao butter hardens at room temperature. It's also a popular ingredient for homemade chocolate desserts!
Feel free to use another food coloring. Make these desserts stand out using colors such as orange, purple, yellow, and green.
Use any low-carb chocolate for the coating. In the recipe section below, I mentioned that you have an option to coat the pops with a layer of Kiss My Keto's chocolate. If you don't have that, pick an alternative as long as it's keto-friendly.
Sea salt flakes make fancy toppings. Not only does sea salt make desserts look prettier, but it also brings out the flavor in them.
Seal the cake pops in a plastic wrap. This will retain their freshness. Next, place them in a container to prevent them from getting deformed by the presence of other foods in the freezer.
What Makes This Cake Pops Keto?
Before I reveal the actual recipe, I want to show you why these cake pops fit a keto diet perfectly. I've used keto-friendly brownies from Kiss My Keto (made with MCT oil, almond flour, bovine collagen, cocoa, and stevia) plus butter, a small amount of banana extract, coconut oil, and food coloring. 5 cake pops will give you only 2 grams of net carbs. This means you can have a serving or two and not get kicked out of ketosis.
Kitchen Equipment Needed:
Ceramic bowls
Popsicle or lollipop sticks
Frequently Asked Questions:
How long do keto cake pops last in the freezer?
As long as they are properly sealed, they can last in the fridge for up to 10 days.
---
Are they vegan-friendly?
Kiss My Keto brownies, the main ingredient of this dessert, contain bovine collagen.
---
How many cake pops can I eat?
It depends on your individual carb limit on keto. Five cake pops should not kick you out of ketosis if you have not gone beyond 20-50 grams of carbs yet (the daily standard for most people).
Keto Brownie Cake Pops
Preparation Time: 15 minutes + inactive time
Serves: 5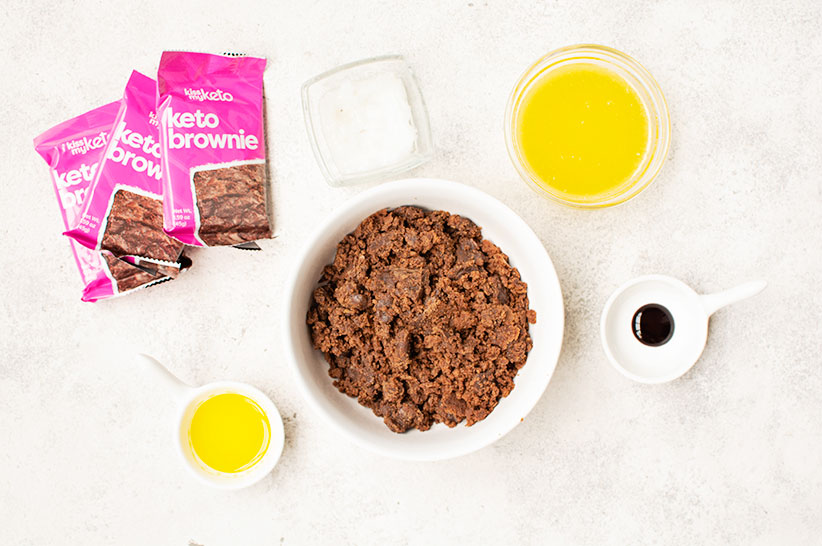 For the tops:
2 tbsp melted and cooled butter
¼ tsp banana extract
For the topping:
¼ cup softened coconut oil
Pink food coloring
Optional: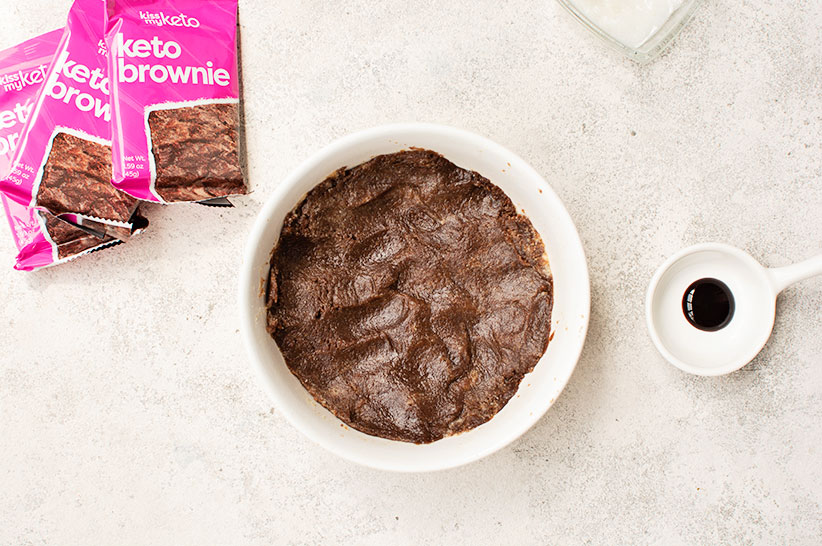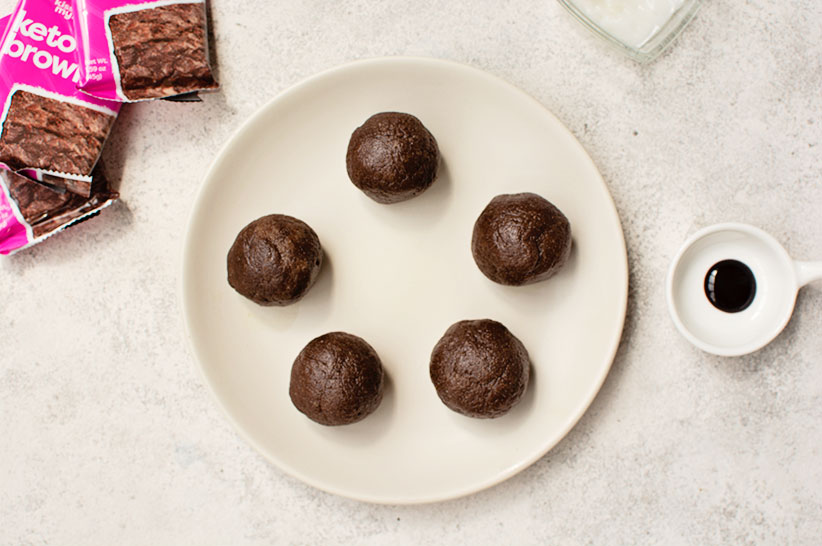 Crumble the KMK brownies in a bowl.
Add butter and banana extract.
Stir to combine.
Shape the mixture into 5 balls.
Refrigerate for 10 minutes and insert a lollipop/popsicle stick in each ball.
Refrigerate for at least 30 minutes.
Make the topping; heat coconut oil until runny. Add coloring and stir to combine.
Drizzle over the cold popsicles.
NOTE: you can coat the popsicles with a layer of KMK chocolate or just drizzle with a pink coconut coating. Instead of coconut oil, you can use cacao butter.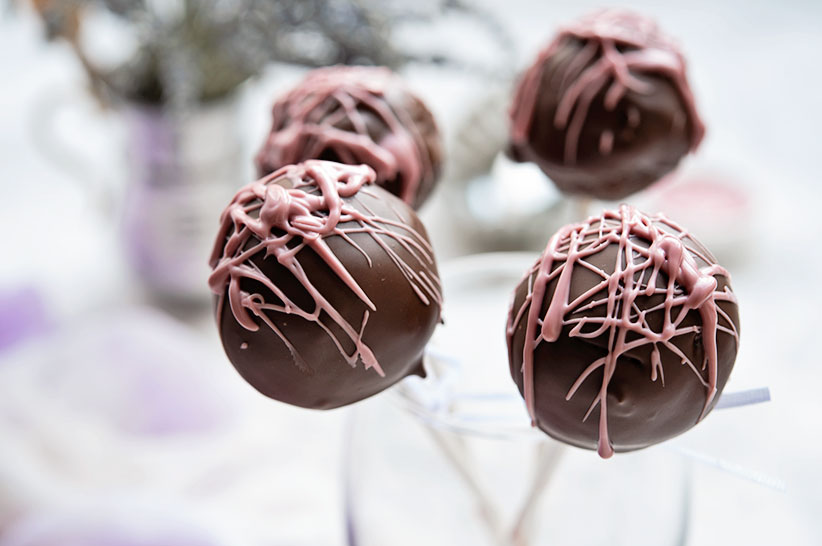 Tips & Tricks
Unless these cake pops are going to be consumed immediately, keep them fresh by "vacuum sealing" them in a plastic wrap. Before you store them in the freezer, make sure to place them in a container to prevent them from getting squashed or deformed by other foods in the freezer.