JUMP TO RECIPE
The name of this famous keto pizza comes from a 2009 documentary of the same name which sought to debunk the lipid hypothesis. The pizza has been a staple of many keto households, with claims that it's the closest to real pizza in terms of texture. The secret is all in the dough made with a combo of cheese, eggs, and coconut flour. With a bit of patience and elbow grease, the famously chewy dough of Fathead pizza is sure to turn out fantastic every time.
Keto Fathead Pizza
Preparation Time: 15 minutes
Cook Time: 10 minutes
Serves: 6
Dough:
1 ½ cup mozzarella cheese, shredded
2 tbsp cream cheese
2 small eggs, beaten
⅓ cup coconut flour
Topping:
Shredded smoked cheese
Sliced pepperoni
Preheat oven to 400F.
Combine mozzarella and cream cheese in a microwave-safe bowl.
Microwave the cheeses on high for 2 minutes or until melted. Stop the microwave halfway through and stir the cheese.
Once the cheese is melted and well-combined, fold in the coconut flour and eggs.
Stir with a fork or spatula until the dough comes together.
Line a baking sheet with parchment paper.
Transfer the dough onto baking sheet and press with fingers to distribute evenly.
Top the crust with shredded smoked cheese and peperoni.
Bake the pizza for 10 minutes. Optionally, first bake the crust for 5 minutes, then add the toppings and bake for another 5 minutes.
Slice the pizza and serve warm.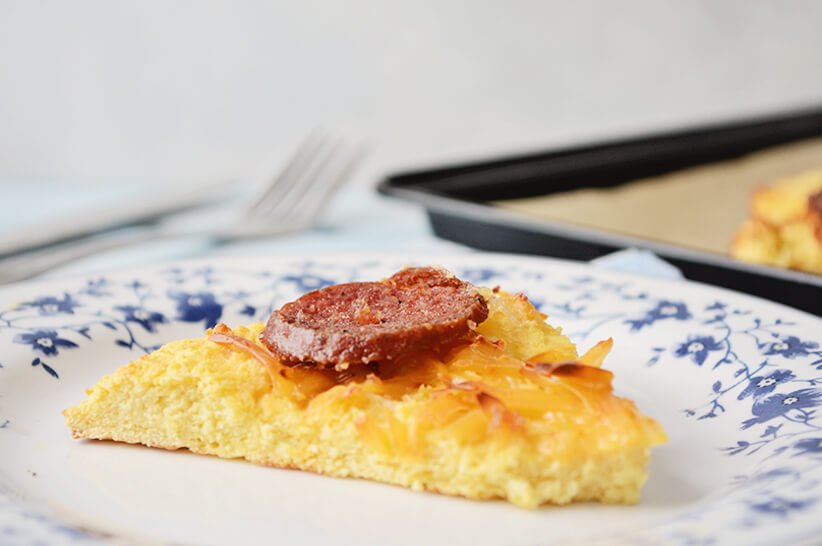 Tips & Tricks
Preparation tips
Don't get discouraged if your pizza dough doesn't come together well on the first try. It takes quite a bit of kneading and mixing to incorporate these ingredients. And definitely make sure to fold in the eggs once the melted cheese is slightly cooled; otherwise, the eggs will start to cook. When it comes to baking time, add the toppings in the last five minutes of baking time if you don't like browned cheese on your pizza.
Additional ingredients
Some like to add garlic powder and nutritional yeast to this pizza dough for added flavor. If you want this pizza to be closer to the Italian classic, feel free to add a tablespoon or two of tomato sauce, mozzarella slices, the peperoni, and dried oregano. The little bit of tomato sauce added to this pizza won't boost its carb content noticeably.