JUMP TO RECIPE
This low carb egg drop soup combines 5 simple ingredients to make an appetizing meal. It's a bit spicy, creamy, and best of all — satisfying.
Do you love soups? Soups can turn a bad mood around. They make you feel better when you're having a cold. Depending on the ingredients, a bowl of soup helps achieve certain goals for your health or fitness. If you're into keto, it can be a wonderful tool for meeting your macros!
I've been a big fan of egg drop soup for as long as I can remember. But I've never thought about sharing it until now. I highly recommend this soup for those who want it to stay warm during cold weather or a new recipe to beat flavor fatigue from their current soups.
Here you go.
This version is definitely keto-friendly. One serving provides 2.5g of total carbs and a whopping 22.5g total fat. I also love the fact that it has 18.8g of protein which makes it a great food for individuals who are looking to build muscle and boost weight loss through satiety.
Did you know that egg drop soup is a staple at many Chinese restaurants? The difference between those versions and that one we have here is the ingredients list. Typical egg drop soup carbs are high since the soup uses non-keto-friendly items like cornstarch and corn kernel. We need to eliminate them if we want to keep our carb intake down.
The rest of the ingredients are acceptable on a keto diet, such as chicken broth, bouillon cube, butter, garlic paste, and eggs.
Now that you know the carbs in egg drop soup (keto version), let's dive into the actual process of making it. Read on.
How to Make This Easy Keto Egg Drop Soup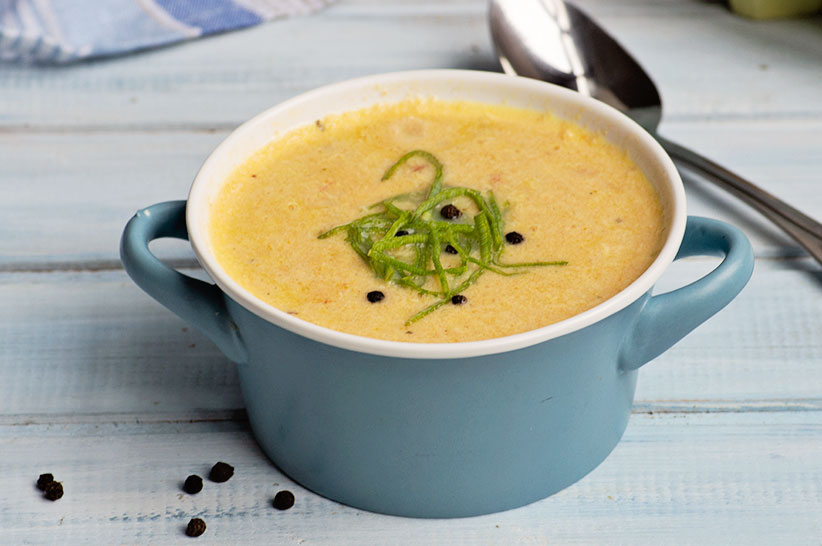 With a total prep and cooking time of 20 minutes, our egg drop soup is actually one of the simplest meals that's super gentle on your scale. It doesn't matter if you're eating it to break a fast or you haven't bought any meat yet (and you'd rather put together stuff that's available in the fridge).
For the ingredients, I use the following:
Chicken broth
Bouillon cube
Butter or bacon fat (personally, I prefer butter because of the smell)
Chili garlic paste
Medium eggs
To get started, the first thing you need to do is prepare the chicken broth and bouillon cube. If you prefer not to use homemade chicken broth, which can take time to make, you can simply dissolve a chicken broth cube in hot water. It's the same thing you do with the bouillon cube. Set them aside for now.
Next, heat a sauce pan and pour the chicken broth and chicken bouillon cube you've set aside. Here's what I've discovered: One time, I didn't have the bouillon cube so I stuck with chicken broth instead. And the taste of the soup was completely fine! So don't worry if you don't have one of the cubes. Next, add the butter to the pan.
Bring the liquid to a boil and simmer for about 5 minutes. Now, it's time to add a bit of chili garlic paste. This imparts hints of red in your soup and more importantly, gives it a kick. It makes egg drop soup more flavorful.
Finally, add in the medium eggs. Stir well. These eggs will make your meal more filling and nourishing. Eggs are an excellent source of protein and minerals such as zinc and iron. Cook for 3 minutes.
Transfer your soup to a bowl. Sprinkle with chopped chives on top and serve!
How to Store Keto Egg Drop Soup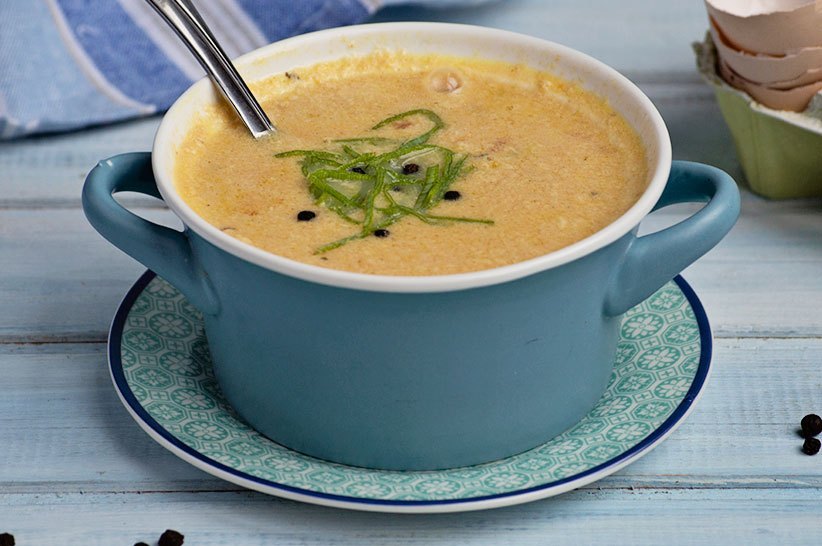 Keto egg drop can be kept in the fridge for up to 3 days. Just make sure to place the soup in an airtight container. Before you reheat the soup, pour a bit of water to thin it out. The soup usually thickens.
Ready to make this low-carb soup? Feel free to check the actual recipe steps below. And let me know what you think.
Easy Keto Egg Drop Soup Recipe
Preparation Time: 10 minutes
Cook Time: 10 minutes
Serves: 1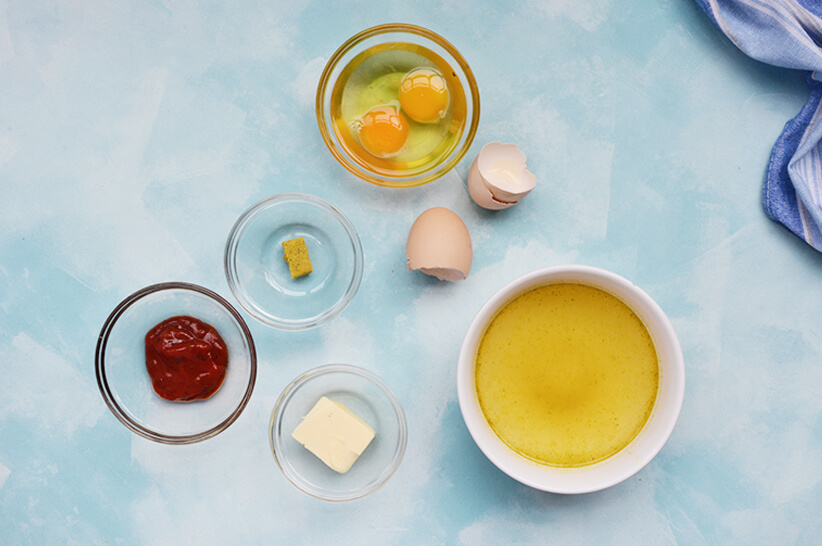 1 ½ cups chicken broth
½ chicken bouillon cube
1 tablespoon butter or bacon fat
1 teaspoon chili garlic paste
2 medium eggs, beaten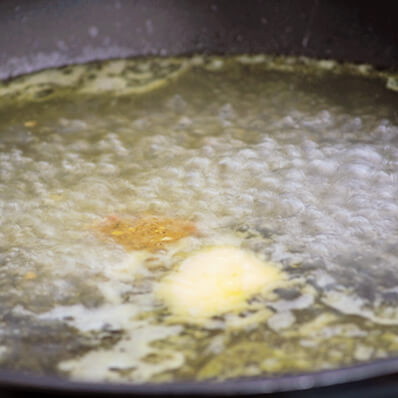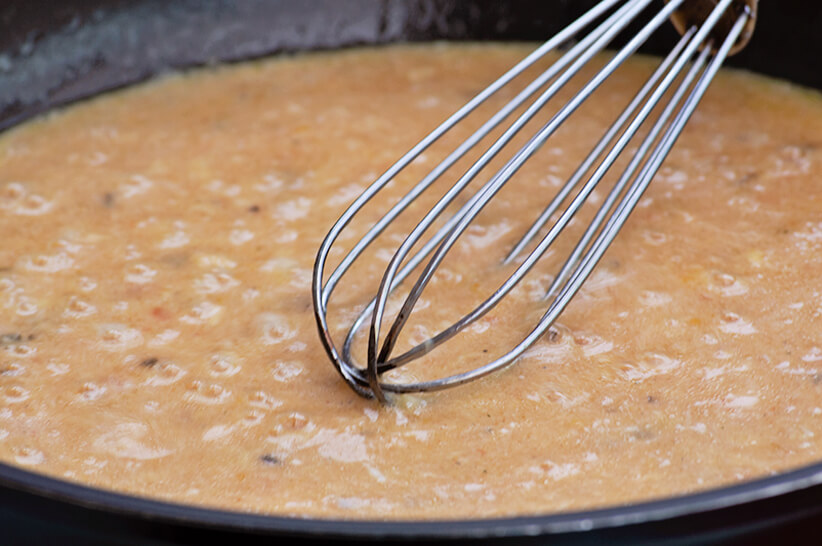 Heat a pan over stove.
Add chicken broth, bouillon cube and butter.
Simmer until the butter is melted.
Stir in chili garlic paste and bring to a simmer again.
Pour the eggs into steaming broth.
Cook for 3 minutes.
Serve warm, topped with some sliced spring onion.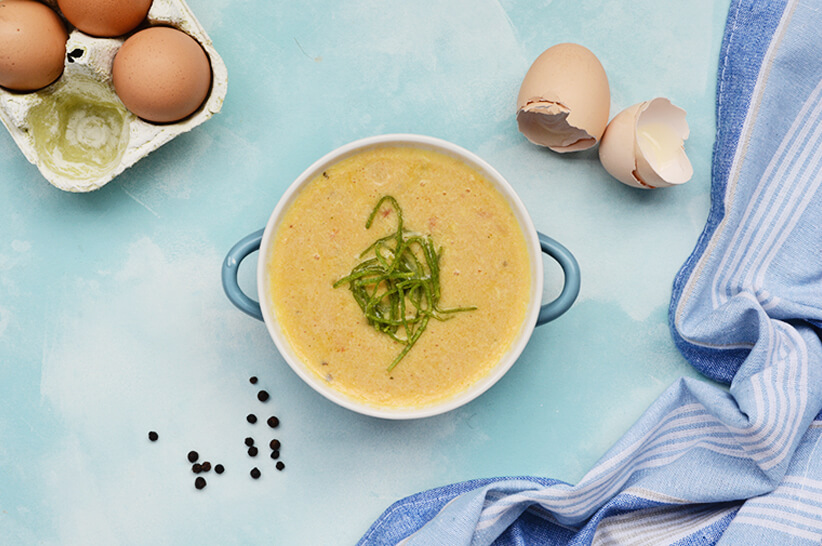 Tips & Tricks
Preparation tips
If you want your egg drop soup to have a darker color and an umami taste, you may add 1 tablespoon of coconut aminos. Some people also like to add a tablespoon of fresh or ground ginger into their soup to spice it up and make it healthier. Just double up the ingredients from our list above if you need more than one serving.