JUMP TO RECIPE
These low-carb, gluten-free bagels are made with just 5 ingredients and take less than half an hour to prepare – perfect when you need a quick and easy breakfast. The recipe is the same as the one used to make fathead dough, resulting in chewy, yet crisp bagels. Enjoy them with your favorite keto-friendly spread or eat them alone, they're tasty either way.
Keto Bagels
Preparation Time: 10 minutes + inactive time
Cook Time: 15 minutes
Serves: 4
1 cup almond flour
½ tsp baking powder
1 ½ cups shredded mozzarella cheese
5oz. cream cheese
1 large egg, beaten
Sesame seeds, as desired
Preheat oven to 400F.
Line a baking sheet with baking paper.
Combine mozzarella and cream cheese in a microwave safe bowl.
Microwave the cheese mixture on high for 2 minutes or until melted. Make sure to stir the cheese halfway through.
Fold in the almond flour and baking powder.
Add in the egg and stir until the dough comes together. Continue to knead until you get a smooth dough.
Refrigerate the dough for 30 minutes.
Once the dough is chilled, divide into four equal portions.
Shape each portion into logs. Bring together the ends and arrange on the baking sheet.
Sprinkle each bagel with sesame seeds and press them lightly onto the dough. Bake the bagels for 15 minutes or until golden.
Serve warm with cheese spread or other spread of your liking.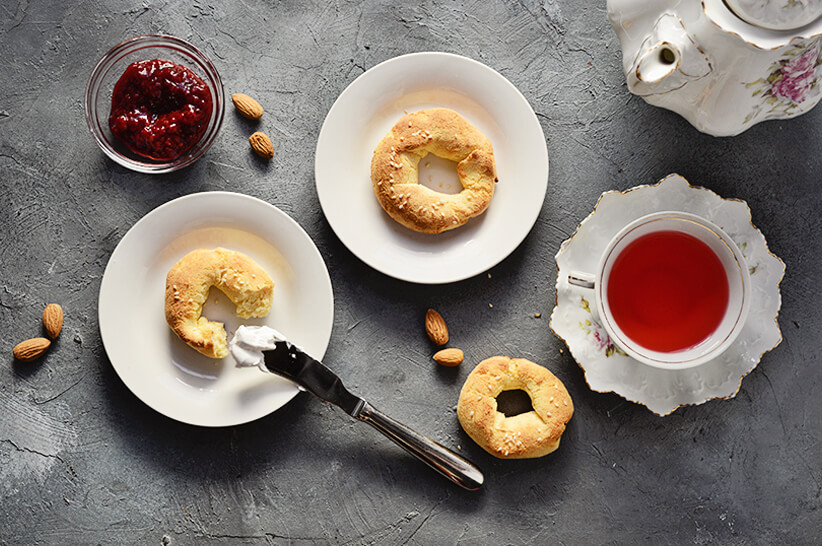 Tips & Tricks
Preparation tips
There are differences between fathead dough used to make these delicious bagels and doughs traditionally used in pastry making. First, fathead dough is gluten-free, so it won't have that stretchy texture during kneading. It is also much more difficult to get a uniform dough, so a bit of elbow grease will be needed.
With that said, if you find that the cheese and almond flour are not blending well during kneading, try reheating the dough in the oven to melt the mozzarella again. Be careful to use the lowest setting to avoid cooking the egg in the process. Knead the dough again until it becomes uniform. You can knead it using a food processor or hand mixer if you find this easier.
Chilling the dough for half an hour is an important step in keto bagel making because it prevents the dough from becoming too sticky. You can, however, refrigerate it for longer but you may need to warm it up slightly before proceeding.