These keto movie snacks and drinks are some great options to consider sneaking into the theatre or having in your home theatre on Friday nights. All have less than 6g of net carbs per serving so you don't have to worry about overdoing it.
What's movie night without your favorite snack and/or drink? Not as fun as it could be, that's for sure.
For those on a keto diet, however, the choice of keto movie snacks at the concession stands is very limited or even non-existent. And no, you cannot eat movie theater popcorn on a keto diet — a small serving of popcorn will have around 30g net carbs!
So, what's a keto eater to enjoy on their movie nights?
For your next cinema outing, there are great low-carb snacks, keto candy, low-carb candy bars, and drinks that you can sneak in. And if you're staying in like many of us are during the quarantine era, these low-carb alternatives are easy to order from online stores, including on Amazon.
Want to find out which ones we're talking about?
Keep reading!
So let's start with the snacks. This list of great low-carb snacks includes sweet but also salty and crunchy options that you can buy on Amazon and other websites. Many of these low-carb aleternatives are rich in ketogenic fats as well as protein, which means you get all the best nutrients along the way.
1. Kiss My Keto - Keto Gummies
If you prefer your snacks chewy and sweet, consider these low-carb gummy bears. Keto Gummies are low-carb candy made with prebiotic fiber from chicory root, tapioca fiber, gelatin, and erythritol as the main ingredients — all being low-carb and natural. Make sure to not eat more than one bag, though. The combination of fiber and erythritol can cause digestive upset if you have too much. In other words, this is a snack to be enjoyed in moderation.
2. Kiss My Keto - Keto Bars
These keto bars will keep you full through the movie, as long as it's not Gone with the Wind. They pack a generous punch of protein (10g per piece) and also contain energizing MCT fat. These keto snacks are sweetened with stevia and monk fruit that even sensitive stomachs can handle. What's also great is you get to choose between Peanut Butter Chocolate, Cookie Dough Chocolate, and Coconut Chocolate flavors.
3. Kiss My Keto White Bars
Keto white bars are similar to Keto Bars. However, these have a white coating made of inulin and milk proteins instead of a chocolate glaze. These bars provide many of the same nutrition benefits of regular Keto Bars, but they come in different flavors, namely Salted Caramel, Birthday Cake, and Maple Donuts, all of which are hard to resist.
4. Kiss My Keto - Keto Brownie
Sometimes, a chunky brownie is all you need to make keto movie watching sweeter. This one comes in 1.59oz single packages, each providing only 2g net carbs. That means you can enjoy 2 and still be carbs away from your macros limit. It contains almond flour, almond butter, cocoa, collagen, MCTs, coconut fat, and other good-for-you ingredients. And if staying in, serve this topped with some keto-friendly vanilla ice cream to make the whole experience a bit decadent.
5. Kiss My Keto - Keto Dark Chocolate
Sugar-free dark chocolate is a keto-friendly, healthy movie snack that's easy to sneak into movie theaters. It has only 2g net carbs per ⅓ of a bar and the added benefits of MCTs. This Keto Chocolate comes in four different flavors: Original Dark, Roasted Almonds, Pumpkin Seeds & Sea Salt, and Toasted Hazelnuts. The varieties with nuts are best for movie watching thanks to added crunch.
6. Kiss My Keto - Keto Cookies
Of course, treats that are crunchy and chewy are some of the best keto theater movie snacks. These Keto Cookies come in butter and chocolate chip varieties, both having only 3g net carbs per serving. They're made with almond flour like so many keto-friendly desserts, but these also contain added MCTs to help you stay in ketosis through every scene.
8. Healthy Nuts & Seeds Mix
Plain ol' pork rinds are the perfect substitute for popcorn. They do have a strong aroma that might make you think twice about opening a bag at the cinema. But they are good if you're watching Netflix or Hulu. All pork rind brands will work on your keto diet. You could also go for flavored varieties like EPIC Chili Lime Baked Pork Rinds or 4505 Classic Chili & Salt Pork Rinds.
11. Healthy Roasted Seaweed
Of course, you also need a hydrating drink to go with your salty (or sweet) keto snacks. Bottled water or coffee are some low-carb options that you can buy at the concession stand. But there are also things you can bring with you if you'd like more variety.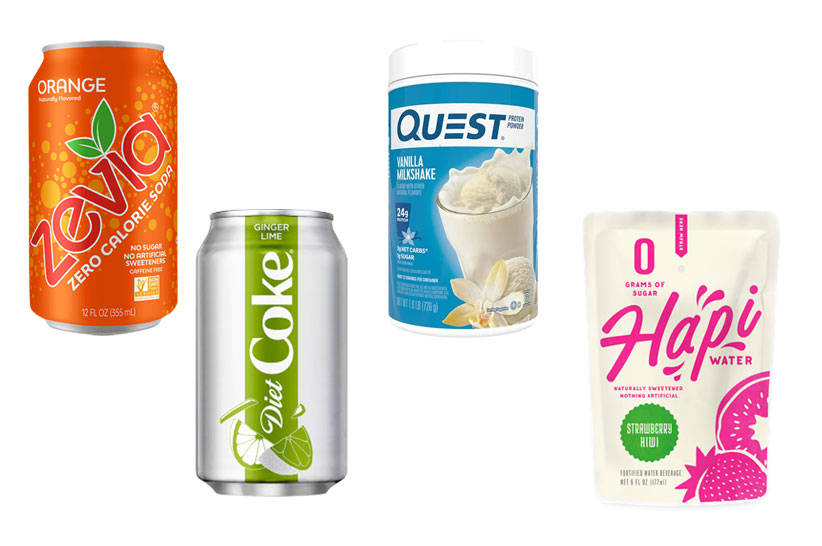 Zevia is a popular brand of diet coke, meaning it's zero-calorie and perfect on keto. Choose between their Rainbow Sodas, Tea Time, or Mixer drinks. Their Rainbow Sodas come in 12 different flavors, including Black Cherry, Cream Soda, and Ginger Ale.
If you don't want to sneak in your drink, then go for Diet Coke. Diet Coke, as your go-to low-carb movie drink, is now available in Ginger Lime and Fiesty Cherry flavors that you can purchase online. All are practically calorie-free, carb-free, and will keep you in ketosis.
Milkshakes go perfectly with sweet theatre snacks. Unfortunately, most are high in carbs so you'll have to make your own or. Optionally, you could bring a protein shake with you. A great low-carb movie option is Quest Protein Powder with Vanilla Milkshake flavor.
This is a good option if you love the flavor of fruit drinks but need to avoid the carbs. Hapi Water is naturally flavored with fruit juice, so it will have some amount of net carbs. The product comes in four flavors: Grape D'Vine, Apple Joy, Pure Punch, Strawberry Kiwi.
Snacks and movies are an inseparable duo like PB and jelly, Mulder and Scully, or Bonnie and Clyde. Luckily, you don't have to quit movie night snacking just because you're on a low-carb diet.
These keto-friendly snack and drink options are all acceptable in this lifestyle, and some you can even enjoy in large batches. Make sure to check their carb count to see how they fit your daily macros limit, though. You need to know how a snack contributes to your keto goals, and the best way is by keeping track of carb count.