Moving into a new home is equally exciting as it is daunting, especially when it's your first time. One of the many things you will need to do when moving house is stocking your kitchen with essential tools to cook your keto meals with.
But with so many products flooding the market, kitchen tool shopping can become a confusing process. You don't want to fill your kitchen space with things you don't really need. So, to help you make the best choices of kitchen essentials, here is a short list of nothing but the essentials every kitchen needs.
Fundamentals for a Functional Kitchen
No matter if you're a seasoned chef or a novice cook, there are tools that are absolutely essential in your keto kitchen. You don't want to improvise where a simple tool could make your cooking experience easy. And you don't want superfluous tools to take up too much of your precious kitchen space or drain your budget. Below are 10 examples of the most fundamental tools you'll need for a fully functional kitchen to make your keto lifestyle easy.
Are you a fan of a Sunday morning fry-ups? Then a good quality frying pan is a must-have. Go for non-stick pans if you want easier clean up and to prevent food from sticking to the pan. If, however, you plan to sear meat often, then a natural finish pan will be a better choice. The latter is also less subjected to scratching and more durable.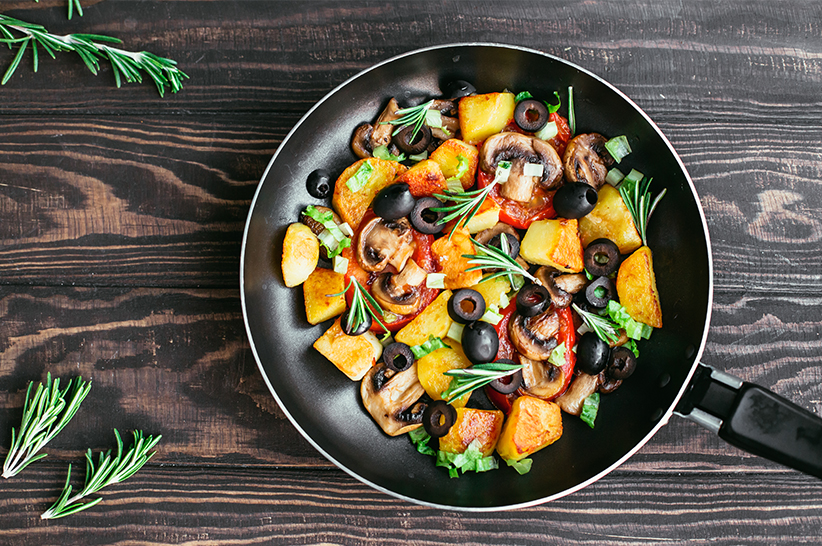 You can make a variety of dishes in a frying pan, but whichever dish you plan to make, using oil is a must when cooing in this kitchen tool. From frying eggs, burgers, sausages, and low-carb veggies, this kitchen tool is definitely versatile. You can also reheat dinner, steam vegetables, and cook meat by popping a lid on top of your frying pan and reducing the heat to low.
While frying pans are essential for frying, stock pots are essential for cooking and boiling. Definitely invest in a quality stock pot if you're planning to make lots of keto-friendly soups, bone broths, stews, and other meals that we eat with a spoon. They're also handy for boiling and steaming keto veggies.
Stock pots are especially important if you have a large family to feed. Their big size lets you prepare a large volume of food in them.
Here's a crucial item for all anyone who loves to bake. A mixing bowl is a must-have when you need to mix cookie batter, beat egg whites, and make whipped cream.
Not a baker? Not a problem. A mixing bowl can be of good use for other types of meals as well, such as vegetable salads, meatballs, and guacamole. And if you have a small kitchen and worry a mixing bowl will take up too much space, store pantry ingredients in it while you're not actively baking and mixing your keto ingredients.
The type of mixing bowl you should go for depends on your budget and how often you plan to use it. Go for plastic if you bake only occasionally and stainless steel for more durability. A mixing bowl that comes with a lid is more versatile and doubles as a storage container.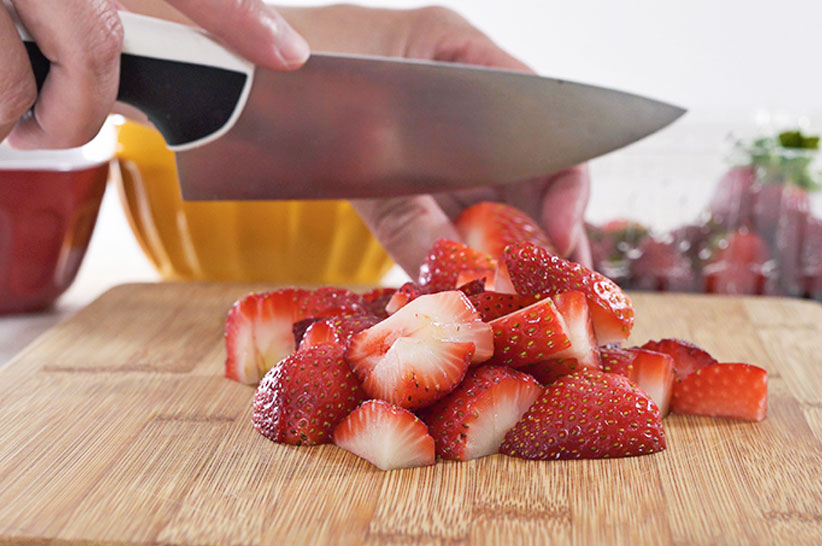 Photo by Shutterstock.com
Every chef needs a chopping board to dice keto veggies, cut meat, slice keto bread, and cut cheese, among countless other things. A chopping board will save your work surfaces from scratches and dents. Using a cutting board is also more hygienic than cutting food on the countertop, not to mention that it's also easier to clean.
Go for larger cutting boards if your kitchen space allows it. Even better is to go for a cutting board set with different sized boards. This allows you to cut multiple ingredients at once and use a smaller cutting board for, say, chopping garlic and larger ones for cutting large pieces of food.
A baking tray is your go-to tool for making lazy workday dinners such as cauliflower gratin, keto pizza, roast chicken, and other meals that you can pop in the oven. Its large size also makes it a family-friendly kitchen tool, and multiple oven trays let you prepare more than one meal at a time. For easier cleanup, you can use baking paper or silicone mats for baked goods. For meat-based dishes, make sure to grease the tray well to prevent food from sticking.
A lot of people underestimate the importance of colanders in meal preparation. You simply won't be able to drain low-carb pasta, cooked vegetables, and other boiled foods well enough without this handy kitchen tool. If you still think you don't need one and want to avoid buying it to save kitchen space, you can always store colanders together with mixing bowls and other kitchen tools. Colanders are also one of the more cheap kitchen tools, so there's really no risk in buying one. Go for medium-sized, fine-mesh colanders for greater versatility of use.
A good quality stainless steel knife set will last you a lifetime. Ideally, you should get a set with at least 4 and preferably even more knives that you can keep on your kitchen counter in a wood block both for practicality and for visual appeal. If you don't have much countertop space, then store your knives in the drawer.
The types of knives you'll need for everyday kitchen use are:
Chef's knife
Heavy duty utility knife
Paring knife
Bread slicer
Besides a knife set, you'll also need a dozen or more table knives along with other eating utensils, but that's a different story.
Your cooking spoon set should include a spatula, a rounded cooking spoon, a whisk, a ladle, a vegetable masher, and a draining spoon as a minimum. You can keep these hung on your kitchen wall for easy storage and handling.
Cooking spoons come in a variety of materials such as wood, metal, and plastic. When purchasing a cooking spoon set, try purchasing one with a rubber or wooden handle so you reduce your risk of burns when cooking with these tools. Many cooking spoon set is hardwearing and easy to clean in the dishwasher or by hand using warm, soapy water and a kitchen sponge.
Sure, you can have only the bare minimum of tableware if you're living alone or don't usually have guests over. But you never really know when an unexpected dinner at your place occasion will pop up. Tableware you want to own include ceramic or glass bowls and plates, as well as knives, forks, spoons, glasses, and mugs. Ideally, your set should be for at least 4 people.
Tableware organizers can easily be found in large supermarkets and various department stores. A simple dinner utensils tray to keep in a drawer is easy to find at a low price. You can keep all other tableware in your cupboard.
Creative minds can always think up innovative ways to open cans of food. But to save yourself the trouble and the possibility of serious injuries,a can opener is a better way. Chances are you'll need to open cans of full-fat coconut milk as well as a plethora of other canned food on your keto diet. Can openers are small and easy to store in your kitchen drawer. And if you love two-in-one tools, then a Swiss knife comes with a built-in can opener for outdoor and indoor use.
Besides the above 10 essentials, you may also want to consider purchasing a bottle opener and grater. There are, of course, many other kitchen tools that you can stock up on, but for now, these are your absolute essentials for you new home life.
Most keto dieters need to cook the majority of their meals at home to ensure they're getting adequate nutrition and staying within their keto macros. Since you cannot cook food without essential kitchen tools, you need to invest in a couple of items first. The 10 examples above are just examples of essential tools that you will likely need for most of your meals. Of course, there are many other tools that you will find can come in handy, but that's up to your personal cooking preferences to decide.