Shop keto at Trader Joe's with this list of snack items. Whether you're looking for something that's ready-to-eat or needs a little prep, this is for you.
Just started the keto diet? Our readers have been asking if there are low carb products at Trader Joe's. The answer to that is yes! If you search through their options, you'll even discover foods that aren't available elsewhere.
But we know you may not have enough time to research, so, we've made this Trader Joe's keto shopping list for you instead. Hopefully, you'll find what you need to keep your pantry well-stocked with healthy snacks all year!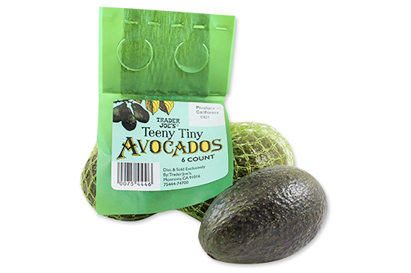 Because of their high-fat content, not to mention they're rich in micronutrients, avocados make a great keto snack. Looking for something buttery and smooth? These tiny avocados are perfect. Try this: Combine avocado slices with cucumbers, tomatoes, fresh dill, lemon juice, and olive oil for a fresh salad.
Macros per serving (1 avocado): Calories 160, Net carbs 9g, Fat 15g, Protein 3g
Price (bag of 6): $2.99
---
2. Cold Brew Coffee Concentrate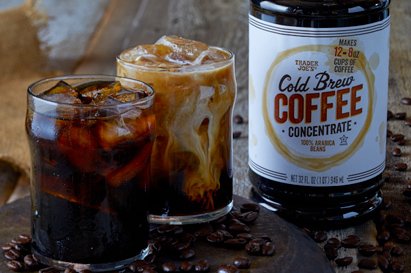 We're happy to include this as one of the best low carb items at Trader Joe's. Cold brew without added sugars and sweet milk is keto-friendly. Better than typical iced coffee, Trader Joe's cold brew has zero carbs and is also low in calories. Need something cool to beat the afternoon slump? Have some of this.
Macros per serving (1 cup or 8 fl oz): Calories 2.4, Total carbs 0g, Fat 0.1g, Protein 0.3g
Price (32-ounce bottle): $7.99
---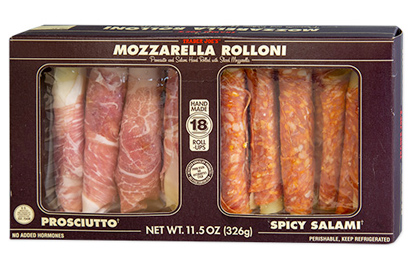 This meaty snack combines mozzarella and prosciutto that's imported from Italy. What makes it better than other deli meat options? It has no added nitrites or nitrates. And we love the fact that it contains micronutrients such as calcium, iron, and potassium. Have these roll-ups as an on-the-go snack to fill you up quickly.
Macros per serving (5 pieces): Calories 270, Net carbs 1g, Fat 20g, Protein 21g
Price (11.5 ounce tray): $9.99
---
4. Everything but the Bagel Sesame Seasoning Blend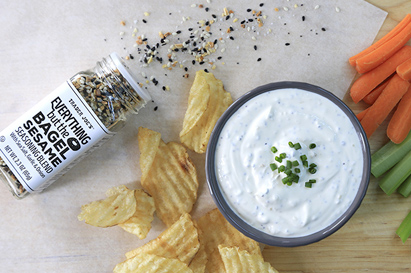 This may not qualify as a standalone snack, but it definitely adds a savory taste to your snacks! Barbecue, eggs, and salads, to name a few. It has zero carbs, zero added sugars, and packed with flavor.
Macros per serving (¼ tsp): Calories 5, Total carbs 0g, Fat 0g, Protein 0g
Price (2.3 ounces): $3.29
---
5. Guara Almonds with Olive Oil & Sea Salt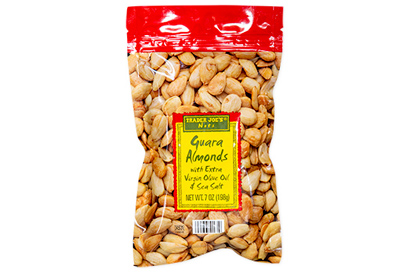 Almonds are considered a superfood — thanks to their nutrient content. They're rich in vitamin E, healthy fats, and fiber. Not to mention, almonds are convenient to eat and tasty. Here's one of the best keto products at Trader Joe's. Add them to your yogurt or green smoothies.
Macros per serving (¼ cup): Calories 200, Net carbs 3g, Fat 18g, Protein 6g
Price (7-ounce, zipper bag): $4.99
---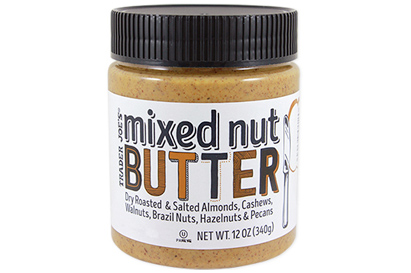 Craving nut butter? You'll be amazed by this unique blend of assorted nuts which include almonds, cashews, walnuts, and more. This nut butter can be used in a variety of ways. Blend it with your smoothie, use it as a dessert ingredient, or incorporate it into your snack dressing.
Macros per serving (2 tablespoons): Calories 190, Net carbs 5g, Fat 18g, Protein 5g
Price (12-ounce jar): $5.99
---
7. Riced Cauliflower Stir Fry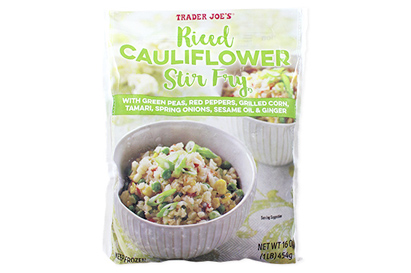 While riced cauliflower may not be the first snack that comes to mind, it deserves a spot on this Trader Joe's keto list. This quick stir fry already features green peas, red peppers, spring onions, and more. Add in some protein if you want to turn it into a filling meal instead. Try eggs or chicken.
Macros per serving (1 cup): Calories 50, Net carbs 5g, Fat 2g, Protein 2g
Price (16 ounce bag): $2.99
---
8. Garlic & Onion Pistachios
You can't mention keto foods at Trader Joe's without including this crunchy treat. If you love anything that has garlic and onion, this will be your new favorite. Pistachio nuts also provide you with a lasting source of energy. They're great as a pre- or post-workout snack!
Macros per serving (1/4 cup): Calories 170, Net carbs 6g, Fat 13g, Protein 6g
Price (13-ounce bag): $6.99
---
9. Cheddar Cheese With Caramelized Onions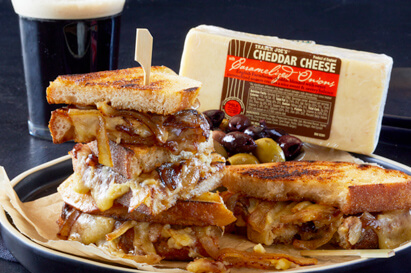 When you're shopping keto at Trader Joe's, be sure to take home this cheesy snack. TJ suggests these delicious snack ideas: Enjoy it with crackers (low-carb), use it as a topping for burgers, or add it to your cream sauces. Need more fat? Cheddar cheese is a great option.
Macros per serving (1 oz): Calories 110, Total carbs 1g, Fat 9g, Protein 6g
Price (1 pound): $8.99
---
10. Unsweetened Non-Dairy Hemp Beverage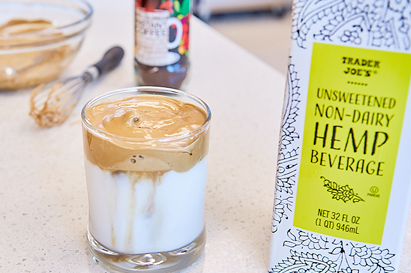 Here's a keto-friendly and low-calorie way to relax and refresh yourself. This drink is made of hemp seeds that are crushed and blended with water. For those who don't know what hemp is, it's a variety of Cannabis that doesn't produce enough THC (the intoxicating ingredient in marijuana).
Macros per serving (1 cup): Calories 70, Net carbs 0g, Fat 7g, Protein 2g
Price (32 fluid-ounce): $2.49
---
11. Everything But The Bagel Salmon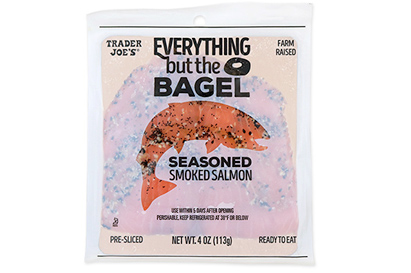 This farm-raised Atlantic salmon doubles as an early dinner dish. If you're wondering how to eat it, here are some fantastic ideas: Use it as a tortilla ingredient, grill it, combine it with veggies for a tasty salad, or bake it in foil. A serving of this seafood snack will help meet your protein needs.
Macros per serving (2 slices): Calories 80, Total carbs 0g, Fat 3.5g, Protein 11g
Price (4 ounce package): $5.49
---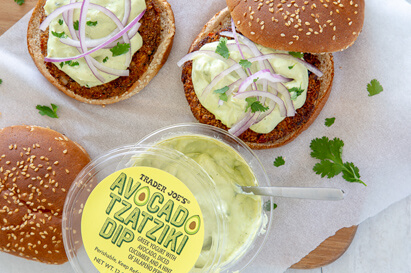 Instead of making avocado tzatziki from scratch, buy this instead. This Greek appetizer can also be used as a healthy addition to sandwiches, salads, and chips. Just make sure they're keto-friendly! TJ describes this dip as tangy and creamy.
Macros per serving (2 tbsp): Calories 25, Total carbs 2g, Fat 1.5g, Protein 1g
Price (12-ounce tub): $3.99
We love these Trader Joe's keto snacks. Their macros fit your ketogenic diet plus they satisfy your cravings. Some of these snacks are portable while others need to be incorporated into snacks to be made from scratch.
As you've seen from the list, Trader Joe's has a wide range of keto snack options. You can buy nuts, seasonings, drinks, dips, cheeses, and more.
However, TJ doesn't have MCT oil. If you're looking for more keto snacks that contain MCTs, check out our complete snack collection.
Need more snack suggestions for every need and occasion? We recommend the following:
Last but not least, stay away from cereals, oats, rolls, and sandwiches. These TJ snacks have lots of carbs and will kick you out of ketosis.