Looking for snacks that are not only keto-friendly but organic, natural, and just plain good for you? Then Whole Foods is the place to go.
With more than 50,000 products in over 500 stores, there is a wide range of keto snacks at Whole Foods that tick all the right boxes. You'll see many products that carry the "keto" label there, while others are wholesome ingredients and foods that are naturally low in carbs.
And if you prefer online grocery shopping, there is something for you as well; Whole Foods offers exclusive savings and free 2-day shipping for its Amazon Prime members.
If you're a keto diet beginner, however, you may find shopping for keto snacks there overwhelming. You're definitely not alone in this. A typical Whole Foods store is huge and its options seemingly endless. That's why we've made this list of the 12 best keto snacks you can easily find at this supermarket next time you find yourself there.
1. Midnight Coconut Primal Chocolate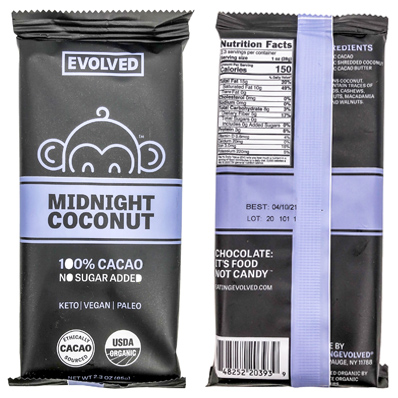 The company behind this super dark chocolate bar is Eating Evolved, a primal eating and paleo lifestyle brand. True to the brand's paleo principles, this chocolate bar is made with organic and paleo ingredients like cacao, shredded coconut, and cacao butter but no sugar or sweeteners.
In case you'd rather go for something sweeter, check out our Keto Dark Chocolate in four flavors.
Nutrition: 150 calories | 15g fat | 3g net carbs | 3g protein
---
2. Epic Oven-Baked Pork Rinds
While regular pork rinds are perfectly fine on keto, there's no reason to skip these low-fat ones when searching for keto snacks at Whole Foods. They have zero carbs and lots of protein to keep you full. A product from Epic Provisions, these crispy Whole Foods keto snacks are made with antibiotic-free pork skins and flavored with pink Himalayan sea salt.
Nutrition: 70 calories | 2.5g fat | 0g net carbs | 11g protein
---
3. Peanut Butter Chocolatey Snack Bar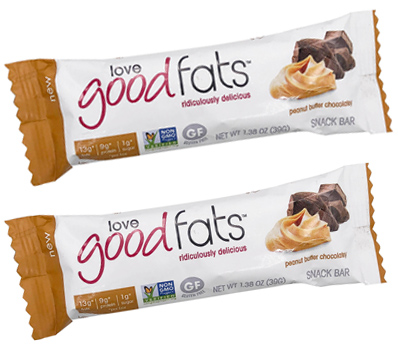 Nothing beats snack bars when looking for a super-quick grub. This one by Love Good Fats has only 5g of net carbs and enough fat and protein to kill those midday cravings. It has real peanut butter along with peanut flour for a burst of peanut flavor. The chocolatey coating makes it ridiculously delicious as well.
If you prefer your snack bars have MCTs, check out our Keto Bars.
Nutrition: 210 calories | 13g fat | 5g net carbs | 9g protein
---
4. Zero Sugar Classic Beef Jerky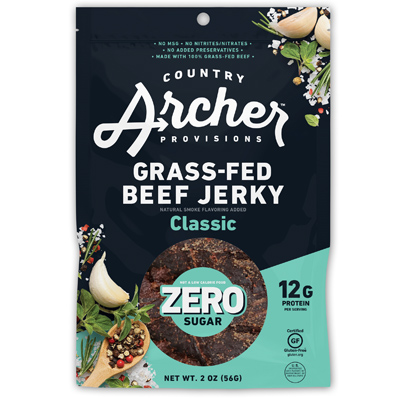 Country Archer produces some of the finest meat snacks out there — just check out their zero sugar jerky and see it for yourself. Made with grass-fed beef and real ingredients, this jerky is not only healthy but tasty as well. Besides being low-carb, which is hard to find in conventional jerky, it's soy-free, gluten-free, and dairy-free.
Nutrition: 70 calories | 1.5g fat | 2g net carbs | 12g protein
---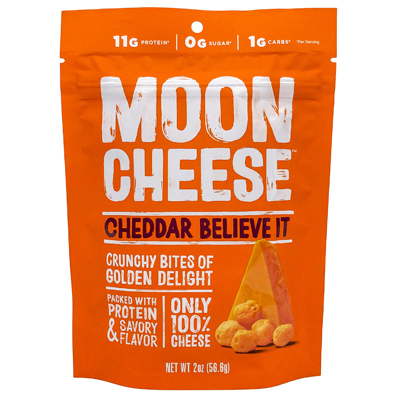 In case you're not familiar: Moon Cheese is simply dehydrated cheese. This means it has all the nutrition of cheese (low-carb and high-fat) but no risk of going bad if you leave it in your desk drawer. The convenience and ideal keto macros make it one of the best keto snacks at Whole Foods. Grab a bag when craving cheddar flavor but have no time for a charcuterie board.
Nutrition: 170 calories | 14g fat | 0g net carbs | 11g protein
---
6. Fat Snax Peanut Butter Cookie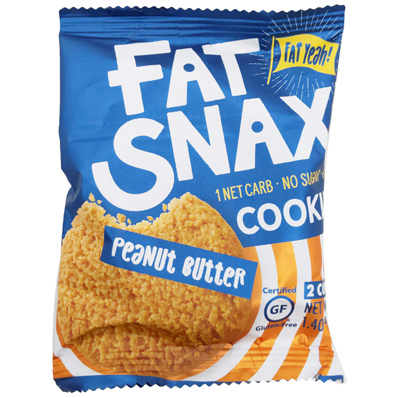 Maybe you need a cookie for your coffee break? Then choose this one by Fat Snax made mainly with keto-friendly ingredients like peanut butter, butter, eggs, and stevia. One package contains two cookies, each providing 100 calories and 1g net carbs.
Need more cookie options on your diet? ChooseYou can also check out our Keto Cookies in butter and chocolate chip flavors.
Nutrition: 100 calories | 9g fat | 1g net carbs | 3g protein
---
7. Perfectly Crisp Everything Parmesan Crisps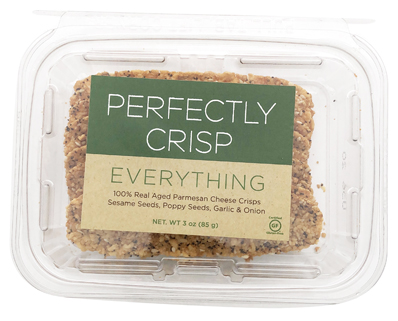 There is no shortage of keto crackers at Whole Foods, believe it or not. But if you're searching for something tasty and wholesome, consider these parm crisps by Raison D'etre Bakery. They're made with nothing but real ingredients: Parmesan cheese, sesame seeds, poppy seeds, garlic, and onion.
Nutrition: 100 calories | 9g fat | 1g net carbs | 3g protein
---
8. Keto Chocolate Chip Cookie Dough Bites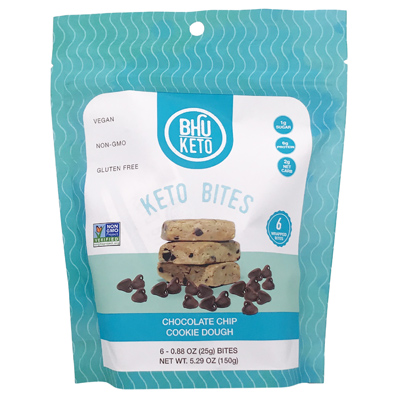 Looking for keto desserts at Whole Foods for you to enjoy during lunch break? These cookie dough bites by Bhu Foods have only 1g of net carbs but 8g of fat. This product is organic and sweetened with monk fruit — one of the healthiest and digestion-friendly, low-carb sweeteners. If you're in the mood for even more dessert-flavored fun, try our Keto White Bars.
Nutrition: 110 calories | 8g fat | 2g net carbs | 6g protein
---
9. Roasted & Salted Mixed Nuts (Deluxe)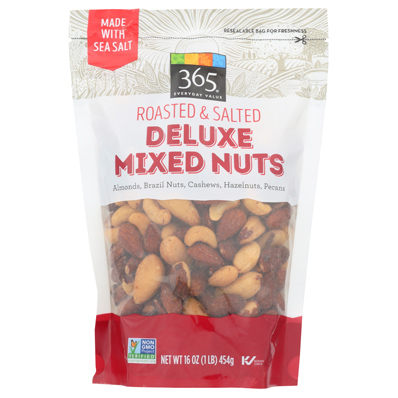 Most keto beginners will choose nuts as their go-to keto snacks. But if you want to make things more interesting, go for the roasted and salted varieties like this one by Whole Foods' private label line. It's natural, organic, and addictively salty. Of course, you could also go for any other packaged nuts or nut mix if that's what you prefer.
Nutrition: 170 calories | 16g fat | 3g net carbs | 5g protein
---
10. Salted Caramel Flavor Nut Bar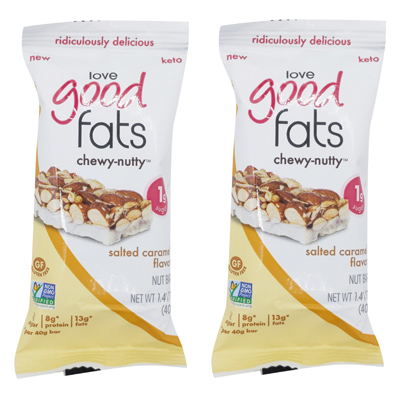 Most nut bars have loads of sugar, puffed grains, and other non-keto ingredients. This one has nuts, fava bean crisps, and stevia instead. It also has added MCTs, which you'll rarely find in keto snacks at Whole Foods, so don't skip this one by Love Good Fats! Other great features: it's vegetarian and gluten-free.
Nutrition: 180 calories | 13g fat | 4g net carbs | 8g protein
---
11. Chocolate Sea Salt Granola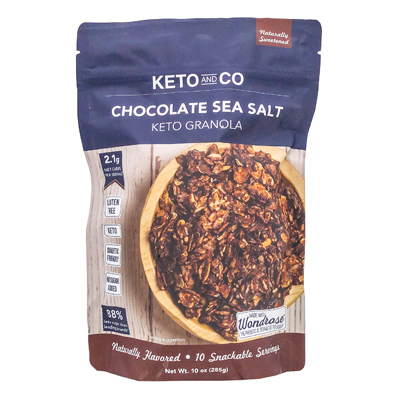 We bet you didn't think you could buy keto cereal at Whole Foods. Well, this low-carb granola by Keto and Co will prove you wrong. It's a mix of nuts, seeds, coconut chips, low-carb sweeteners, and natural flavors. Add it to Greek yogurt, to your favorite nut milk, or enjoy straight out of the bag. If you really love snacking on granola, see our Keto Granola that's available in four flavors.
Nutrition: 160 calories | 14g fat | 2.1g net carbs | 4g protein
---
12. Traditional Guacamole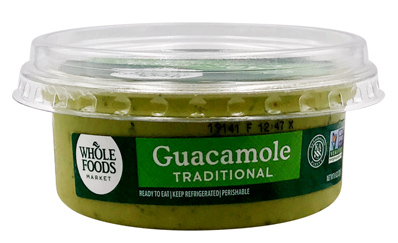 In case you're looking for low-carb snacks at Whole Foods that are loaded with satiating fats and fiber, choose guac. This one produced by Whole Foods has real avocado, salt, jalapenos, garlic powder, and other low-carb ingredients. It goes perfectly with the parm crisps mentioned earlier or use it to make avocado toast with keto bread at Whole Foods or choose our own Keto Bread.
Nutrition: 50 calories | 4g fat | 1g net carbs | 1g protein
If you're a keto eater who cares about food quality as well as having endless options available, definitely consider shopping at Whole Foods. This is just as true when looking for snacks to beat midday hunger or cravings for sweet, spicy, crispy, and everything in between. Not only will Whole Foods offer you what you need, but you can even shop online and get discounts along with free shipping.
The above options are perfect for keto beginners who need a quick on-the-go snack. But there are countless others for you to choose from not mentioned here.
And if you're in need of more keto snack options at other places, check out these keto snacks you can buy at Walmart or these low-carb options sold on Amazon. See this list of the best store-bought keto snacks to check if it lists your favorites. And definitely visit our Keto Snacks Collection.