Did you know you don't have to make all your keto bread yourself? Below are 10 keto loaves from fantastic brands to consider. Most are sliced bread options, but you'll find other interesting options to finally satisfy those bread cravings.
One of the hardest things to give up on keto is definitely bread because it's everywhere! We use it for sandwiches, French toast, croutons, bread pudding, bread rolls, turkey stuffing, meatballs, you name it.
And while you're happy to order your burgers in a lettuce wrap, you know in your heart that nothing can replace a fluffy bread in your grilled cheese sandwich, not even a homemade almond flour slice. That's where store-bought keto bread comes in and the question "Where can you buy keto bread?" comes up.
Amazon is one of the best places to start. You'll find great options with less than 5g net carbs from brands like Julian Bakery and Chompie's. You may also find keto bread at ALDI, Kroger, ShopRite, Albertsons, Whole Foods, and other upscale grocery stores.
But, buyer beware! Not all bread labeled "keto" is really what it says it is. To help you avoid the bad stuff and get your hands on the best bread money can buy and that will make your life easier, we made this top 10 list. When sampling our picks, we made sure that our choice of best bread:
Has less than 5 g net carbs per slice.
Tastes like or better than regular bread.
Is made with quality, healthy ingredients.
With that out of the way, here are some of the 10 best store-bought keto breads.
1. L'Oven Fresh Zero Net Carb Bread
ALDI's keto bread as it's popularly called, and better known as L'Oven Fresh Zero Net Carb Bread, has 0 g net carbs. It was one of the first sliced keto bread on the market, but everyone is still raving about it. In fact, the loaf's so popular that it's frequently sold out, and people are selling it on eBay for three times its normal price!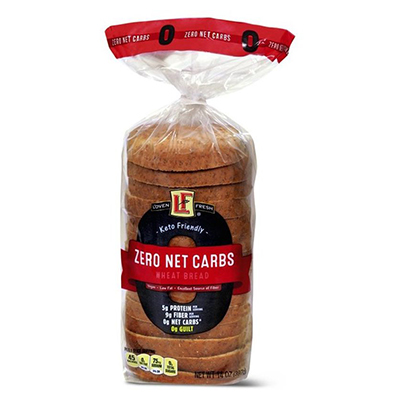 Nutrition (1 slice)
Calories 45
Fat 1 g
Fiber 9 g
Net carbs 0 g
Protein 5 g
If you can get your hands on it, please do. If not for the zero net carbs then for the flavor and quality of ingredients.
You can find it in wheat or multiseed, and both are moist, fluffy, and taste almost like bread when you add toppings. The multiseed variety has a sweet and nutty aroma. On the downside, it is a bit chewier than classic bread.
As far as ALDI keto bread ingredients go, the main ones include modified wheat starch, wheat gluten, wheat bran, and oat fiber. These have minimal to no impact on blood glucose since they are wheat-based ingredients and not whole wheat.
---
2. Kiss My Keto - Keto Bread
Kiss My Keto offers 4 tasty varieties of low-carb bread: Dark Wheat, Golden Wheat, Grain & Seed, and Cinnamon Raisin.
The main ingredients in all are vital wheat gluten and oat fiber. Both are low-carb and don't affect blood sugar levels; the 0 g net carbs in a slice guarantee that's the case.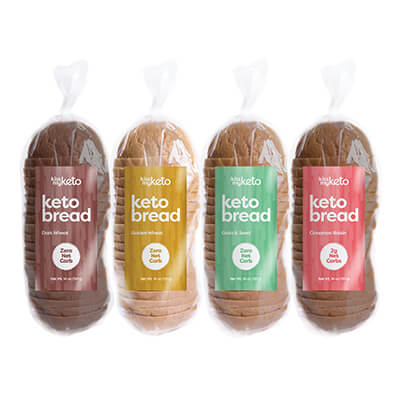 Nutrition (1 slice, Golden Wheat)
Calories 60
Fat 4 g
Fiber 5 g
Net carbs 0 g
Protein 6 g
The other ingredients depend on the variety, but all are healthy and natural. The products are leavened with baker's yeast, which contributes to a lovely texture and taste similar to regular wheat bread.
The 14 oz loaves are smaller than your usual ones, but that shouldn't be an issue since their high fiber and protein content makes them quite filling. They're also great toasted, and you can freeze them for later.
---
3. ThinSlim Foods Love-the-Taste Bread
ThinSlim Foods offer a huge selection of sliced bread, from plain to cinnamon to probiotic. You should also check out their other keto pastry products — there are many!
As far as their bread goes, the name says it all: you'll love the taste. And if you don't, ThinSlim Food offers a Taste Guarantee. Keep in mind that it does not taste like regular bread but it is pretty close. It's especially tasty toasted and with butter, cream cheese, or avocado.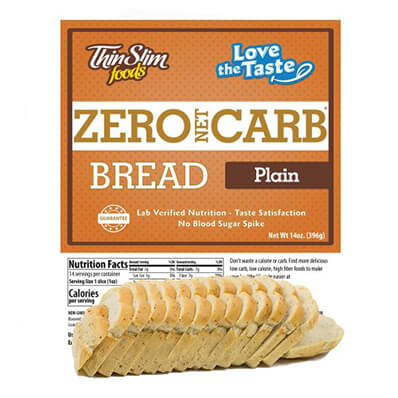 Nutrition (1 slice)
Calories 45
Fat 2 g
Fiber 7 g
Net carbs 0 g
Protein 7 g
The ingredients are simple: wheat protein, wheat gluten, oat fiber, modified wheat starch, flax meal, olive oil, chicory root, yeast, salt, and ACV. These are all healthy unless you have gluten sensitivity or wheat allergy.
The product is great for those on a keto diet as well as anyone with diabetes since it has a favorable effect on blood glucose. It's also great for digestion because it is fiber-rich and does not have sugar alcohols — these sweeteners can upset sensitive stomachs.
---
4. Outer Aisle Gourmet Cauliflower Sandwich Thins
Maybe you prefer keto bread with ingredients you normally eat, like cauliflower? Well, these cauli thins are made with cauliflower as the main ingredient and also free-range eggs, parmesan cheese, and nutritional yeast.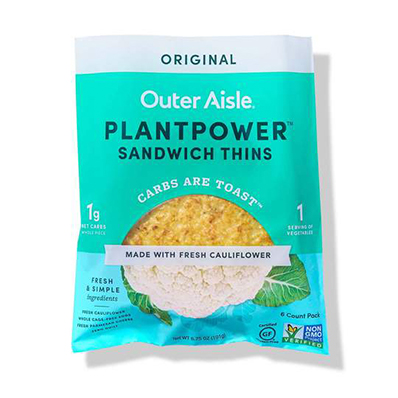 Nutrition (1 slice)
Calories 50
Fat 2.5 g
Fiber 1 g
Net carbs 1 g
Protein 4 g
Not only are they keto, but they're also paleo, grain-free, nut-free, and gluten-free. Another great thing about them is that they're great as sandwich bread, tortillas, and even mini pizza crusts. You can even eat them as is or toast or bake them. The possibilities are endless, and we know keto eaters will appreciate the convenience.
Taste-wise, these don't taste like cauliflower at all! In fact, they don't have any noticeable taste to them. This means they can pick up the flavors of other ingredients you decide to use with them. If you need to buy in bulk, you'll be happy to know these are freezer-friendly.
---
5. Mikey's Grain-Free Sliced Bread
This grain-free product is made with ingredients we usually see in keto bread, like almond flour, coconut flour, eggs, and flaxseed meal. However, you'll also notice honey on the list, which may be a no-go for some keto-ers. Still, we think the product is worth trying since it has only 4 g of net carbs per slice.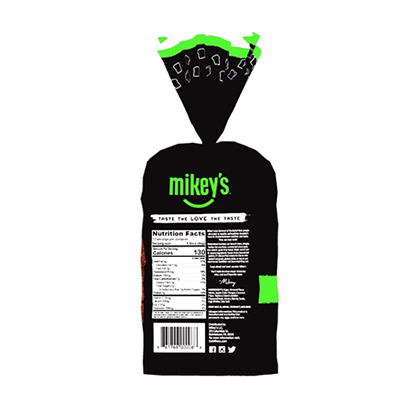 Nutrition (1 slice)
Calories 130
Fat 9 g
Fiber 3 g
Net carbs 4 g
Protein 6 g
The flavor is slightly sweet, which some people love. It's smaller than regular bread, though. But given that each slice provides 6 g of satiating protein, you'll be satisfied even with the smaller servings.
An important thing to know about this bread is that it is shipped frozen, but you should not thaw it! This will only make it soggy. Instead, it's meant to be defrosted in the fridge or at room temperature. After defrosting, enjoy it as it is or toasted. It's great either way.
---
6. Sami's 7-Grain Low-Carb Bread
The 7 grains in this 15 oz loaf are not all grains in the traditional sense. Some are nuts like almond flour, while others are legumes like soy flour. But this product does have grains in small amounts, namely whole wheat, oat, and white flour. The 2 g of net carbs per slice shows that the flours are not added in large amounts, so you don't have to worry about these ingredients ruining your diet.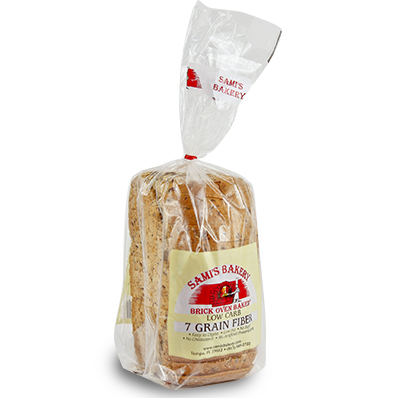 Nutrition (1 slice)
Calories 88
Fat 4 g
Fiber 8 g
Net carbs 2 g
Protein 3 g
Another thing to note about the ingredients is that they're natural and simple. No preservatives, additives, or other unnecessary add-ins in this.
A notable thing about this product is that it's made locally in Tampa, Florida where it is made fresh and delivered to the company's store every week. You can order several loaves to freeze for later (highly recommended!). The price is pretty decent too.
---
If you can trust anyone with making good keto bread, then it's this Portland-based company that's been around for over a century. They offer two keto products: Keto White Bread and Keto Hamburger Buns. Let's focus on the bread here.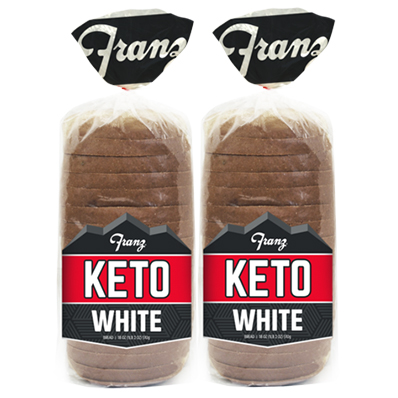 Nutrition (1 slice)
Calories 40
Fat 1.5 g
Fiber 12 g
Net carbs 0 g
Protein 4 g
Franz's Keto Bread is one of those keto loaves that you should go for if you want a good replica. It tastes like bread, looks like bread, feels like bread, and the loaves are of regular size.
The product is made with modified wheat starch, wheat gluten, and inulin as the main ingredients. It also has oat fiber, soybean oil, and organic preservatives. The last can be a good thing if you've received moldy loaves in the past — this can happen when companies ship bread with only natural ingredients.
---
SoLO Carb Bread comes in three varieties: Harvest Wheat, Country White, and Artisan Rye.
All are made with a small amount of flour, while the other ingredients include wheat gluten, wheat bran, vegetable glycerine, and butter, among other things.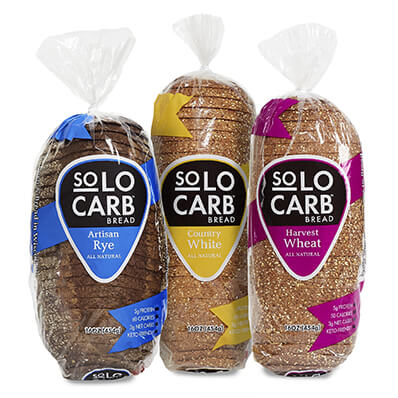 Nutrition (1 slice)
Calories 60
Fat 1.5 g
Fiber 2 g
Net carbs 3 g
Protein 5 g
Keto-ers claim the addition of flour in it means it's not keto since this ingredient isn't allowed on this diet. However, the thing about keto is that it's not as much about food type as it is about macros. What that means is if a food can help you stick to your daily carb limit, then it is keto. At 3 g of net carbs per slice, this bread definitely fits the bill.
As far as taste and texture are concerned, it's close to real bread, but again, a bit chewy. Other downsides are that it is pricey and the slices are quite thin compared to your usual sliced bread.
---
9. Liberated Flourless Coconut Bread
Don't like nut flours? Here's a great alternative made with coconut (not a true nut). More specifically, this product is made with 6 ingredients: egg, creamed coconut, coconut oil, baking soda, sea salt, and ACV. This means it's great for anyone looking for a whole food, natural, simple food. It's gluten-free as well.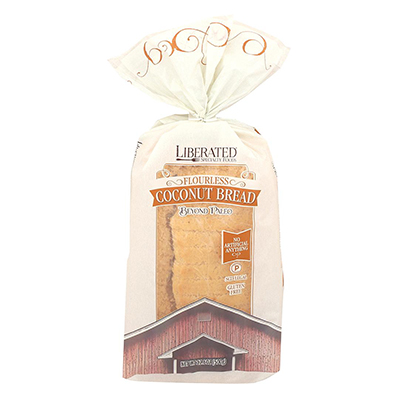 Nutrition (2 slices)
Calories 290
Fat 25 g
Fiber 5 g
Net carbs 7 g
Protein 6 g
The taste is slightly sweet and it is a bit denser than the other keto breads on our list. It has no overpowering coconut flavor in case you're concerned.
Nutrition-wise, it's perfect for the keto diet at a whopping 25 g of fat and 7 g net carbs per two slices. It also provides plenty of fiber and protein to keep you full.
---
10. Bake In A Minute - Original Bread Mix 100g
Or maybe you don't like packaged sliced bread and prefer fresh loaves? Then you should consider this bread mix by Bake In A Minute. It's a low-carb, keto, paleo, vegetarian, and vegan mix made with natural ingredients.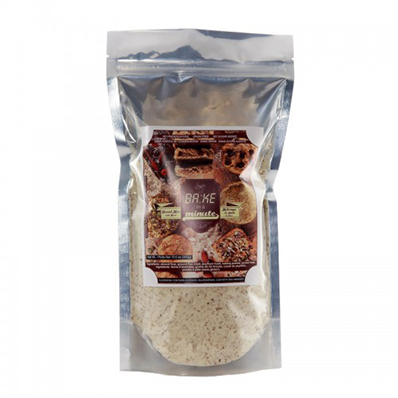 Nutrition (1 slice)
Calories 140
Fat 11 g
Fiber 4 g
Net carbs 2 g
Protein 5 g
The product comes in 3.5 oz and 10.5 oz bags, and the ingredients include almond flour, ground flax meal, psyllium husk, and baking powder. It's a breeze to whip up with egg and butter to make a quick keto mug bread in the microwave. One portion is ¼ of a cup, so you get 4 portions from one bag.
The flavor is what you'd expect from keto mug bread made with said ingredients, i.e. rich and nutty. The texture is similar to biscuits. It's great served for breakfast instead of bagels.
If you're over lettuce wraps and heavy and dense nut flour bread, then it's time to consider the store-bought stuff. Most items on this list are made with wheat-based ingredients that don't impact blood glucose but do create a bread similar (not identical!) in texture and taste to what you used to eat before keto.
But in case you also want to eliminate wheat and gluten from your diet, there are options for you as well. Some keto bread is made with gluten-free ingredients like coconut flour, nut flours, or even cauliflower! And we've included them here as well. Hopefully, you've found an item on this list that can make your lifestyle at least a bit simpler and accessible.
Have you found the keto bread you've been looking for? Feel free to share your experiences in the comments.