Choosing a coffee creamer that is compatible with the keto diet can be tough sometimes. We've made it a bit easier for you with this list of the 12 best keto creamers on the market.
On its own, coffee is perfectly keto-friendly, with 0 carbs and 0 calories. But use the wrong add-ins, and this keto drink will soon become everything but. One coffee add-in to pay close attention to is creamer. That's because many coffee creamer brands have added sugar, corn syrup, or are made with low-quality ingredients.
Luckily, there are plenty of coffee creamers out there that hit all the right keto spots. Plus, some are coincidentally vegan, paleo-friendly, lactose-free, gluten-free, and more.
So, if you're tired of drinking your coffee plain or spending your mornings making butter coffee, try these keto coffee creamers instead.
1. Kiss My Keto - Keto Creamer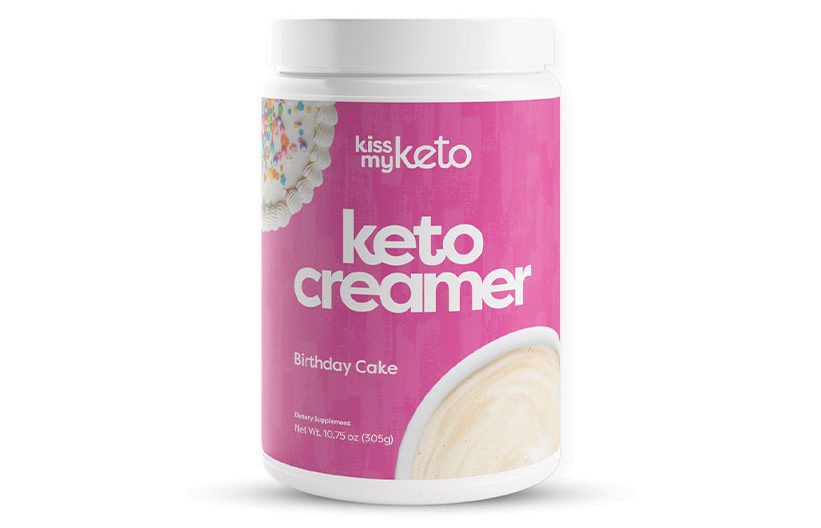 This MCTs-based creamer is available in chocolate, birthday cake, and no flavor. Its main ingredient is MCTs, but it also contains sodium caseinate, a milk derivative. It blends pretty easily into coffee, and you can use the flavored varieties in smoothies and keto desserts. What's also great about it is that it contains fat but no carbs.
Nutrition (per 1 scoop)
Calories 60
Fat 7 g
Net carbs 0 g
Protein 0 g
---
2. Onnit Emulsified MCT Oil | Non-Dairy Creamer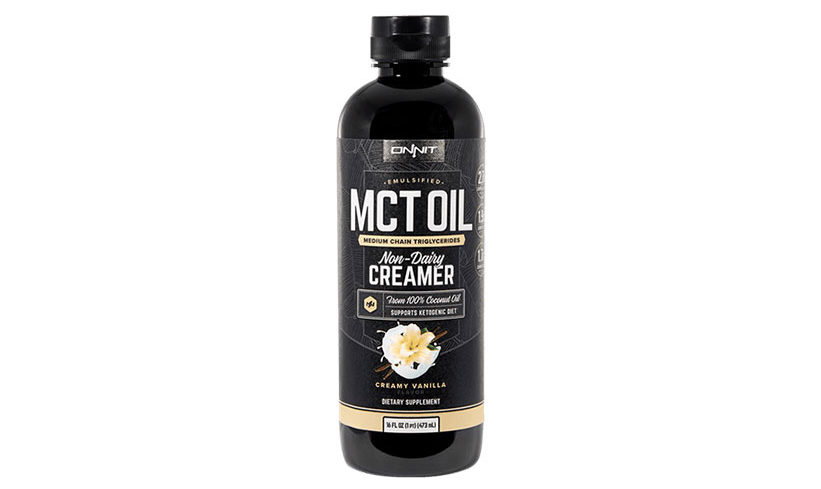 Here's a product that takes the hassle out of keto coffee making. No gadgets required here, no complicated cleanup – just pour it into your coffee and admire how well it blends. But wait! What is emulsified MCT oil? It's your regular MCT oil, only better.
Unlike the usual stuff, this one mixes with water (and coffee, of course!). On top of that, you get to choose between 6 different flavors.
Nutrition (per 1tbsp)
Calories 70
Fat 7 g
Net carbs 1 g
Protein 0 g
---
3. Primal Kitchen - Collagen Fuel Vanilla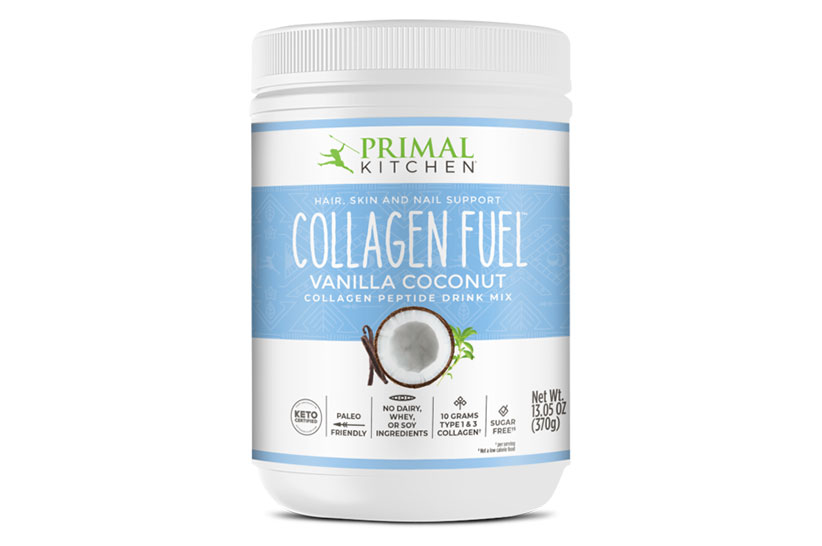 This keto-friendly coffee creamer from Primal Kitchen keeps things simple. It's made with only 6 ingredients, the main ones being collagen peptides and coconut milk powder. Collagen peptides are anti-inflammatory proteins great for your skin and joints 1. Coconut milk is a source of MCTs, which are great for staying in ketosis. And with vanilla extract, this can go well with smoothies too.
Nutrition (per 1 scoop)
Calories 70
Fat 2.5 g
Net carbs 1 g
Protein 10 g
---
4. Hoosier Hill Farm Heavy Cream Powder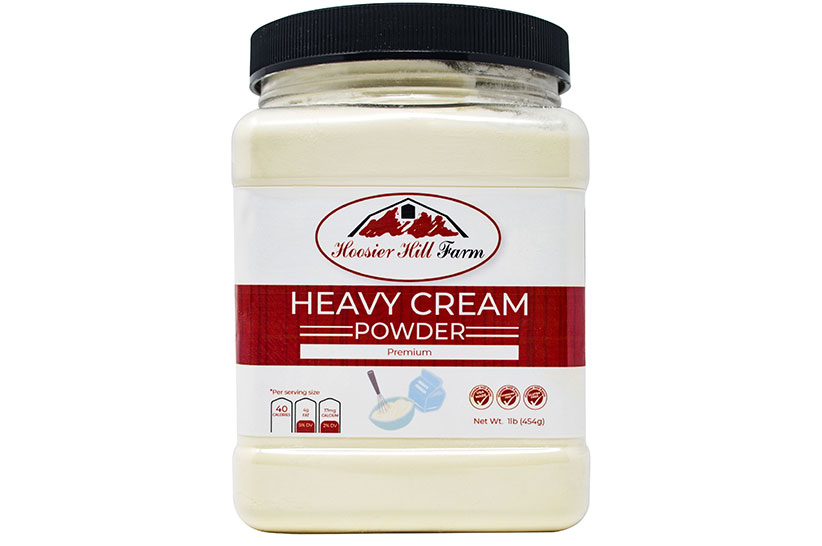 Here's an affordable and unique product to consider in place of creamers. Hoosier Hill Farm is known for their dairy powders. Their Heavy Cream Powder of their more popular products. It's simply cream in powder form made with 72% butterfat. No sweeteners, no additives, just a simple product you can use in a multitude of ways – including adding to coffee in place of creamer.
Nutrition (per 1tbsp)
Calories 40
Fat 4 g
Net carbs 1 g
Protein 1 g
---
Amanda A. Kostro Miller, RD, LDN, who serves on the advisory board for Fitter Living, recommends this organic keto product. "Compared to other keto coffee creamers, I would choose the "Coffee Booster Organic High Fat Coffee Creamer." It only contains 3 ingredients: cacao powder, ghee, and coconut oil, so it's not filled with a bunch of junk." You'll get = carbs but a generous 14g of fat with 1 tbsp of this.
Nutrition (per 1tbsp)
Calories 125
Fat 14.5 g
Net carbs 0 g
Protein 0 g
---
6. Nutpods Variety 3 Pack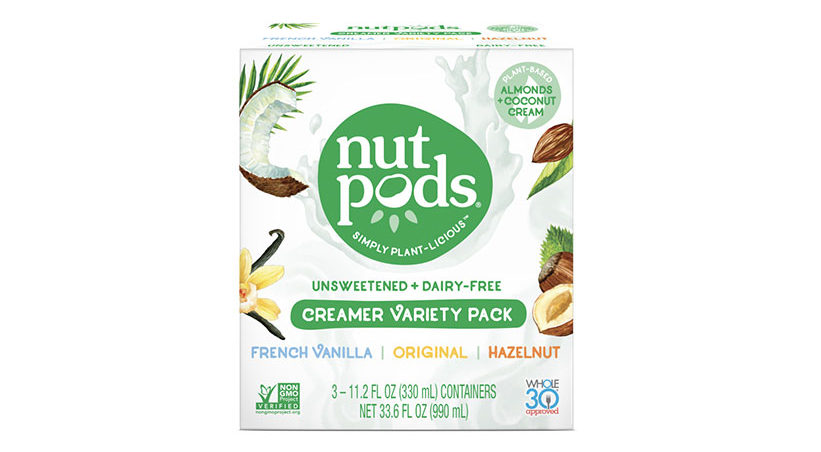 This sugar-free creamer is not only keto but also Whole-30 approved. Its first ingredient is water, so it is lower in calories compared to other creamers on our list. That can be a good thing if you need to cut back on calories, like when you're going through a keto plateau. Other ingredients here are coconut cream, almonds, and natural flavors for maximum taste and creaminess.
Nutrition (per 1tbsp)
Calories 10
Fat 1 g
Net carbs 0 g
Protein 0 g
---
7. Coffee Mate Natural Bliss Unsweetened Plant Based Half & Half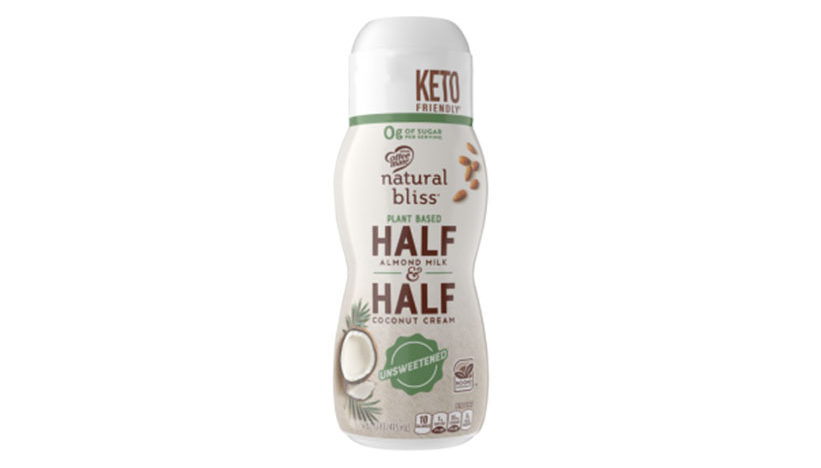 An unsweetened plant-based half & half is a keto eaters dream come true, and notoriously hard to find! Well, this product is exactly that and so much more. It's made with coconut milk, almond milk, coconut oil, and pea protein, among other good things. What's more, only natural, non-GMO ingredients are used – great if you're a fan of clean eating on top of keeping your carb intake as low as possible.
Nutrition (per 1tbsp)
Calories 10
Fat 1 g
Net carbs 0 g
Protein 0 g
---
8. Califia Farms Unsweetened Better Half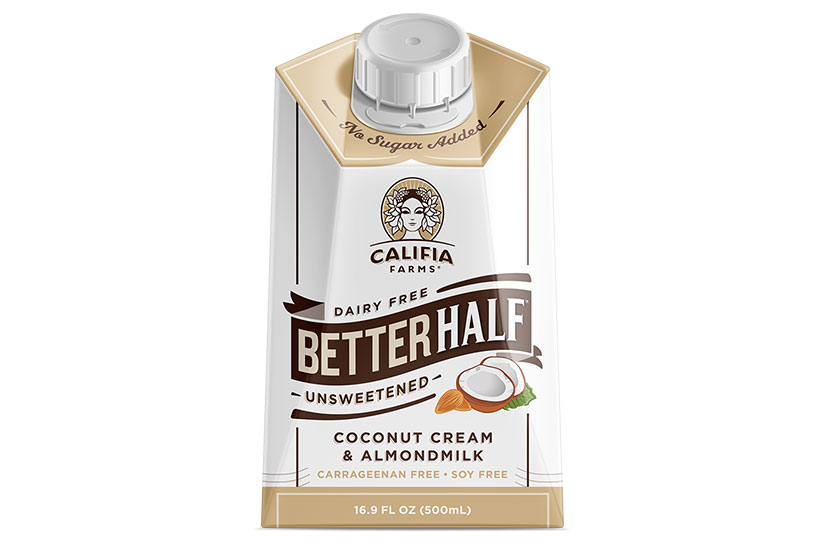 "Califia Farms – Better Half Coffee Creamer (Unsweetened) is not only low in carbs but also ideal for anyone not eating dairy or who is vegan," says Lisa Richards, CNC from The Candida Diet. "It is also soy free and uses coconut and almond milk to sweeten naturally."
A major plus of this product is that it's carrageenan-free. Research has linked this food additive to intestinal inflammation and a bad effect on glucose metabolism 2, 3. Buy this for less inflammation and more cream in your coffee.
Nutrition (per 2tbsp)
Calories 15
Fat 1.5 g
Net carbs 0 g
Protein 0 g
---
9. Earth Circle Organics - Organic Coconut Cream Powder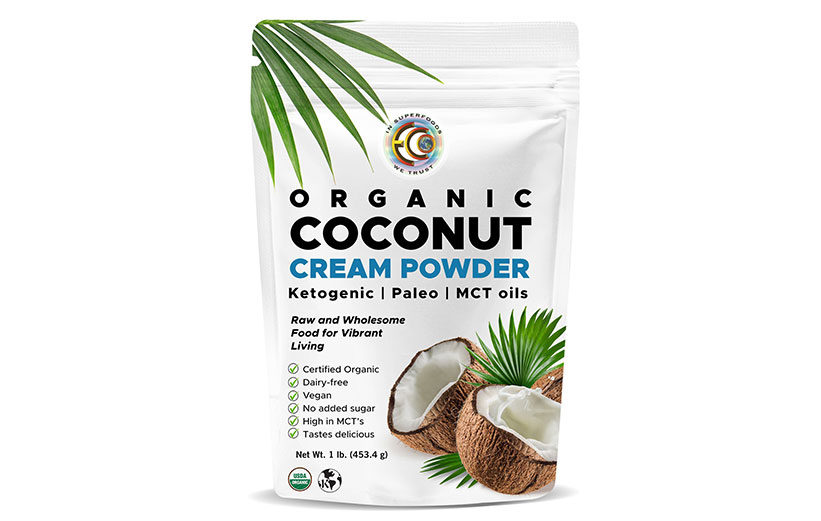 Organic, vegan, and keto-friendly to boot, this product is not only a coffee creamer replacement but can be used in soups, smoothies, and baking. You can even make a substitute for coconut milk by reconstituting with water. It has only two ingredients: organic coconut milk and organic maltodextrin to keep it simple and nutritious.
Nutrition (per 1tbsp)
Calories 60
Fat 7 g
Net carbs 1 g
Protein 0 g
---
10. Peak Performance Grass-Fed Non-Dairy Collagen Creamer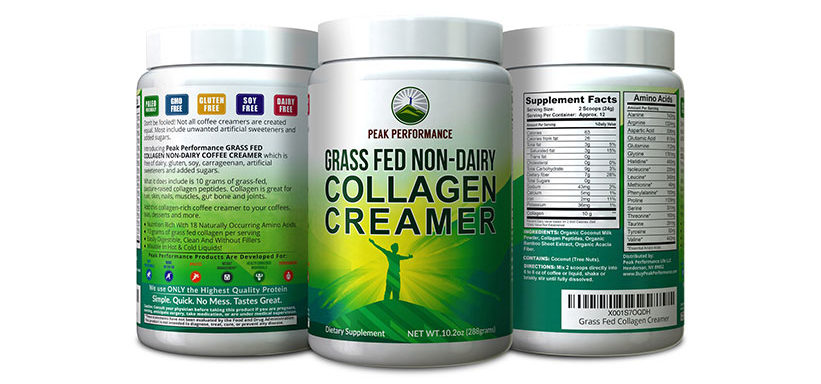 This product is non-dairy and made with grass-fed collagen peptides, which makes it officially Paleo-friendly as well as keto. Consider it if you have a milk allergy or lactose intolerance. The first ingredient is organic coconut milk powder for added ketogenic fats and creaminess. And it also contains organic bamboo shoot extract, a source of powerful antioxidants as well as essential amino acids, selenium, potassium, and fiber 4.
Nutrition (per 2 scoops)
Calories 63
Fat 3 g
Net carbs 2 g
Protein 10 g
---
11. Left Coast Keto Coffee Creamer with MCT Oil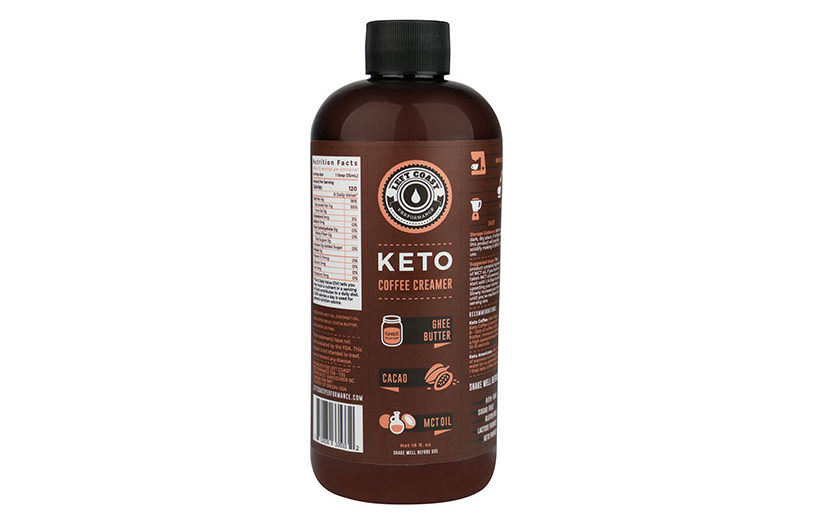 Personal Trainer/Nutritionist Jamie Hickey from Truism Fitness recommends this low-carb coffee creamer to replicate your morning keto coffee.
This coffee creamer has almost all the same ingredients as keto coffee but with no blending necessary.
It features MCT oil as its main ingredient, which will help promote ketosis further."
Nutrition (per 1tbsp)
Calories 120
Fat 14 g
Net carbs 0 g
Protein 0 g
---
12. Picnik Unsweetened Collagen Creamer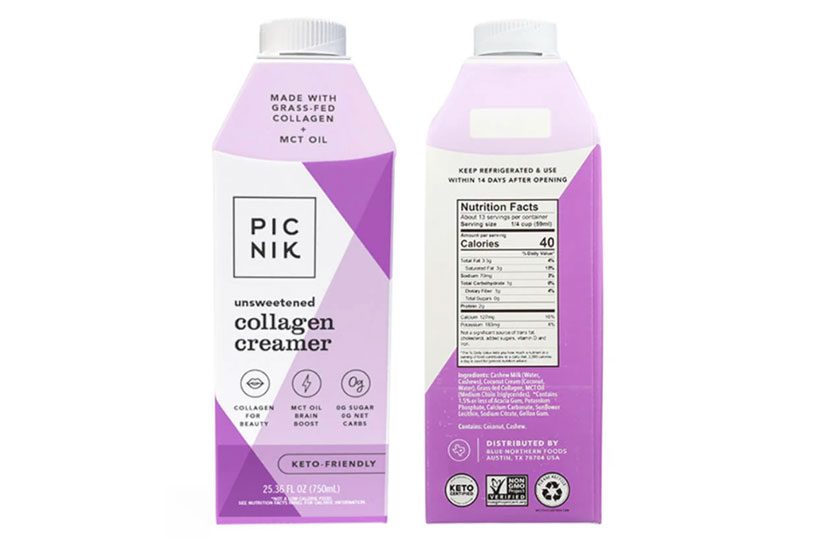 This creamer promises to support healthy hair, skin, nails, joints, and digestion, all the while making your coffee taste good. It's made with a combo of grass-fed collagen, coconut cream, and MCT oil. And one of its main ingredients is cashew milk, which makes for a particularly tasty and creamy product you should definitely try.
Nutrition (per ¼ cup)
Calories 40
Fat 3.5 g
Net carbs 0 g
Protein 2 g
The 12 keto-friendly creamers on this list are some of the best out there. All are free of sugars and other nutritive sweeteners and many are made with keto-friendly ingredients like MCTs, coconut cream, and collagen peptides.
Depending on whether you like your coffee flavored, sweetened, or extra creamy, choose one which suits your tastes. Keep in mind that you can also add these to other beverages and even keto desserts. The more versatile a product, the merrier!