Starbucks is the best place to get your coffee (or Frappuccino) fix. But it's also a place where you can easily kick yourself out of ketosis if you're not careful. Here's what to order to keep carbs low.
Being arguably the most popular coffeehouse in the world, Starbucks is pretty ubiquitous. You'll find a store on every corner in every city. And while that's great for staying well-caffeinated, it may pose problems when trying to stay in ketosis.
That's because many items on a Starbucks menu have sugar and other sources of carbs – which complicates ordering keto at Starbucks.
Luckily, the Seattle-based coffeehouse is as known for its willingness to customize as it is for its sugary lattes. The baristas there are trained to make your drinks the way you want them to be. But don't go crazy! There are things you can and cannot order, and knowing what your options are can help you avoid unnecessary carbs and annoying the barista.
With that said, here are a couple of tips for ordering keto drinks at Starbucks:
Ask for "no classic" – Except for plain coffees, Starbucks drinks have sugar by default. Ask for "no classic," which means sugar-free in Starbucks lingo.
Go for sugar-free sauces and syrups – There are currently 2 flavors of sugar-free sauces and syrups, namely cinnamon dolce and vanilla. However, Starbucks will occasionally add sugar-free caramel and mocha to its menu.
Add spices as your go-to toppings – Spices like cinnamon, nutmeg, cocoa powder, and pumpkin spice are all great low-carb options to top your coffees and teas with.
Stick to coffee and tea – Is a latte Keto? Hardly. Even if you order one with coconut milk and sugar-free syrups, it's hard to customize lattes and frappuccinos to make them keto-friendly – although it's not impossible. Stick to coffee and tea for now.
Go for "breve" instead of milk – Usually, Starbucks adds 2% milk to their lattes and other drinks, which is high in milk sugars. Ask the barista to use "breve" in your espresso or tea, which is a fancy way of referring to half-and-half. Other options include almond and coconut milk.
Choose keto sweeteners – Starbucks offers a range of keto-friendly sweeteners like Equal, Splenda, and a Stevia and monk fruit blend from Whole Earth.
With that said, you're now probably wondering, "what is keto at Starbucks?"
Below are a couple of menu options along with their macros breakdown. The macros are calculated using nutritional info for each drink from the Starbucks website and the USDA food database where necessary.
With the exception of Caffe Misto, Starbucks freshly brewed coffees are zero-carb, sugar-free drinks by default.
You can choose between Blonde Roast, Dark Roast Coffee, or Pike Place Roast to get your morning dose of caffeine. These are available in classic Starbucks serving sizes (short, tall, grande, and venti). There's also a decaf (Pike Place Roast) option in case you don't like caffeine.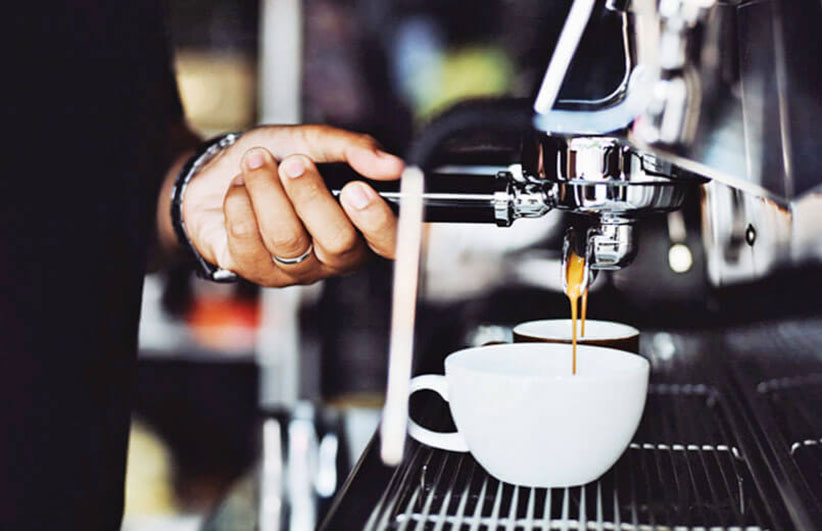 Ask for add-ins like non-nutritive sweeteners, creamers, and powders if you don't like plain coffee. A splash of half-and-half or heavy cream is best. However, you could also go for almond or coconut milk as plant-based options.
Caffe Misto, which is a coffee and milk combo, is the only one on the list that contains carbs, mainly from milk. You'll get around 5g of net carbs in a short cup. However, you could lower its carb count by asking for a Misto with heavy cream instead and bring the carb load to around 2-3g 1, 2.
Nutrition Information
Calories 5
Fat 0g
Net carbs 0g
Protein 1g
---
Americanos are essentially diluted espressos. They're a perfect pick if you like large servings of coffee without overdosing on caffeine. A tall Caffe Americano, for example, will give you only 150mg of caffeine (around 400mg/day is safe 3). But you can lower this even more by asking for one shot instead of two.
There are around 1g of carbs in a serving of Americano coffee, and you can add zero-calorie sweeteners and cream if you like.
Choose between simple Caffe Americano and the Blonde version. The latter is made with a Blonde Roast gives a subtly sweet taste and smooth mouthfeel.
The nutrition info below is for one short cup without add-ins 4.
Nutrition Information
Calories 10
Fat 0g
Net carbs 1g
Protein 0g
---
3. Flat white (with Cream)
A lot of people don't really see the difference between a Flat White and a Caffe Latte. And we wouldn't blame you if you're the same. Both are espresso-based, milky drinks. The main difference, though, is that a latte has a layer of foamed milk. A flat white has a thin (flat) layer of steamed milk on top.
Nutrition-wise, a tall flat white has around 14g of carbs when made with plain milk. Luckily, you have other options. Ask the barista to substitute half water and half breve or heavy cream for whole milk. This will reduce the carb load significantly without adding too many calories to the drink 5, 2. It'll also improve its texture.
Of course, there are other ways to customize this drink. You could ask for one or two shots of ristretto instead of three. You could also ask for flavors, toppings, and add-ins if you like.
Nutrition Information
Calories 408
Fat 43g
Net carbs 1g
Protein 3.41g
---
Lattes are some of the most popular Starbucks drinks. Unfortunately, flavored ones are loaded with sugar and other carbs. That's why you'll need to customize your order to keep carbs as low as possible while not losing on the flavor factor.
How do you do that?
Start by asking for a short or tall Caffe Latte, which is just milk and brewed espresso. Ask the barista to substitute half water and half breve or heavy cream for milk as you would with a Flat White. Ask for no foam or light foam; foam is always made with milk.
For toppings, go for cinnamon or nutmeg powder and skip the whipped cream. Go for a sweetener of your choice and choose sugar-free vanilla or cinnamon dolce syrup as flavorings.
The macros should end up being similar to a flat white, but this will depend on whether you're going for the foam or not.
Nutrition Information
Calories 408
Fat 43g
Net carbs 1g
Protein 3.41g
---
Here's another keto-friendly Starbucks drink that won't require any customizing. It's simply an espresso served with a dollop of steamed milk and foam. Starbucks' Espresso Macchiato is available in four espresso sizes, from solo to quad.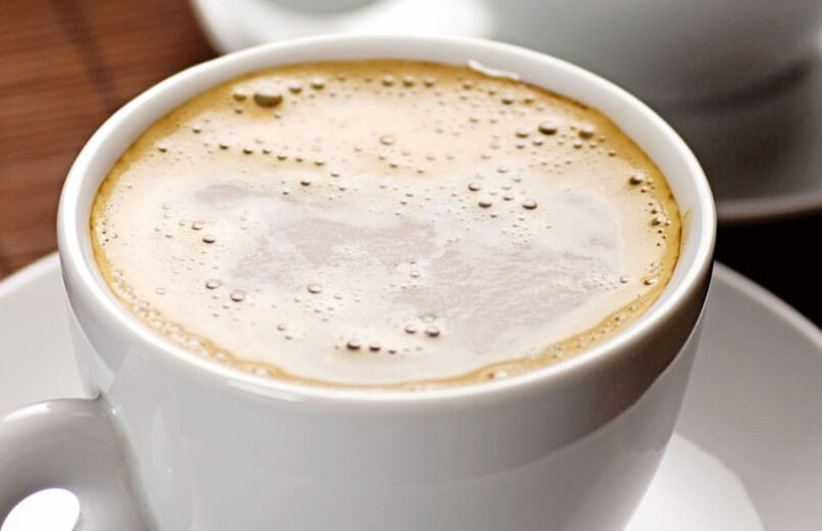 Go for smaller serving sizes since that will keep the caffeine and carb content low. Don't worry about the milk and foam; the serving sizes are pretty small and won't add too many carbs to this drink.
If, however, you'd like to spice things up a bit, feel free to customize. Ask for steamed coconut or almond milk; adjust the number of shots to your liking; and add spices, sweetener, and sugar-free syrups.
The nutrition info below is for a doppio serving 6.
Nutrition Information
Calories 15
Fat 0g
Net carbs 2g
Protein 1g
---
Starbucks chai lattes are made with sugary pre-mixes. But there's also a way to make chai lattes keto at Starbucks. Victoria Coglianese, RD, explains,
If you're like me and love a quintessential chai tea latte but don't love the gobs of sugar in the Starbucks pre-mixed version, go for a made-to-order version."
Victoria suggests ordering, "Tall-sized Chai Hot Tea in a grande cup for extra room. Ask the barista to add 1/3 cup steamed whole milk. Grab your drink and head over to the self-serve counter to add 1 packet of stevia and an extra pour of cream."
Other than that, teas at Starbucks are unsweetened and, thus, safe for your keto diet. Avoid the lattes and stick to teas and infusions.
Below are the macros for the above made-to-order Keto Chai Tea Latte.
Nutrition Information
Calories 60
Fat 4g
Net carbs 4g
Protein 2g
---
Did you know you can order a glass of Steamed Milk at Starbucks? Well, this coffee giant now offers Steamed Coconut Milk as well.
While this doesn't sound too exciting for coffee connoisseurs, it's good news for keto dieters who just want a nutritious drink that won't kick them out of ketosis or leave them with jitters. Coconut milk is a decent source of ketogenic fats, and it's tasty, too!
However, you'll need to order a short or tall cup since the coconut milk that Starbuck uses is slightly sweetened. A short cup will have around 7g of carbs, while a tall one will have 11g net carbs.
If you'd like to make it more interesting, add a touch of cinnamon powder or sugar-free vanilla syrup.
Nutrition Information
Calories 110
Fat 7g
Net carbs 11g
Protein 1g
---
8. Cold Brew Coffee with Milk
Or maybe you like your caffeinated drinks ice cold? Then don't deprive yourself of your favorite pleasure and order a Cold Brew Coffee with a splash of milk.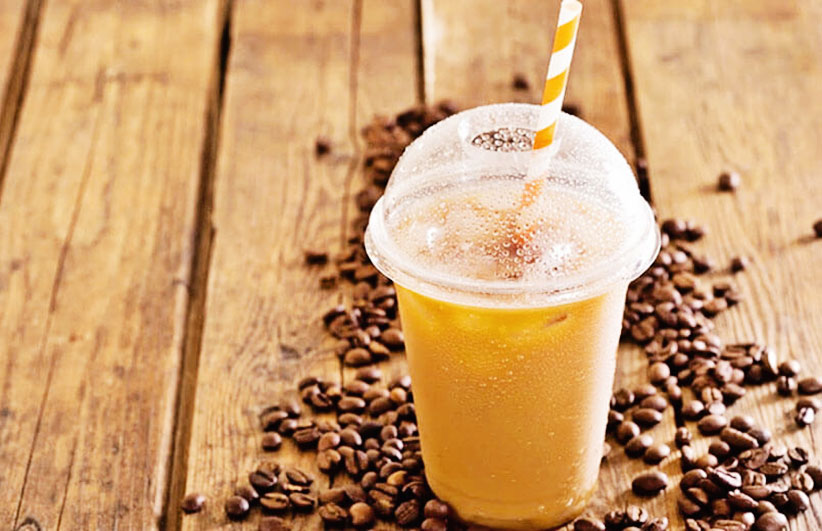 This is one of the best low-carb drinks at Starbucks since you can enjoy it as is. It's made with brewed coffee, ice, and milk.
The carb count is around 3g in a grande cup, which isn't all too bad. But you can lower the carb count slightly more if you go for almond or coconut milk instead.
Add a sweetener of your choice if you like your coffee sweet. You can also spice things up with a bit of cinnamon, but we think that's unnecessary here.
Nutrition Information
Calories 35
Fat 1.5g
Net carbs 3g
Protein 2g
---
In case you need something to curb the munchies, Starbucks also offers some lovely egg bites. This breakfast option is called Sous Vide Egg Bites. Sous vide is low temperature and long time cooking over a water bath, and it leads to the most delicious, most tender egg bites you could eat.
The bites are available in three varieties: Ham, Cheddar & Peppers, Bacon & Gruyere, and Egg White & Roasted Red Pepper.
All of these options sound wonderful, but you're best off ordering the Bacon & Gruyere Egg Bites. These have the least carbs at 9g per serving. If you see that fitting your daily keto macros, definitely go for it! This is a protein-rich dish, and studies show high-protein meals curb hunger 7.
Nutrition Information
Calories 300
Fat 20g
Net carbs 9g
Protein 19g
---
On the other hand, you could just grab a snack.
Lauren Harris-Pincus, MS, RDN, suggests to, "Pick up a bag of Moon Cheese. Moon Cheese is a crunchy dried cheese snack made from 100% real cheese with no need for refrigeration. This flavorful snack also provides 10-12 grams of protein per 1 ounce serving with only 1-2 grams of carbs for those looking to stick to lower carb or keto-friendly items."
All this means that Moon Cheese makes snacking low-carb at Starbucks easy.
The info below is for White Cheddar Black Peppa Moon Cheese.
Nutrition Information
Calories 190
Fat 15g
Net carbs 2g
Protein 11g
---
11. Italian Salami and Manchego box
Now here's a truly zero-carb snack to enjoy with your keto Starbucks drinks.
The Felino Uncured Italian Salami and Manchego box is a protein-packed snack with uncured Italian salami and sheep's milk cheese. Uncured salami is considered safer than cured meat, while sheep's milk products contain more fat, protein, and micronutrients than cow's milk 8.
You may not find this snack box at every shop, but if you do, definitely try it out. Not only is it keto-friendly, but it's a gourmet indulgence, too!
Nutrition Information
Calories 240
Fat 20g
Net carbs 0g
Protein 16g
---
12. Carrots, White Cheddar Cheese, and Almonds Snack Tray
Starbucks also offers this gem from Prosnax. While carrots are not the best veggie to have on a keto diet, remember that you're compromising here. And besides, you'll only get 3g of net carbs from this tray, which is perfectly acceptable on keto. Not to mention that you get to enjoy cheddar cheese and almonds – two of your favorite and healthiest keto snacks.
The serving size here is 71g, and you'll get around 140 calories. That's pretty reasonable for a snack option.
Nutrition Information
Calories 140
Fat 10g
Net carbs 3g
Protein 6g
While Starbucks is best known for its lattes and frappes, it still has a range of low-carb options available on the menu. From plain coffee and teas to flat whites and keto-friendly chai lattes, there are things you can order at this famous coffee house and stay true to your diet. Another bonus is that Starbucks offers snacks. And some of these just happen to be low in carbs. If you miss your Starbucks outings, try ordering something from this list and you won't have to worry about the carbs.