Looking for a keto wine that you can drink on a low-carb lifestyle? We've rounded up several options below.
As someone who loves having a glass of wine regularly or on certain occasions, you could be asking — Can I drink wine on keto?
The straightforward answer to that is yes, you can.
But here's the thing:
To avoid getting kicked off ketosis, you should definitely go for low carb wine. Consider the carb count as they add up to your daily limit which is about 20-50 grams per daily 1.
Must know: For a wine to be keto-friendly, it should have low alcohol by volume (ABV) — aim for 13.5% or less. Furthermore, it should contain minimal residual sugar (RS) or none at all.
Read on because, in this article, you'll find the top keto friendly wine selections and specific low carb wine brands that are probably available at your nearest store.
First on this list is Merlot. It's one of the most popular red wines among enthusiasts. They say that it's America's second most favorite. Not to mention, merlot pairs well with keto-friendly meats like beef, lamb, and pork.
We recommend brands like Duckhorn Vineyards, Marilyn Merlot, and Blackstone Winemaker's Select Merlot.
Macros per serving (5 oz serving)
ABV: 13.5%
RS: 0
Carbs: 3.7g
Calories: 120
With only 3.4g carbs per 5 oz serving, pinot noir deserves a place on this keto-friendly wine list. Hayley Cimring, registered dietician and author at Fitness Savvy, said,
Its lightness complements fish and salad recipes. Plus it has notes of berries, roses, and vanilla that make it a winner for your diet."
Try 2016 Buena Vista North Coast, Cameron Hughes' Lot 678 2017 Willamette Valley, and 2018 Sonoma County.
Macros per serving (5 oz)
ABV: 13%
RS: Less than 1 g
Carbs: 3.4g
Calories: 121 calories
"A crispy sauvignon blanc on a warm day, accompanied with homemade guacamole and celery stick dippers is the perfect combination," said Aimee Aristotelous, a certified nutritionist. Most sauvignon blanc wines are completely dry, which means that they have the least amount of sugar.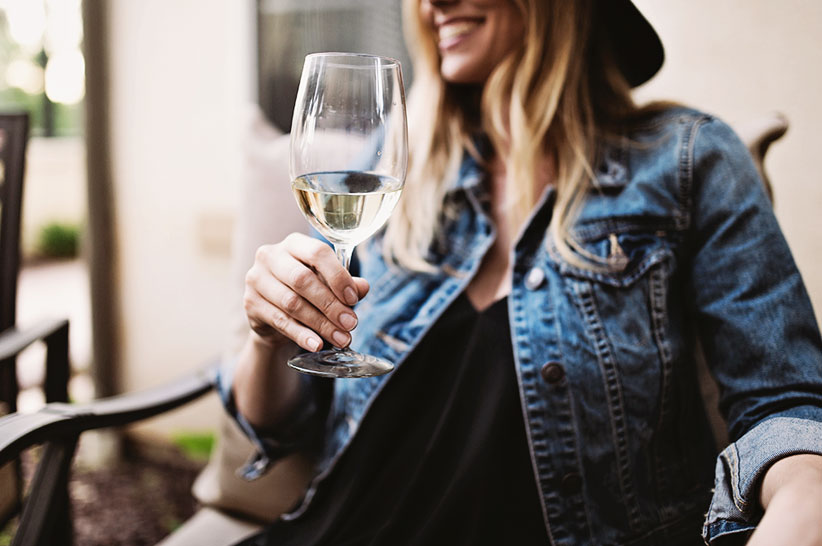 Keto wine brand options include Maxville Estate, Staete Landt Duchess, and Grgich Hills Fume Blanc.
Macros per serving (5 oz)
ABV: 12.5%
RS: 0
Carbs: 2.7g
Calories: 122
Pinot grigio is a great choice of wine on keto diet. The reason being that it has only 3.2g carbs per 5 oz serving. Aristotelous suggests pairing this Italian white wine with zucchini noodles topped with meat sauce.
Choose brands like Canyon Road, Voga Italia, and KRIS.
Macros per serving (5 oz serving)
ABV: 12%
RS: Less than 1 gram
Carbs: 3.2g
Calories: 122
If you're wondering about the number of carbs in red wine, that's about 3.8g per 5 oz serving. Cabernet sauvignon is among the driest red wine varieties. They're described as full-bodied and tannic. Not to mention, they can age up to 10 years.
Popular brand selections include Marques Casa Concha, Wynns Coonawarra Estate, and TOKARA.
Macros per serving (5 oz serving)
ABV: 13.5%
RS: 1g
Carbs: 3.8g
Calories: 120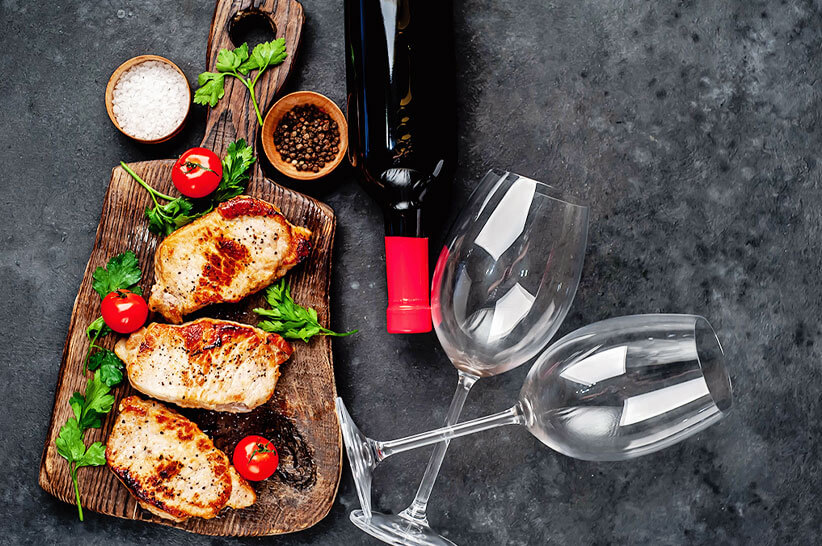 Chardonnay happens to be fantastic served with your favorite keto meat dishes.
Chardonnay is best combined with pork loin, trout, lobster, and chicken breast,"
said Cimring. For those who don't know, chardonnay comes in two varieties — oaked and unoaked. Oaked chardonnay has flavors that resemble sweet vanilla. Meanwhile, unoaked chardonnay doesn't impart creamy and vanilla flavors while being more affordable.
Some favorite Italian chardonnay brands include Tellus Chardonnay 2015, Cavit Chardonnay, and Gradis'ciutta 2015.
Macros per serving (5 oz)
ABV: 13%
RS: 1.4g
Carbs: 3.7g
Calories: 118
Who says you can't enjoy champagne? One of the lowest carb wine options, champagne is popular during social events. That means you can have a good time with your friends and still be able to stay in ketosis. Just be careful not to go overboard.
Looking for the best-selling champagnes? Go for Moët & Chandon, Veuve Clicquot, and Nicolas Feuillatte.
Macros per serving (5 oz)
ABV: 12.2%
RS: 0
Carbs: 1.5g
Calories: 96
Wines to Avoid when You're on Keto
If you're serious about staying in ketosis, you need to steer clear of the following wines below. The reason is that these wines have higher sweetness levels which imply that they contain more carbs and sugar.
Port – Surprisingly, port wines can contain as much as 20 grams of carbs per glass. Port wines are typically taken as dessert wines 2.
Moscato – Popular for its sweet peachy flavors, moscato comes in various styles — sparkling, semi-sparkling, still, and pink. A serving size of 5 oz carries 11 grams of carbs 3.
Riesling – This white aromatic wine may be a famous collectible, but it has a sugar content that reaches 14 grams per 5 oz. It's definitely not a good choice for you.
Wine coolers – A combination of wine and fruit juice, wine coolers can have 13-14 grams of carbs per glass.
Sangria – Red or white, it doesn't matter. While they're popular for birthday parties and other occasions, sangria wines are to be avoided by ketoers since they carry 18 grams of carbs per glass 4.
If you'd also like to know what other keto alcoholic drinks you can have aside from wine, check out this article.
One might think that keto and wine don't come together. But they can, as long as you know what options to pick and avoid. Sweetness levels help you identify whether a wine is good for your ketogenic diet or not. Last but not least, be sure to drink wine in moderation.