The ketogenic diet is growing in popularity for weight loss. The diet, which involves restricting carbs and making fat your primary source of energy, puts the body in a metabolic state called ketosis. When someone is in ketosis, their body is burning fat at an accelerated rate, and this often leads to weight loss.
But getting in ketosis, staying there, and knowing how to use it to lose weight can be daunting if you try to do it alone. That's where keto blogs can help. Seasoned keto dieters and diet experts are sharing their knowledge and experience on the Internet. Using this information can prove to be of great assistance in your personal keto journey.
Below are some of the most informative, resourceful, and encouraging keto weight loss blogs to consider checking out.
11 Best Keto Weight Loss Blogs to Follow in 2019
Here are some of the most informative and helpful blogs to follow in 2019. Some are focused on offering dieting guidance, others are more food-oriented, and some aim to help you understand the science and fitness aspects of losing weight on keto.
1. Keto Diet Blog by Martina Slajerova
Martina is the owner and founder of Keto Diet Blog, a huge resource for anyone trying to get started on a low-carb lifestyle. Martina began her own keto journey in 2011 after being diagnosed with Hashimoto's hypothyroidism.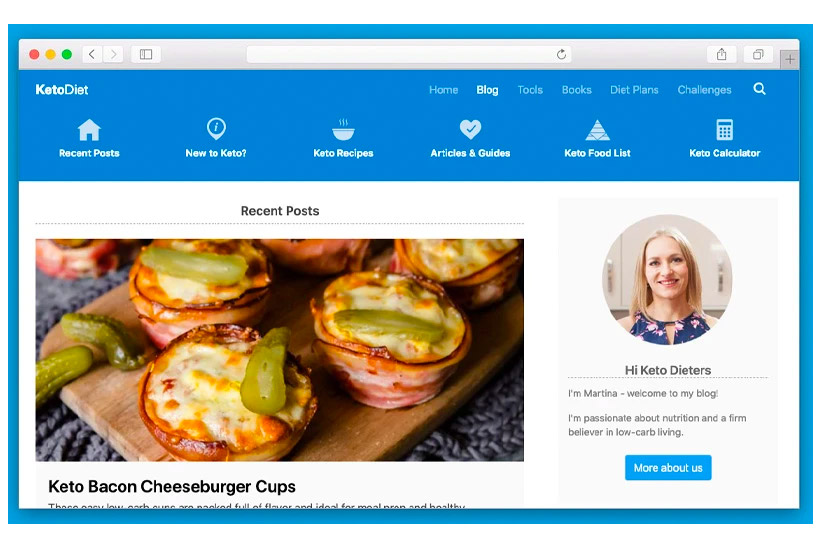 After witnessing the many health benefits of the keto diet first-hand, she decided to share her knowledge and experience on her blog hoping to help others reach their goals, whether it be weight loss or better health. The Keto Diet Blog offers keto diet articles, guidelines, recipes, tips, meal plants, shopping lists, a keto calculator, and other keto diet tools.
2. Ruled.Me by Craig Clarke
Ruled.me was designed by blogger Craig Clarke to be your one-stop resource for a smooth transition to the ketogenic diet. On this site, you'll find everything from educative articles and comprehensive guides to keto diet recipes and a built-in keto calculator. You'll also find additional resources such as the Keto Academy program and success stories from the website's ever-growing community.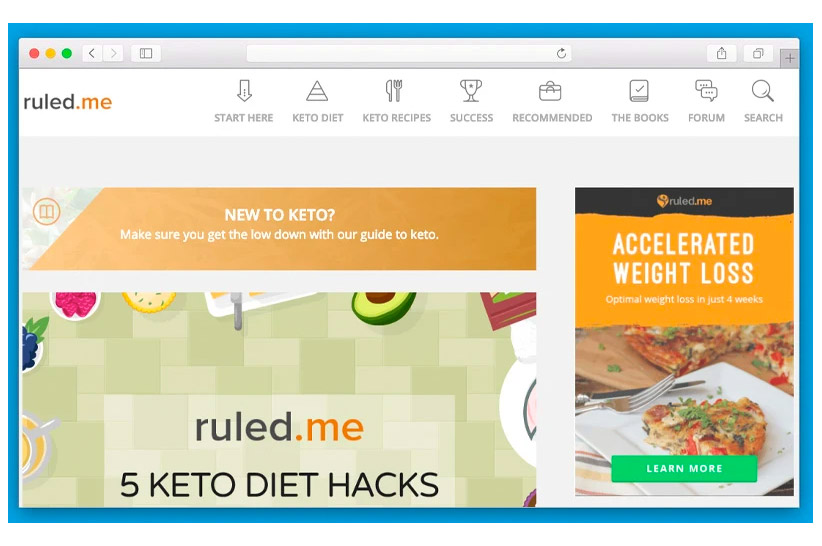 What's notable about Ruled.Me is that everything about this site is thorough – even the recipes are neatly categorized into 7 separate section, and each recipe comes with detailed descriptions, instructions, and nutritional breakdowns. So, no matter if you're a keto beginner or veteran, you'll find absolutely everything you need to live the keto lifestyle on this website.
3. Diet Doctor by Dr Andreas Eenfeldt
Diet Doctor is the world's most visited low-carb website, attracting an average of 500,000 visits per day, and it's available in English, Spanish, and Swedish. The website was founded in 2011 by Andreas Eenfeldt, a Swedish medical doctor who wants to spread the word for a food revolution. It is fully funded by optional membership and offers free guides written and reviewed by medical doctors and experts.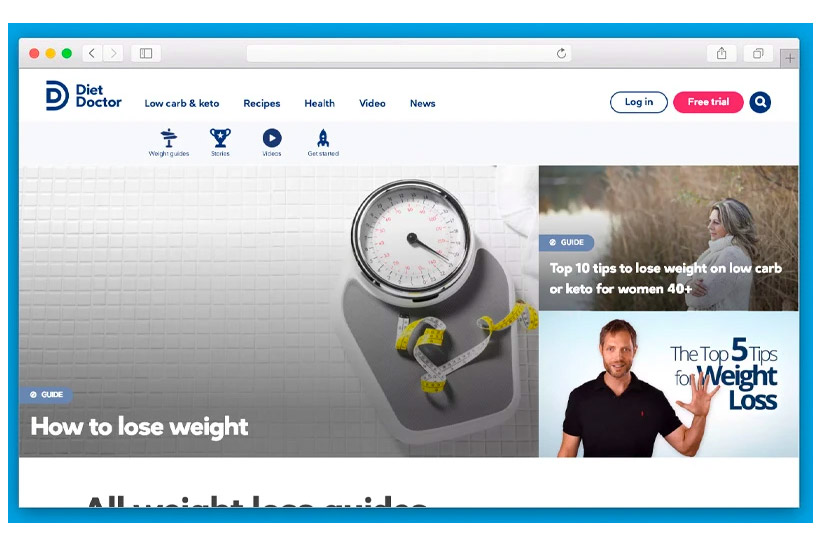 For those purely interested in weight loss, there's a special section offering guides, success stories, videos, and intermittent fasting info. You can also access food guides and a large collection of delicious low-carb recipes, from egg-based to egg-free and keto breads to low-carb sides.
4. KetoConnect by Matt and Megha
Keto power couple Megha and Matt created Keto Connect as a global hub where people looking to start the ketogenic lifestyle can find everything they need. The website features a beginner's guide, a macro calculator, a shopping list, videos, FAQ, testimonials, and an informative blog with many how-to's and food review articles.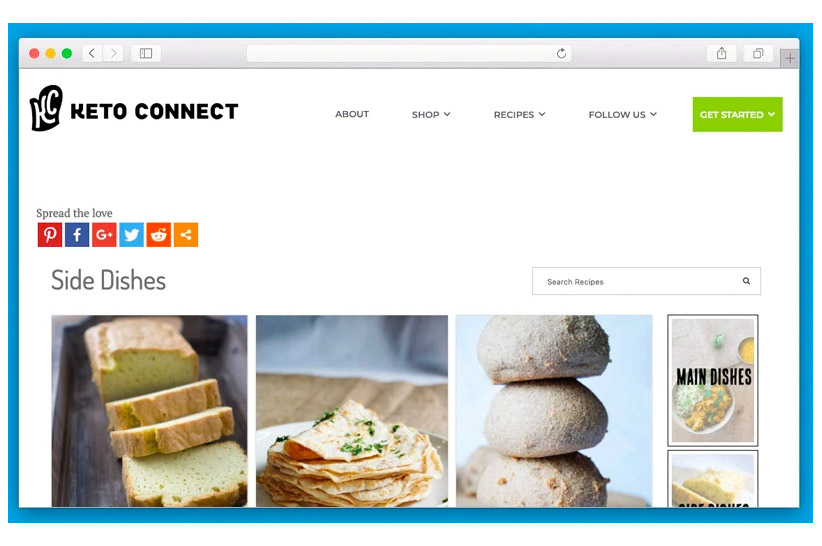 However, what's really great about their blog is that it focuses on dieting on a budget – something the majority of keto dieters will find useful. For those who need a detailed and informative all-in-one-guide, KetoConnect offers a Day Keto Meal Plan featuring helpful videos and infographics for just $5.
5. KetoGasm by Tasha Metcalf
A female-focused website, KetoGasm is devoted to helping women start and sustain a ketogenic lifestyle while encouraging body-positivity. Tasha, the founder of KetoGasm, developed PCOS and decided to manage her condition with a low-carb diet. Now, she shares what she has learned and hopes to inspire other women with similar problems to take charge of their health.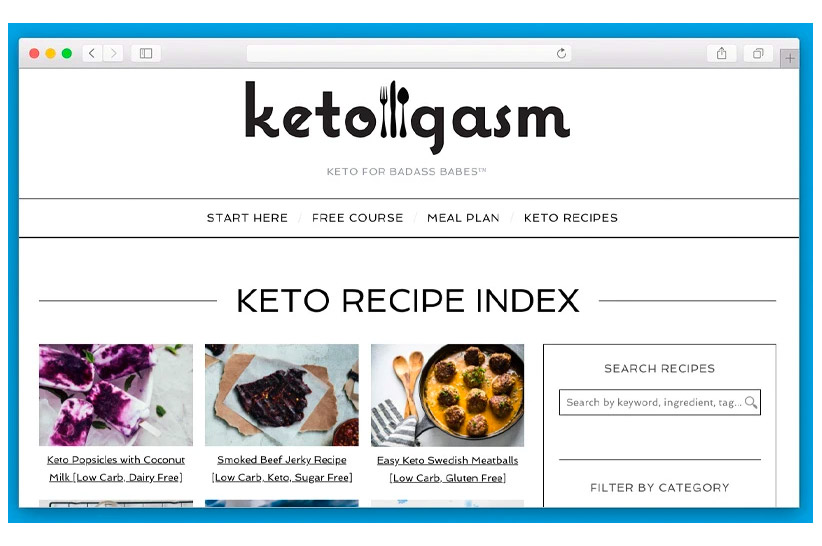 KetoGasm content is informative, uplifting, and entertaining. There, you'll find a free course to get your started and a big collection of tasty recipes. The website also offers how-to videos and personalized meal plan that you can get for $59.
6. The Nourished Caveman by Vivica Menegaz
Vivica is the creator of "The Healing Foods Method" and she's also a nutritionist and cookbook author. She created The Nourished Caveman blog to share valuable resources as well as her health and weight-loss programs, which can help you learn how to get leaner and healthier.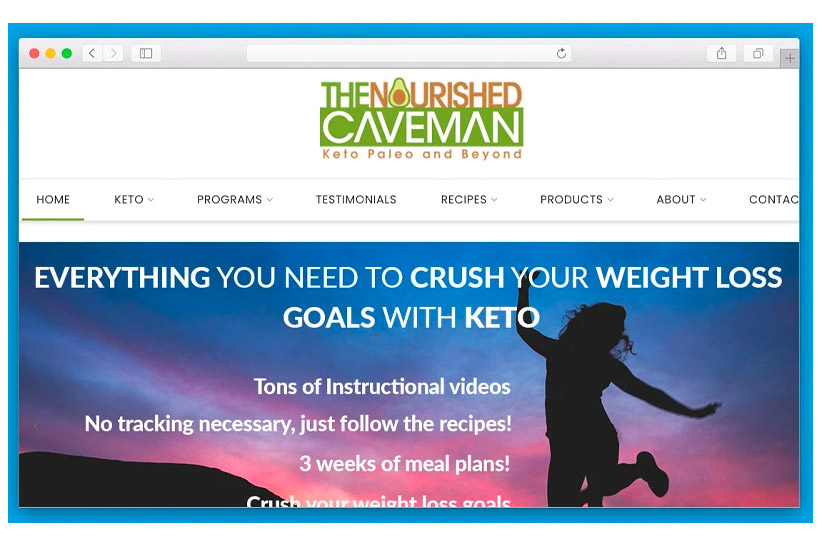 Information that you'll find for free on this website include a keto diet overview, testimonials, FAQ, and recipes. The website also sells weight loss and healing programs, books, and links to keto supplements. If you're looking for guidance from a diet and nutrition experts who's also used the keto diet to improve her health, then this resource page is for you.
7. Meat Free Keto by Liz MacDowell
As the name implies, Meat Free Keto is a blog dedicated to the vegan keto diet. It was created by Liz, a certified holistic nutrition consultant specialized in whole food diets, food allergies/intolerances, special diets, and nutritional support for digestive health.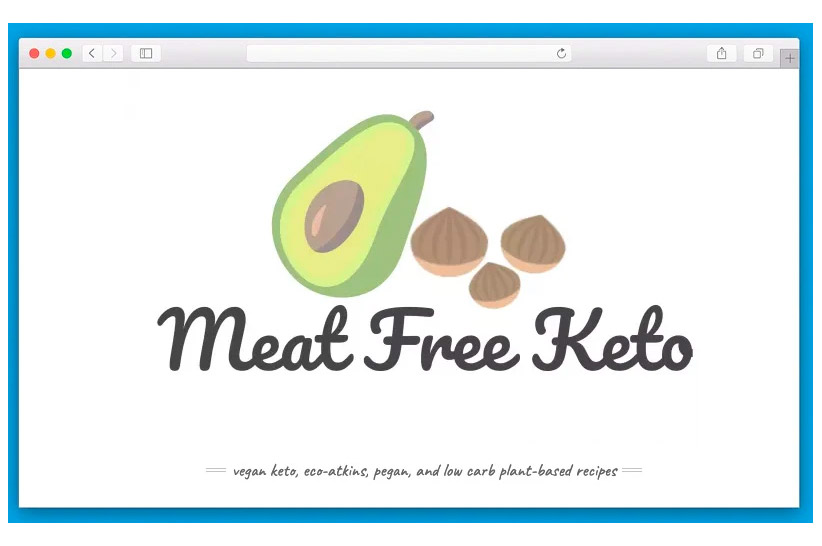 Meat Free Keto is a great resource for anyone willing to start a purely plant-based keto diet. It offers essentials guides, shopping lists, a vegan macro calculator, vegan recipes, and more. Liz also offers vegan keto meal plans at affordable prices.
8. Ketovangelist by Brian Williamson
There's no other site more dedicated to spreading the word of a healthy ketogenic lifestyle than Ketovangelist. As Brian states in the site's about page: the ketogenic lifestyle is the best way to lose weight and reclaim your health. This blog is dedicated to spreading the word of a healthy ketogenic lifestyle. The Ketovangelist family of websites also includes Ketovangelist Coaching, Ketovangelist Unlimited, Ketovangelist Kitchen, The Ketogenic Athlete, Ballistic Keto, Certified Ketogenic, Keto Con.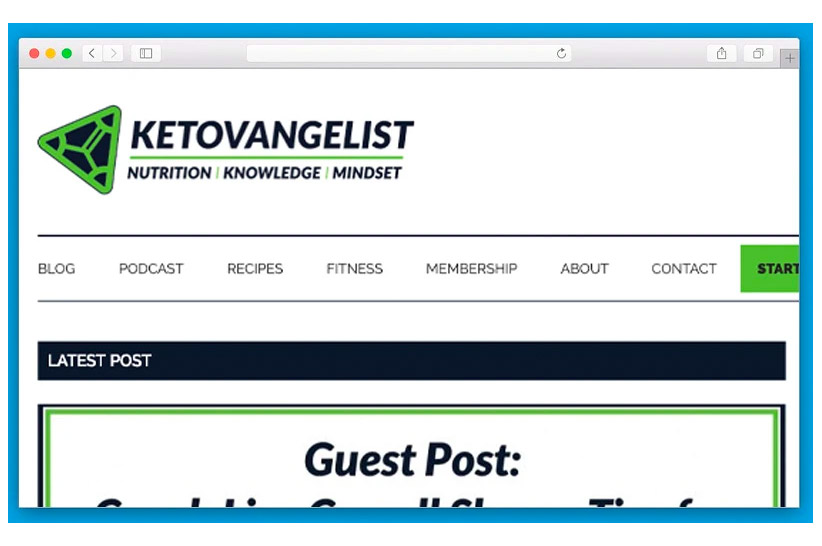 By visiting the site, you can access their informative articles and guest posts, weekly newsletter, their eBooks, recipes, special offers, insider tips, and subscriber-only content. Besides being a great resource on how to use keto for weight loss, Ketovangelist is also dedicated to the fitness aspect of losing weight while on a keto diet.
HVMN, previously known as Nootrobox, is an American company that manufactures and sells a ketone ester drink and nootropics products. The company's blog offers science-backed information behind ketones and ketosis, among other things. There, you'll learn what keto can really do to boost your health and performance from scientific standpoint.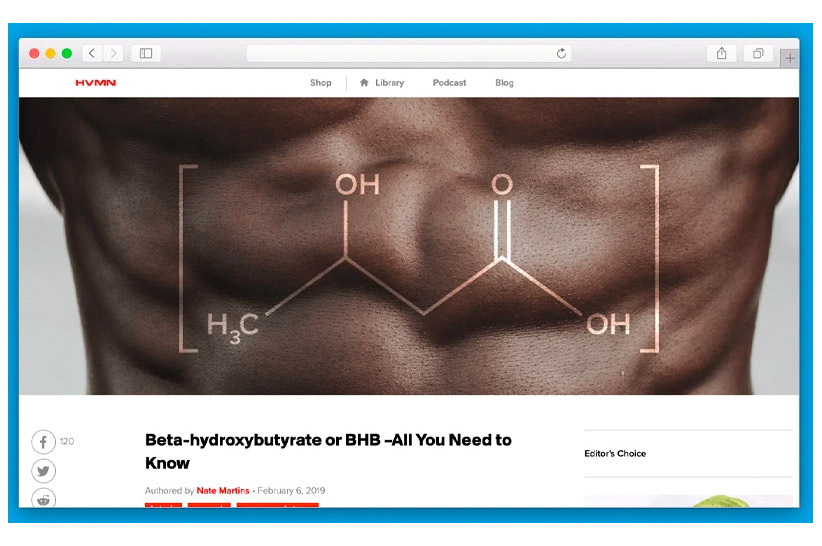 While the blog is definitely more focused on the athletic benefits of a keto diet, the information there can help anyone willing to start a keto lifestyle. The content is written and reviewed by scientists, medical professionals, and other experts in the field.
10. Cast Iron Keto by Alex Lester
The keto diet has helped a lot of people lose weight without needing to count calories or exercise (although these do help). So, the focus is really on the food, and Cast Iron Keto can help you think less of what you should eat and prepare more. The website is a great resource of keto recipes, all with high-quality photos, detailed instructions, and a macros breakdown.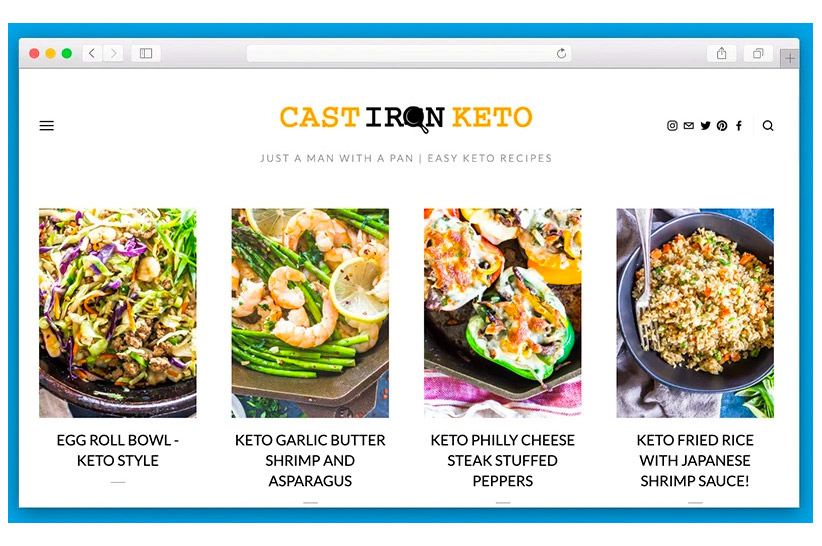 To stay in touch with the newest recipes by Alex, the man with the pan, it's a good idea to follow his blog on Instagram, Facebook, Pinterest, and Twitter or even subscribe for a newsletter.
11. I Breathe I'm Hungry by Mellissa Sevigny
Mellissa Sevigny started I Breathe I'm Hungry on a whim in the summer of 2011 to stay in touch with her family. When she started creating low-carb recipes, she discovered that many other dieters struggled with the same issues as her: boredom with keto food. So, that motivated her to keep experimenting and one of the best keto recipe blogs on the web flourished.
The website offers an impressive range of unique keto recipes, free meal plans, affordable cookbooks, and the Squeaks Clean Keto Challenge (SCKC) – a 30-day clean eating keto diet plan designed to help you achieve better health and faster weight loss!
Bonus: Other Keto Community You Can Join
Besides websites and blogs, there are online communities where people share their experiences with the keto diet. Some of the best communities to join include: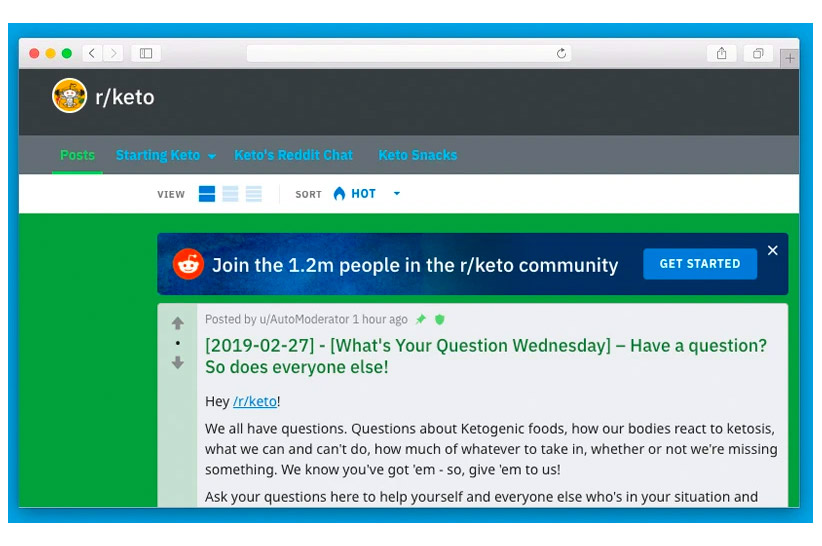 With over 1 million subscribers, the keto subreddit is definitely a place where you can learn a lot about how keto works in practice. Redditors share their experiences, knowledge, tips, and anecdotes. The subreddit also offers a keto for beginner's overview, FAQ, keto chat, and progress pics – to get you inspired.
The Ketogenic Forums is a place to discuss everything keto. The forum has covered 24k topics, has received 489k posts, and has 38.5k total users. There are also 57 categories, just some of which include keto chat, food, fasting, exercise, resources, and how-to's. The community is focused on discussing evidence and science-based topics.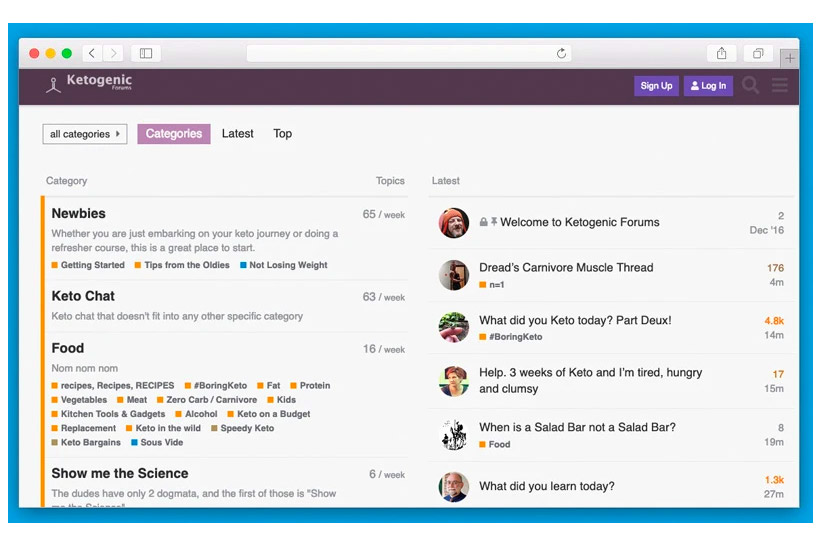 Before going on any dieting and weight-loss journey, it's a good idea to become equipped with knowledge and look for trustworthy guidance. One way to do just that is by visiting some of the Internet's most valued keto diet blogs. Another thing you could do is visit keto-centered online communities to learn about others' experiences with this diet.
The 11 keto blogs listed here are some of the most resourceful out there, but they're not the only ones. These blogs also cater to different audiences with different expectations of the keto diet. An important thing is to find a source of information that speaks to your particular situation and that you know you'll be returning to again and again.