Not all protein powders are keto-friendly. We've listed the 10 best low-carb, keto protein powders to help you get the protein you need without the carbs.
Of the three macros, protein is the most filling. It's also most essential for muscle growth and recovery, and having more muscle helps raise metabolism. All of this, in turn, helps with weight loss.
Protein powders make it easier for anyone on a weight-loss journey to reap the weight-loss benefits of this nutrient. But not all protein powders are created equal.
Low-quality protein powders will contain poorly digestible forms of protein. Others will have unnecessary additives, fillers, and too much sugar. That's why you need to choose your protein powder carefully when on a keto diet.
And which protein powder is best for the keto diet?
Below is a rundown of the 10 best low-carb protein powders for you to consider. These contain quality protein, no lactose and sugar, and no unnecessary ingredients. Of course, we also considered the taste and blendability factor when making this list.
1. Keto Collagen Birthday Cake by Kiss My Keto
Uniquely flavored for low-carb protein shakes, pancake batter, cakes, and more. This is a protein powder specifically designed for the keto diet that combines collagen with MCTs. Collagen has unique benefits like anti-aging and joint repair 1, 2, but it also helps build muscle when combined with resistance training 3. MCTs give immediate energy, especially on a keto diet since ketosis makes it easier for the body to utilize them.
There are approximately 25 servings per container, each providing 80 calories, 9g of protein, 5g of MCT powder, and only 1g of net carbs. Besides birthday cake, Kiss My Keto offers collagen peptides in chocolate flavor.
Price: $38.99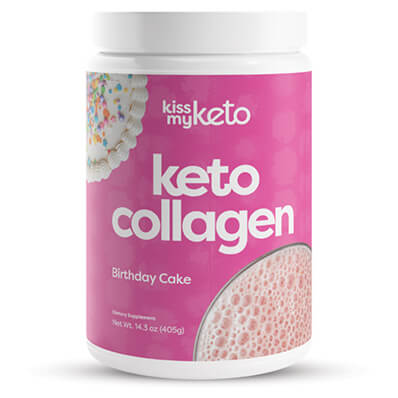 2. Chocolate Keto Protein Shake by Ketologie
This isn't your typical protein shake. This one is higher in fat than it is in protein, which is perfect when you're having trouble sticking to keto macros. More specifically, it is made up of 75% fat, 20% protein, and less than 2% net carbohydrates.
The fat in this product comes from coconut oil powder and high-fat Dutch cocoa — giving this product a creamy feel and rich taste. In fact, many consider it the best-tasting, low-carb protein powder out there. The protein comes from easy-to-digest hydrolyzed bovine collagen. There are 18 servings per container, with one serving providing 300 calories, 14g of protein, and 25g of ketone-boosting fats.
Price: $49.49
3. Keto Collagen by Ancient Nutrition
Ancient Nutrition's goal is to make whole food nutrition convenient, and this powder does exactly that! Like many other keto protein powders, this one also combines hydrolyzed collagen with MCTs from coconut. But unlike others, it's tasteless so you can use it in both sweet and savory meals.
You'll get 30 servings in their 19 oz container (the product is available in half-size and as single packs). Each serving provides 90 calories, 3g of fat, and 13g of protein. And in case you ever wondered, "What is the lowest carb protein powder?" This is it at 0g of net carbs!
Price: $49.95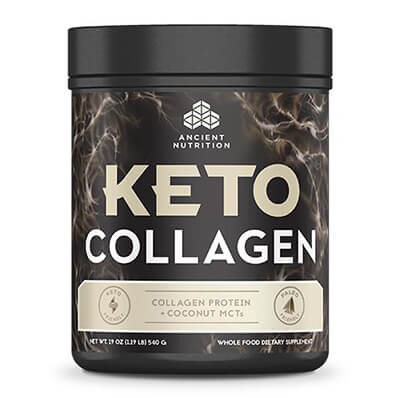 4. Original Collagen Peptides by Vital Proteins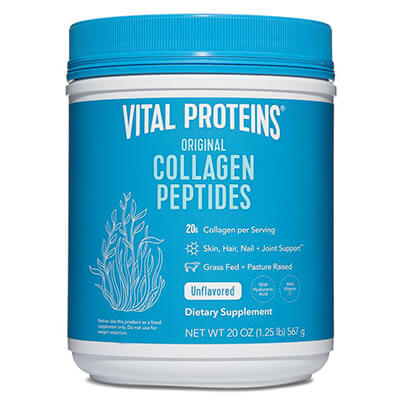 Made only with three ingredients, namely grass-fed, pasture-raised bovine hides, hyaluronic acid, and vitamin C, this product is perfect if you're a follower of clean eating. It's meant to boost skin elasticity, improve skin, nail, and hair health, and support joint health. However, the benefits of collagen peptides go way beyond that 4, so you can use this product as a weight-loss or post-workout supplement.
A bottle has approximately 28 servings, and one serving provides 70 calories, 18g of protein, and 20g of hydrolyzed collagen. The product is tasteless and blends well in hot or cold liquids. Besides being a keto-friendly protein powder, it's also paleo and Whole30 approved.
Price: $43
5. Original Protein Superfood by Amazing Grass
Best known for their wheatgrass-based Green Superfood supplement, Amazing Grass also offers something to make your low-carb protein drinks. It's an organic, plant-based protein supplement made with pea, quinoa, and chia proteins plus grasses, goji, sweet potato, and other organic foods.
The product comes in 12 oz 23 oz containers and is also available in individual packets. One serving has 110 calories, 20g of protein, and only 1g of net carbs. It has natural vanilla flavor but it's also available in chocolate, chocolate peanut butter, and pumpkin spice, to name a few.
Price: $23.72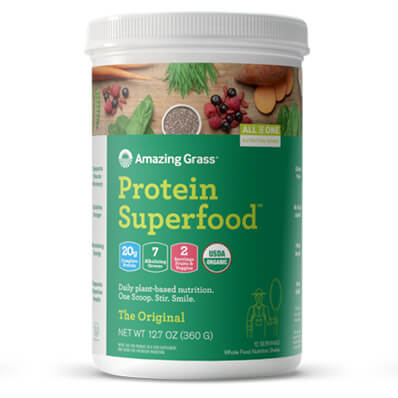 6. Paleo Protein Powder by Paleo Pro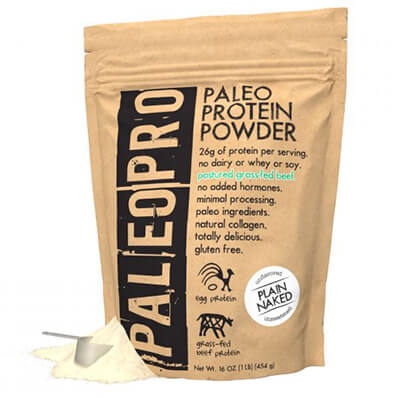 The paleo and keto diets have many things in common, which is exactly why products like these work well for both. It's made with grass-fed beef protein and egg protein — both keto-friendly, quality ingredients that provide all essential amino acids. Flavored varieties will additionally contain monk fruit and natural flavor.
It's sold in a 16 oz bag that provides around 15 servings. Each serving provides 120 calories, 26g of protein, and 1g of carbs. You can get the product in plain (unflavored), banana berry, mocha mint, cacao, Mayan mocha, or vanilla flavor.
Price: $42.99
7. Protein Classic by Sunwarrior
Another plant-based, ketogenic protein powder on the list is this one by Sunwarrior. It's derived from raw sprouted brown rice, which contains 36% essential amino acids and 18% branched-chain amino acids 5. Despite being extracted from rice, it's low in carbs and also GMO, sugar, and gluten-free. It's also raw and vegan.
A 13 oz container has around 15 servings. Each serving has around 100 calories, 20g of protein, and 1g of net carbs. The product is available in vanilla and chocolate flavors, which are organic and sweetened with stevia.
Price: $23.99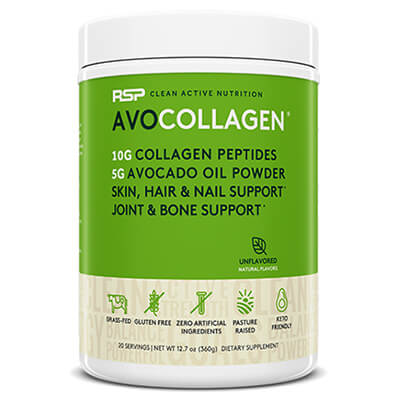 Specially designed for the keto diet, this best keto protein powder combines collagen peptides with nutrient-dense avocado oil powder. Together, these ingredients are said to promote healthy skin, hair, and nails but also support bone and joint health while providing all the nutrients you need in your keto protein shake.
The product comes in 14oz containers with 20 servings. Each serving will give you 90 calories, 10g of protein, and 3g of carbs. You'll also get 4g of fat. It has zero artificial ingredients and is available unflavored and in chocolate or vanilla flavors.
Price: $34.97
9. Plant-Based Performance Protein by Elevate
A low-carb protein powder for weight loss and performance that's also completely plant-based. The protein here is extracted from pea and organic hemp to ensure you get all the amino acids you need for weight loss and muscle growth. It also contains sweet potato, cocoa powder, natural flavors, monk fruit, and Himalayan salt.
It's sold in large 32 oz containers with 26 servings. With one serving, you'll get 130 calories, 24g of protein, and only 1g net carbs. You can order it in vanilla milkshake or chocolate brownie flavor for more variety when it comes to protein shakes on keto.
Price: $42.97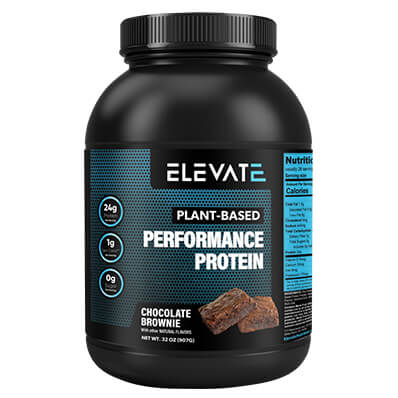 10. Whey Isolate Protein by Onnit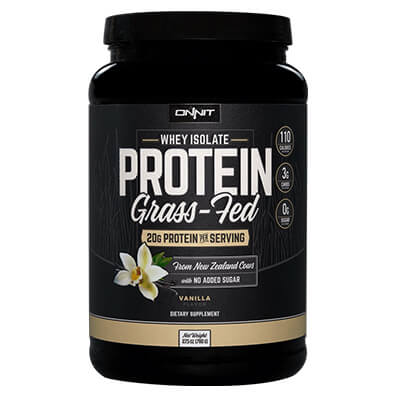 Is whey protein keto? Definitely yes! In fact, the best low-carb protein powders will also contain whey protein like this one by Onnit. This protein has all 9 essential amino acids — important for health, and studies show it's best for muscle recovery 6.
This product comes in 27oz containers with 30 servings. A serving will give you 110 calories, 20g of protein, and 2g of net carbs. Besides whey, it contains sunflower oil, dried cream extract, MCT oil, and natural flavors, among other keto-friendly ingredients. It's available in vanilla and chocolate flavors.
Price: $59.95
While you can definitely get all the protein you need from real keto foods, protein powders can make eating keto easier. Simply add a scoop or two of your favorite keto protein powder to a glass of water, keto smoothies, or breakfast pancakes and you'll make meeting your daily protein needs easier.
The best keto protein powders will contain easy-to-digest and highly bioavailable proteins like whey, collagen, or plant proteins. Ideally, these powders will also give you a bit of MCTs and other ketogenic fats. Which protein powder you should go for, however, depends on your preferences and whether you have food sensitivities. Hopefully, this list can make your search for your ideal protein powder easier.