So you've learned the benefits of this supplement and now you're thinking of getting yourself one. Here's the best MCT oil to buy from these brands.
One of the ways that keto dieters boost their ketone levels and supercharge their performance is by taking an MCT oil supplement. MCT stands for medium-chain triglyceride. These are partially man-made fats from coconut oil or palm kernel oil.
Before we dive into the 10 best MCT oil brands, here are four things you should know about MCT oils according to research:
#1: MCT oil may help your body in a variety of ways. Studies show that MCT oil increases your fat-burning potential, leading to weight loss 1, 2. It also helps manage your blood sugar levels and improve brain health. Here are more science-based benefits of MCTs.
#2: There are many ways to incorporate MCTs into your routine. Most people assume that MCT oil is supposed to be mixed with your morning bulletproof coffee. That's a common way to take it. However, you can also blend it in your smoothie, salad dressings, or drizzle it over your meal. Explore more ideas here.
#3: MCT oil and virgin coconut oil are not the same. MCT oil itself contains 100% medium-chain triglycerides. Meanwhile, virgin coconut oil contains only some MCTs – about 50-60%. Read this guide for an in-depth discussion.
#4: MCTs come in different types. There's C8, C10, and C12. The number represents the carbon atoms in the fatty acid chain. For example, C8 or caprylic acid has an eight-carbon chain. Each type has unique beneficial properties.
1. Kiss My Keto MCT Oil (C8 + C10)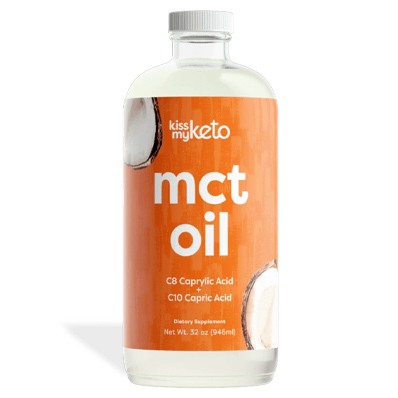 A top quality MCT oil in the low-carb community, this supplement combines 60% C8 and 40% C10. C8 is absorbed rapidly by your body and gets converted into ketones. If you need to boost your energy or fat-burning potential before or after your workout, this is highly recommended. One of our customers said, "My metabolism still increases, I'm still lean and it works as it should."
Price (32 ounces): $28.99
---
2. Nutiva Organic MCT Oil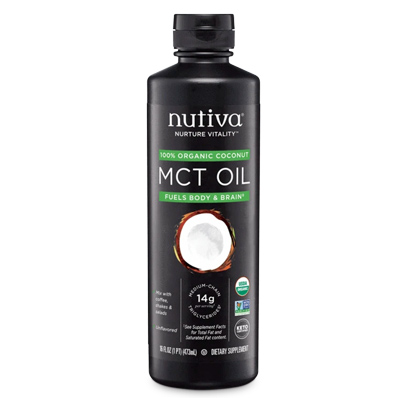 When it comes to organic products, Nutiva is one MCT oil supplement that you can trust. I've personally tried this high-quality MCT oil and it works. It has a very light coconut scent and flavor. This product is a mixture of C8, C10, and C12. If you're following a plant-based or vegan keto diet, you can have this.
Price (32 ounces): $40.99
---
3. Left Coast Performance Coconut MCT Oil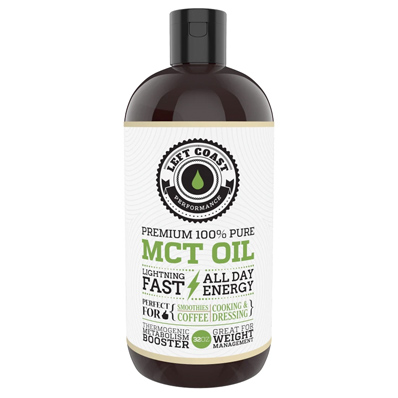 Nourish your body with healthy fat while on the go with this oil sourced purely from coconuts. You'll rest easy knowing that Left Coast's high-quality MCT oil is free from any carbs or additives. For those who are taking this pure MCT oil for the first time, Left Coast advises starting slowly to avoid stomach upset.
Price (32 ounces): $24.99
---
4. Viva Naturals Organic MCT Oil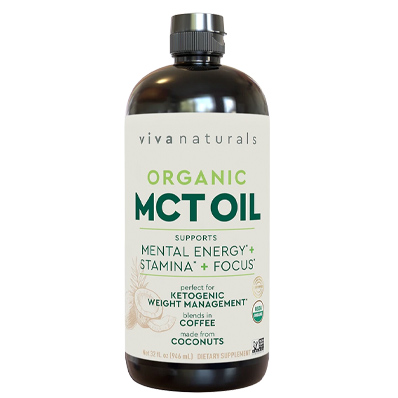 Whether you're trying to lose weight, increase energy, or enhance your focus, don't forget Viva Naturals. One of their users said that they love putting this MCT oil on their steamed vegetables and salads. You can do the same – or simply add it to your cup of coffee if you're on an intermittent fast.
Price (32 ounces): $24.99
---
5. Nature's Way Organic MCT Oil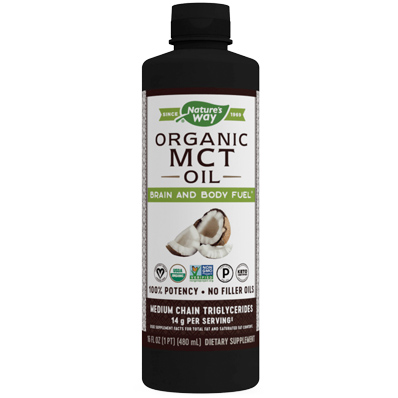 Vegan and gluten-free, this supplement is well-loved by customers who use it for fueling their early morning run. This MCT is created by Nature's Way which is a company dedicated to helping others embrace wellness. This flavorless MCT oil may be consumed up to 3 times a day. It won't alter the taste of your beverage.
Price (32 ounces): $32.25
---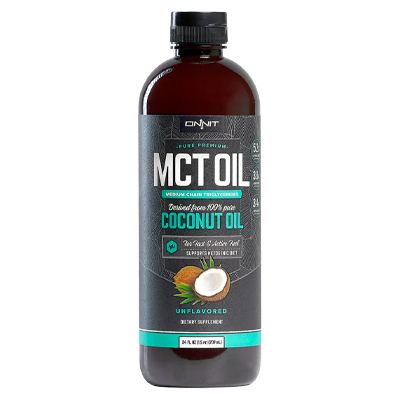 Created by Onnit, a reputable sports company, this premium MCT oil is a great option for athletes. This supplement combines C8, C10, and C12. Here's a top review from a satisfied customer: "I don't drink coffee and really haven't mixed it into anything, I'm using it as fuel so I just drink it plain basically like a shot. I don't get an upset stomach or any of the other negative side effects people describe."
Price (24 ounces): $24.95
---
7. Natural Force Organic MCT Oil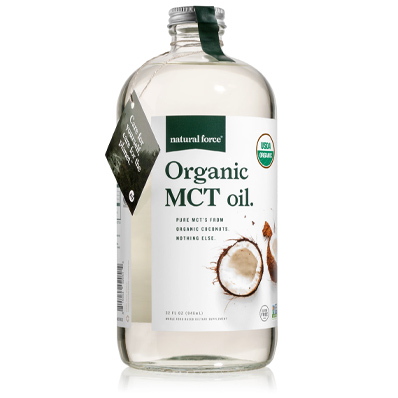 Here's another MCT oil supplement with C8, C10, C12 MCTs. Natural Force guarantees that this product is sourced from non-GMO coconuts and is lab-tested for potency, purity, and freshness. Bored of unflavored MCT oil? You'll be delighted to know that Natural Force also sells creamy MCT oil in caramel flavor with C8 and C10.
Price (32 ounces): $34.99
---
8. Bulletproof Brain Octane Oil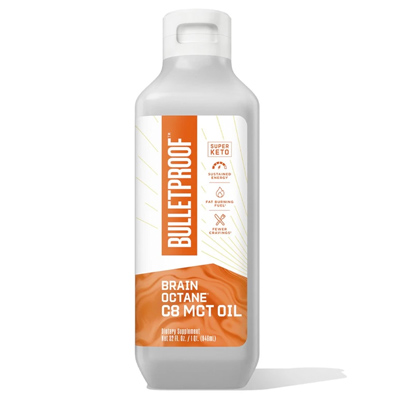 Bulletproof is a trusted brand in the ketogenic diet community. Its brain octane oil contains only C8 and is marketed by Bulletproof as a supplement for boosting brain health and burning fat. Bulletproof also offers MCT oil in soft gel form as a non-greasy and convenient alternative for people on the go.
Price (32 ounces): $48.95
---
9. Garden of Life Dr. Formulated MCT Oil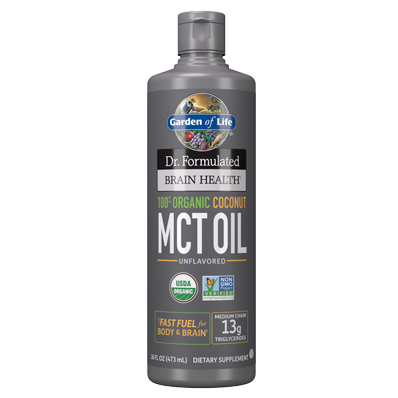 If you're easing into the keto diet and want to start with a smaller MCT oil bottle, Garden of Life has a 16 oz option. This premium MCT oil is tasteless, so you can easily blend it into your preferred beverage like coffee or tea. A blend of C8 and C10, this product is made from 100% organic coconuts.
Price (16 ounces): $19.99
---
10. Sports Research MCT Oil (C8, C10, C12)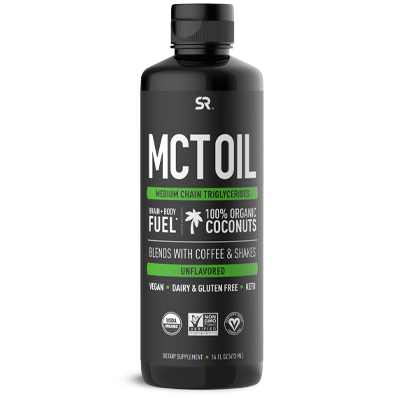 We like that Sports Research offers their MCT oil in various sizes – from 16 oz to travel packs. And while this one comes in liquid form, they also have MCT oil powder that adds creaminess to your drink. Non-GMO and vegan-certified, this supplement will help you start your keto journey right. Sports Research MCT oil should not be used with foam cups and plastics.
Price (32 ounces): $30.00
What's Your Favorite MCT Oil?
It seems that MCT oil products are all the same. Not at all!
Before choosing the best MCT oil to buy, first, decide if you want to have pure C8 caprylic acid, a combination of C8 and C10 capric acid, or C8, C10, and C12 lauric acid. We recommend reading more about these MCT oil types and their specific benefits/properties.
Overall, MCT oil is great for your fuel and weight loss needs especially if you're new to the keto diet.
Also, stick with a brand that offers top quality MCT oil products and that will give you the best bang for your buck. We hope you've learned from our list of the 10 best MCT options.