Wondering which keto bone broth to buy this year? Here are our top recommendations based on quality, taste, and real customer feedback.
Before I reveal where to buy bone broth, let's do a quick recap. Bone broth is a highly nutritious and meaty liquid that's made by simmering the bones and joints of animals for hours. Animals commonly used include cows, chickens, and turkeys.
Drinking bone broth has benefits for your body such as better digestion, reduced inflammation, and joint protection. Such benefits are due to its nutrients such as vitamins A and K, iron, fatty acids, and collagen.
Not to mention, it helps support weight loss – thanks to its low-calorie content and satiating effect. That makes bone broth one of the best options for low-carb keto dieters.
The best bone broth to support your keto lifestyle depends on your personal goals and preferences. Instead of making a bone broth recipe from scratch, see these convenient options.
1. Kiss My Keto Bone Broth Variety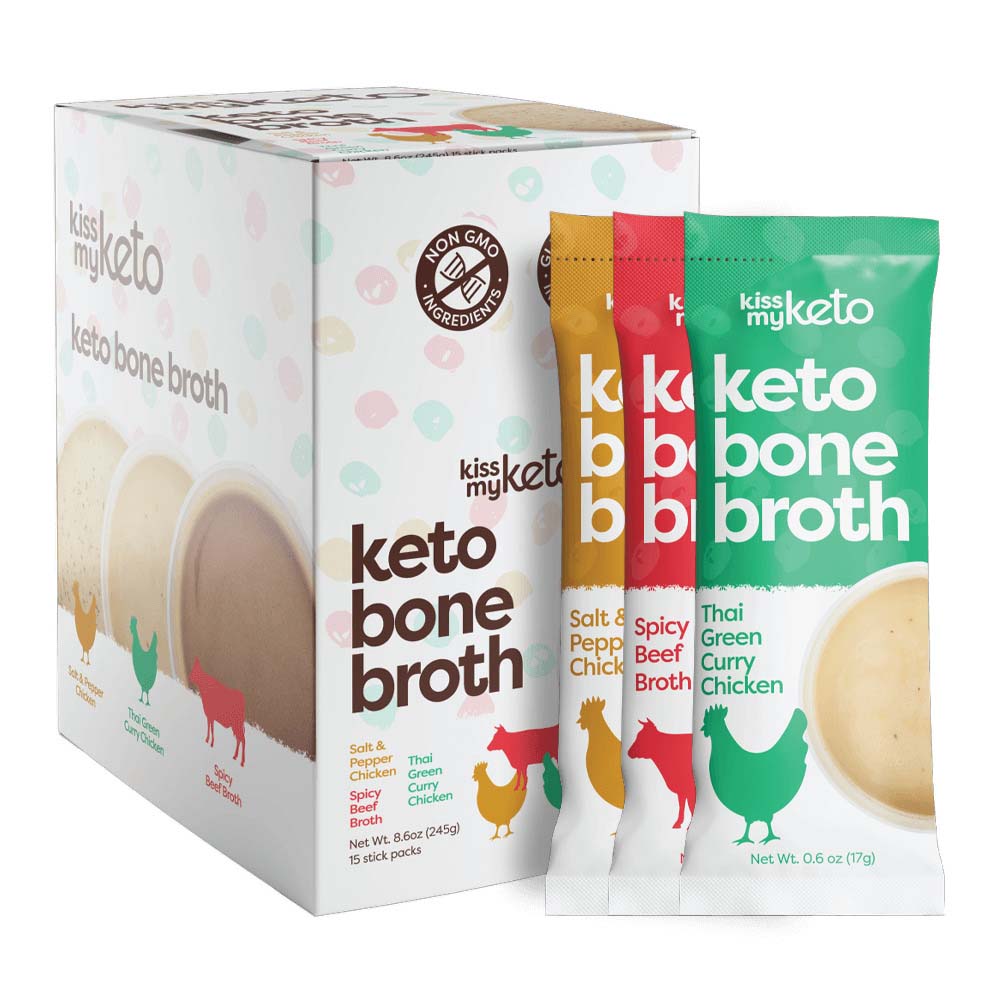 This is the best bone broth for keto if you're looking for packets to conveniently take with you wherever you go. Make bone broth by tearing a pack open and pouring hot water. You can also add the bone broth powder to enhance the flavor of your low-carb recipes.
A bonus: Kiss My Keto bone broth provides medium-chain triglycerides that help increase ketones. Choose from 4 flavors: Beef Chili, Lemon Turkey Thyme, Thai Green Curry, and Salt & Pepper Chicken Bone Broth.
Nutrition per serving (1 packet): Calories 50-80, Net carbs 1-2g, Fat 1-2.5g, Protein 10g
---
2. EPIC Provisions Beef Jalapeno Sea Salt Bone Broth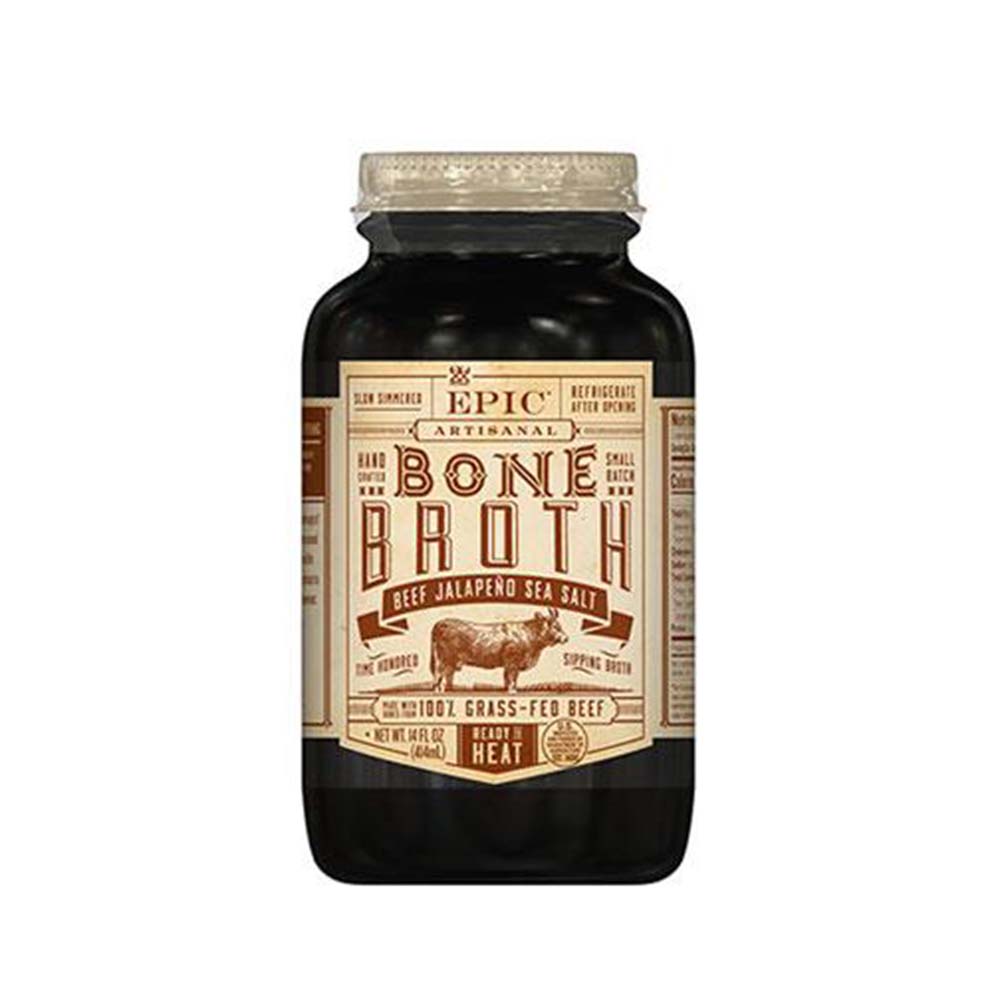 EPIC is a brand name that ketovores (keto carnivores) know well. This keto paleo and gluten-free bone broth comes in a jar and is ready to be consumed when you're hungry in between meals. Some of the healthy ingredients used for this product include grass-fed beef bones, sea salt, and apple cider vinegar.
A customer wrote: "I tried this flavor for the 1st time and fell in love and ordered a box of them."
Nutrition per serving (1 container): Calories 50, Net carbs 0g, Fat 0g, Protein 11g
---
3. Kettle & Fire Tom Yum Chicken Bone Broth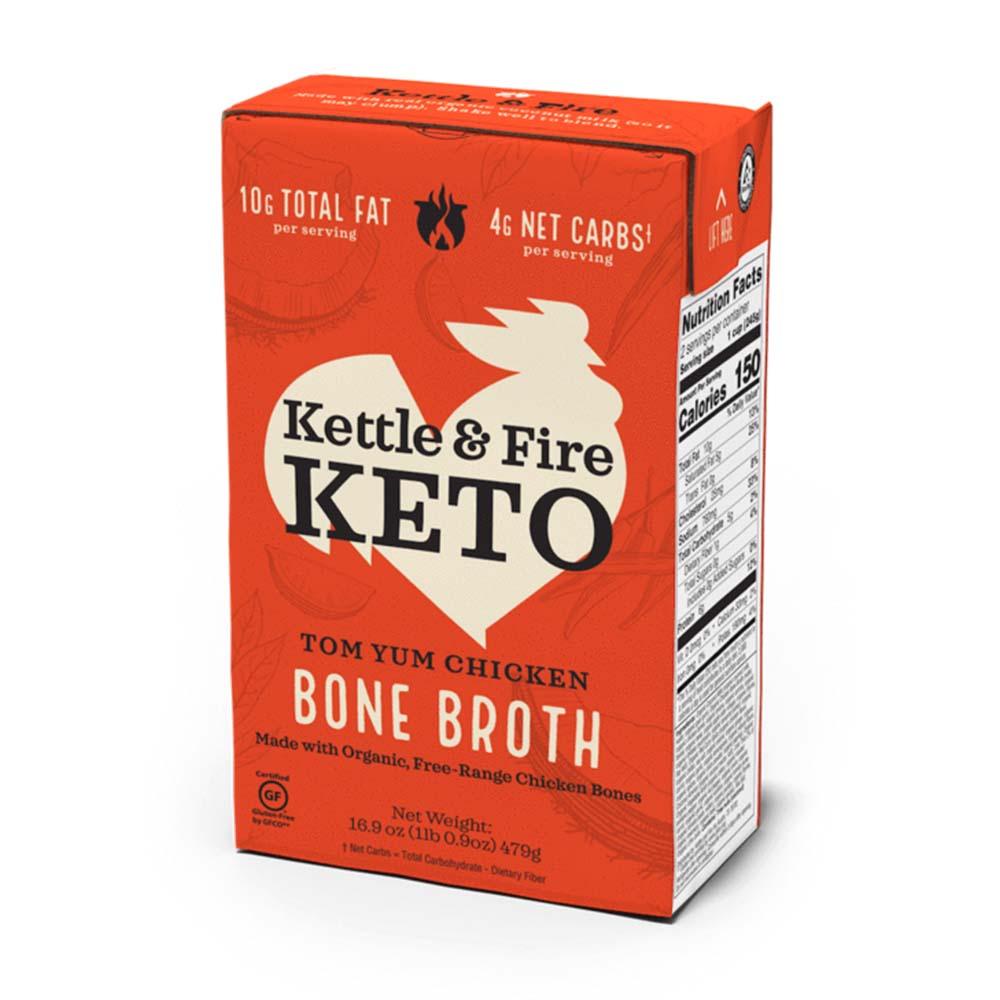 Miss traditional Tom Yum soup but hate the carbs? This Kettle & Fire bone broth product would be the perfect healthy low-carb keto replacement. One cup has only 4 grams net carbs plus it's high in fat to help your body stay fuller longer. It's also certified gluten-free, dairy-free, sugar-free, and contains collagen.
Some bone broths are low in protein, which isn't a problem – but if you want more protein, this would be a wonderful choice.
Nutrition per serving (1 cup): Calories 150, Net carbs 4g, Fat 10g, Protein 6g
---
4. Vital Proteins Bone Broth Collagen Beef Flavor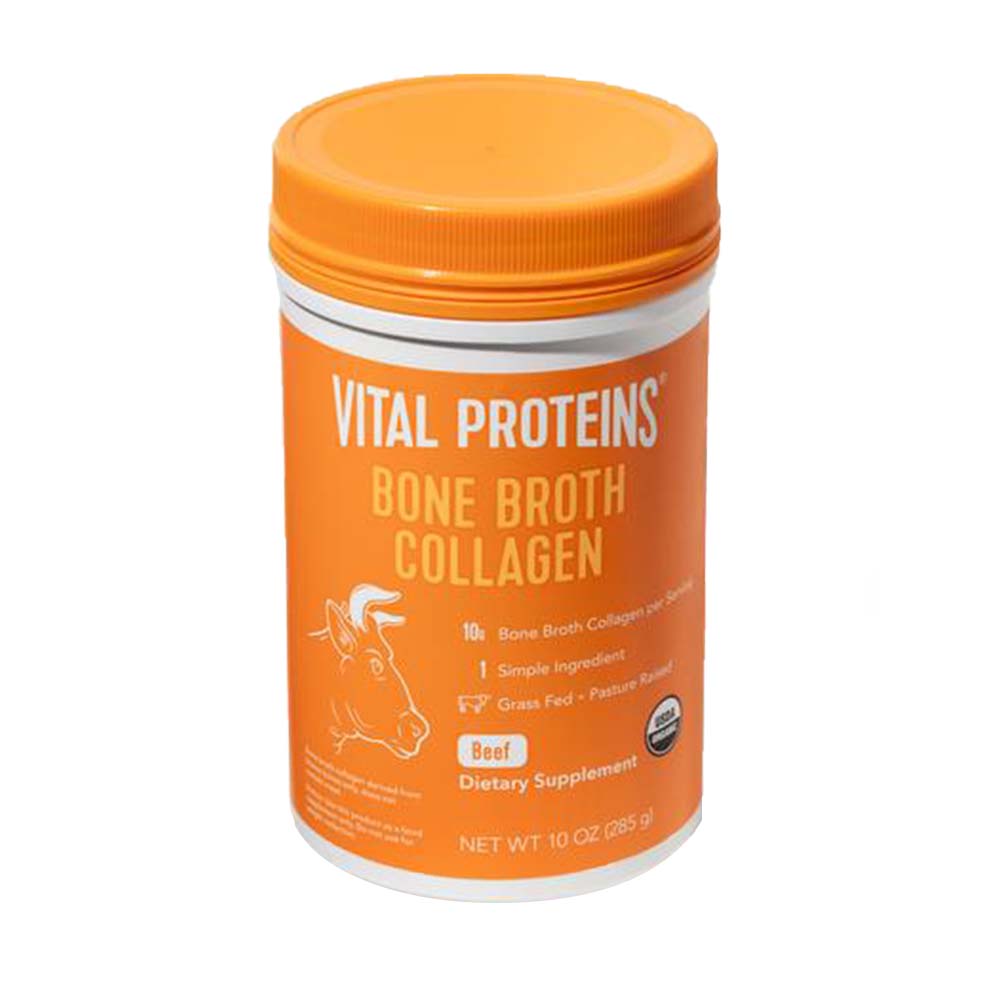 This low-calorie and low-sodium bone broth is praised for its delicious taste and quality. It also blends well without you having to stir it repeatedly. For example, a happy customer reviewed: "I just heat some water in a mug and add the bone broth powder. Stir for a minute to dissolve and we're good."
Since this Vital Proteins bone broth collagen has less sodium, some people find that they need to add a pinch of salt to bring out the flavor. But overall, it has a pleasant taste.
Nutrition per serving (1 scoop): Calories 40, Net carbs 0g, Fat 0g, Protein 9g
---
5. Imagine Organic Free Range Keto Chicken Bone Broth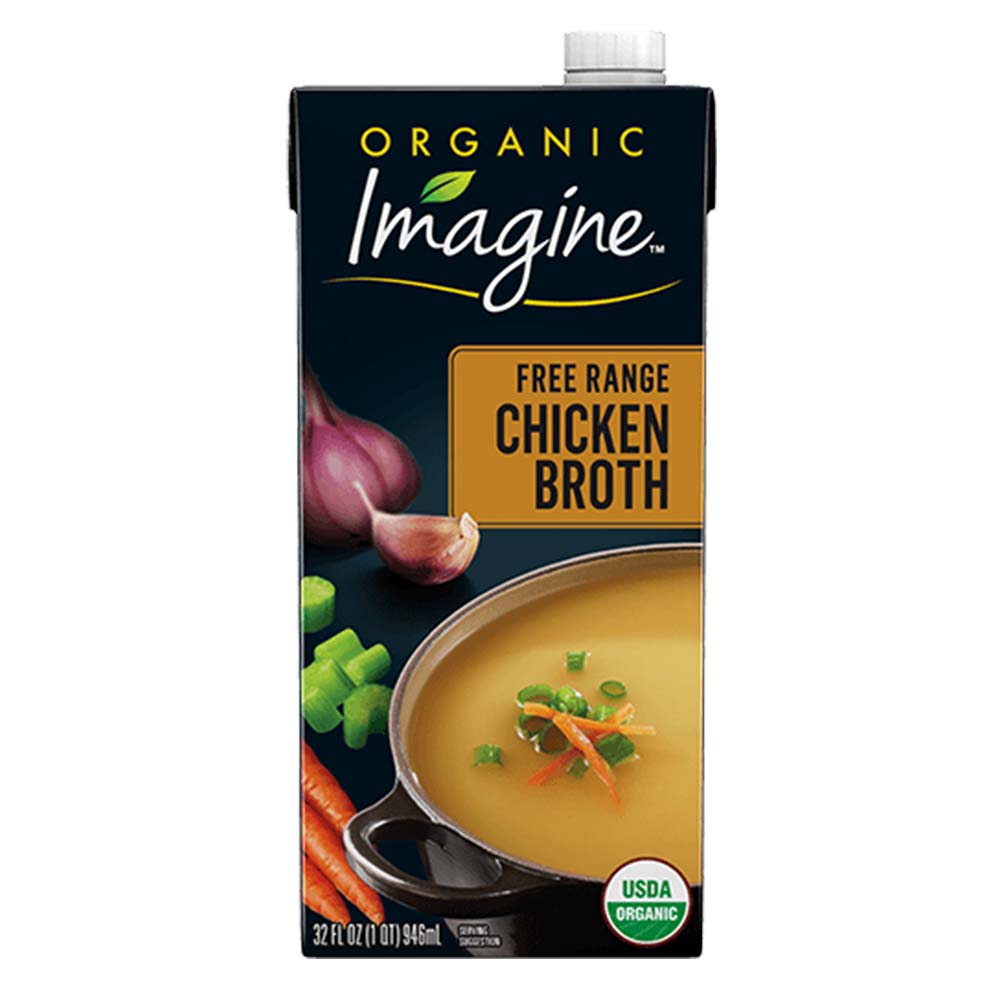 Everything in this keto broth is organic – from the chicken to the spices. With its high sodium content, it'll help you avoid the keto flu if you're just getting started on the keto diet. Drink it by itself or use it to flavor a variety of soups like chicken and cheese.
Please take note that the container used for this broth isn't microwavable. You'll have to pour the liquid into a microwavable-safe bowl first before heating.
Nutrition per serving (1 cup): Calories 20, Net carbs 2g, Fat 1g, Protein 1g
---
6. Osso Good Signature Bone Broth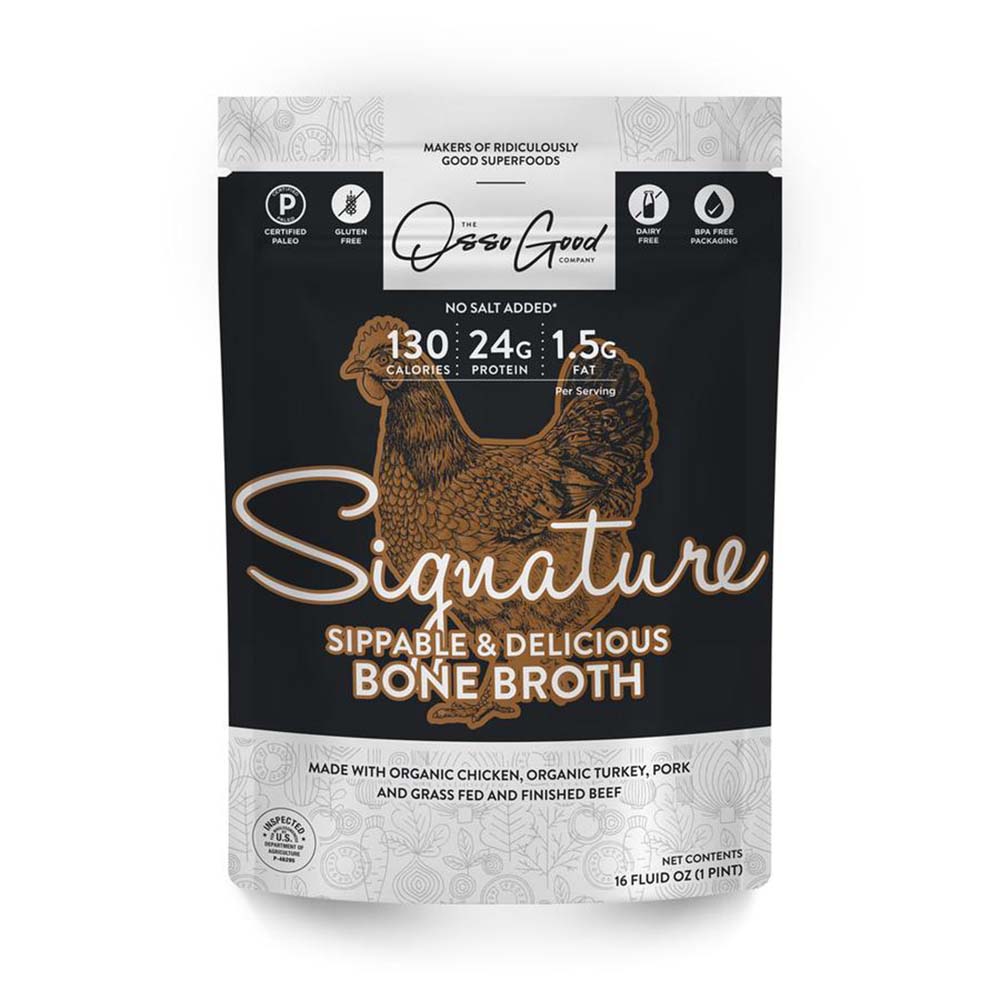 The founders of Osso Good believe that food is medicine, and that bone broth plays a big role in boosting health. Their signature bone broth combines various bone broths including chicken, turkey, pork, and grass-fed beef. And while it boasts of deliciousness, note that it has a higher carb count per serving – 5 grams in 2 cups.
Anyway, this is still a keto broth product. Just limit your consumption to one serving at a time while staying on top of your daily macros.
Nutrition per serving (2 cups): Calories 130, Net carbs 5g, Fat 1.5g, Protein 24g
---
7. Bonafide Provisions Classic Butter Keto Chicken Bone Broth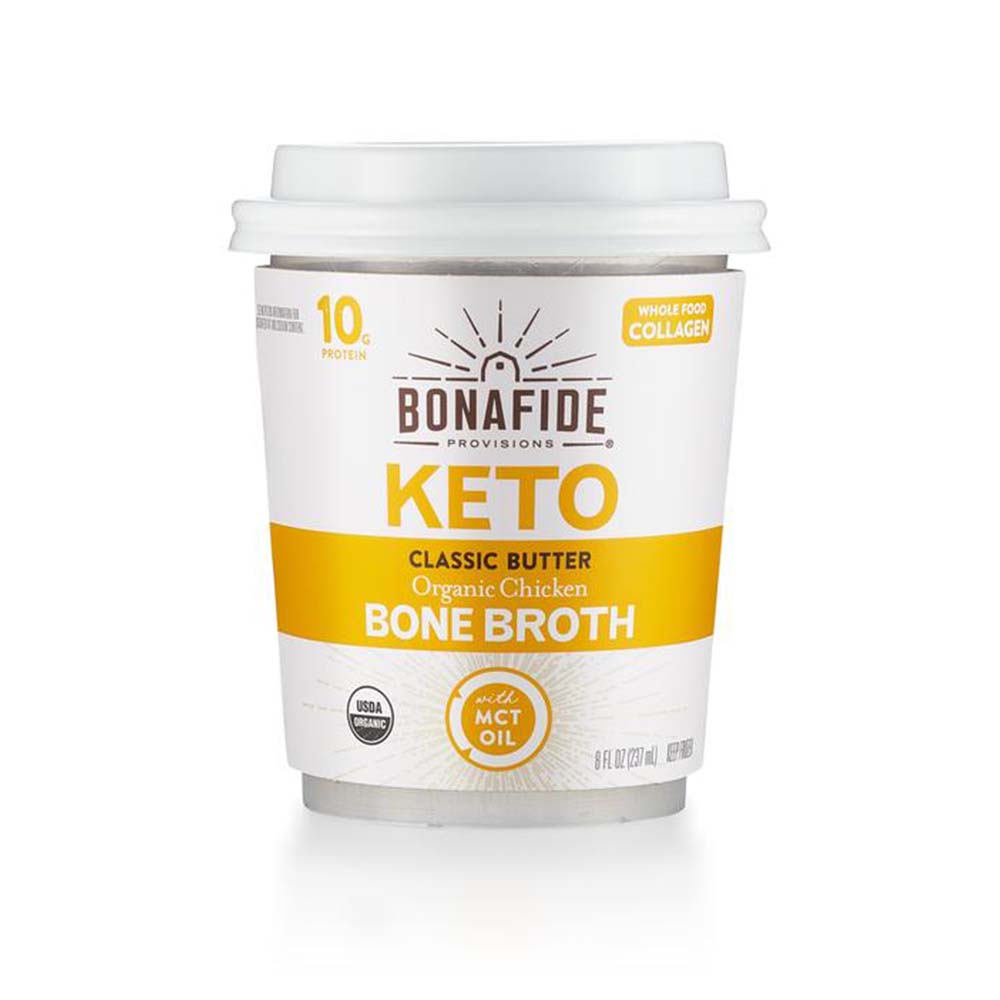 Swap your usual morning coffee with this keto paleo, gluten-free, and whole30 approved broth that comes in a cute coffee cup. It's made from organic chicken bones. To make this as healthy and delicious as possible, Bonafide Provisions adds spices, sea salt, and apple cider vinegar. This is also one of the few bone broths that include medium-chain triglycerides (MCTs). MCT oil provides energy and enhances ketosis.
I highly recommend drinking bone broth if you prefer single serve cups that you can simply thaw and heat in the microwave. A customer reviewed: "This is really good. I love the convenience of the togo cup."
Nutrition per serving (1 cup): Calories 120, Net carbs 0g, Fat 10g, Protein 10g
---
8. Thrive Market Organic Turkey Bone Broth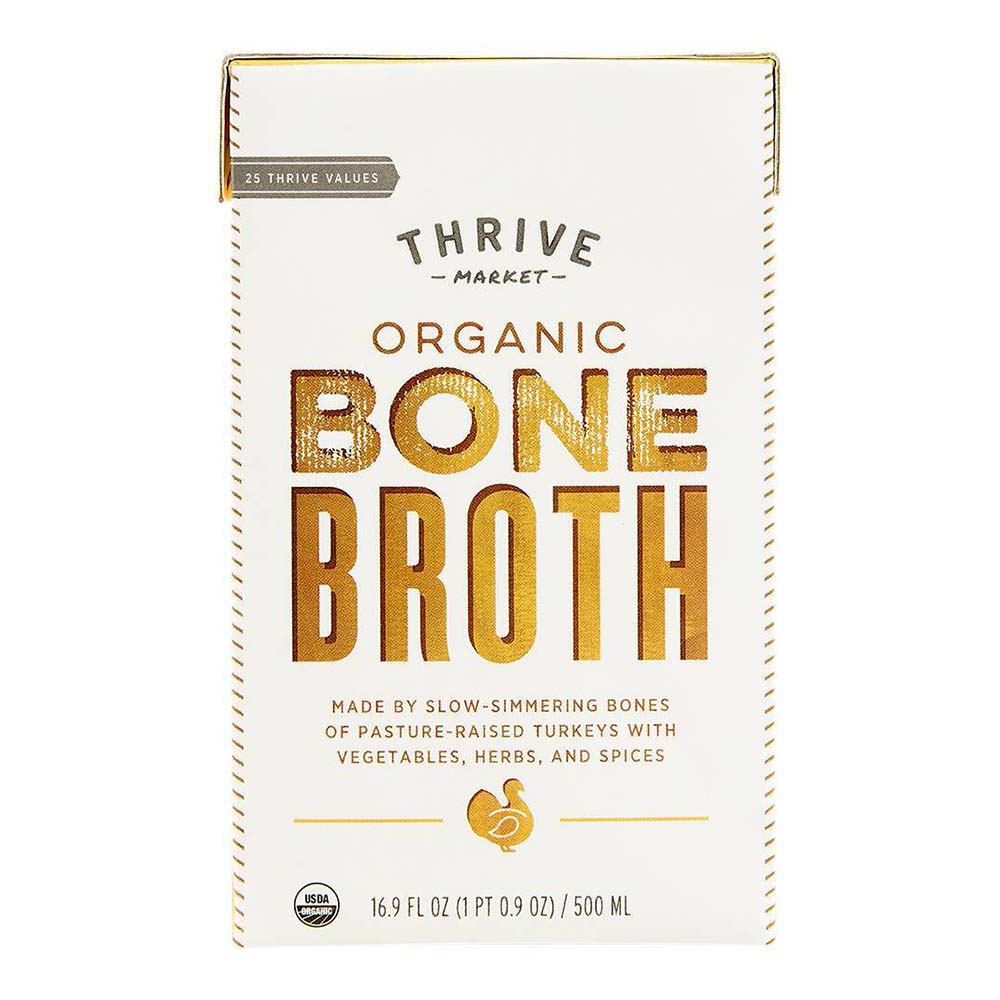 Looking for organic bone broths? Don't wait for the next Thanksgiving just to have a taste of turkey. Thrive Market sells this turkey broth that comes in a carton. Store in the fridge, and whenever you're craving bone broth, just open and pour into a bowl.
This bone broth is low-calorie and has only 1 gram of total carbs per cup. It's also low-fat. If you like, you can add it to your meals to make them more flavorful. Thrive offers grass-fed beef bone broth too.
Nutrition per serving (1 cup): Calories 60, Net carbs 0g, Fat 1.5g, Protein 10g
---
9. Bare Bones Instant Beef Bone Broth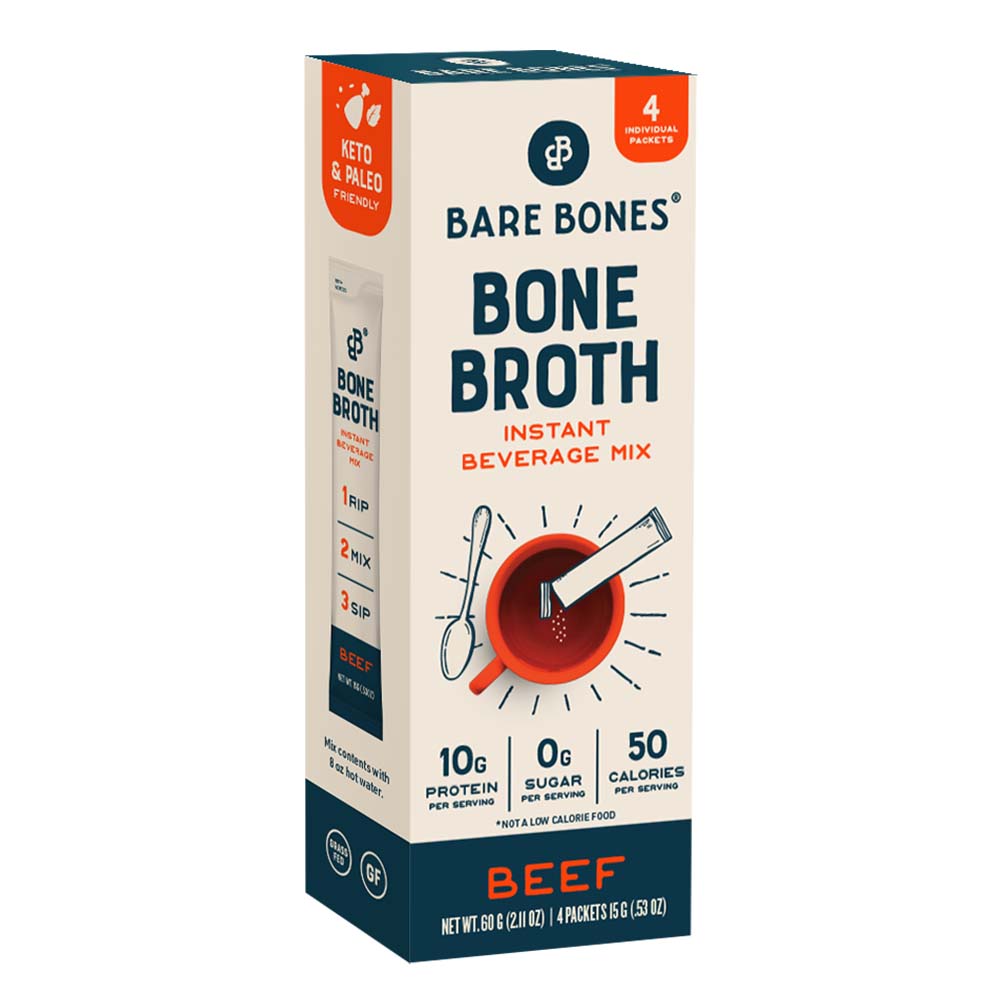 This may be an instant and easy beverage, but it's made with your nutrition and hydration in mind. It's a mixture of broth, herbs and spices, and has enough protein to increase your satiety. Bare Bones recommends starting with 3 servings (3 packets) per week for a minimum of 30 days.
Instead of eating your usual snack, have this bone broth powder as a replacement. It's light yet satisfying!
Nutrition per serving (1 pack): Calories 50, Net carbs 1g, Fat 0g, Protein 10g
10. Brodo Vegan Seaweed & Mushroom Broth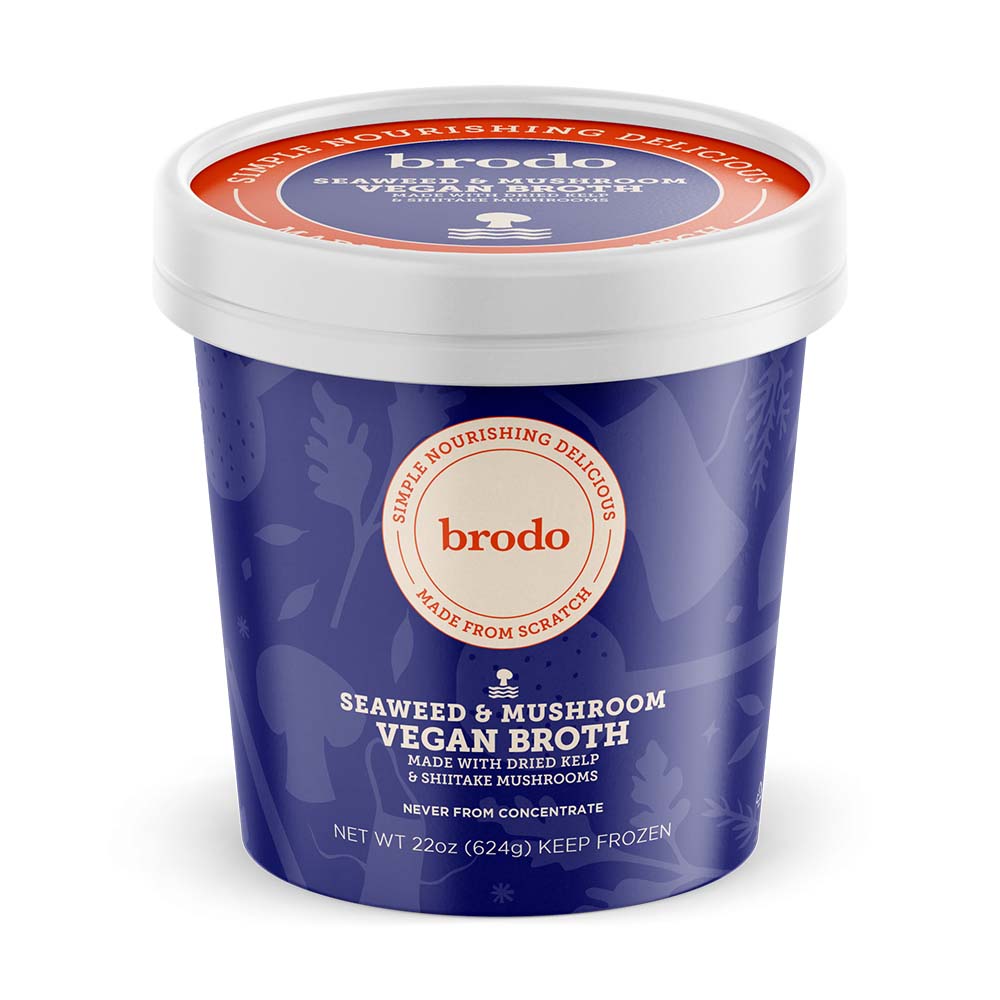 Are you on a plant-based keto diet? If so, then give this keto paleo product a go. Its ingredients include dried kelp, shiitake mushrooms, organic tomatoes, and spices. This will last for up to one year! Just make sure to store it in the freezer.
Other fan favorites include Brodo's signature bone broth, grass-fed beef bone broth, and organic chicken bone broth.
Nutrition per serving (1 cup): Calories 25, Net carbs 4g, Fat 0g, Protein 1g
What's Your Favorite Bone Broth Keto Product?
These are the best bone broths we recommend. Make bone broth a delicious way to start your day, keep you full, and support a healthier low-carb keto lifestyle. Before buying, check the macros and ingredients to ensure that you're getting the right stuff.
Tip: If you often cook low-carb recipes, adding a good bone broth powder makes your meals more flavorful and nourishing!
If you're always on the go, you might want to consider keto broth that comes in travel-friendly packets like Kiss My Keto. Click here to shop.