Keto baking mixes to buy in 2021 include pancake, waffle, cookie, and brownie products. See this list of the 9 best ones that will make your morning routine hassle-free.
If you love taking shortcuts, then you'll really love keto baking mixes. And you'll also be happy to learn there's no shortage of premixes for low-carb cookies, muffins, brownies, pancakes, waffles, or quick bread in 2021!
These are more often than not the dry ingredients you normally use in these goods, but some will also contain dried eggs, fat, and protein. The best keto baking mix to buy, however, will contain the least amount of carbs possible while not compromising on the flavor factor. And it goes without saying the top-notch ones will have nothing but quality stuff.
So, which keto baking mix to buy and get your money's worth? See our shortlist below.
1. Kiss My Keto - Keto Baking Mix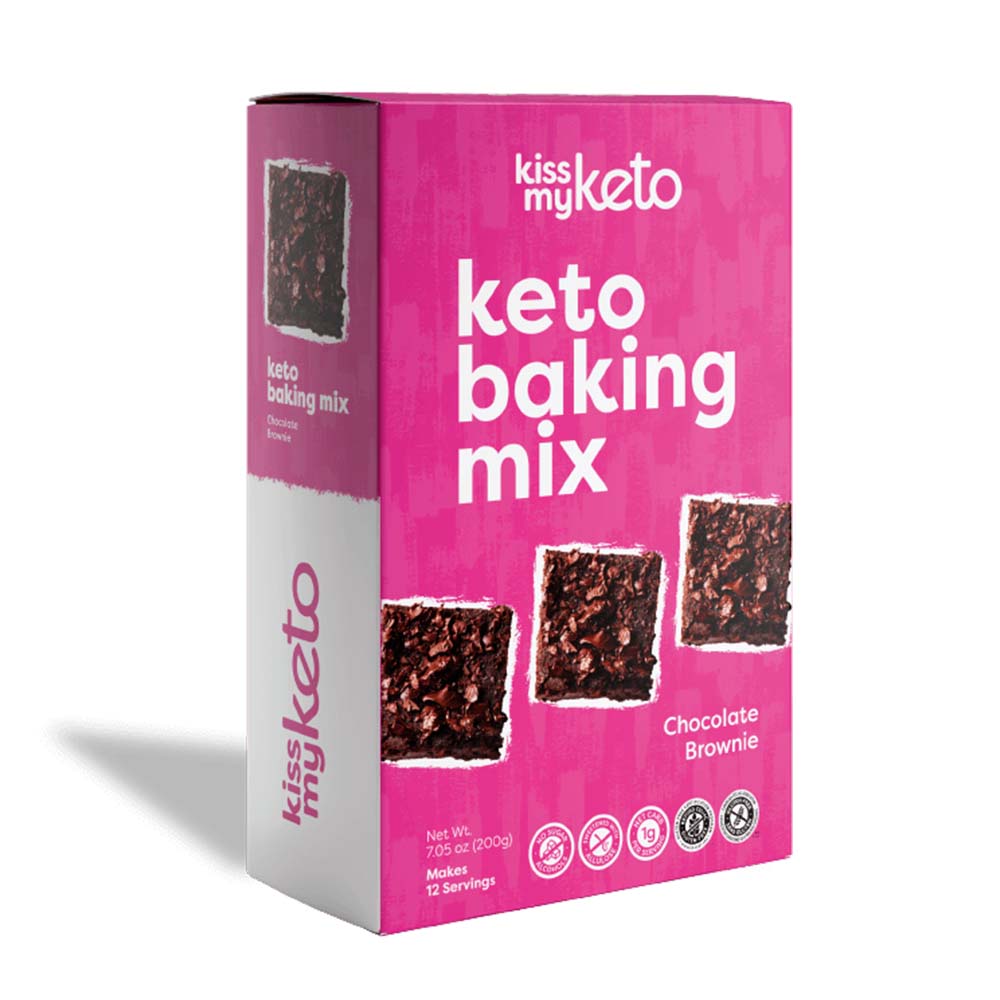 Kiss My Keto's line of baking mixes includes chocolate brownie, shortbread cookie, and snickerdoodle cookie premixes. All have no more than 1-2g net carbs in a serving because they're made with super low-carb ingredients, like almond flour, coconut flour, allulose, and monk fruit, to name a few. Besides being low-carb, Keto Baking Mix is gluten- and sugar-alcohol-free.
To prepare these, you'll only need additional eggs, butter, and water. And you can even use them for different purposes than intended — like in microwave mug cakes or pancakes. Another bonus here is added MCTs: each box contains this ketone-boosting and appetite-curbing fat.
Nutrition (2 ½ Tbsp brownie mix): 40 calories | 3g fat | 1g net carbs | 5g protein
Price: $9.99
2. Keto Pancake & Waffle Mix - The Muscle Donut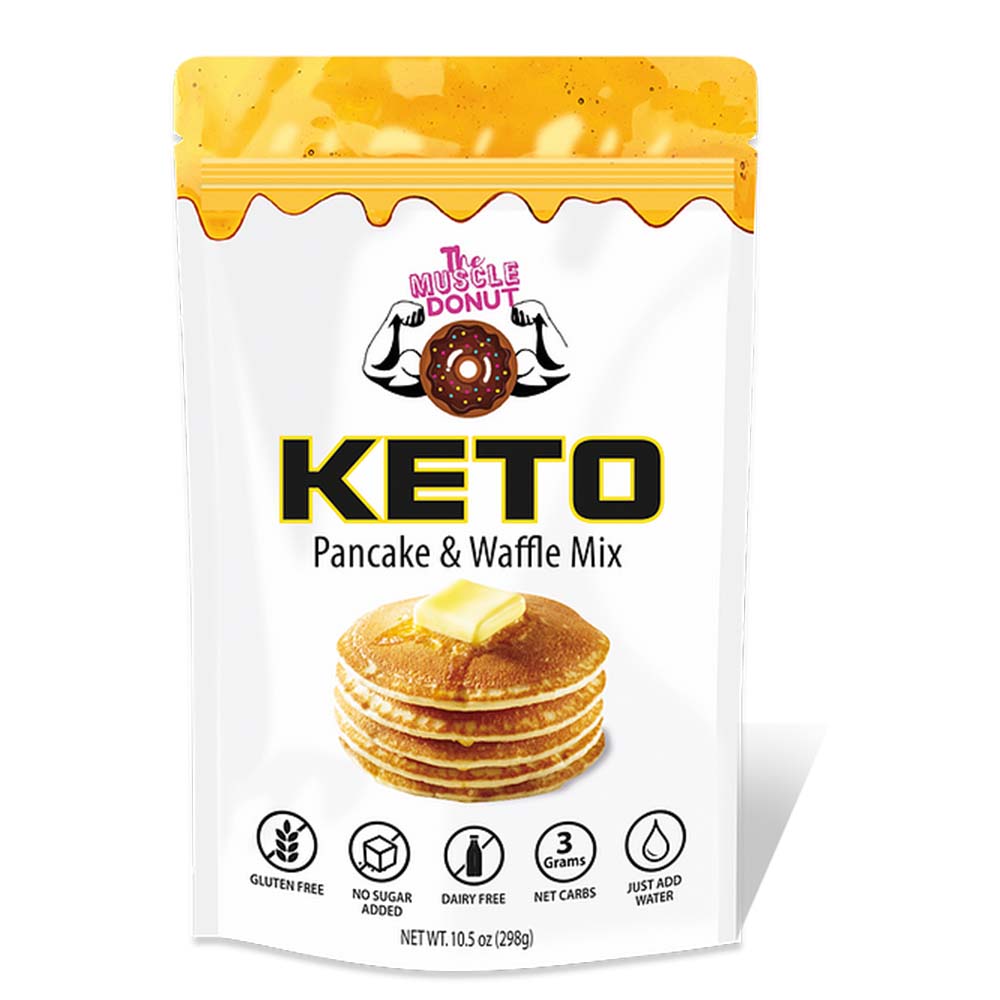 Muscle Donut offers a couple of healthy versions of your normally guilty pleasures, like donuts, cookies, and bread rolls. This product is no different — tasting decadent but being good for you!
Sold in a generous 5lb bag, this pancake and waffle mix will be your backup breakfast for weeks ahead. It's made with simple ingredients, like almond flour, organic cassava flour, and whole dried egg, and all you need to add is water. This makes it super convenient for camping and when traveling.
As spelled out in the name, this product is keto. However, it's also paleo, dairy-free, gluten-free, and rich in protein. This is flavored with cinnamon, but you can add compatible flavorings in case you'd like more variety with your waffles and pancakes.
Nutrition (¼ cup): 160 calories | 10g fat | 3g net carbs | 9g protein
Price: $59.99
3. Miss Jones Keto & Paleo Blueberry Muffin Mix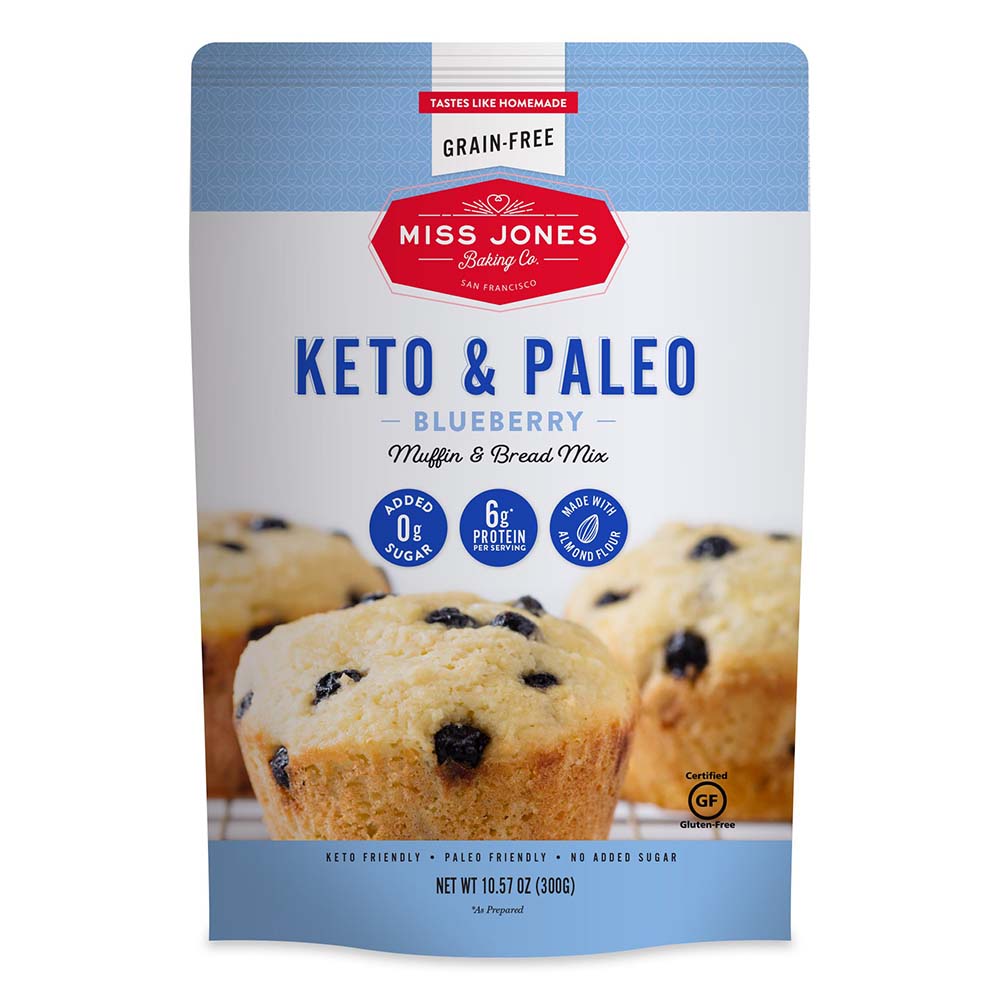 On some days, it's hard to get the recipe for perfect muffins right. They end up either too dense and chewy or they're dry and crumbly. To save yourself the frustration, try out keto baking products like this one.
It's a combo of blanched almond flour, baking powder, dried blueberries, and flavorings. All you need to add is the recommended amount of wet ingredients and they'll come out perfect every time. Feel free to use non-dairy milk and experiment with your favorite add-ins or toppings.
One muffin has around 4g net carbs, which means you'll need to keep portions small if you want to stick to your carb limit. On the other hand, this may be a completely acceptable carb limit if you're carb cycling or if you have an upper carb count.
Nutrition (per muffin): 180 calories | 15 fat | 4g net carbs | 6g protein
Price: $9.99
4. Low-Carb Banana Bread Mix - LC Foods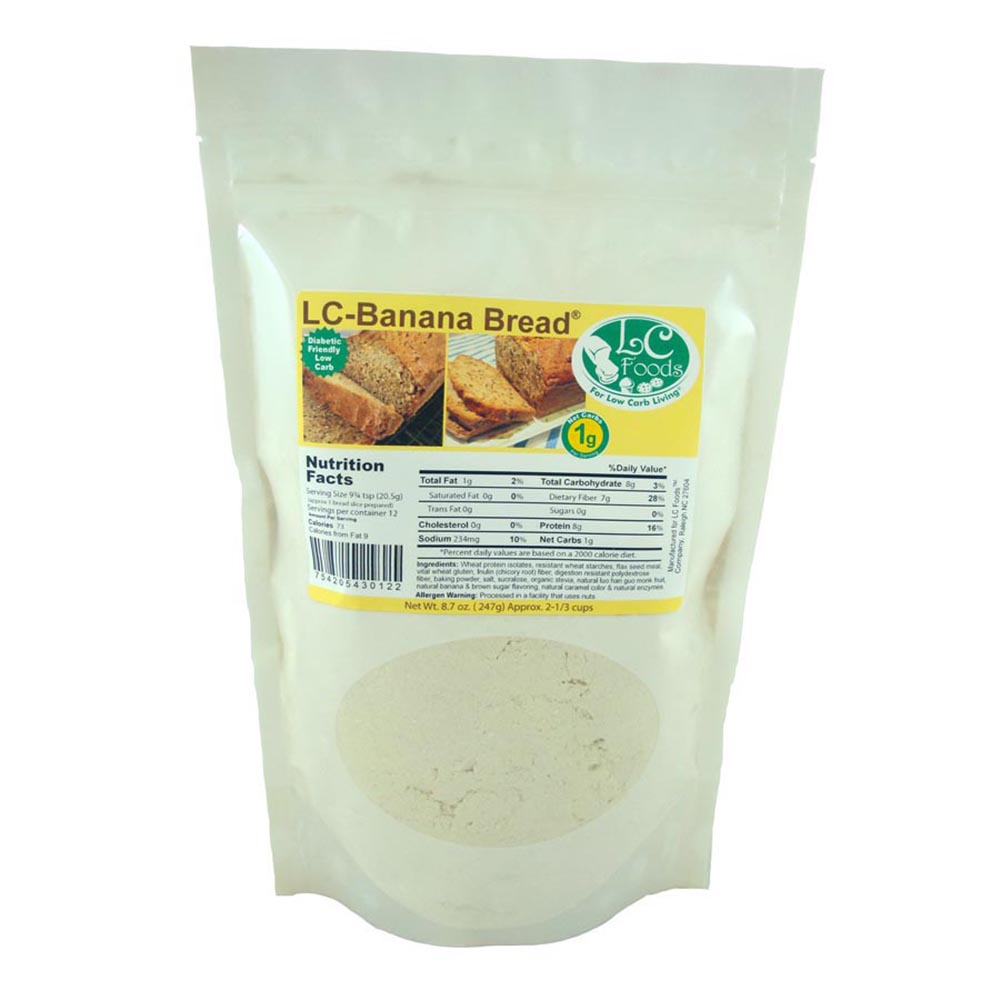 LC Foods has a range of products for the low-carber. These include diabetic baking mixes, low-carb flour blends, and items like this Low-Carb Banana Bread Mix. At only 1g net carbs in a serving, this is definitely the best keto baking mix to buy when you really need to watch your carb count but satisfy your love for banana bread.
It's a blend of low-carb wheat derivatives, which definitely helps in achieving that quick bread texture. And don't worry about this containing bananas; the product uses natural banana flavors and monk fruit. You'll need to add oil, eggs, butter, and a couple of other wet ingredients, so this isn't your all-in-one mixture.
Like many other keto baking mixes, you can experiment with add-ins here, like walnuts or sugar-free chocolate chips.
Nutrition (per slice): 73 calories | 1g fat | 1g net carbs | 8g protein
Price: $9.98
5. Chocolate Cake Mix - Swerve Sweets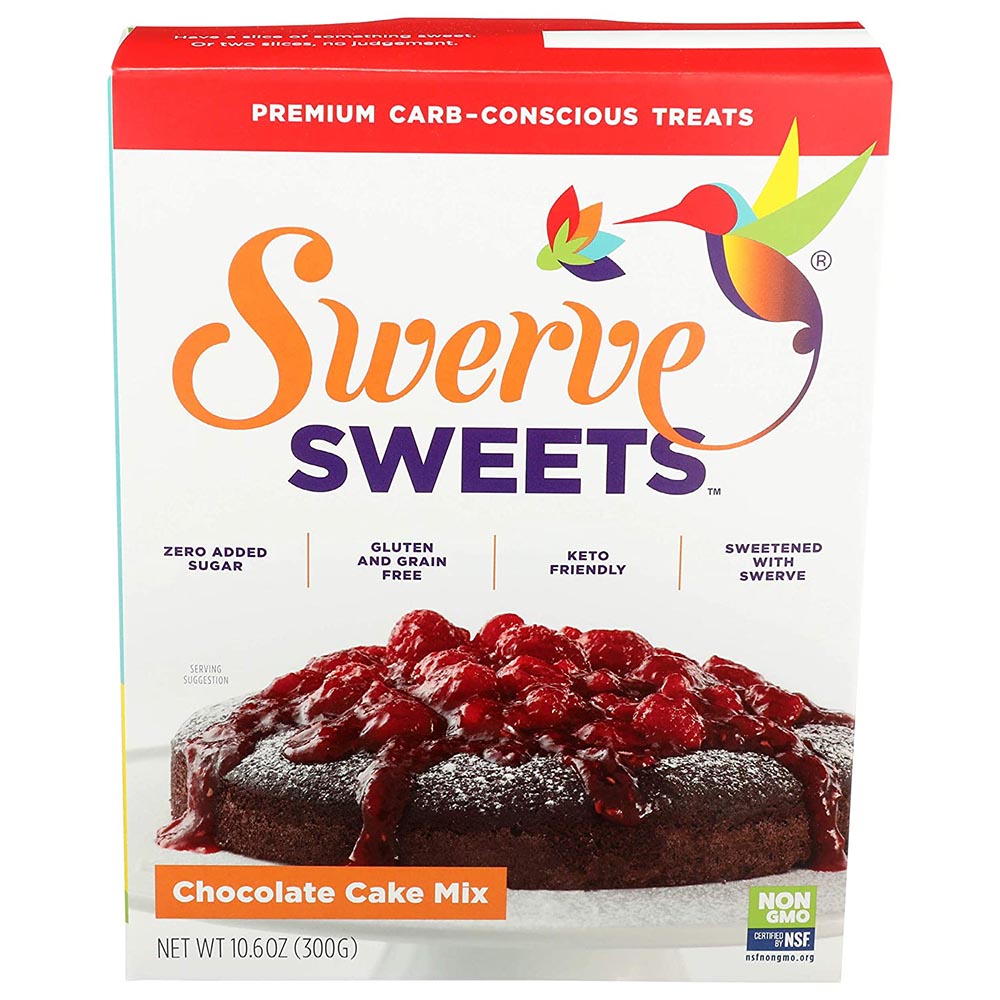 Another sugar-free baking mix to make your life easier is this one by Swerve Sweets. If you have trouble mastering the perfect chocolate sponge or just need something handy for quick cake making, this product can help.
One packaging yields one cake layer that you can top with your favorite frosting or glaze. Without these, you'll get around 3g net carbs in a slice. The ingredients are simple: blanched almond flour, organic coconut flour, cocoa, and oligosaccharides, among other things. And, by the way, the oligosaccharides add natural sweetness and they work as prebiotics to support your gut health.
Nutrition (per slice): 70 calories | 6g fat | 3g net carbs | 3g protein
Price: $24
6. Vanilla Keto Cake Mix - Keto & Co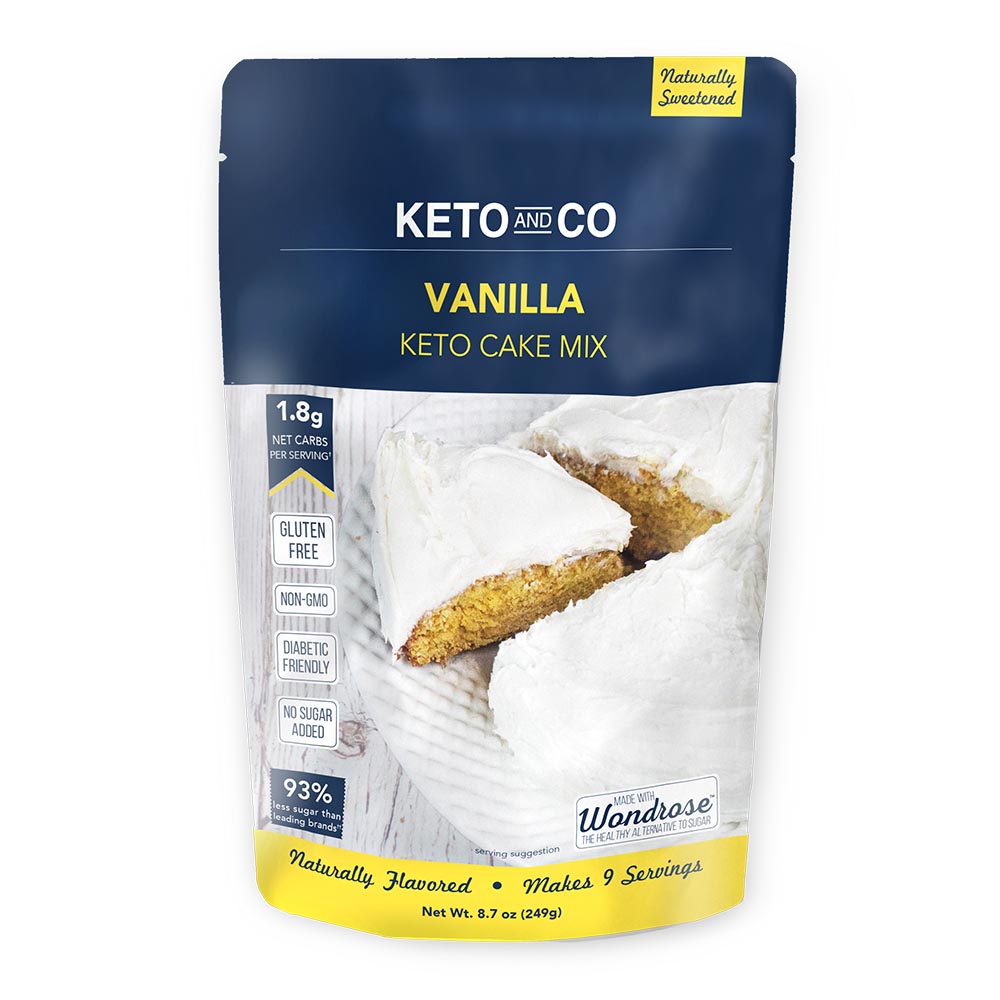 Or maybe you like vanilla cake better? Then Keto & Co has a great option for you made with coconut flour. You'll need eggs, butter, and vinegar to go with this product to get one vanilla cake. To make it dairy-free, replace the butter with equal parts coconut oil and it will still taste great.
This keto baking mix to buy contains Wondrose sweetener, a combination of erythritol, fiber, and monk fruit. Its ingredients are natural, keto, diabetic friendly, and vegan. You can also use this premix for muffins, cupcakes, cake pops, and red velvet cake.Just check out one of their keto baking mix recipes available on their website. Besides vanilla flavor, Keto & Co also sells a chocolate cake premix.
Nutrition (1 slice): 130 calories | 11 fat | 1.8g net carbs | 4g protein
Price: $9.99
7. Chocolate Chip Keto Pancake & Waffle Mix - Birch Benders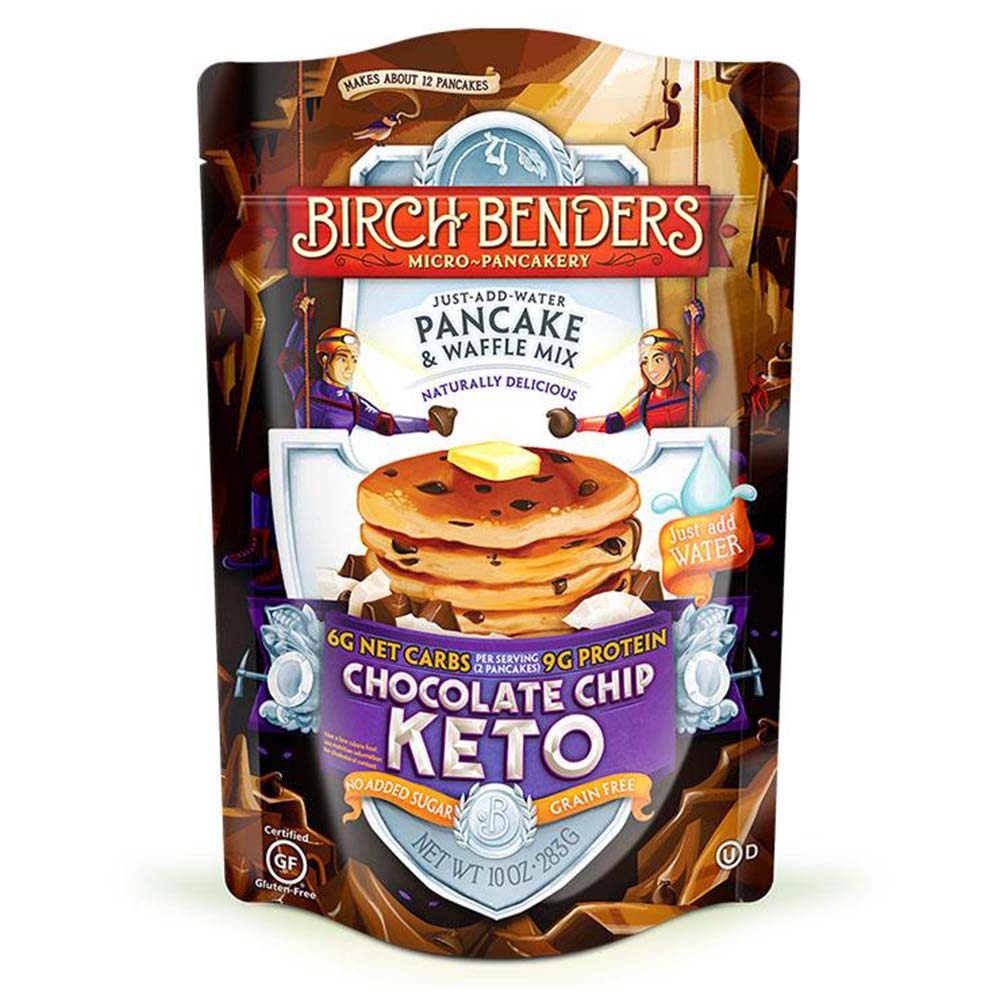 Birch Benders has something for every diet, and this keto-friendly mix is one of their tastiest products for keto eaters. It is a blend of unique ingredients that yield fluffy pancakes with gooey chocolate chips. These include tigernut flour, buttermilk, organic coconut flour, and eggs.
This is all-in-one premix that you mix just with water, so definitely convenient for camping and travelling. It has around 6g of net carbs in a serving. But since you won't need to add other ingredients, this is pretty acceptable. Plus, there are 9g of protein in two pancakes to keep you full and satisfied.
If you'd like plain pancakes, Birch Benders offers these too, as well as many other keto baking products.
Nutrition (2 pancakes): 210 calories | 14 fat | 6g net carbs | 9g protein
Price: $7.99
8. Cheesy Bread Muffin Mix - Diabetic Kitchen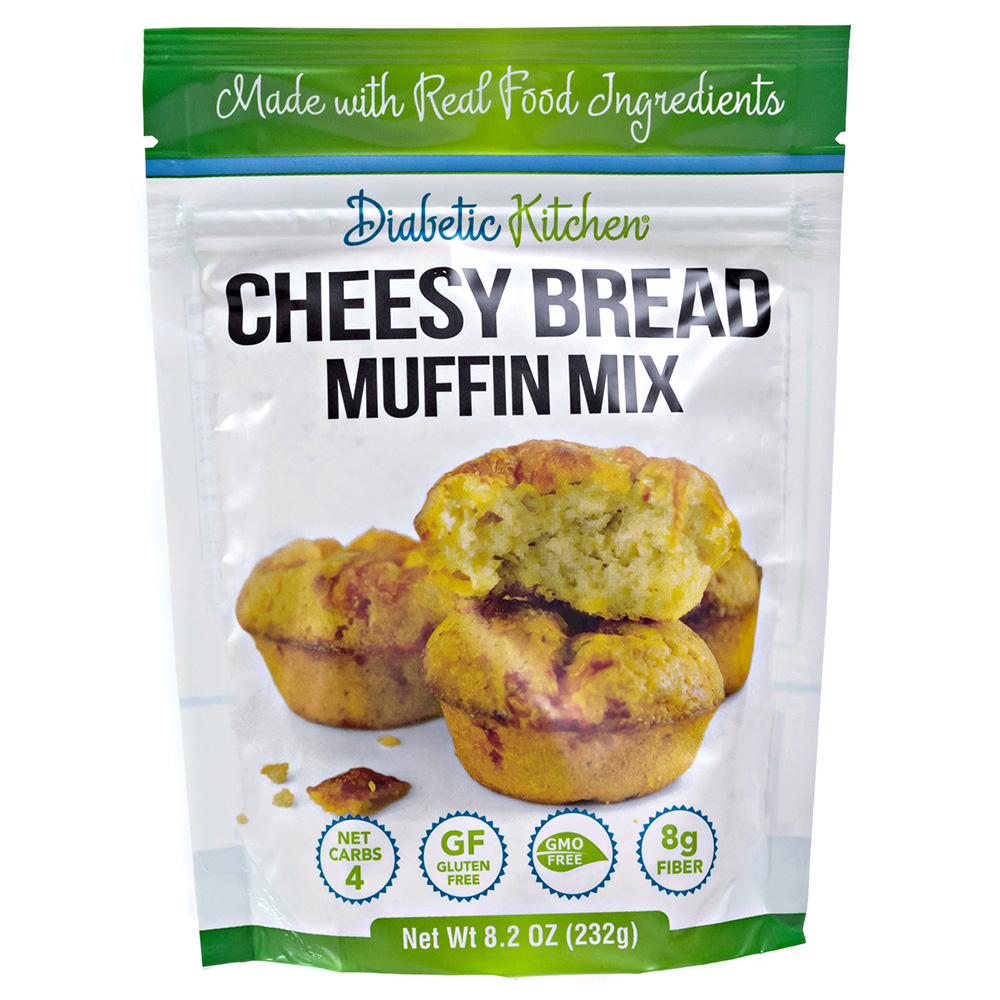 Looking for something on the savory side? Diabetic baking mixes like this one can work with the keto diet as well. This is a premix made with milled sunflower seeds, prebiotic fiber, coconut flour, and natural sweeteners. It does contain ingredients normally forbidden on keto, but the low-carb count makes up for this.
Like many other premixes on the list, this one contains the dry portion of a recipe. You'll need to add the wet ingredients, including the cheese as a result. If you follow the recipe on the packaging, you'll get 9g of protein with one muffin.
Nutrition (1 muffin): 190 calories | 14 fat | 4g net carbs | 9g protein
Price: $9.99
9. Sukrin Bread Mix - Fiber Bread (3-Pack) Keto Bread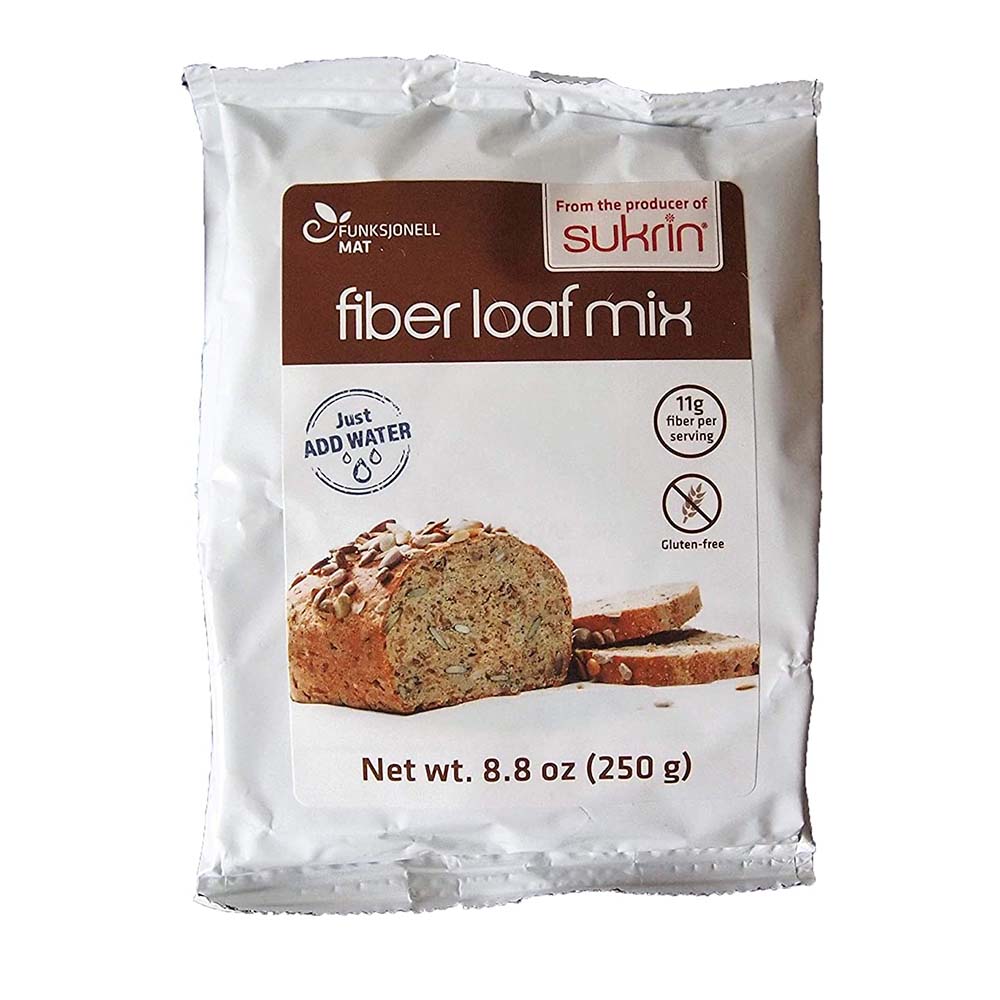 Another savory option on our list is this bread by one of the best known manufacturers of low-carb sweeteners. It's a seed-based fibrous bread that you'll find is pretty close to regular wheat bread.
One slice has only 1g of net carbs but over 30% of the daily value for fiber. This makes it great for meeting your protein needs on keto without risking being kicked out of ketosis. Other than being keto, this product is also gluten-free, vegan, and non-GMO.
To prepare this loaf, all you'll need to do is add water, stir, and bake. No need for proofing or kneading whatsoever, making it convenient on so many levels.
Nutrition (1 muffin): 70 calories | 3.5 fat | 1g net carbs | 4g protein
Price (3-pack): $29.99
What's Your Favorite Keto Baking Mix Product?
Already have a favorite baking product? We'd love to hear more about it. If you're just starting out with keto-friendly premixes, we hope our list helps you find the best product for your needs and tastes.
These keto baking mixes you can buy online and in stores can help with failproof keto baking. While they don't necessarily save you time, they do make baking and cooking less of a hassle. Plus, some of these are great for outings and travel. Make sure to count their carb count together with potential add-ins and you'll see these can fit perfectly into any keto diet plan.