Most chocolate is not allowed on keto. But keto dark chocolate is. Chocolate with a high cocoa percent and, ideally, one with no added sugar can go perfectly with a keto diet. Below are some examples of dark chocolate brands to consider on your keto diet.
Most sweets are not compatible with keto because of their sugar/carb content, chocolate included.
But what about dark chocolate? Isn't this type lower in carbs compared to milk chocolate?
Well, dark chocolate falls in the gray area of foods you can eat on the keto diet. Most brands are still high in carbs, though – a typical bar with 70-85% cocoa solids, for instance, has around 35g net carbs. And even sugar-free brands will contain a substantial amount of carbs simply because cocoa solids are relatively high in carbs.
For all these reasons, eating chocolate in moderation and going for brands with the lowest carb count are your best options.
With that said, which dark chocolate is best for keto?
We found 9 that'll make you feel less guilty about having chocolate on a low-carb lifestyle.
1. Kiss My Keto - Keto Dark Chocolate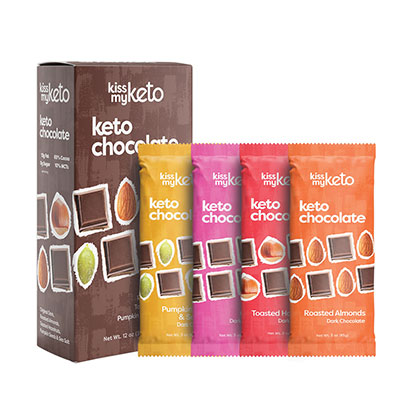 Keto Dark Chocolate comes in four flavors: Original, Roasted Almonds, Toasted Hazelnuts, and Pumpkin Seeds & Sea Salt, all coming in at around 1g net carbs per ⅓ bar serving. Made with 65% cocoa solids, enriched with MCTs, and sweetened with erythritol, these are the very definition of keto-friendly chocolate. And they're dairy-free to boot.
Price: $24.99 (4 pack)
---
2. Lily's Extra Dark Chocolate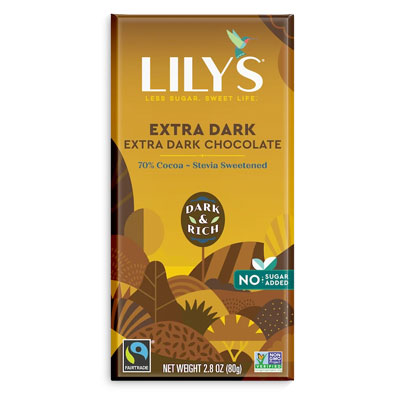 Made with 70% cocoa and stevia (a GI-friendly sweetener), this keto-approved chocolate has only 2g net carbs per 30g serving. For those who need to avoid gluten, you'll be happy to learn this product is certified gluten-free. And if you like your dark chocolate flavored, Lilly's also offers this product in Blood Orange, Salted Almond, Sea Salt, and Salted Caramel Flavors.
Price: $19.99 (4 pack)
---
3. Green & Black's Organic Dark Chocolate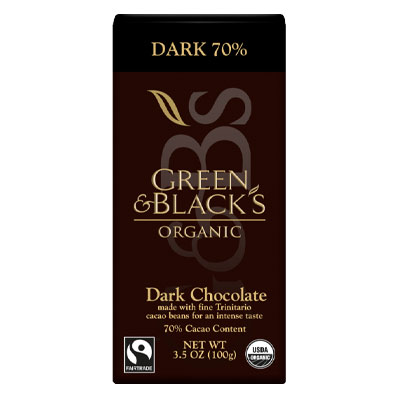 Green & Black's Dark Chocolate with 85% cocoa solids is not only organic but also ethically sourced. It's made with a handful of simple ingredients, giving it a rich and smooth taste we're sure you'll love. Unfortunately, sugar is one of these ingredients, but a 30g serving still provides just 7g of net carbs.
Price: $3.18 (1 bar)
---
4. ChocZero 70% Dark Chocolate Squares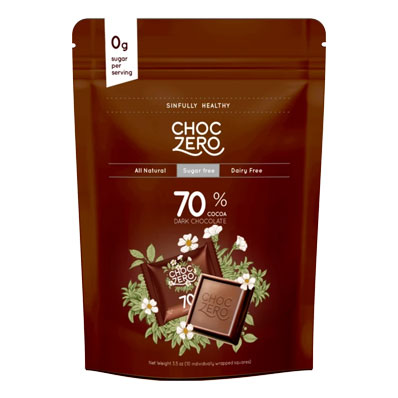 Sold as individually packaged squares, this low-carb dark chocolate makes it easier to track your macros. And speaking of macros, 1 square has only 1g net carbs. It's sweetened with monk fruit, a natural, GI-friendly sweetener. It's also vegan, soy-free, gluten-free, dairy-free, and made with non-GMO ingredients.
Price: $4.50 (1 bar)
---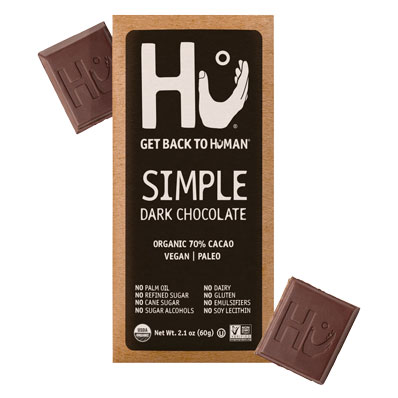 Hu's focus is on natural, organic, unprocessed, and just healthy ingredients. And their Dark Chocolate collection is no different. You can choose between 8 different flavors, but their Simple Dark Chocolate made with 70% Organic Cocoa is best at 10g net carbs in half a bar. The product is also vegan and paleo in case you were curious.
Price: $7.25 (1 bar)
---
6. Lindt Excellence Supreme Dark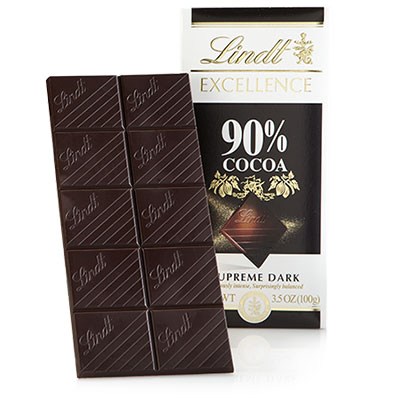 Coming from one of the biggest (and oldest) chocolate companies out there, you can expect a product that's nothing short of excellent from Lindt. At a whopping 90% cocoa solids and 7g net carbs, this is the best chocolate for keto in this range. While it is higher in carbs than other brands, it's still at an acceptable range for a product that has added sugar.
Price: $3.99 (1 bar)
---
7. Alter Eco Deep Dark Blackout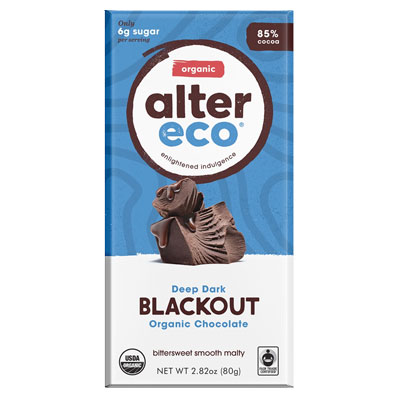 The flavor of this chocolate is described as bittersweet, smooth, and malty, and it's thanks to a combination of different cocoa varieties. It's made with 4 organic ingredients, namely cacao beans, cocoa butter, cane sugar, and vanilla beans. While the added sugar is a downside, it still has just 5g net carbs making it one of the best keto chocolate brands.
Price: $3.99 (1 bar)
---
8. Endangered Species Strong + Velvety Dark Chocolate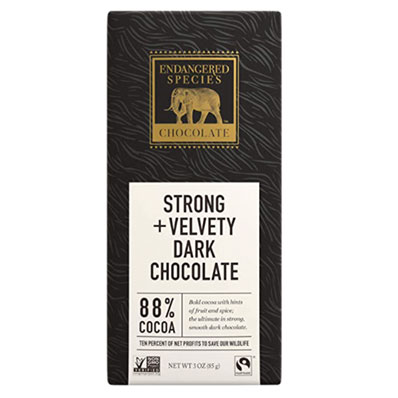 This is the best low-carb chocolate made with environmental protection in mind. While the company does offer a wide range of dark chocolate, this particular one has 88% cocoa and 7g net carbs per ⅓ bar serving. The product is also certified gluten-free, certified vegan, and GMO-free.
Price: $36 (12 pack)
---
9. ChocoPerfection Dark European Chocolate Bar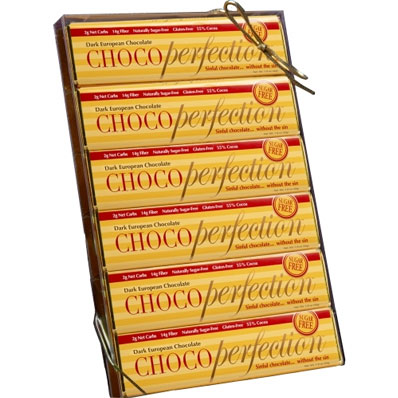 When it comes to keto chocolate bar brands that are also luxurious, nothing comes close to Chocolate Perfection. Their silky smooth Dark European Chocolate offers all the luxuriousness of a European-style bar with the slimming benefits of keto chocolate. It has just 2g of net carbs and chicory root fiber to keep you feeling full.
Price: $51.95 (12 pack)
---
Dark chocolate on keto is perfectly ok as long as you enjoy it in moderation. That's because even sugar-free bars that were specifically designed with keto in mind will have a substantial amount of carbs in a small serving.
So, as a general rule, stick to a maximum of ½ of a bar or around 40g daily. Ways to enjoy it include as is or in your favorite chocolate keto desserts. But whichever way you choose to enjoy your chocolate on keto, make sure it fits your macros!