Looking for the best keto app for android or iphone? Here are the top keto trackers and diet apps in 2020. Most are available free, with additional features.
As we leave 2019 behind and roll into a new decade, many of us are thinking about making dietary changes. As exciting as that is, following a new diet can also be daunting. And nowhere is that more the case than with keto.
The keto diet involves tracking food intake to the tiniest detail. For example, you need to make sure you're eating no more than 50 g of net carbs per day while carefully adjusting your fat intake for your specific needs. This is why some of the best keto diet apps can help.
So, what app calculates net carbs, total carbs, fat, and other diet metrics?
Below are some of the best apps for keto, as well as apps that offer additional helpful features that you'll find useful for your keto journey.
Let's dive in.
1. Carb Manager: Keto Diet App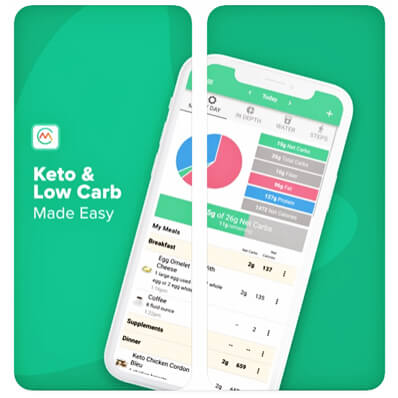 Considered the best app for keto on the market, Carb Manager offers data on over one million foods. The app offers barcode scanning and photo logging, which makes grocery shopping as well as food tracking easy. It tracks metrics that are relevant for keto-ers: total carbs, net carbs, fat, protein, and ketones, but also exercise, weight loss, and water intake.
Other great features included are the ability to sync with different devices and connect with other apps. It offers access to thousands of recipes, shopping lists, educational content, and the Carb Manager community.
2. Total Keto Diet: Low Carb Diet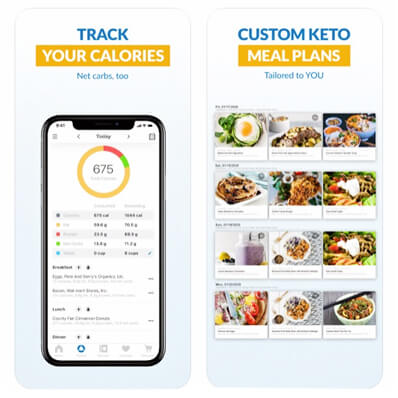 Created by Tasteacholics, which is one of the biggest low-carb recipe resources online, Total Keto Diet is designed to make keto easy. This keto app features a robust food database, hundreds of keto recipes, and custom meal plans. It also offers informative articles, a beginner's guide, and a calorie and macros tracker.
You also have the opportunity to feature your own recipes in the recipe hub. There, you can pick out your favorite recipes to always have on hand.
3. Keto Diet & Ketogenic Recipes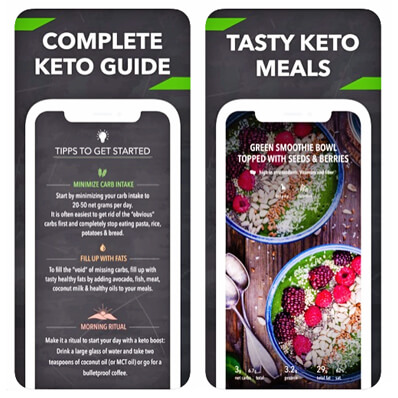 Another comprehensive recipe hub, this best free keto app offers hundreds of keto recipes, with nutritional information included (net carbs, fat, and protein). What makes it different from its competitors is that all the recipes featured are beginner-friendly. All recipes are easy, quick, and simple.
The app also features a grocery list, option mark recipe steps complete, option to save your favorite recipes and to filter keto recipes by type.
4. Keto.app - Keto Diet Tracker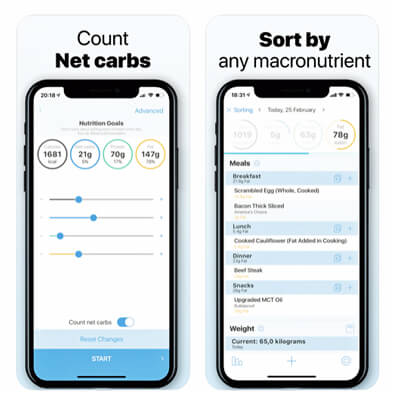 If you're looking for a keto tracker with a simple and elegant design and that's free of bugs and clutter, then this is the one! The app is like having your own keto diet nutritionists at the palm of your hand. You can get a personalized macros plan based on your body type, activity levels, and goal. The app then lets you track your food intake and search its massive food database.
However, if you want to enter more than 5 foods for the day, you will need to subscribe. But for one-time purchases in the app no subscription is needed.
5. My Macros+ | Diet & Calories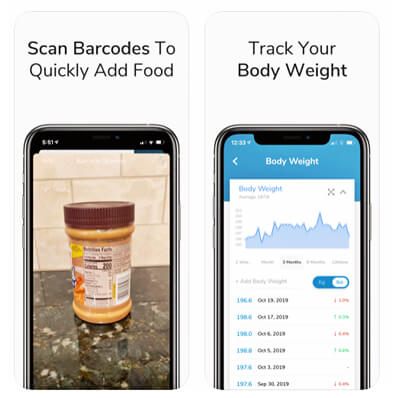 A ketogenic diet tracker made by a fitness professional, My Macros has everything you need to stick to your low-carb diet. The app makes tracking food easy with 3 simple taps. It also features a database of over 5 million food items, a barcode scanner, weight-loss graphs, nutrition breakdowns, built-in food from brands and restaurants, and more.
You can enter as many nutrition goals as needed since it supports things like carb cycling and more than 5 meals a day. My Macros can also sync with other devices.
6. 8fit Workout & Meal Planner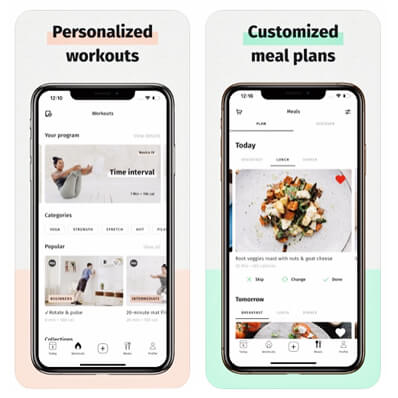 With 8fit, you can track your workout and nutrition goals in one place. While it is not specifically designed for the keto diet, the app lets you track metrics that are relevant to keto-ers like macronutrients, carbs, and net carbs. The app also features thousands of professionally approved recipes with a built-in diet filter so you can find those you need. It also offers a grocery list feature.
Things you'll find on this app include health and fitness information, daily motivation, workout plans, meal plans, instructional videos.
7. BodyFast Intermittent Fasting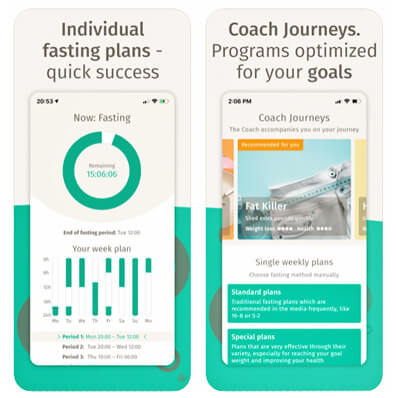 Many keto dieters practice intermittent fasting. If you were thinking of doing the same, this app is perfect for beginners. It creates a personalized fasting plan for each week. You have options to choose between different fasting plans, a fasting timer and tracker, and a bodyweight tracker.
The app also offers informational content on intermittent fasting, syncing with multiple devices and apps, and it is free of advertising.
8. Lose It! - Calorie Counter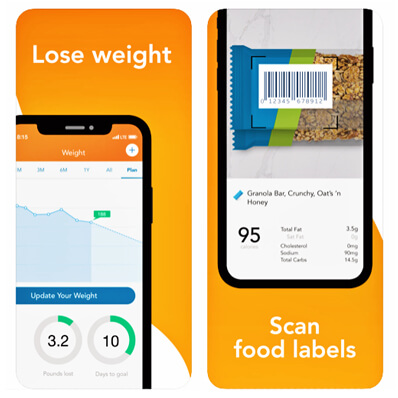 Lose it has been around since 2008 and has been a reliable weight-loss ally for millions of users since. It's essentially a food diary and calorie counter app that offers metrics and recipes relevant for keto-ers. The app lets you set your goals and track your macros and carb intake as well as your exercise routine.
Lose It features a barcode scanner, possibility to log food by taking pictures, syncing with other fitness apps, a meal planner, workout guidelines, and recipes.
Going keto can be tough. Luckily, it does get easier when you get help from a good keto app or other food and fitness tracker. The 8 apps listed here are some of the best on the market with high ratings and amazing features. See which one speaks to your specific goals and needs and download them to your device and start tracking.
Diet apps designed for the keto diet track total carbs, net carbs, and overall macros.
Many of these apps offer additional features like meal plans, grocery lists, and even photo logging.
Using these apps takes much of the guesswork and tedious tracking from dieting.