Taco Bell is a great place to order some of the most decadent Mexican food out there and at a fairly low price.
But for those on a keto diet, Taco Bell may seem like it doesn't have much to offer considering all those burritos, tortillas, quesadillas, nachos, beans, corn, hash browns, and the list goes on.
Luckily, just like many other fast food joints, Taco Bell allows endless customizing. You can simply skip the buns or always go for a power bowl. Customizing lets you enjoy a family dinner at this fast food place without the anxiety. Also, definitely don't forget to order extras whenever possible to make it more filling.
To make your next Taco Bell visit easier, we made a list of low-carb keto Taco Bell orders that you'll find a few lines below. But before that, read our short ordering guide for a keto Taco Bell.
How to Order Keto Taco Bell
The secret to making Taco Bell keto friendly is customizing. There are absolutely no low-carb options at this fast food place unless you tweak your order. While you can ask for bunless burritos, most ketoers simply go for the power bowl. Customizing this way is way easier. Here's what you need to do at Taco Bell to make your order keto: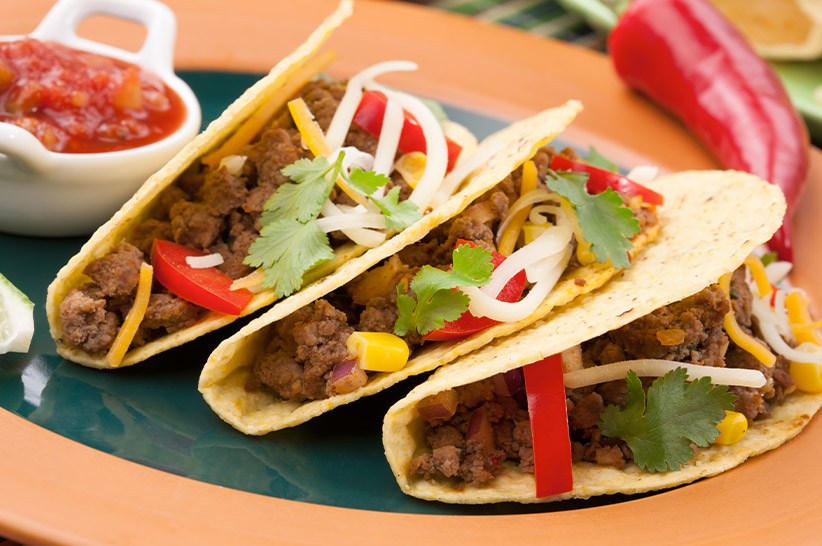 Power bowls are your go-to – you have either a steak or chicken bowl
Skip the beans and rice – instead double the steak or chicken
Ask for extra guac, ground beef, cheese, and a low-carb sauce of your liking
Order an unsweetened drink – water, tea, and coffee are a few options
You can also check out the breakfast section of Taco's menu and see if you can customize anything there. Most options here are egg-based but most are also wrapped in a tortilla. Ask to have your order without the tortilla and double it to get more calories.
Before you head to Taco Bell, it's a good idea to research their menu. You'll find it on their website along with calorie counts, prices, ingredients, and tweaking options. Keto-friendly items you'll find on Taco's menu include:
Fire Grilled Chicken and Steak
Seasoned Ground Beef
Shredded Chicken
Bacon
Shredded Cheddar Cheese
3 Cheese Mix
Sour Cream
Guacamole
Lettuce
Tomatoes
Jalapenos
Low-Carb Sauces (red, jalapeno, ranch, etc.)
What You Should Avoid at Taco Bell
Stay away from any kind of wraps. Other items you need to avoid at Taco Bell are: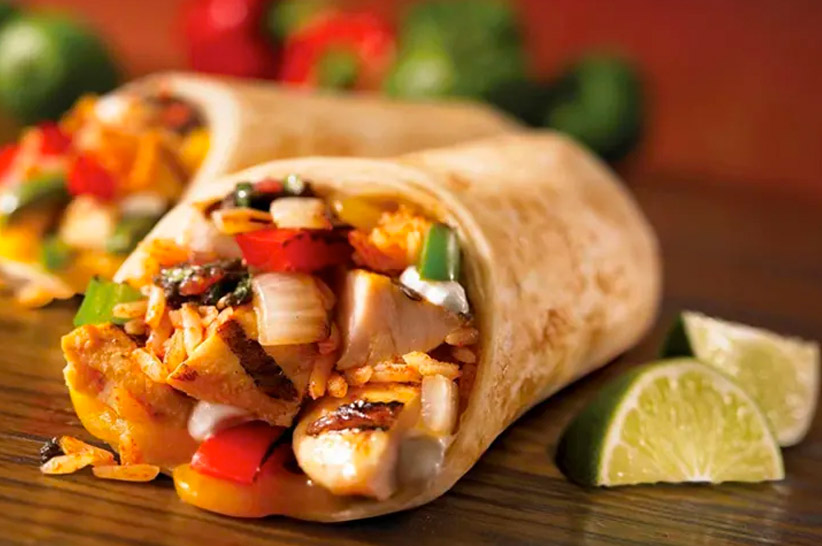 Rice
Beans
Potatoes
Tortilla chips
Desserts
Onions
Fritos
Red strips
Sugar-sweetened beverages
Most sauces offered by Taco Bell are ok, but do go for fattier ones whenever suitable. Other than the above items, you don't have to fear any hidden carbs since Taco Bell dishes are fairly simple to analyze nutritionally.
What to Order at Taco Bell
Now that you know what you need to ask for at Taco Bell's drive through, it's time to place your order. Here's how those orders look like in practice:
Ask for a no rice and no beans steak bowl. Make sure to make everything extra – the steak, the cheese, guacamole, sour cream, and ranch sauce. That way you'll get a satisfying meal with around 400-500 calories. Other items you can add to this bowl include tomatoes, jalapenos, cheese blend, and shredded chicken.
This power bowl will make for a skimpy order if you don't go for the extras since the beans and rice usually give it bulk and calories. And while adding extra protein to this order will raise its price tag, it's really not too much – around $2-3 more depending on what you're adding.
---
If you're not a fan of red meat, then order a chicken bowl instead. The same rules apply here: no rice, no beans, and lots of extras. We think chicken pairs best with cheese, sour cream, and jalapeno sauce. These extras will boost the fat content of this order which is important given that chicken breasts usually have less fat than beef.
The best thing about this bowl is that the chicken is incredibly tender. Adding extra cheese and the cheese mix as well makes for a really satisfying and keto-friendly dish. At around 400 calories, this bowl should also be enough to satisfy you until dinner time.
---
Taco Bell offers a breakfast item called a mini skillet bowl. It's essentially a breakfast bowl with eggs, potatoes, nacho cheese sauce, and pico de gallo. Definitely ask to have the potatoes removed and add guacamole and reduced-fat sour cream to add more nutrition. Other add ons include a three-cheese blend, bacon, sausage crumbles, steak, sauces, and fresco.
Without the potatoes and with extra eggs, this disk comes at around 250 calories. That's not bad for a breakfast bowl. It'll cost you around $4, which is just a couple of cents more than the original order. It's definitely worth it given how nutritious, keto-friendly, and creams this dish is. We suggest having a warm cup of coffee with some MCT oil to go with this delightful breakfast.
---
Lastly, you can order a low-carb drink to go with your keto Taco Bell order. Great offerings include premium hot coffee, iced regular coffee (no added sugar), unsweetened iced tea, diet Pepsi, or a simple cup of water.
aco bell also offers fountain drinks in different cup sizes and some of which contain 0 calories. That also means they're free of carbs. However, we suggest sticking to natural drinks whenever possible. Many juices and sodas contain artificial ingredients that, although may not kick you out of ketosis, can harm your health 1.
Keto Taco Bell – The Verdict
Keto Taco Bell orders are both satiating and enjoyable. These orders can help you hit your daily macros for a somewhat acceptable price – around $6-8 on average. Without the cheap rice, beans, and tortillas to bulk your dish, you end up compensating with meat, guacamole, cheese, and fatty sauces and this makes your order more expensive.
And as far as healthfulness goes, keto Taco Bell options are definitely a win. This fast food place serves high-quality meat (not grade D meat as popularly though). Animal sources of protein prevent anemia, poor immunity, cardiovascular problems, and edema 2. Having an egg-based breakfast will give your body enough biotin for energy production 3.
Adding low-carb vegetables to your power bowls will also give you a dose of key vitamins, minerals, fiber, and antioxidants. For example, adding tomatoes or a bit of picco de gallo will provide you with plenty of vitamin C, fiber, and lycopene which is an antioxidant that studies show prevents cancer 4. The fatty dressings also help boost your fat intake for ketosis support.
While Taco Bell and other fast food places aren't really a keto dieter's haven, many let their customers tweak their orders to better suit their specific needs, wants, and diets. Low-carb options at Taco Bell include customized power bowls and a mini skillet. You can also enjoy a simple low-carb drink at this fast food place.
Make sure to do your research beforehand and don't be afraid to add as many extras and add ons as possible. It's all for the sake of making your disk as satisfying as possible while also staying true to your keto diet.