March 26 is National Spinach Day. It's not just Popeye who'll be celebrating National Spinach Day, but also all plant-based keto lovers out there. If you want to join in the fun, sit tight because we're sharing with you some interesting facts about this food holiday and five keto spinach recipes.
National Spinach Day celebrates spinach, one of the best greens you'll eat on a ketogenic diet. There are so many things to appreciate about spinach. As a superfood, it's loaded with tons of vitamins and minerals — vitamins A, C, K, magnesium, iron, calcium, and more.
History Of National Spinach Day
Catherine de' Medici, Queen of France from 1547 until 1559, was one who was extremely fond of spinach. In fact, she ordered that it be served each meal 1.
It has been said that spinach originated in Ancient Persia. The Medes, a tribe who inhabited Persia, washes each spinach leaf 12 times before cooking it. Spinach eventually arrived in India and Ancient China via Nepal.
California today is considered to be the biggest spinach producing state. Coastal valleys produce spinach all year round 2.
As you can see, there isn't much to be said about how National Spinach Day was born. However, we can say that spinach was already popular a long time ago. Let's dive into some fun facts in the next section…
Spinach is interesting not just because it's one of the healthiest vegetables, but also because of the stories and research that surround it. Don't just sit there and eat spinach on National Spinach Day. Be sure to share these cool facts with your friends:
1. Spinach can detect explosives.
MIT engineers have found a way to transform spinach into an explosive detector. They would introduce carbon nanotubes into the plant leaves. These nanoparticles can respond to nitroaromatic compounds in explosives. When present in the ground, the carbon nanotubes would alert the researchers through an email message 3.
2. Crystal City Texas built a statue of Popeye in 1937.
Crystal City in Texas proclaimed itself to be the "Spinach Capital of the World" in 1937. Back in the day, Crystal City had a booming spinach business as they sold 10,000 cans of spinach a day. To honor Popeye, the city erected a full-color statue of him through the courtesy of EC Segar.
3. Spinach whitens your teeth.
The next time you snack on a bowl of spinach, know that it acts as a natural teeth whitener. Thanks to its high fiber content that scrubs away food debris. One study has also concluded that spinach leaves extract and milk combined help reduce teeth discoloration caused by coffee 4.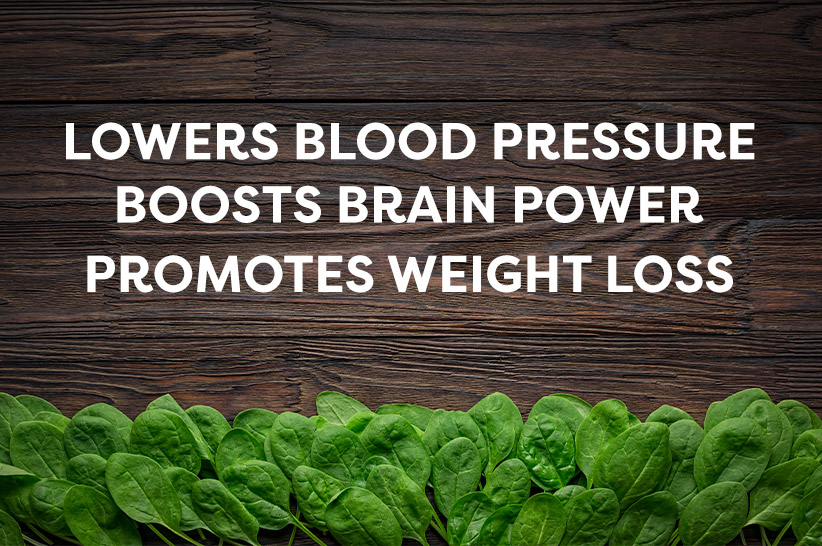 If you're trying to improve your health or follow a well-formulated ketogenic diet, eat a cup of spinach daily. Here are some of its profound health advantages:
A recent study investigated the effect of dietary nitrate on cardiovascular health. Spinach happens to be one of the foods with the highest nitrate concentrations. Results showed that 1-3 hours after consuming a high-nitrate meal, participants' brachial systolic blood pressure (SBP) reduced 5. Nitrates are capable of opening up your blood vessels so that oxygen-rich blood flows easily to your heart.
Nutritional psychiatry tells us that food provides nutrients that affect our cognitive processes. Vitamin E, alpha lipoic acid, and folic acid are all found in spinach and they enhance cognitive function. These nutrients protect your brain cells from damage and improve your memory 6.
It's no secret that eating more calories than you burn results in weight gain. Choosing the right foods will prevent you from going overboard with calories. Spinach is a low-calorie food. One cup has only 7 calories. Because it's also rich in fiber, it'll increase your satiety so you'll feel fuller for longer.
Can I Eat Spinach While on Keto?
Yes. Spinach is a keto-friendly food and it deserves a place on your list of top low-carbohydrate vegetables that grow above the ground. If you're getting started on keto, we recommend that you prepare a two-week food list that includes spinach.
Remember that on a ketogenic diet, you need to keep your carbs around 30 grams per day. A cup of cooked spinach contains 7 grams of carbs whereas one cup of cooked spinach contains 1 gram of carbs. That means you can enjoy spinach for breakfast, lunch, and dinner without worrying about getting yourself out of ketosis.
How to Celebrate National Spinach Day While on Keto
Wondering what activities you can do on National Spinach Day? We have the best ideas for you as someone who's following the ketogenic diet. Check them out:
1. Plant spinach in your home!
Make spinach part of your long-term healthy eating plan by growing your own spinach garden. Spinach thrives in cool and moist conditions. If you live in a warm climate, plant it in an area that receives less direct sunlight. Having spinach within your reach helps you save money too.
2. Learn a new spinach recipe.
There are plenty of ways to cook spinach to make it more appealing to your taste. If you Google "ways to cook spinach," you'll find at least ten ideas that'll boost your creativity in the kitchen. You might want to make salads, smoothies, or even pancakes out of spinach to share with your loved ones. Keep reading because, in a while, we're sharing 5 delicious recipes.
3. Watch Popeye the Sailor's episodes while eating spinach.
Invite your friends over for a Popeye the Sailor movie marathon. Take it to the next level by snacking on spinach. Got kids who hate their veggies? Watching a few episodes with them might change their minds.
5 Delicious Keto Spinach Recipes for National Spinach Day
Cooked or raw, spinach is awesome. Spinach is versatile as it complements nearly all ingredients you can think of – cheese, nuts, bacon, berries, and more. Here are 5 of the tastiest recipes you should try on National Spinach Day. Dig in.
Our creamed spinach is incredibly tasty and filling, thanks to the cream cheese and parmesan cheese. This dish amps up your intake of healthy fats. It's also chock-full of minerals, whey protein, and Vitamin K2 7.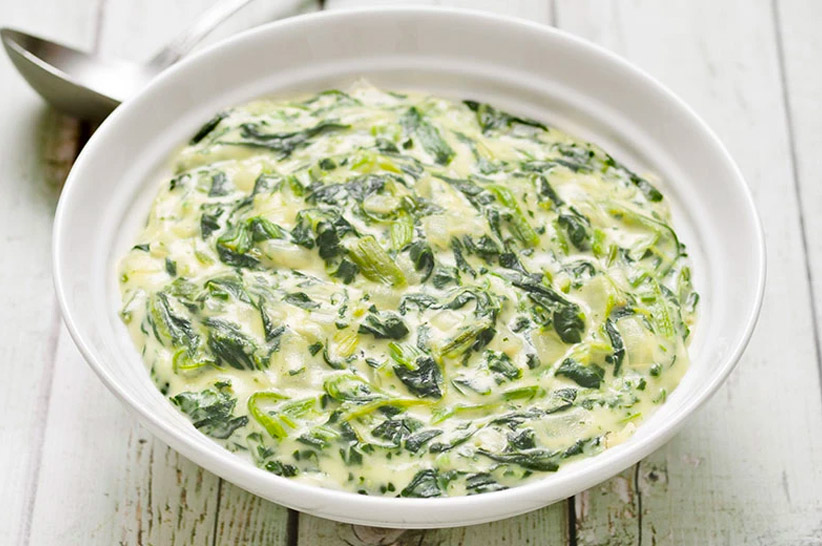 Preparation time: 5 minutes; Cooking time: 10 minutes; Serve: 4
Ingredients:
10oz. frozen spinach, thawed
3 tablespoons cream cheese
3 tablespoons parmesan cheese
1 tablespoon coconut oil
3 cloves garlic, minced
1 large egg
Salt, to taste
Nutrition Facts:
Calories 116
Total Fat 9.1g
Saturated Fat 6g
Cholesterol 60mg
Sodium 161mg
Total Carbohydrates 3.9g
Dietary Fiber 1.6g
Total Sugars 0.4g
Protein 6.6g
Instructions:
Draw and drain spinach in a colander.
Heat coconut oil in a skillet.
Add garlic and cook until fragrant.
Add thawed spinach and cook until liquid evaporate.
Stir in egg, cream cheese, and parmesan cheese.
Cook stirring until the egg coagulates.
Remove from the heat and serve warm.
---
Have a hearty Tuesday breakfast with our version of spinach frittata. It's a creative way to cook your typical breakfast sausage and eggs. You can also pack a serving or two for your lunch at work. Your family will surely be blown away by its rich flavor.
Preparation time: 10 minutes; Cooking time: 40 minutes; Serve: 6
Ingredients:
5oz. breakfast sausage
1 teaspoon dried thyme
8 large eggs
¼ cup heavy cream
¼ cup unsweetened almond milk
8oz. frozen spinach, thawed
Salt and pepper, to taste
¼ cup crumbled feta cheese
Nutrition Facts:
Calories 220
Total Fat 16.8g
Saturated Fat 6.3g
Cholesterol 280mg
Sodium 379mg
Total Carbohydrates 2.5g
Dietary Fiber 0.9g
Total Sugars 0.9g
Protein 15.1g
Instructions:
Spray cast-iron skillet with a cooking spray.
Add sausage and thyme. Cook until no longer pink.
In the meantime, beat eggs with heavy cream, and almond milk.
Drain the spinach in a colander and stir into the egg mixture.
Pour the eggs over sausage and sprinkle with feta cheese.
Bake the frittata on the stove for 3 minutes.
Preheat oven to 375F.
Transfer the frittata in the oven and continue to bake for 30 minutes.
Serve frittata warm.
---
3. Breakfast spinach smoothie
Do you often rush to get out of the door? Need something protein-filled to keep hunger pangs at bay? This breakfast smoothie combines ingredients that will help you meet your nutrient needs in one go. It's sugar-free and increases your ketone levels.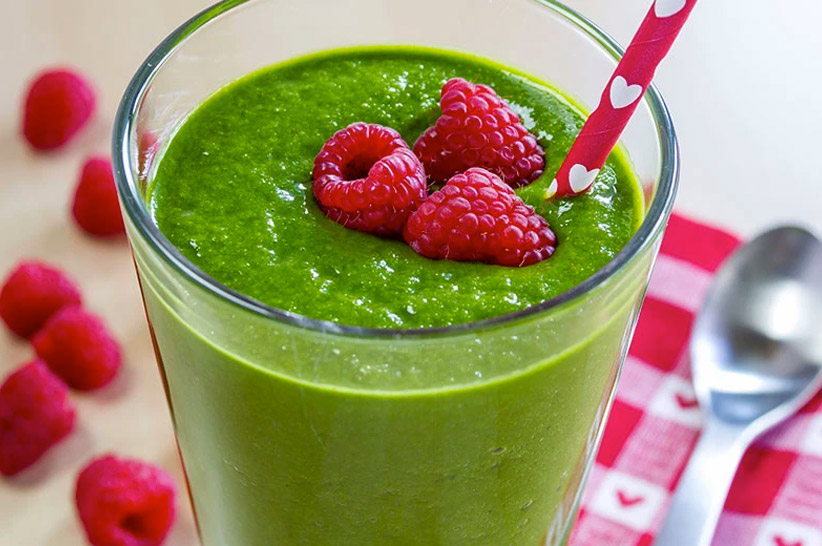 Preparation time: 5 minutes; Serve: 1
Ingredients:
1 cup unsweetened almond milk
2 cups baby spinach
1 scoop whey protein powder
1 teaspoon MCT oil
¼ cup raspberries
Instructions:
Combine all the ingredients in a food blender.
Blend until smooth.
Serve.
Nutrition Facts:
Calories 186
Total Fat 7.9g
Saturated Fat 4.7g
Cholesterol 1mg
Sodium 228mg
Total Carbohydrates 8g
Dietary Fiber 4.3g
Total Sugars 1.6g
Protein 26.1g
---
4. Spinach bacon egg salad
Did you know that the Romans were fond of salads? A green salad a day keeps you free from disease all year round. Our spinach salad recipe is super simple to prepare. All you need is fifteen minutes to make four servings.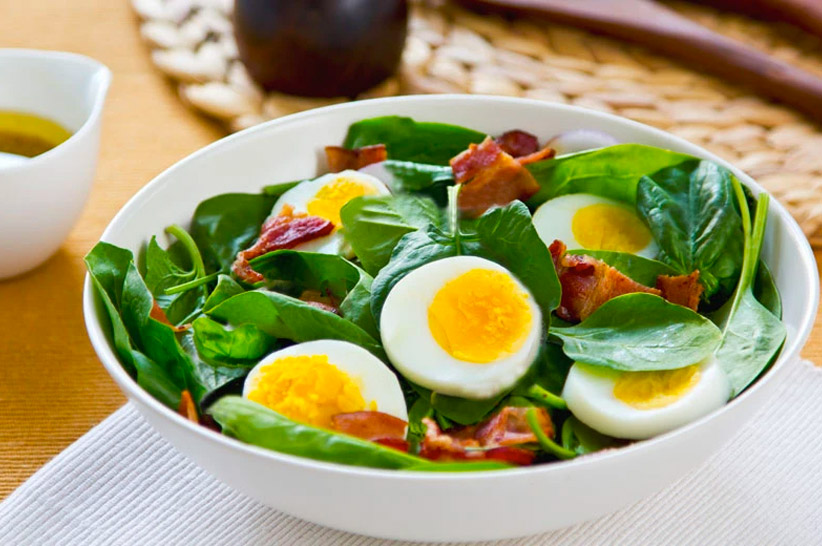 Preparation time: 10 minutes; Cooking time: 5 minutes; Serve: 4
Ingredients:
4 cups baby spinach
8 slices bacon
4 hardboiled eggs, sliced
2 radishes, sliced
Dressing:
3 tablespoons extra-virgin olive oil
2 tablespoons lemon juice
1 teaspoon raw cider vinegar
1 teaspoon chia seeds
Salt and pepper, to taste
Nutrition Facts:
Calories 373
Total Fat 31.2g
Saturated Fat 8.2g
Cholesterol 205mg
Sodium 966mg
Total Carbohydrates 2.6g
Dietary Fiber 1.1g
Total Sugars 0.7g
Protein 20.7g
Instructions:
Slice the hardboiled eggs and place aside.
Wash the spinach and place aside to dry in a colander.
Heat large skillet over medium-high heat.
Add bacon slices and cook until crispy.
Transfer the bacon onto paper towels and place aside to cool.
Combine the dressing ingredients in a large bowl.
Add baby spinach, and radishes. Toss to combine.
Add the eggs and crumbled bacon.
Toss or stir gently and serve.
---
Go Italian this National Spinach Day with our ricotta recipe. It'll make a great dinner side dish or an afternoon snack. One serving has 15.7g of fat and only 8.6g of carbohydrates. You'll get nutrients such as vitamin A, vitamin C, and magnesium.
Preparation time: 5 minutes; Cooking time: 5 minutes; Serve: 4
Ingredients:
1.5lb. fresh baby spinach
2oz. pine nuts • Salt and pepper, to taste
1 tablespoon butter • 3oz. ricotta cheese
1 pinch red pepper flakes
4 lemon wedges
¼ teaspoon cayenne
Nutrition Facts:
Calories 193
Total Fat 15.7g
Saturated Fat 4.2g
Cholesterol 17mg
Sodium 17mg
Total Carbohydrates 8.6g
Dietary Fiber 4.3g
Total Sugars 1.3g
Protein 8.9g
Instructions:
Toast pine nuts in a dry skillet over medium heat until fragrant. Place the pine nuts aside.
Heat butter in the same skillet.
Add spinach and cook over medium-high heat until spinach is wilted or for 2-3 minutes.
Sprinkle the spinach with red pepper flakes and cayenne.
Transfer cooked spinach into plate. Top with ricotta and pine nuts.
Serve. with lemon wedges.
Make March 26 extra special by sharing our fun facts, planting spinach, watching Popeye's shows, and cooking at least one keto-friendly recipe. National Spinach Day is truly a day for health-conscious individuals. If you haven't started keto yet, this day can be the perfect time for that. Let's celebrate!
National Spinach Day is a day to eat spinach, a nutrient-dense ketogenic vegetable.
Spinach improves cardiovascular health, prevents brain decline, and promotes weight loss.
You can prepare spinach in different ways to taste better and help you maintain ketosis.