Does keto have to be all strict for you to see improvements in your body? Well, not necessarily. We're only human, and we have to admit that sometimes, being overly strict can take the fun out of trying to stay fit and healthy. If you're interested in some lazy keto meals, you'll find easy-to-prepare options below.
Speaking of lazy keto, it's a new concept that's gotten positive and negative reactions in the keto community. Some experts claim that lazy keto isn't effective. Others find it a sustainable way to do keto — because truth be told, calculating and staying on top of all your macros, which may change any time, takes a lot of work.
I want to think that lazy keto dieters want to keep things simple, and simple always works. Whether you're new to the ketogenic diet or not, here's what you should know about lazy keto.
The "lazy keto diet" is a relaxed way of doing keto. The only thing you need to really pay attention to are your carbohydrates. That means limiting your carbohydrate consumption up to 20-50 grams per day. This carb restriction allows your body to deplete its glycogen stores and start utilizing fat for fuel.
Recall that on strict (traditional) keto, you have to follow all your macro percentages: 55% to 60% of calories from fat, 30% to 35% of calories from protein, and 5% to 10% of calories from carbohydrates 1.
On lazy keto, you can enjoy a bit of fast food and pre-packed foods such as pork rinds and tortilla chips. Just be careful to keep your carbs within 20-50 grams. Remember: Going overboard with unhealthy, processed foods will kick you out of ketosis. Because chances are, these foods have hidden carbs.
Nothing beats the fact that more whole foods in your grocery shopping list put you in the best possible health. They're filled with vitamins and minerals and are low in additives.
If you're wondering whether lazy keto is right for you, why not try it yourself? Two people may follow the same diet but can respond differently. Also, be sure to monitor your blood glucose levels and ketone levels. Check how you feel inside.
How Many Carbs Are Allowed in Lazy Keto?
Lazy keto is still keto, which means that you're allowed to consume only up to 20-50 grams daily. That is if you follow a 2,000-calorie meal plan. Carbs are the only thing you should limit when on lazy keto.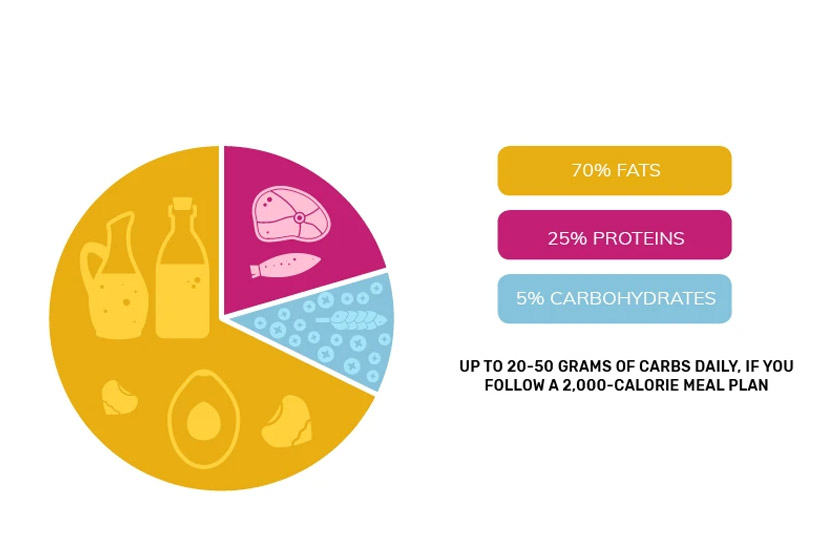 10 Lazy Keto Meal Ideas You Probably Want to Try
All meal ideas below are low in carbs. So don't worry because you'll stay in ketosis. You can prepare each meal in 30 minutes or less, plus they're great to serve for breakfast, lunch, or dinner.
Pork chops are every keto dieter's delight. For this recipe, we're doing a little twist to make them more flavorful. Here's what you should do: Pan-fry 3 cuts of thick pork chops. When cooked, slice through the meat. Stuff sauteed vegetables and provolone cheese inside. Serve hot!
As you can tell, stuffed pork chops make meal prep convenient. They're perfect when you don't have much energy to cook after 6:00 pm. Stuffed pork chops may be a simple lazy keto dish, but they're sure to fill you up.
The combination of pork chops, veggies, and cheese make an excellent source of calcium, iron, and zinc. These minerals strengthen your immunity, lowering your risk for certain cancers 2.
Nutrition Info:
Calories 436 cal
Fat 25g
Protein 12g
Carbs 2g
---
Running short on time? Bacon and eggs are a classic recipe for the lazy keto person. While bacon isn't considered a health food, 100 grams contain only 4 grams of carbs. Therefore, it's still acceptable for lazy keto. The neutral taste of eggs complements the sweetness and saltiness of bacon.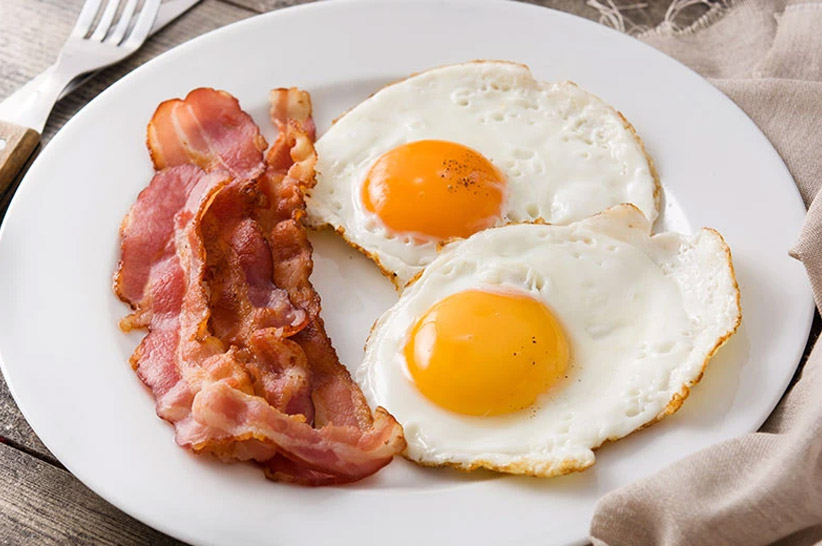 Using any skillet, fry strips of bacon and sunny side up eggs in olive oil. Feel free to add more flavor by sprinkling a bit of garlic powder and onion powder. Be careful not to overcook the eggs!
Research tells us that bacon and eggs benefit pregnant women because they contain choline, an essential nutrient for the baby's brain development 3. So if a friend of yours is pregnant, tell her that she has an excuse to eat this incredibly tasty dish!
Nutrition Info:
Calories 750 cal
Fat 68g
Protein 33g
Carbs 4g
---
Who says a burger isn't a burger without the bun? The bunless cheeseburger is one of the tastiest foods you'll have on lazy keto. You already know that a bun can contain at least 52 grams of carbohydrates which will obviously make you gain weight fast.
This lazy keto recipe is simple to make: Form three patties out of ground beef seasoned with Worcester Sauce and steak seasoning. Sprinkle salt on the outside of the patties. Once cooked, serve with butter lettuce and cheese on top!
If you didn't know, even a small serving of beef can supply you with lots of protein and essential vitamins and minerals. Examples are vitamin B12 for higher energy levels and vitamin B6 for better brain health.
Nutrition Info:
Calories 470 cal
Fat 40g
Protein 26g
Carbs 2g
---
4. Scrambled eggs with asparagus
Most people who wake up late on weekends prefer brunch. They find combining two meals in a day (breakfast and lunch) an opportunity to save time in cooking yet still be able to cook healthy food at home. If you want a 13-minute recipe, go ahead with scrambled eggs and asparagus.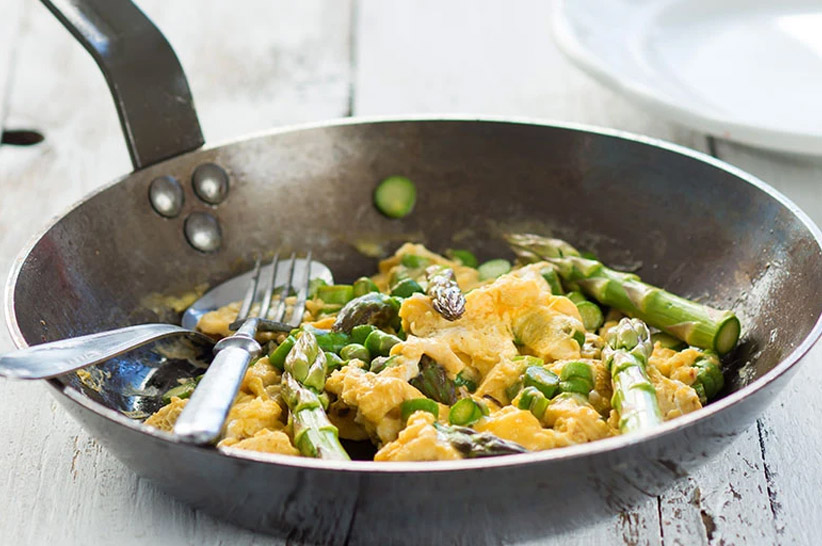 What can you benefit from this meal? Based on a study, daily egg consumption reduces your risk for cardiovascular disease 4. Did you also know that eggs are among the best fatty and low-carb foods? Asparagus, on the other hand, contains vitamins A, C, E, and K which have antioxidant properties.
To make this meal more satisfying, try adding grated cheese to the scrambled eggs. Season asparagus with garlic powder, salt, and red pepper flakes.
Nutrition Info:
Calories 168 cal
Fat 11.1g
Protein 12.2g
Carbs 5.5g
---
5. Shrimp with butter and cauliflower rice
Seafood and vegetables make the perfect pair on a keto diet. Shrimp and cauliflower rice are great examples. This recipe tastes as if it came from a Chinese restaurant. The best part is that it's guilt-free. Instead of using white rice, you're going to use cauliflower for a low-carb meal.
You can cook this recipe in less than 30 minutes. If you're going to have it on a weekend, why not invite a family member to help out? He or she might be interested in going keto too.
Here's the process: First, place cauliflower florets in a food processor until they achieve a rice-like texture. Next, in a separate bowl, combine baby shrimps, butter, black pepper, salt, and garlic powder. Mix everything and bake for 15 minutes. Serve hot!
Nutrition Info:
Calories 420 cal
Fat 24g
Protein 29g
Carbs 9g
---
6. Low-carb mushroom soup
There's a good reason why Egyptian pharaohs kept mushrooms strictly for royalty. Certain mushroom species have beneficial effects on cognition, cancer risk reduction, weight management, and oral health 5.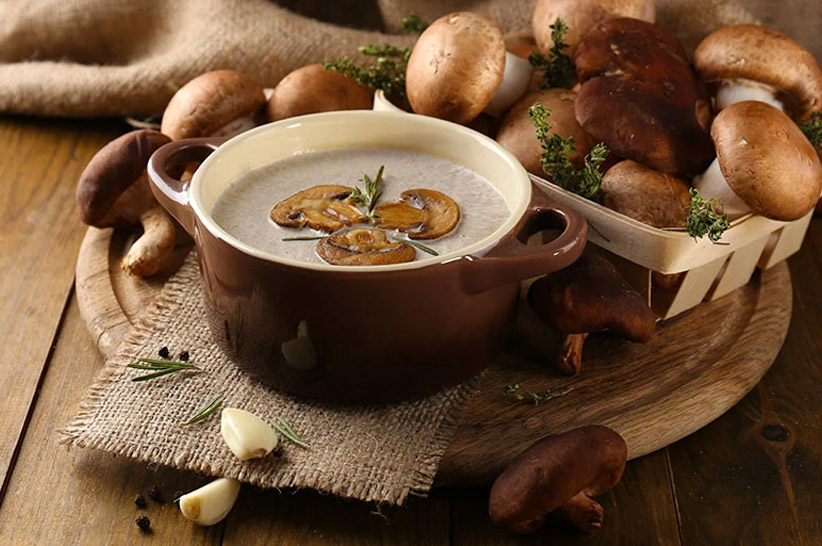 Whether you're feeling under the weather or just want a hot side dish, try this low-carb mushroom soup. Our soup ingredients include chopped fresh mushrooms, butter, salt, thyme, chicken broth, whipping cream, cream cheese, and minced garlic. Cook in a heavy saucepan for 40 minutes. Sprinkle a few pork rinds on top if you like!
One serving will give you only 7.8 grams of carbs. You'll also enjoy plenty of nutrients such as B vitamins, potassium, magnesium, and zinc.
Nutrition Info:
Calories 440 cal
Fat 44.2g
Protein 6g
Carbs 7.8g
---
7. Baked Chorizo and Cheese
If you're looking for a hearty meal to serve to your guests on any occasion, here's baked chorizo and cheese. The total prep and cooking time for this recipe is around 30 minutes.
First, saute chorizo and add spices such as minced garlic and onions. Once cooked, transfer the chorizo mixture to a baking pan. Add cream cheese and mozzarella cheese on top. Bake until you see the cheese bubbling. Serve hot! If you want, you can serve this dish with a few tortilla nachos.
Since chorizo can be very high in calories, you don't want to go overboard with your serving. Feel free to tweak this recipe by adding a few keto-friendly veggies such as broccoli and cauliflower.
Nutrition Info:
Calories 480 cal
Fat 34g
Protein 63g
Carbs 19g
---
Many people may call nachos junk food, but you're allowed to have them once in a while on lazy keto. You can make your own version of nachos by using pork rinds! You'll be glad that you don't have to worry about carb-filled tortilla chips.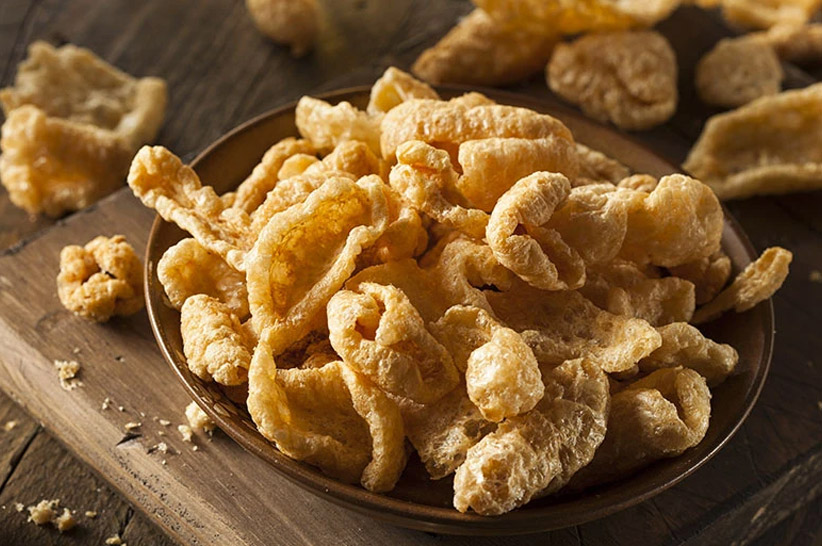 I would recommend eating pork rind nachos right after preparing them. Why? Pork rinds are quick to soften. You want to maintain that crunch or else, you won't be enjoying this snack. Correct?
First, cook ground beef and spices in a large skillet. When cooked, spread them over pork rinds on a separate pan. Add cheese. Bake them for 5 minutes until the cheese is melted.
Nutrition Info:
Calories 480 cal
Fat 34g
Protein 44g
Carbs 1g
---
9. Crispy Keto Fried Chicken
While chicken is a wonderful and delicious way to get protein, it's not very high in fat. To make it fattier, we're going to coat them with pork rind bread crumbs. For this lazy keto recipe, use boneless chicken thighs if you want chicken nuggets. Use coconut oil for frying.
This keto fried chicken recipe can be paired with cauliflower rice. Add this dish to your low-carb meal list to help you achieve a balanced diet. Vitamins and minerals found in chicken meat include B-group vitamins, selenium, iron, zinc, and copper 6.
Nutrition Info:
Calories 291 cal
Fat 10g
Protein 46g
Carbs 1g
---
While you can occasionally enjoy store-bought chips as long as they're low-carb, sometimes, you feel like indulging in more. Satisfy your craving for something crunchy with keto cheese chips. They don't only taste delicious, but they're also a good source of calcium and protein.
This recipe is simple. All you have to do is make thin slices out of cheddar cheese, sprinkle some paprika, and bake until golden brown. Allow them to cool down for 10 minutes before serving.
You'll find this lazy keto recipe a healthier and cheaper alternative than grocery-bought chips. If you have extra cheese and spices in your pantry, you can already get started with it.
Nutrition Info:
Calories 228 cal
Fat 19g
Protein 13g
Carbs 2g
Lazy keto is for those who love the ketogenic lifestyle but don't feel comfortable with tracking all macros. Basically, people can eat whatever they want as long as they stay within the allowable carb limit, which is 20-50 grams daily. Lazy keto only becomes bad if a dieter uses it as an excuse to make a habit out of eating unhealthy, pre-packaged foods.
Lazy keto focuses on tracking carbohydrates.
Anything that comes in a package is fine, as long as it's eaten only once in a while.
Whether to go traditional keto or lazy keto is up to a person.
When doing lazy keto, be sure to monitor your blood glucose and ketone levels to make sure that you're still in ketosis.
Healthy and delicious lazy keto meals can be prepped in 30 minutes or less.