We virtually met, Amy Snyder on when she tagged us in one of her Instagram Stories. This 40-year old single mom, who's a nutrition-turned-keto coach has been helping people with fitness and nutrition for years.
I went all in! I wasn't getting my daily migraines, my mood was much more calm, positive and easy-going, my energy didn't crash throughout the day.
– Amy Snyder, 40

She went on keto five years ago and with the tremendous healing she experienced, she decided to shift the focus of her business to the ketogenic diet, and she hasn't looked back since.

Let's get to know her a little bit more!
Did you have any early health struggles? What were those?
Yes! I suffered from low thyroid, insulin resistance, prediabetic blood markers, extreme fatigue, nonstop hunger and cravings, mid-back pain and daily migraines. I also endured a lot of mood issues, crankiness, irritability, anxiety, depression, and felt a lot older than I actually was.
That was a lot! Were there any other diets/dietary lifestyles that you tried before going keto that you thought would help you?
All of them! Seriously though, I feel like I've tried everything. I've tried calorie counting, macro tracking, Atkins, portion control containers, vegan (I even tried raw vegan), carb cycling, and while some of them worked for fat loss temporarily, none of them ever really helped me feel better.
Why and when did you go on keto?
I am approaching my five year keto anniversary this spring!

I was a nutrition coach beforehand, so I thought I knew the things I needed to do prior to keto.
I counted macros, got in my protein… I was eating what I thought were "healthy" carbs like oats, brown rice and fruit, but when I went in for normal routine bloodwork, I found out I was prediabetic! It turned out my body wasn't properly handling carbs and I was insulin resistant.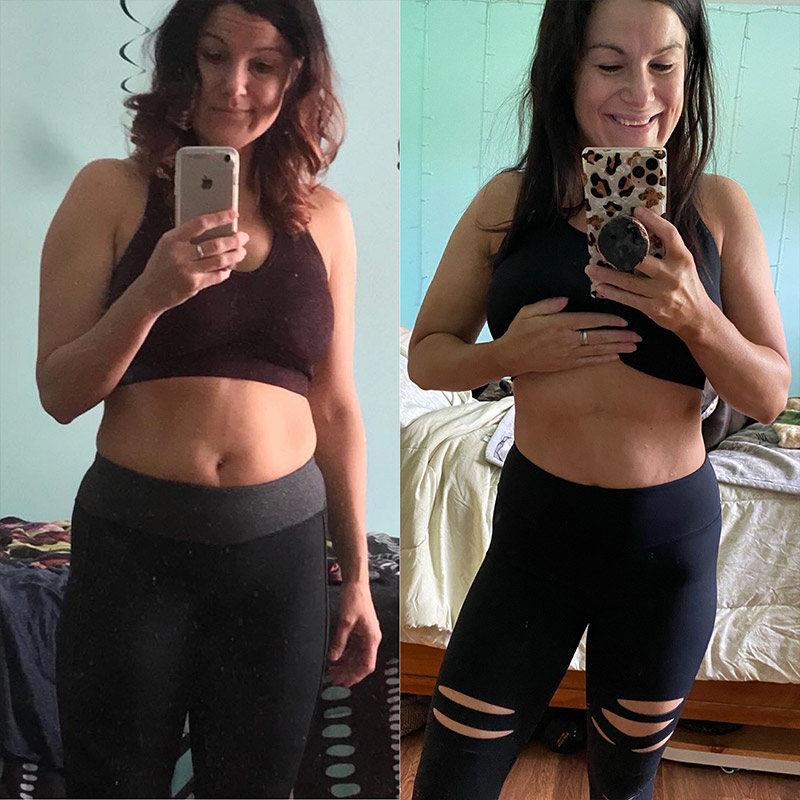 My Doctor is the one who told me to try keto, and at first I was reluctant because I was so used to being told a "balanced" diet with plenty of fruits and whole grains was the way to go.
But I trusted my doctor and I went all in!
I also got into the research, I read everything I could find on keto: the history, the methods, the benefits… And within days I was already starting to notice that my out-of-control hunger and cravings had diminished, I wasn't bloated, I wasn't getting my daily migraines, my mood was much more calm, positive and easy-going, my energy didn't crash throughout the day (like it had for so many years) and I just finally felt full & satisfied after meals instead of dreaming about when I was going to eat next. I was hooked!
You mentioned you were reluctant at first. Where do you think the hesitations about keto came from? What was that and how did you overcome it?
To be honest, a lot of my hesitations came from misinformation.
There's still a lot of confusion out there, like people who don't realize that carbs are the only non-essential macronutrient and we won't die without them, or that our brain and body actually prefer fat over carbs (and that fat is actually healthy for you).
I still see a lot of comments out there about keto being a fad diet. That really couldn't be farther from the truth! I loved learning that keto was actually created 100 years ago to treat childhood epilepsy (with amazing results), but that since then there have been so many other uses like helping people with PCOS, diabetes, cancer, fertility issues and anxiety (just to name a few).
I understand how hard it is for people to break their old ways of thinking. For years we were told that fat is bad and that we needed to eat lots of carbohydrates… but if that doesn't work for you (like it didn't for me) and brings you health issues, I think it's important to open your mind to learning about keto from non-biased sources.
Now, let's dive into Kiss My Keto's role in your journey…
What Kiss My Keto products do you use? Tell us some favorites!
My absolute favorite are the gummies! One thing that I really missed when I went keto was gummy candy.
It was my favorite treat! And every other low sugar gummy candy that I've tried either had a weird texture, flavor or funky sweeteners I try to avoid (or the net carbs were just way too high for a keto diet). But the Kiss My Keto Fish Friends, Tropical Rings and Watermelon Slices are better than the sugar-filled stuff I used to eat when I was younger!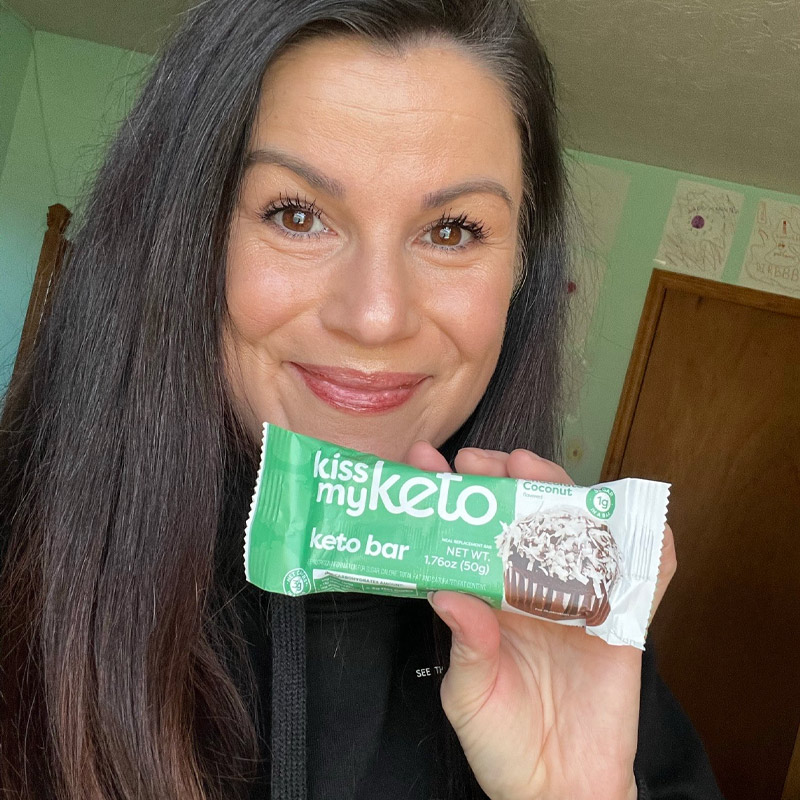 I also absolutely love the bars. They're filling, have this amazing nut butter/cookie dough-like texture and they're dipped in a really nice melted chocolate coating!

I also like the pasta. It's zero net carbs and 5 cal for the whole bag!
Since starting keto, how much weight have you lost already?
I lost about 30 pounds when I went keto and have maintained that loss over five years, but my favorite part of the journey is that I've completely changed my body composition!
I used to have a really hard time losing fat in my belly, specifically my lower belly "pooch" from childbirth via C-section. It was something that I just thought would never go away no matter how hard I tried. But to my surprise, when I went keto it flattened out! I just like the way that I'm shaped so much better now! I've also been able to build a significant amount of lean muscle on keto so I'm just a lot happier with my overall appearance.
What was Kiss My Keto's role in the journey?


The Kiss My Keto snacks and foods have improved my life tremendously because they help me never feel deprived.

It is so nice to know that I can still enjoy gummy candy, chocolate bars & pasta that all fit perfectly in my macros without compromising taste. When I want a treat I don't have to go off of keto and that makes life so much easier!

The keto lifestyle is truly life-changing. Amy has benefited a lot from going on keto health-wise aside from the weight loss part. It's amazing to know that there are products like Kiss My Keto's line of snacks and foods that can make the lifestyle enjoyable.
Are you a Kiss My Keto customer with an inspiring keto story to tell? Send us an email at nini@kissmyketo.com and you might be featured next.