You don't have to make keto brownies from scratch every single time. Keto brownies to buy online abound. See which ones you should consider today for quick brownie indulgence. 
Ever asked yourself, "Where can I buy keto brownies?"
Online, of course! It's the best place to find low-carb, keto-friendly brownie indulgence. Especially in 2021 when there are more keto brownies to buy than ever. You can now shop for baking mixes as well as ready-to-eat options. Both have their own perks, one of which is that they make enjoying brownies less of a hassle. 
Another thing you could do is use the baking mixes for other recipes — pancakes, muffins, and cakes, for instance. Or you could add leftovers and ready-made brownies to ice cream like in this Keto Ice Cream with Brownie Crumbs. The sky is the limit!
Here are some of the best keto brownies to buy on the internet in 2021. 
1. Kiss My Keto - Keto Brownie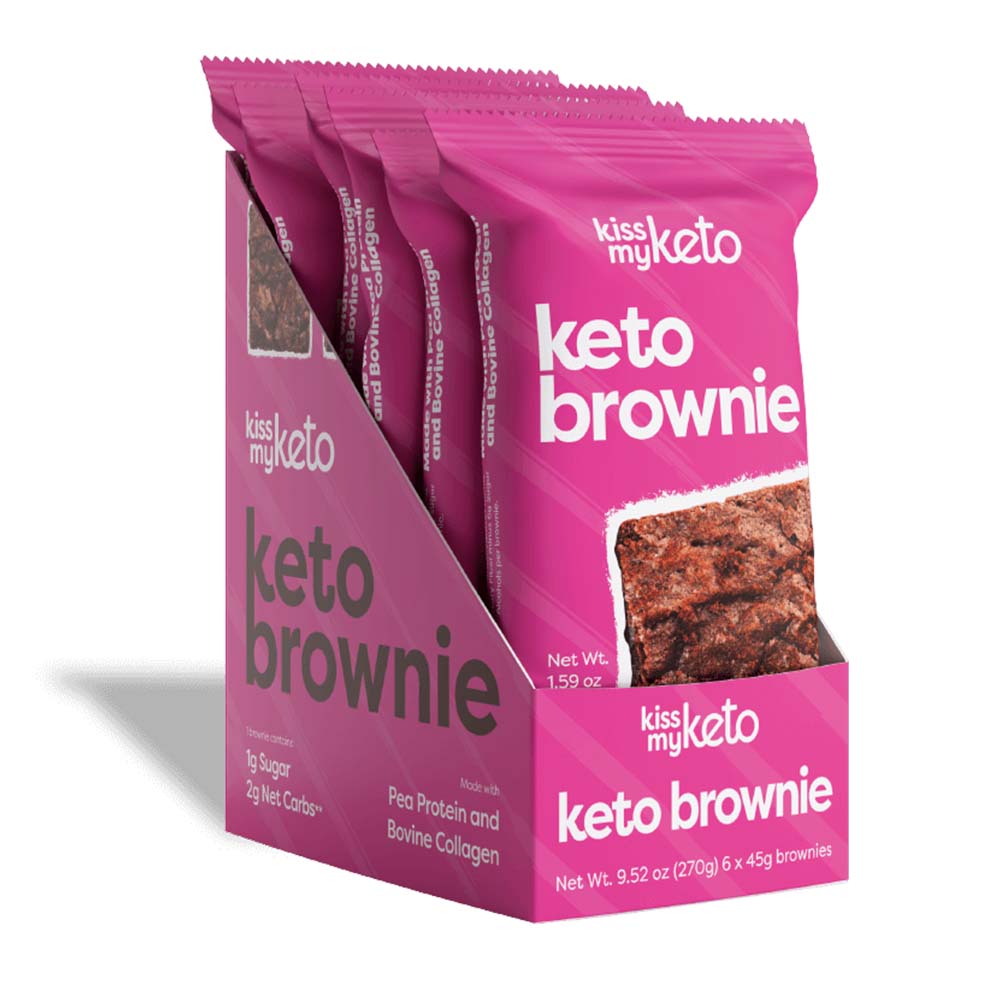 If you like the idea of a grab-n-go brownie, then this product is for you! You'll get 6 brownies with your order, each costing you about $3 and providing no more than 2g of net carbs. These fudgy brownies are individually wrapped so you can take them anywhere with you. 
As far as ingredients go, these are almond flour brownies free from artificial sweeteners, additives, and fillers. It also has almond butter and add-ins like MCT oil, pea protein, coconut oil, tapioca fiber, and collagen. All that makes for a nutritious and filling brownie containing lots of protein, fiber, and ketogenic fats. 
Per serving: 230 calories | 16g fat | 2g net carbs | 6g fiber | 10g protein
Price: $17.99
---
2. Kiss My Keto Chocolate Brownie Baking Mix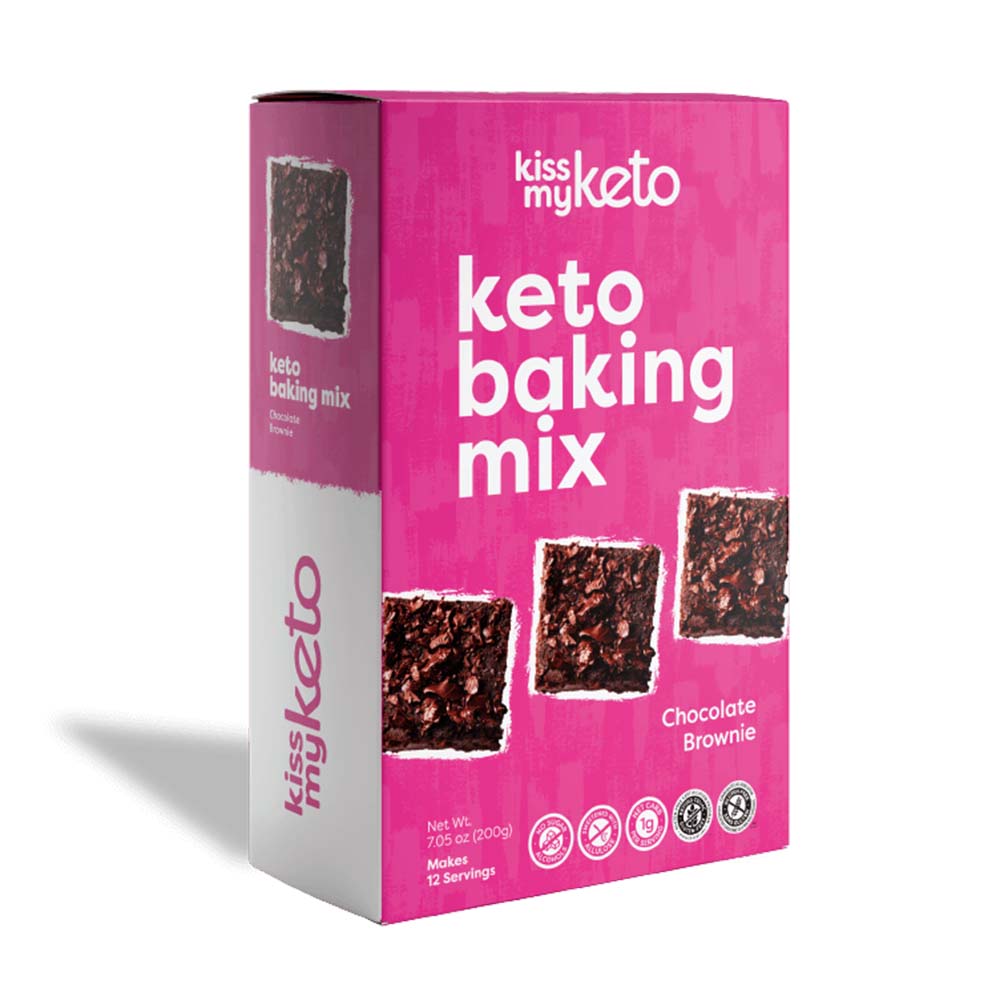 Baking mixes like these are super convenient. All you need to do is combine the box contents with eggs and butter (or other preferred fat) and you'll have yourself freshly-made low-carb brownies in no time. 
One box yields around 12 servings, each providing only 1g net carbs. The product consists mainly of almonds, cocoa powder, and MCT oil along with natural sweeteners. It's low in calories but provides plenty of fiber and protein. You can use it to make super fudgy keto brownies or even in other keto desserts — like chocolate pancakes or muffins. The options are endless, really. 
Per serving: 40 calories | 3g fat | 1g net carbs | 5g fiber | 5g protein
Price: $9.99
---
3. Keto-Friendly Walnut Fudge Brownie (by Duncan Hines)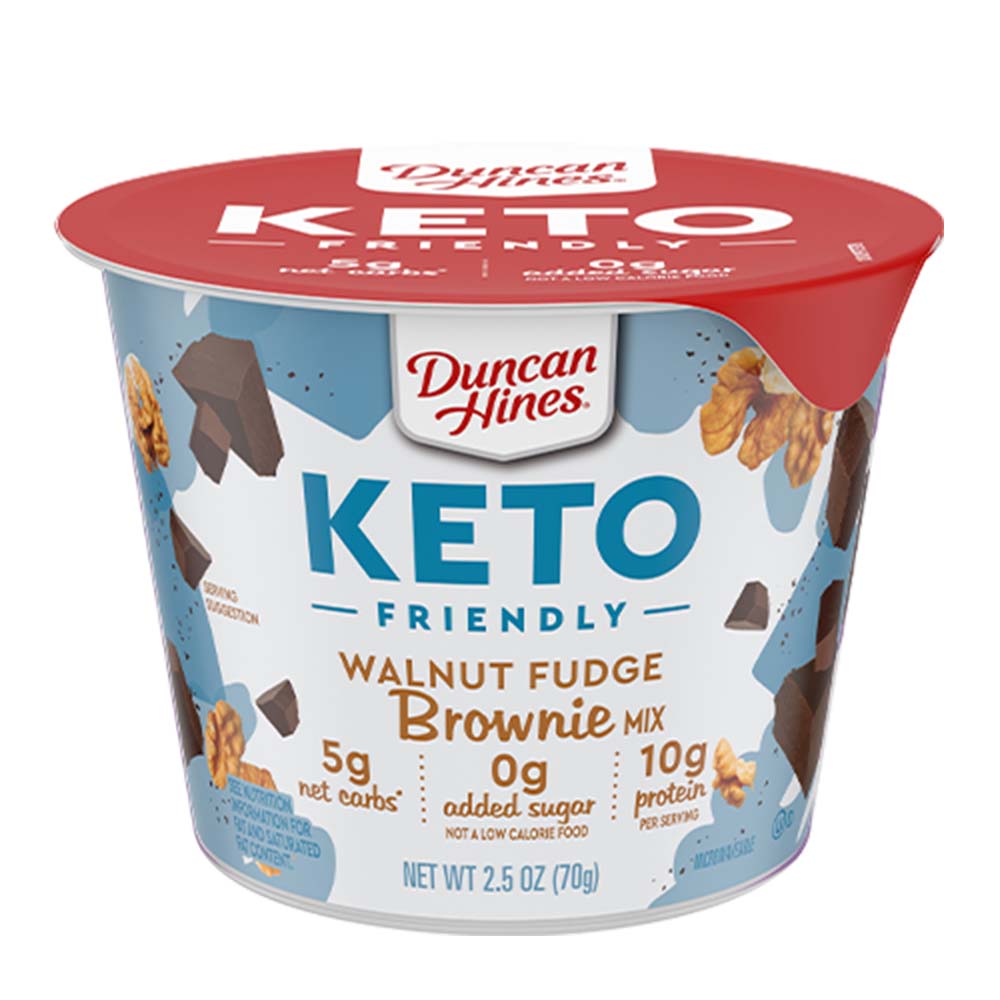 Ever had a microwave brownie in a cup? The Duncan Hines company takes the simplicity of microwave brownies a level up with this product. This is a fudge brownie mix that you combine with a couple of tablespoons of water and butter to pop in the microwave. It's simple, convenient, and super popular among keto eaters.
The product contains almond flour, dutch-process cocoa, walnuts, and coconut flour. It contains egg whites and has palm oil, which some may consider a downside. Aside from that, this is a protein and fiber-rich product as well, which means it'll keep you full while curbing those chocolate cravings. 
Per serving: 380 calories | 23g fat | 5g net carbs | 6g fiber | 10g protein
Price: $2.45 / per pack
---
4. Diabetic Kitchen Gourmet Chocolate Brownie Mix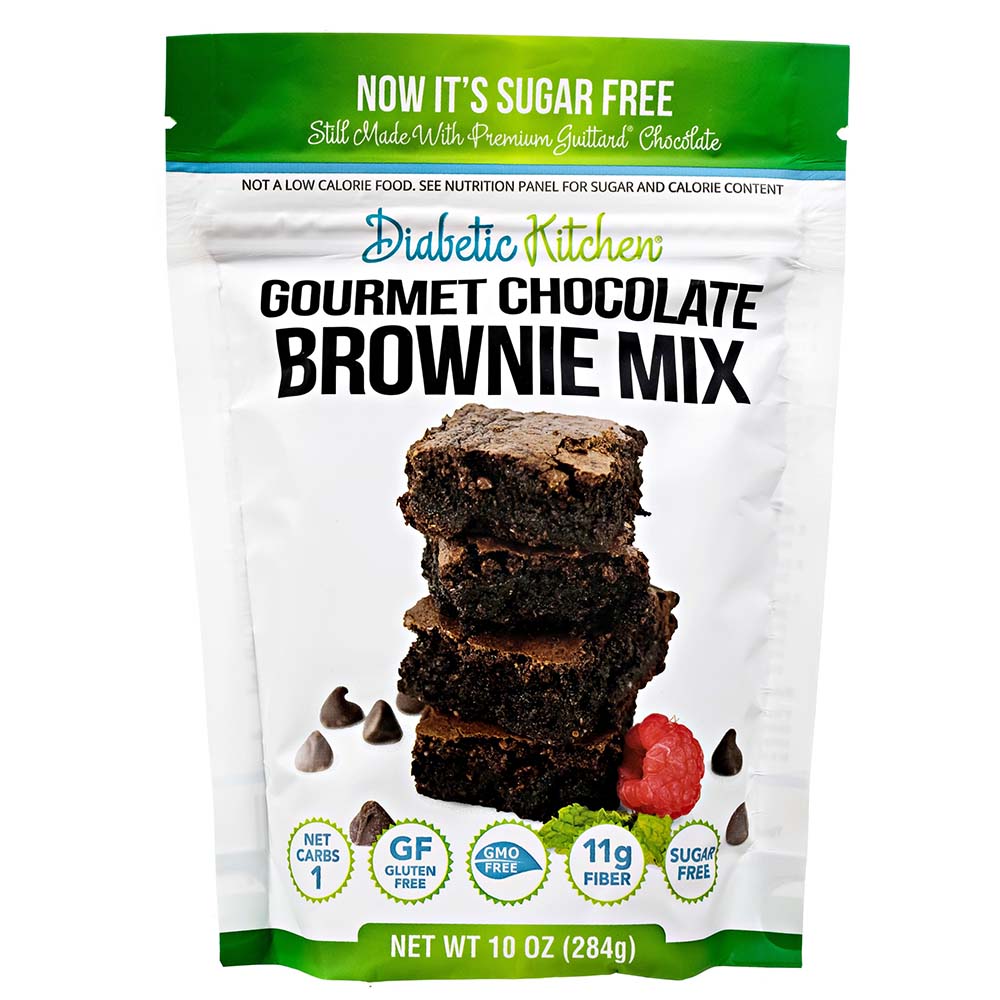 Diabetic Kitchen is a supplier of diabetic-friendly "guilty pleasures." All their products are low enough in carbs to be suitable for keto. And one of their best offerings is this gourmet chocolate brownie mix made with premium Guittard chocolate — hence the "gourmet" part. 
Its other ingredients include things like milled sunflower seeds, coconut flour, soluble fibers, and natural low-carb sweeteners. One bag will yield a generous 16 servings, but you'll have to add eggs, butter, and optionally your choice of add-ins. 
Per serving: 45 calories | 2g fat | 5g net carbs | 1g fiber | 1g protein
Price: $11.99
---
5. Atkins Endulge Nutty Fudge Brownie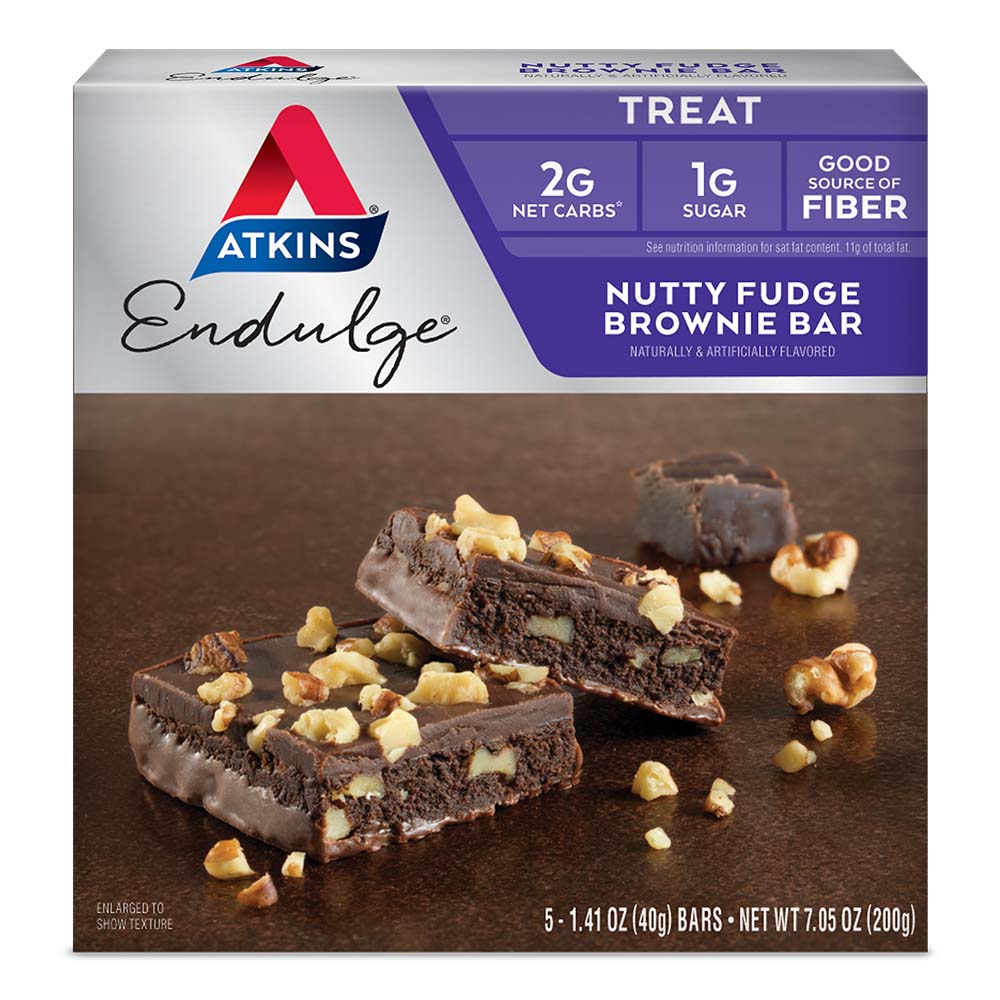 Another portable brownie on the list is this one by Atkins Endulge. It has only 2g of net carbs per brownie, with 5 of these tasty treats found in one box. What's more, each fudgy brownie contains loads of walnuts and is covered in a chocolate coating — talk about decadent!
It's important you know that while Atkins Endulge products are keto-friendly, many contain ingredients some keto eaters try to avoid. In the case of these brownies, you'll find polydextrose, maltitol, palm oil, soy protein, and artificial flavors. On the plus side, these are much cheaper than similar products.
Per serving: 170 calories | 11g fat | 2g net carbs | 5g fiber | 7g protein
Price: $5.98
---
6. Julian Bakery Keto Thin Brownie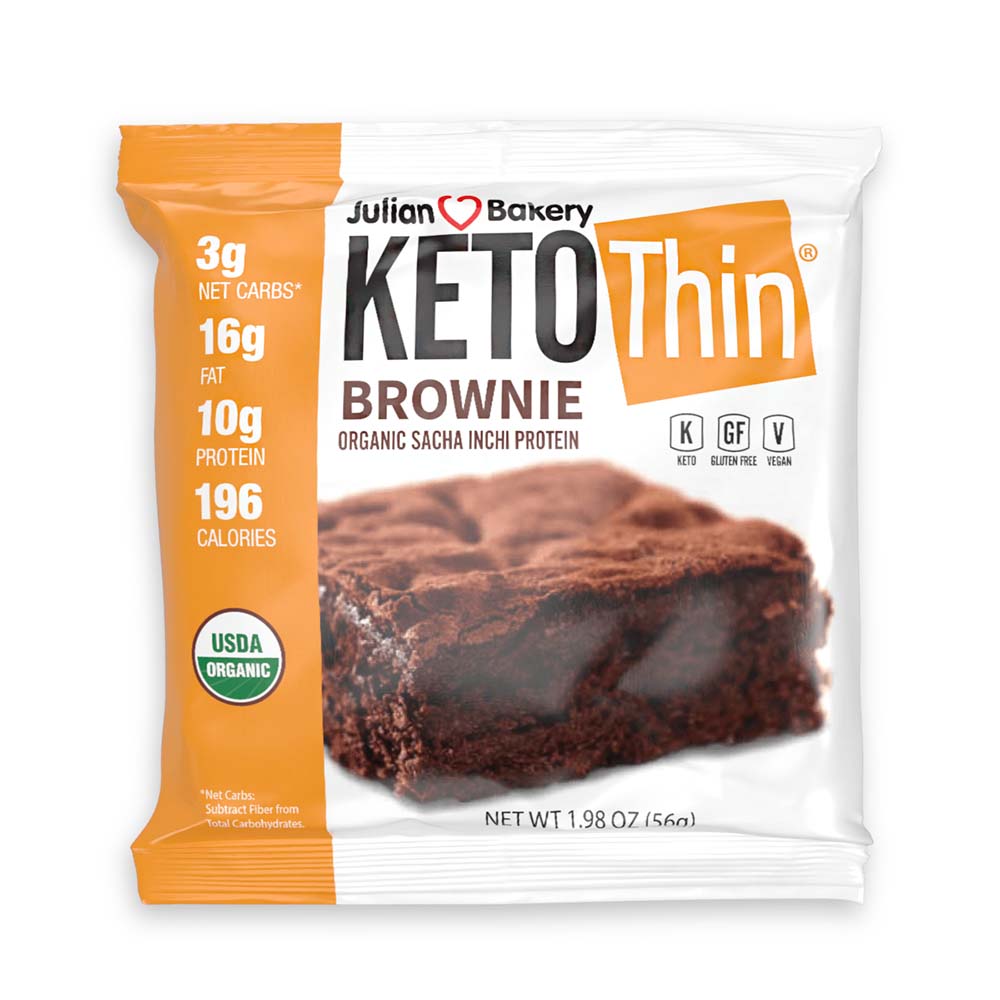 A company that's been around since the 1990s, Julian Bakery offers some truly unique and high-quality healthy treats. Case in point: these Thin Brownies. They're made with ingredients you don't see anywhere else, like sacha inchi flour and oil as well as sunflower butter. Plus, all of its ingredients are natural, organic, and overall good for you.
You'll get a total of 8 delicious brownies, each individually wrapped. Besides being keto, these are also paleo and vegan. They're also protein-filled and have a whopping 22g of fiber — more than any other product on this list. 
Per serving: 196 calories | 16g fat | 2g net carbs | 22g fiber | 10g protein
Price: $29.99
---
7. Good Dee's Brownie Mix
Another great supplier to buy keto brownies from is Good Dee's, a small company offering a range of tasty baking mixes. Their Brownie Mix is unique in a way because it contains sunflower seed flour as one of its main ingredients. Great if you're trying to avoid seeds but also other common allergens!
You can make these brownies fudge or cake-like; just adjust the ingredients according to directions. The product yields 12 servings and is low in calories and net carbs. You'll love the taste of these since they don't contain artificial sweeteners and you can adjust them to your liking. 
Per serving: 35 calories | 1.5g fat | 1g net carbs | 5g fiber | 1g protein
Price: $11.99
What's Your Favorite Keto Brownie?
Enjoying sweet treats on keto is completely doable. All you have to do is substitute high-carb ingredients with their low-carb counterparts. The same holds true for brownies. The best brownie recipe will have that decadent, chocolatey taste but without the added sugar and carbs. 
But when you're looking for ready-made shortcuts, there are just as many options for you to choose from. The market for low-carb foods is filled with keto brownies to buy online and in stores. We've listed just a couple of the best ones you might want to try today.

Already found your dream keto brownie? Tell us what you love about it in the comments below.